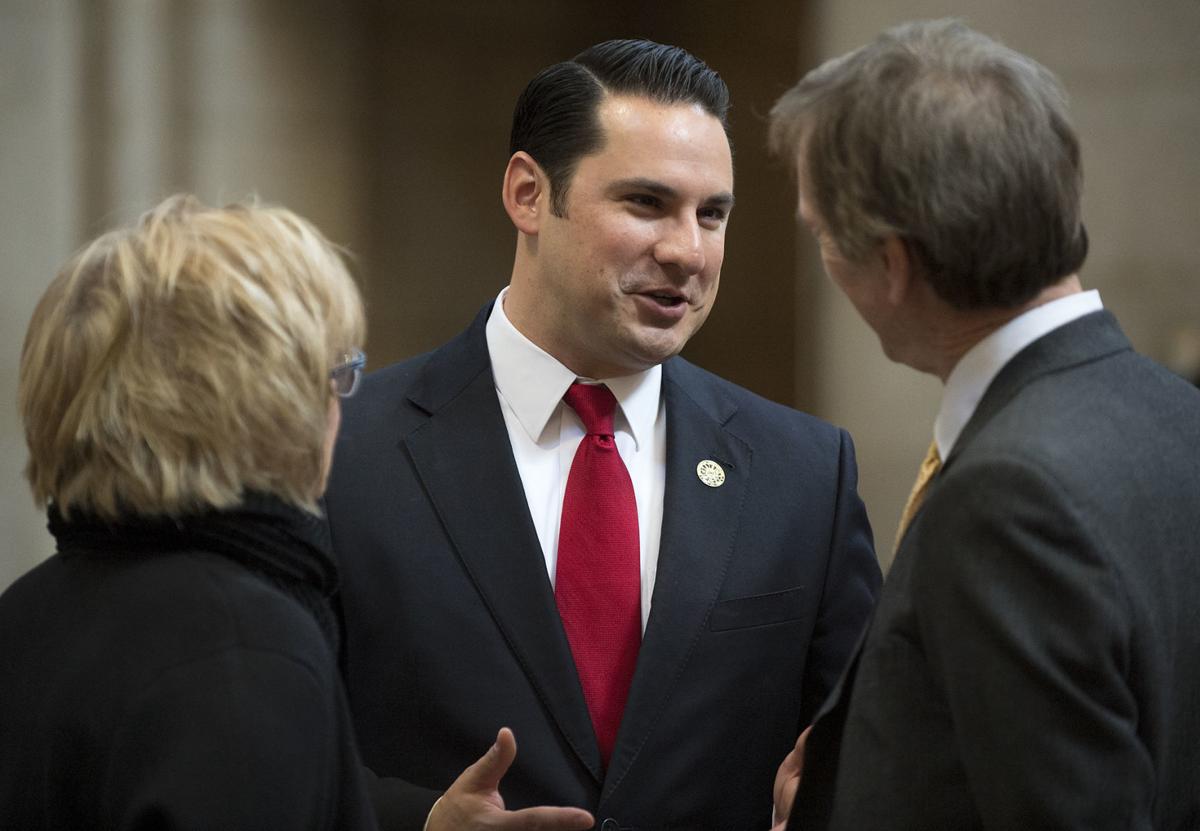 Special-interest groups spent a record $17.4 million on lobbyists and lobbying activity at the Nebraska Legislature in 2017, according to a new report from Common Cause Nebraska.
The government watchdog group said the number of organizations and government entities deploying lobbyists to the Capitol each year also reached an all-time high last year.
There were 377 compensated lobbyists in 2017, up from 364 the year before, working for 550 principals, or groups that hire them, according to reports filed with the state.
"Some would argue, 'Sure, that number of lobbyists would represent every public concern,'" wrote Jack Gould, issues chair for Common Cause. "But that is not necessarily the case. Most professional lobbying firms work for those who can pay. It is the nature of the business."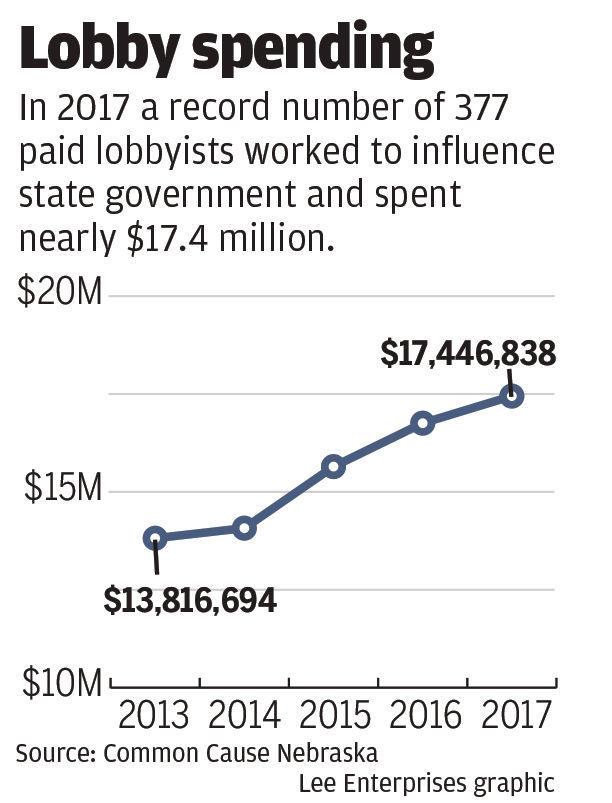 For the second year in a row, the Nebraska Chamber of Commerce, which represents 1,500 dues-paying member businesses across the state, was the biggest spender on lobbyists and lobbying activity, up from $218,000 in 2016 to $242,000 in 2017, Common Cause reported.
Barry Kennedy, president of the state chamber, said the organization's top priority is advocacy for small business, as well as different sectors of the economy such as manufacturing and the service economy.
"We survey our members on a regular basis and they continue to tell us that they are satisfied with the service that they get," Kennedy said. "That advocacy is exactly what they hire us to do."
The Nebraska Chamber of Commerce employs four in-house registered lobbyists to advocate for both the group's member businesses, as well as for local chamber affiliates with state senators and members of the executive branch, Kennedy said.
While the state chamber was the biggest spender in both 2016 and 2017, the League of Nebraska Municipalities has accrued the largest five-year total, Common Cause said, spending more than $925,000 on lobbying.
Topping the list of income received by lobbying firms was Mueller Robak, which received $1.4 million in 2017 and $7.1 million over the last five years. Radcliffe and Associates topped $1.1 million last year, Common Cause said.
The report, published Wednesday, also takes aim at lobbyist activity on behalf of Nebraska's public school system, as well as the University of Nebraska.
Gould said while the state-aid formula for public schools largely remains unintelligible to Nebraska taxpayers, the state's largest school districts have turned to lobbyists to advocate on their behalf to the disadvantage of smaller districts.
Together, school districts have spent $2.4 million on lobbying activity over the last five years.
"Those school districts that have the funds to invest in lobbying exert greater influence, while those districts lacking in wealth find themselves on the outside looking in," Gould wrote. "The lobby does not work for all the children, only those children in the districts that can pay."
Omaha Public Schools was the largest K-12 public school lobbyist for the fifth straight year, followed by districts in Millard, Bellevue, Ralston and Lincoln.
In addition to John Neal, assistant superintendent for governmental relations, Lincoln Public Schools uses an outside firm to advocate on its behalf at the Legislature and keep senators and their staffs apprised of the work the district is doing, as well as the potential impact of proposed legislation.
Neal said he doesn't think larger school districts have an inherent advantage over smaller districts when it comes to influence among lawmakers.
"I think a wide range of voices, including school boards, teachers, administrators, small schools, large schools, medium-sized schools, different education advocacy groups, ESUs, and others, all work together as much as possible to do what is best for students," Neal said.
"All of those groups are represented at the Capitol, but they also work together on hundreds of different issues throughout the year," he added.
Common Cause said in addition to rising compensation for lobbyists, the amount spent on entertainment has also quickly risen in recent years, up from $272,000 in 2013 to $467,000 last year.
"In Nebraska, the lobbyist's tools appear unlimited," Gould said. "Not only can the lobbyist wine, dine, and entertain, but they can donate to political campaigns, host campaign fundraisers, and solicit campaign funds from their clients.
"With that tool kit, the lobbyist can open nearly any door."
One tool Common Cause highlighted in its report was gifts of tickets to athletic contests given from the University of Nebraska to state senators on both sides of the aisle in the officially nonpartisan Legislature.
Because state law requires senators to report gifts greater than $100, Common Cause found 13 lawmakers who received season tickets to Husker football games in 2017 — a value of $798 apiece.
Other senators were gifted a pair of tickets valued at $150 to view Husker games in President Hank Bounds' skybox at Memorial Stadium.
NU spokeswoman Melissa Lee said the university has a "long practice of inviting legislators to campus events as part of our efforts to build relationships," but that it follows state laws related to lobbying activity.
The university also registered six lobbyists in 2017 for a total of $141,900, as the Legislature mulled over state appropriation cuts, and hired Peetz & Co. as an outside lobbyist firm using funds from the NU Foundation, Lee said.