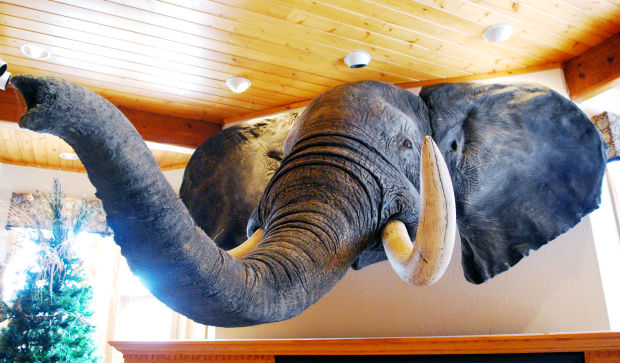 COLUMBUS — The Columbus Public Library board has passed on a unique gift offer.
A leftover from an auction of pieces collected by Columbus resident Chuck Sand — a taxidermy elephant head — was offered to the library.
Although the board expressed its appreciation, it voted last week to respectfully decline the generous donation.
"We completely understand the decline. It is really large and heavy," said Sand's daughter, Michelle Stirek. "It's going to be hard to find the perfect location for it. … We have had a lot of people interested in seeing this elephant."
Sand died in November 2012, leaving his late wife, Carol Sand, a big house with a lot of big stuffed animals. She decided to downsize her residence, and in order to do so, she had to auction off the 125 or so pieces her husband collected during safari travels.
The other animals, skulls and hides were auctioned off, but selling the elephant head is prohibited by federal law. Carol Sand decided to donate it.
"We wanted to keep it local because so many people love it. Our first thought was for the new library that Columbus is trying to build," Stirek said.
The library board met Thursday night to decide whether to accept the donation.
As they went around the table, many board members voiced concerns.
First, they mentioned the stuffed head would indeed be an attraction but worried children would want to touch it, throw things at it or even use its permanently extended trunk as a temporary playground.
"I don't even know where we would put it actually," Library Director Jill Owens said.
Next, there is the issue of the weight of the enormous creature's head. The walls would have to be reinforced just to mount it, and the board couldn't conceive a way to get it into the library.
Lastly, if the library wasn't to mount it in the current building, where would it store the elephant while the new library is being built?
"It's really, really heavy," Stirek said. "When it came into the house, six to eight guys couldn't even lift it onto the wall. Machinery had to be brought in to lift and mount it."