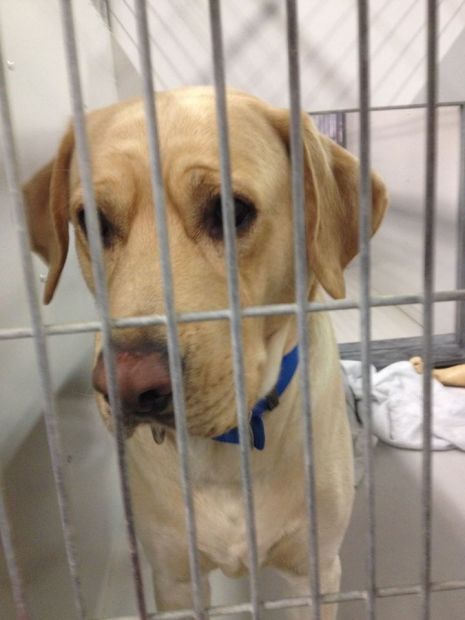 BEATRICE -- The owners of a yellow Lab that has been held at the Beatrice Humane Society for 45 days while its fate was being decided are expecting their pet to be returned this weekend.
The dog, Lamar, was taken to the Humane Society, and its owners, Adam Cloyd and Stephanie Carman, were issued a dog at-large ticket after Lamar allegedly bit a boy in the family's neighborhood on March 29.
A hearing was held Thursday in Gage County District Court for the civil case, which was left open after nearly an hour of discussion, with the judge taking the information under advisement.
Two hours later, an agreement was reached stating the dog will be returned to its family Saturday, after getting a microchip Friday.
"We're just so excited to have him back," Carman said. "We got to go see him at the Humane Society, and he was so excited to see us. He was trying to get out of the kennel to come play with us. He was so excited."
According to Dustin Garrison, the couple's lawyer, the family was able to settle out of court, and when the dog is returned, the case will be dismissed.
"The judge obviously didn't think it was a huge problem and we settled on having the dog microchipped," Garrison said. "These are tough cases. You don't have a human life at stake, but this is a family's dog we kept from being euthanized that never should have been euthanized."
City Attorney Greg Butcher said the dog will need to be registered as potentially dangerous, which carries an additional $25 license and requirements such as insurance, being kept on a leash and having a proper enclosure.
You have free articles remaining.
Butcher said the city will be reexamining its animal ordinances in the coming months.
The alleged bite was witnessed only by children, and Garrison said during the hearing that he thinks the Beatrice Police Department mishandled the investigation. He said city code concerning pets at large doesn't allow time for due process.
"The affidavit of (Beatrice Police Chief) Bruce Lang is all based upon hearsay," Garrison said. "It's based upon what his officers told him. It's not based on any direct information or knowledge he has.
"Bruce Lang isn't qualified to make the determination about whether or not to euthanize a dog. There's no evidence in here that he went through any training. There's no evidence here he can distinguish a vicious dog form a non-vicious dog. He's got no qualifications, whatsoever."
Butcher, the city attorney, countered that officers interviewed all four children who said they saw the incident, which occurred off the owners' property. Butcher said that makes the situation a case of dog at-large, according to city ordinances.
Butcher also said the owners did not have Lamar licensed, which is required by city code.
The owners turned Lamar over to the Humane Society, and Butcher said at the hearing the dog had been consistently aggressive.
"The entire time the dog has been contained at the Humane Society, they have been unable to administer any kind of temperament test, any sort of behavioral test to it, because the dog is so aggressive," Butcher said.
The alleged attack occurred when Cloyd and area children were playing with the dog in Cloyd's backyard. He took Lamar inside when he went to check on dinner, but the dog, who is able to nudge the patio door open with its nose, found its way outside and into a neighboring yard, where it allegedly bit a 13-year-old boy.