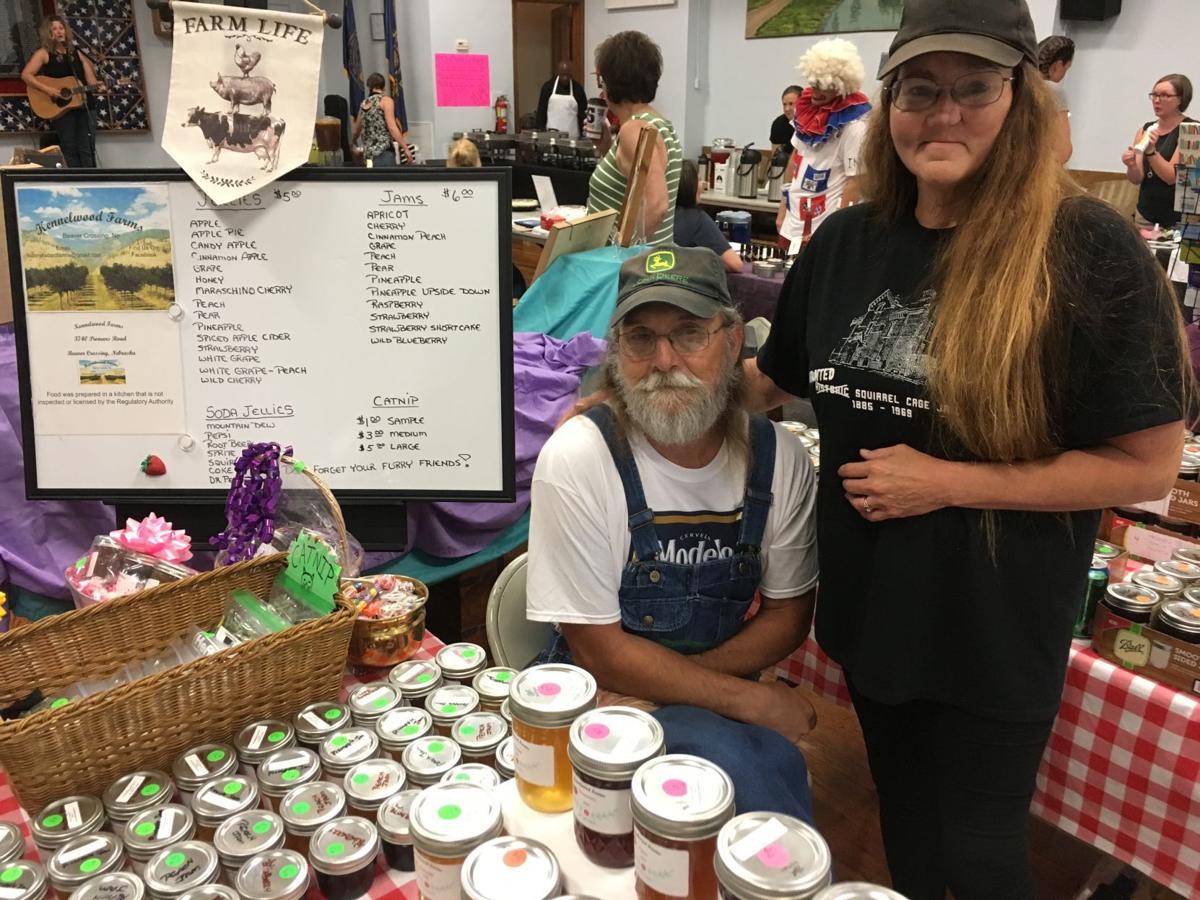 BEAVER CROSSING — The jelly-making business at Kennelwood Farms has strong roots.
It still has one of the original apple trees, used by the late Clifton and Joan Kennel, to make cinnamon apple jelly.
"That apple tree is the one that started our jelly making," Debbie Kennel said.
Debbie and Bob Kennel are the caretakers of the tiny, but mighty, fruit and vegetable orchard started by Bob's parents not far from Beaver Crossing, 35 miles west of Lincoln.
Today, they've expanded their jelly and jam offerings to 42 flavors — always with requests for more.
Ulysses S. Grant signed the homestead deed for the farm, which has been in the family at least four generations. 
Clifton Kennel began the small orchard on a portion of the family farm in the 1970s. Almost 45 years later, it was nearly destroyed when a tornado uprooted many trees in the area.
The original apple tree survived, albeit damaged. When a fruit tree is damaged, it's more susceptible to disease.
In addition to the cleanup, the Kennels have worked in recent years to restore the orchard with new life, planting cherry, peach, plum, pear and apple trees. They added blueberries and strawberries and have black walnut trees and wild plum bushes.
The farm is a special place for the Kennels. The couple developed a deeper relationship with the orchard when Bob's father died and they took over the job of pruning trees and mowing lawns.
Wild raspberry bushes and gooseberries dot the land, and three artesian springs feed Walnut Creek running through the farm.
A Boy Scout working to earn his Eagle Scout rank mapped where the southern branch of the original Oregon Trail went across the land in Seward County, and the Kennels have been told there was a stagecoach stop on their land, used when wagon trains needed to rest their animals.
You have free articles remaining.
"Some of the walnut trees were probably saplings when the pioneers came through here," Debbie said.
They've also been told their farm hosted a post office and Bob's grandfather, Guy Cooper, donated land for a schoolhouse.
"This farm has truly seen its share of small town, American history," Debbie said. "It really is an amazing feeling to know that we are blessed to be the current caretakers of the land."
When it comes to the homegrown products, Debbie's favorites are cinnamon apple, pineapple, strawberry and wild blueberry. Bob also likes the cinnamon apple, as well as the cinnamon peach jam and strawberry jam. Dr. Pepper jelly sells more than any other flavor, but customer favorites change.
"One day we will sell a lot of cinnamon apple or pineapple jelly and the next day we will sell more apricot jam or honey jelly. That is why we keep making new flavors," Debbie said. "We want to have something for everyone."
The couple also grows organic vegetables, which has been a learning process, Debbie said. Historic rains and flooding this year caused them to replant almost everything.
"And then it rained even more," she said.
The cucumber crop was successful, as were cherry tomatoes and pumpkins.
"All we can do is learn," she added.
The Kennels sell their history- and love-packed jams and jellies at the Seward and York farmers markets. They post events and farm happenings on Facebook and take orders by email at kennelwoodfarms@gmail.com.
"What I love the most about what we do is that it's something Bob and I can do together," Debbie said. "Our ancestors only had homemade jams and jellies. They didn't have the luxury of store-bought. By making our own, we can ensure there are no additives or anything imitation added. I have found the taste of real, homemade jams and jellies is entirely different from anything you can get off a chain store shelf."
Their customers notice the difference too, and that is the most important part of what they do, Debbie said.
"We have been told by several parents that our jelly or jam is the only kind their child will eat," she said. "That makes us feel really good and proud."