ALBION — Eight decades had disappeared since blood spilled in the Sandhills, and the killers were surely lodged as deep in the earth as the lawmen they shot that day.
But that didn't matter to Bill Black, chief of investigators for the Nebraska Attorney General's Office.
The people of Boone County deserved to know who had shot their sheriff, Lawrence Smoyer, and constable, William Wathen, on a sweltering June day in 1937. The families of the two men — who still celebrate their lives and mourn their deaths — needed to know, too.
"An unsolved homicide, you can't let it sit unsolved," Black said. "If there's a lead, you pursue it."
For three years, Black helped chase fading memories and old investigative reports from Albion to Colorado to Wyoming to California. He drove to Boone County more than a half-dozen times, visiting the sandy pasture where the lawmen were fatally shot.
"You've got to go to the crime scene. You can't investigate anything without going to the crime scene."
His pursuit of justice ended Tuesday outside the Boone County Courthouse, where Attorney General Doug Peterson stood at a monument honoring the officers and told 25 of their relatives that the state considered the case closed.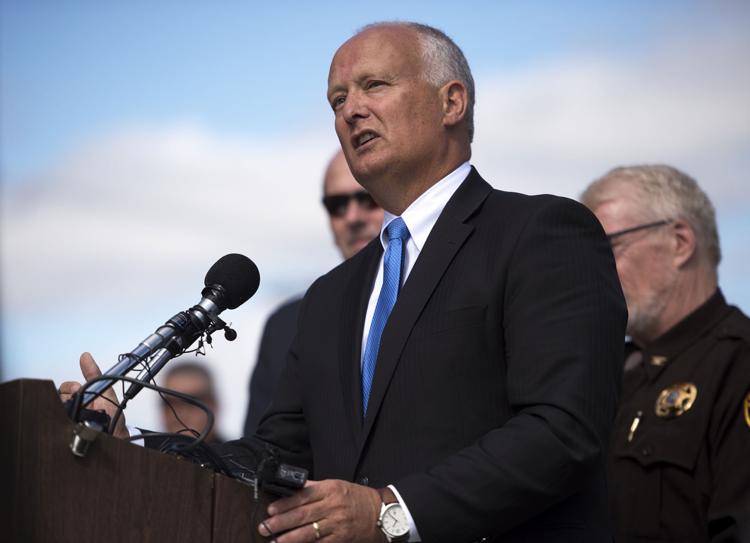 Black and Seward County Sheriff Joe Yocum had solved the case by gathering enough evidence that prosecutors could have convicted the prime suspects — a pair of sharp-dressed cons who had drifted in from Colorado — if they hadn't died decades ago.
"We can't obviously go back and do the prosecution now," Peterson said. "We wish we could because we have a solid case, we have solid evidence and we're convinced we could prove this case beyond a reasonable doubt."
This was Albion's second gathering outside the courthouse for Sheriff Smoyer and Constable Wathen this year. In June, hundreds of people — including descendants of the lawmen — dedicated the memorial in honor of the two on the 80th anniversary of their shootings.
So much time had passed, but it hadn't healed the scars in Boone County. Black understood that. His parents were from Albion.
"This is folklore up there," he said last week. "I've known about this case since I was a little boy."
THE CRIME
A false lead put Black on the cold trail of the killer.
He was working a homicide in northeast Nebraska when he heard about mob activities in the area in the 1930s. His parents had told him the Boone County murders were a mob hit, the killers wielding Thompson machine guns.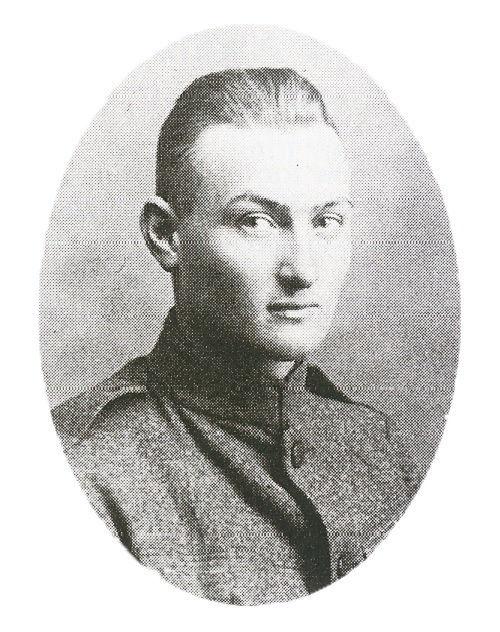 "And I set out to find out if Thompsons were used," he said.
He asked Yocum in Seward, who for years had researched the shootings for the Nebraska Law Enforcement Memorial.
No, Yocum told him. The officers were shot with a .38.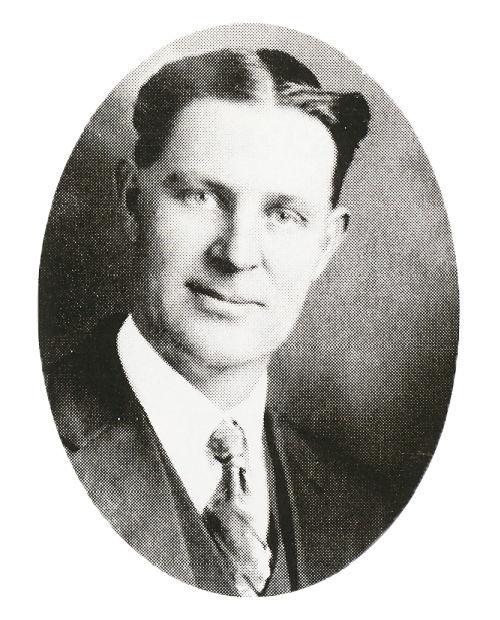 Still, Black was intrigued. With the attorney general's blessing, he started digging alongside Yocum. "I don't know how many bosses would authorize man hours to be spent on an 80-year-old cold case."
Black became immersed and well-versed in the case, and he can recite names, dates and details without looking at notes:
On June 17, 1937, Smoyer headed 25 miles west after ranchers reported trespassers in a cattle pasture. This was his third trip to search for the strangers, described as wearing suits and dress shoes, driving a new Ford and acting suspiciously — as if they were searching for something.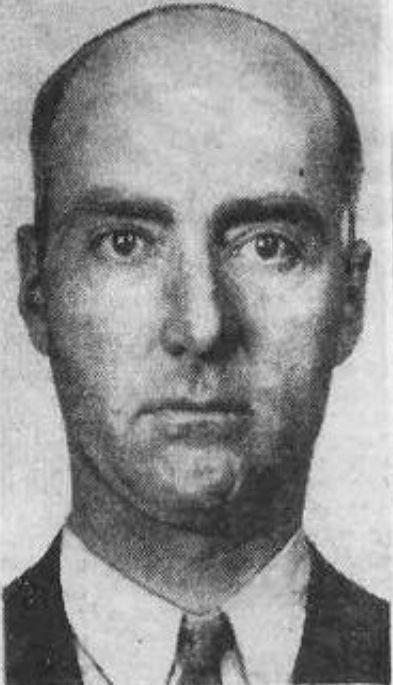 Smoyer, a father of six, was joined by Wathen, a father of two, and they'd just driven into the pasture when the Ford topped a rise.
The sheriff hit the siren and the two cars came to a stop, facing each other. The lawmen got out, ordering the strangers to raise their hands. The passenger drew a revolver.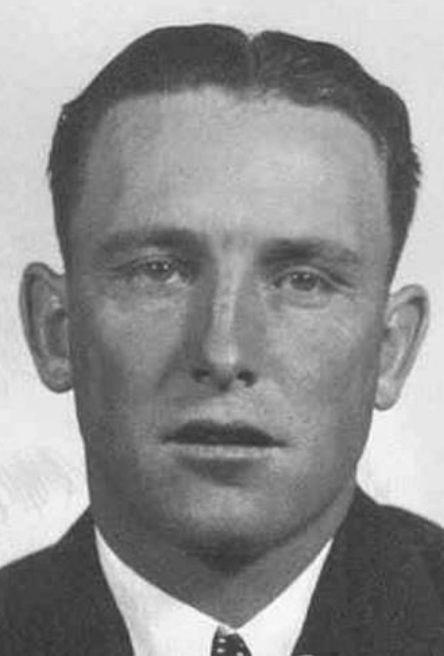 He shot Wathen through his hips, paralyzing him. The next bullet struck Smoyer's chest, killing the sheriff instantly.
From the ground, Wathen unloaded his own revolver at the Ford. But the strangers were able to flatten the sheriff's tires, take his keys and disappear.
The injured Wathen spent part of the day making notes — an account of the shootings, a description of the suspects, a farewell to his wife. He was discovered the next day and lived for three more months.
THE INVESTIGATION
The Ford, which had been stolen in Colorado, was found abandoned in Cheyenne, Wyoming, punctured by bullets from Wathen's gun.
Investigators from all three states identified a pair of suspects, Charles Doody, 35, and Marion Cooley, 41, career criminals who were both wanted in Colorado.
Doody changed his name and disappeared, for a time, in California. In April 1938, Cooley turned himself in to police in Barstow, California, admitting to robbing a bank in Colorado in 1932.
It's not clear why he confessed, Black said. But if Cooley knew Nebraska wanted him for murder, he could dodge the electric chair by doing robbery time in Colorado.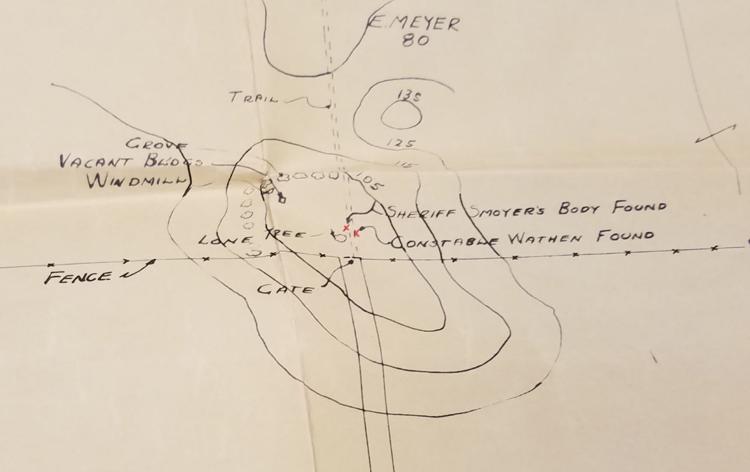 But Colorado didn't want to pay to haul Cooley back, Black said, and he ended up in Cheyenne. By then, Nebraska investigators were building a case against him, and they crossed the border to question the suspect.
You have free articles remaining.
Keep reading for FREE!
Enjoy more articles by signing up or logging in. No credit card required.
After Smoyer had been killed, his younger brother Scout had been appointed sheriff. The resemblance between the brothers rattled Cooley when the younger Smoyer got to Wyoming.
"Cooley's eyes look up at him, and all color drains from his face," Black said. "He's visibly shaken. He's seeing a ghost."
The case against Cooley grew stronger. Investigators matched the shoes he was wearing to footprints found in the pasture. Witnesses picked him out of a lineup.
Black read the 80-year-old reports with respect. "I was stunned by the quality of the investigation. This is clearly a modern-day investigation."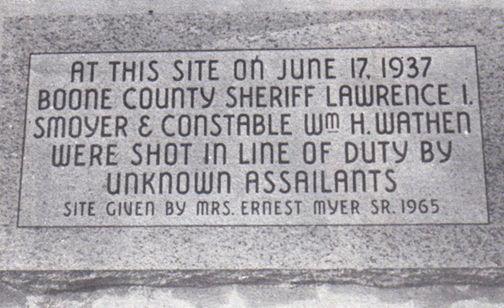 Nebraska officials had enough evidence for a warrant to arrest Cooley on murder charges, but they would never get a chance to serve it: Colorado had decided it now wanted him for the old bank robbery. And once he was behind bars there, he couldn't stand trial in Boone County.
"Back then, there was no law, no legal mechanism for Cooley to be brought to Nebraska," Black said.
When Cooley was released from Colorado in 1948, the new Boone County attorney decided not to pursue the charges, effectively ending the pursuit of justice for Smoyer and Wathen and planting a question mark that would linger for generations.
Too much time had passed.
"The new prosecutor doesn't know anything about the case," he said. "And all of the original investigators in the case are either dead or retired to parts unknown. He cannot bring this guy back and prosecute him."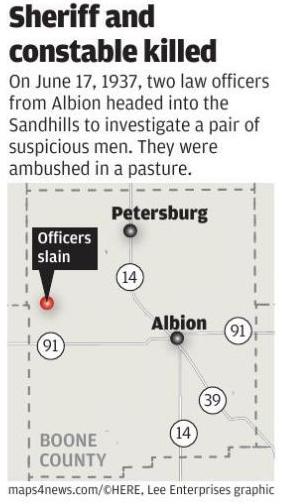 Cooley moved to New Mexico after he was released, and then Las Vegas, where he died in 1965. Doody, who had hidden by changing his name, resurfaced when he was sent to prison in California for burglary. He was 93 when he died in 1995.
80 YEARS LATER
Black and Yocum had reviewed the old reports and added their own detective work.
Black tracked down the original case file — a fat, detail-filled folder believed to have been lost to the decades since the killings. Yocum began a series of conversations with Doody's son.
"His dad never made a confession to him, his dad never confessed to his wife," he said. "But they believed their dad was involved in the Albion murders. They're appreciative that we continue to work on this."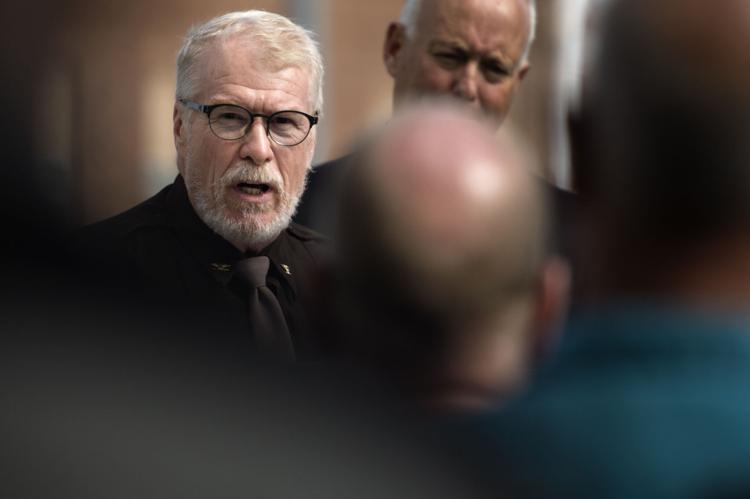 Black and Yocum were able to account for the whereabouts of Doody and Cooley just before and just after the killings. They don't know what they were looking for in the pasture, but they believe they were planning on robbing a bank in Spalding and the clothing store in Albion.
They knew they had a strong case. But how do you close a crime if you can't take anyone to court?
Black said Peterson and the attorney general's chief prosecutor agreed to a standard: If they reviewed the evidence and believed, by modern charging standards, they could convict the killers, they would consider the case cleared by exception.
And in mid-July, they agreed: Case closed.
But the state decided to wait until Tuesday to make the announcement -- exactly 80 years earlier, on Oct. 3, 1937, Wathen had succumbed to his wounds.
THE CEREMONY
Before the gathering outside the courthouse, Black and Yocum met privately with family members for more than two hours, going over the details of the case and what they knew about the suspects.
"I hope most of all your questions were answered," the attorney general told the crowd afterward. "But you know, in this particular case, 80 years ago, there may be some we may never be able to answer."
Peterson honored the officers who died in 1937. "They gave their lives that day in the line of duty."
He thanked Black and Yocum for their work, for caring about the fallen officers, and he thanked the descendants for listening.
"I hope this brings some degree of solace to you as a family."
Tony Kleibecker and his wife, Peggy Brown, traveled from Michigan. His mother was Smoyer's last living child, and she would have wanted to be here, to hear who had killed her father, he said.
The former police officer was surprised, and grateful, when he learned this summer investigators were still on the case.
"I was blown away by the fact the state of Nebraska — the attorney general's office — would commit the resources to an 80-year-old case," Kleibecker said. "It's incredible."
Dorald Robinson, Wathen's grandson, drove from Wisconsin in June to help dedicate the memorial. He hadn't expected to return to Albion so soon.
But this trip, this closure, was important to his family.
"I think it's pretty good for us to get some ease of mind," he said. "Some satisfaction."