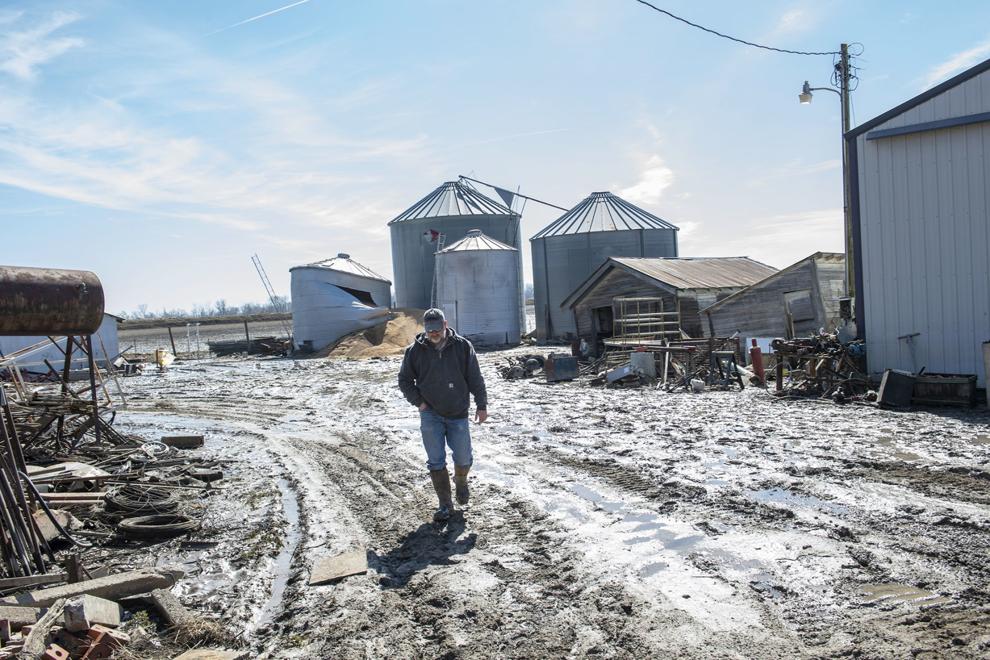 A nearly $1 billion attack on Nebraska's agricultural economy has to sink its first claws somewhere.
So let's start with the snow that began falling on the Panhandle early last week. And kept falling, and then started blowing.
"Oh, my. I called it a raging beast," said Bob Burford, manager of the High Plains Feed Yard in Sioux County, in the state's northwest corner. "I don't think I've ever had winds mixed with rain and snow like that, and I've been in this country for the last 25 years."
Before it was over, the foot and a half of snow that fell would be whipped into a frenzy by 70 mph gusts. Burford and his crews tried taking care of their animals — at their two feed yards, and at a nearby ranch — until they couldn't.
"We kept feeding the cattle as long as we could while we could see," Burford said. "And then we couldn't see."
He lost 18 newborns that had drifted away from the ranch in the blizzard, either suffocating in the snow or succumbing to the cold.
At the two High Plains feed yards, he lost 50 feeder cattle. Some of the losses were obvious when the weather cleared. But others weren't, and his staff didn't discover the carcasses until they started plowing snow and struck a drift with something solid.
Some of the cattle were weak and couldn't withstand the weather. Others died trying to survive, trying to stay warm, he said.
"We did have some cattle that ball up in a corner and smother each other, and then they fall and can't get up and they stand on each other. It's terrible."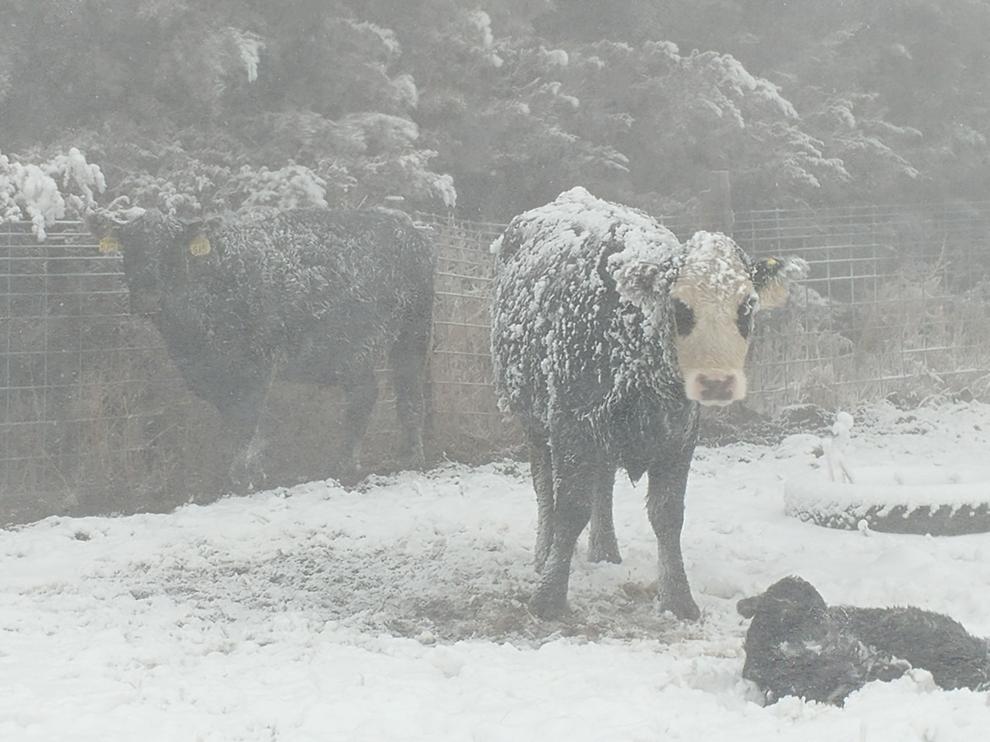 Terrible might not be a strong enough word to describe what Nebraska's farmers and ranchers are still going through, more than a week after a one-two punch of heavy snow and historic flooding crippled much of the state.
Gov. Pete Ricketts called it Nebraska's worst natural disaster. States of emergencies in 74 counties and 85 cities. Record crests on the state's major rivers. Early estimates of $440 million in infrastructure damage, and $85 million in damage to homes and businesses. About 200 miles of destroyed roads, and at least 15 state bridges damaged or washed away. Three Nebraskans confirmed dead, two still missing but presumed swallowed by floodwaters.
And $400 million in potential cow-calf losses, $440 million in crop losses.
The hit to the ag economy is deep and broad. Dead cows. Flooded fields. Contaminated grain and missing feed. Unexpected costs of hauling water and hay, and rescuing livestock and fixing fence and scraping sand and silt from formerly fertile land.
The pain didn't discriminate, and like a catastrophe rolling downhill and downstream, spread itself from the Wyoming border to the Iowa line.
'Never seen anything like this'
Bob Crosley lives somewhere in the middle, near the Niobrara River in Knox County.
"It's just a mess. Just a terrible mess," he said. "I'm 77 and I've never seen anything like this. There are people who need help."
Crosley must have had a premonition, he said. He didn't lose any cows because he sold them all a week before the flooding.
"I woke up one day and said, 'It's time.' The lord was looking out for me."
But he still has horses and bulls on his farm near Verdel, 15 miles down Nebraska 12. When the flood washed a bridge downriver, Crosley's farm all of sudden was 100 miles away.
"And that's one way," he said. "To do my chores, I have to go 200 miles."
The trip takes him across the Standing Bear Bridge into South Dakota, west over Fort Randall Dam, and then south back into Nebraska, through Spencer and Lynch.
A four-hour drive to feed and water his animals. He has no choice. "I have to go look after them."
His place was on Boyd County's rural water system, which was severed by the swollen Niobrara River. He's luckier than others, he said. He can water his animals in the small creek cutting across his pasture.
But all around him, the flood has forced ranchers to carry feed and water to preserve their livestock, and their livelihood.
Like his neighbor, Jeremy Mahon, who started hauling hay at 2 a.m. Thursday to feed what remained of his herd.
"It's been a go," he said. "And it's going to be a tough battle."
Before Mahon could think about his animals, he needed to help his neighbors. As the water rose, he rescued one with his tractor, the floodwater lifting it up and spinning him 180 degrees. He helped save three more people — including an 85-year-old woman and a 9-month-old baby — with a boat, he said.
Then he could start counting his losses. He estimated the flood carried away 30 calves and almost as many cows, nearly $50,000 out of his pocket. It might be more.
"We haven't found everything," he said. "They float away."
He had other troubles. Much of his feed was also washed downstream, and his grain bin dumped corn on the ground. He has cows near Monowi he hasn't been able to reach.
But he also found silver linings. He's lucky he didn't have all of his animals in one place, or the losses would have been staggering. People are pitching in: He's letting neighbors draw from his well; Crosley loaned him a tractor; and a team of volunteer cowboys — members of the Professional Bull Riders who showed up in the area with horses and a pair of borrowed airplanes — were able to check on his Monowi cows and found most of them still alive.
"It's going to be a long, long process getting back to normal," Mahon said. "But all of us neighbors are working together, and that's how we're going to get through it."
A little to the west, near Lynch, fifth-generation rancher Grant Nielsen lost more than a dozen calves. His cropland along Ponca Creek is covered with sand and silt and ice and lumber and buckets and barrels and all of the other debris it gathered when it washed away buildings upstream.
He called it chaotic. Devastating. Expensive to fix. But then he reminded himself he still has a house. Not all of his neighbors do.
"I sit here and try to feel sorry for myself, and I can't," Nielsen said. "I see other people that have it way worse than me."
Wall of ice in a hay meadow
It's not just Nebraska's cattle ranchers who are struggling in the aftermath of last week's weather.
Along the Niobrara in Keya Paha County, Ann and Billy Kepler found 155 acres of their hay meadows covered with ice — including a single, 75-acre parcel buried beneath a wall of ice  that's 20 feet tall, 200 yards wide and nearly a mile long.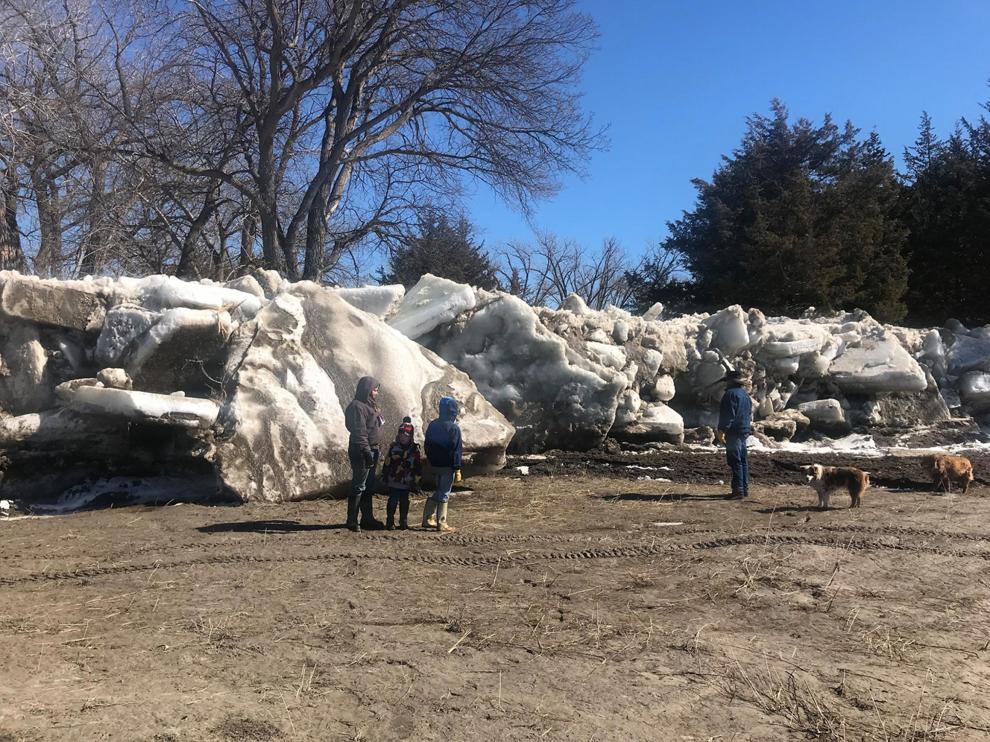 The patchwork of icebergs defies logic, and scale and scope. "We don't even know what to think yet," Ann Kepler said.
But they rely on the meadow to help feed their herd, and they doubt they'll be able to replant this year.
They'll either have to buy hay, she said, or sell cows.
They're not sure how much sand, silt and debris they'll have to scrape once the ice melts. If it ever melts. An old-timer told them the last time anything like this happened, in the 1960s, locals were chipping away at it to make ice cream on the Fourth of July.
"Parts of us are thinking this might be there until it starts snowing again."
River claims farm ground
The struggle stretches across the state. Nearly 450 miles from the High Plains Feed Yard, where the blizzard took nearly 70 animals from Bob Burford, the Missouri River has claimed Dave Eaton's farm.
And Eaton doesn't know when he'll get it back.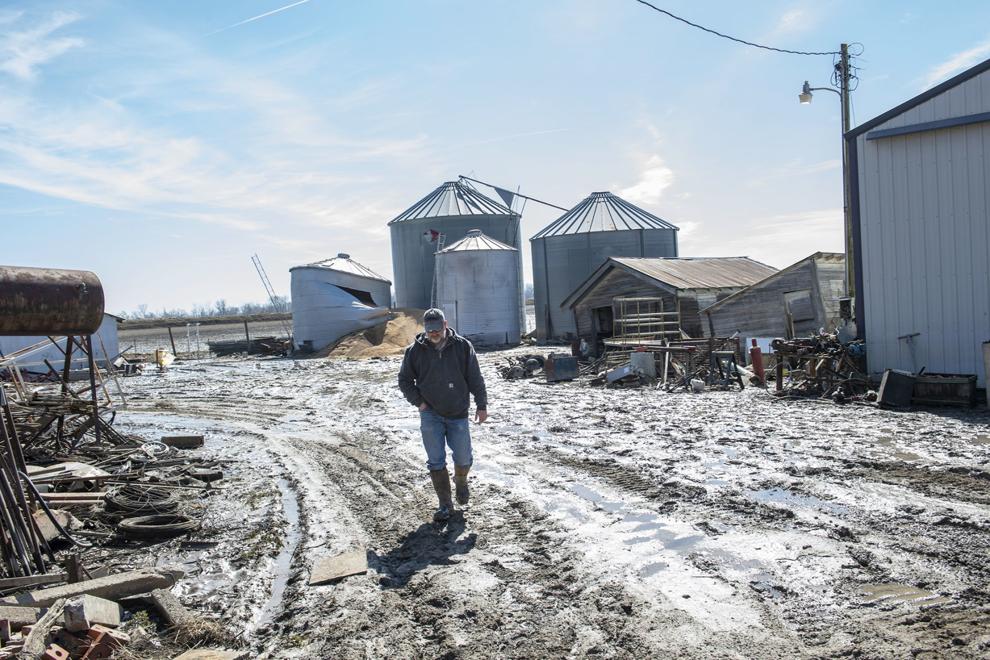 The river covers about 300 acres of his farm near Union, where Weeping Water Creek meets the Missouri. That's more than 75 percent of the land he uses to grow corn and soybeans and feed his cattle.
The farm has been in his family 152 years. He was born there. He's been thinking about what he's learned about the Missouri's upstream reservoirs and the mountain snowpack, and what it means for his land.
"It's not like I'm new to the area," he said. "My gut feeling is we're going to be under water all year."
He doesn't know what the river will leave behind, but he's worried he'll find sand. That could hurt his future crops, and the value of his farm.
"Sandy ground doesn't grow as good a crop. It diminishes the value of the ground, too, because now you've got sandy soil."
After a flood in 1952, the land was deep-plowed, the soil turned under 5 feet to bury the sand. He couldn't do that again because it could return that old sand back to the surface. So he'll have to scrape off any new sand with a bulldozer, but the heavy equipment will compact the soil, and he'll have to break up the hardpan.
That's not his only problem. He lost calves and fencing. A 3,200-bushel bin exploded when his beans got wet and expanded. Floodwater also invaded a pair of bins holding a combined 20,000 bushels of corn. One split and dumped corn on the ground, but he's hoping to save some.
"This is going to be widespread problem with a majority of those bins," he said. He used binoculars to inspect his aunt's farm across the water in Iowa, and saw grain spilling from her bins, too.
He's been through this before. In 2011, and last year, when July flooding wiped out half of his crop and it was too late to replant.
He's been farming long enough that he's gotten ahead, he said, and he could probably survive a year without a crop. But he's not sure how long he will last after that.
"The last few years have been kind of rough," he said. "I'll have to feel along as I go. You can't keep losing money every year."