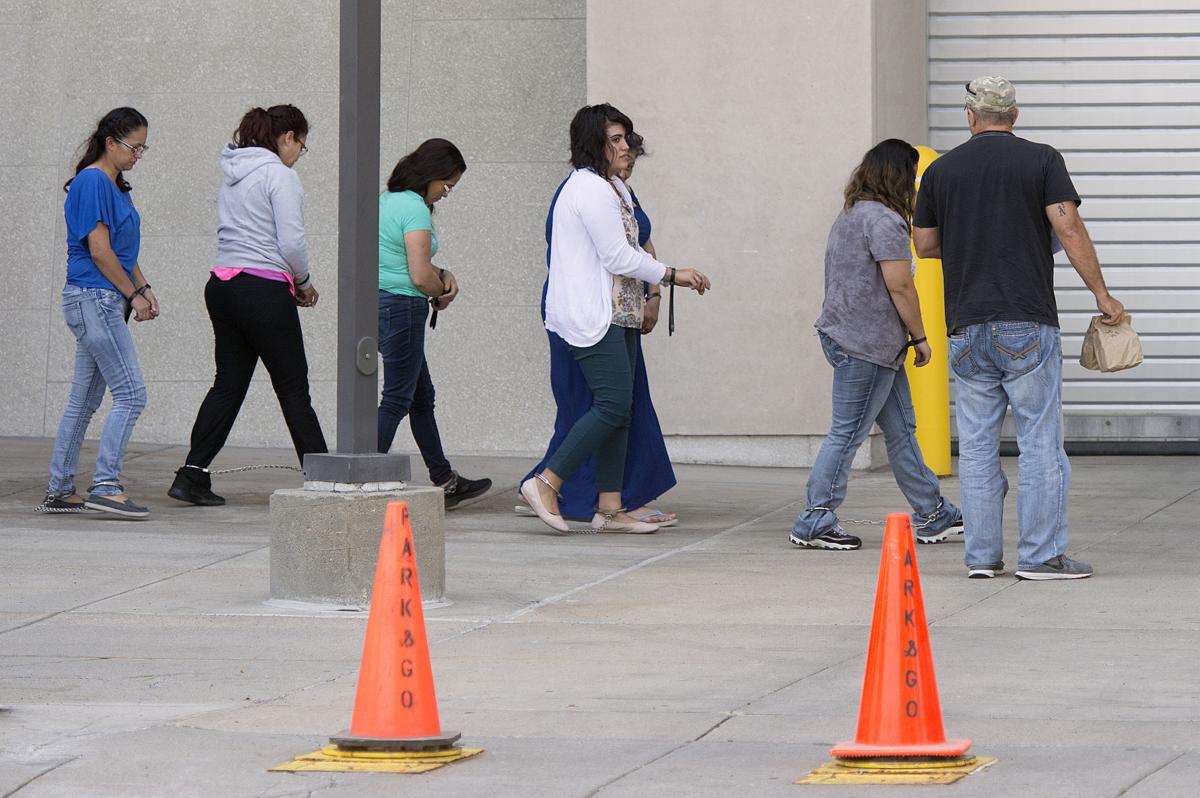 A federal judge Wednesday gave the maximum sentence he could to the man behind a financial scheme that made huge profits off a plot to supply agricultural businesses with undocumented migrant workers.
Chief U.S. District Judge John Gerrard went beyond sentencing guidelines that recommended roughly 3 1/2 years, instead giving Juan Pablo Sanchez Delgado 10 years in prison, plus a $150,000 fine, for conspiracy to harbor illegal aliens. 
Sanchez Delgado and his wife, Magdalena Castro Benitez, both pleaded guilty. 
In an afternoon hearing, Benitez got 2 1/2 years. 
They lived in O'Neill for several years before U.S. Immigration and Customs Enforcement officers came with arrest warrants to the O'Neill area and two communities in Minnesota on Aug. 8, 2018, bringing the plot to light. 
"There was a criminal network of individuals of which Mr. Sanchez Delgado was the center that identified an opportunity in a vulnerable worker population," Assistant U.S. Attorney Lesley Woods said. 
She said the couple saw the opportunity to take advantage of these workers who didn't have recourse to demand better treatment — or lawful treatment — because they were in the country without permanent status. 
"If you can take somebody in that situation and see financial opportunity in a vulnerable human being, that says a lot about who you are and what you're capable of," Woods said. 
She said Sanchez Delgado made millions by paying workers less per hour than the companies paid him and by keeping state income tax, Social Security and Medicare withholdings taken out of their checks for himself.
Woods said taxpayers were left holding the bag. 
Sanchez Delgado's attorney, Jon Braaten, said his client had been a respected businessman in O'Neill who was friendly with the mayor and head of the chamber of commerce.
"But then, he fully admits, greed took ahold and the ability to turn money off the workers became too easy," he said.
Braaten said there were no doubt some workers benefited from him giving them jobs they couldn't legally have. He hoped those who suffered from Sanchez Delgado's greed will be paid soon, thanks to a forfeiture of assets seized by the government. 
You have free articles remaining.
"This is not a case about fighting immigration policy or systems. It's not a case about undocumented workers and their contribution to the American economy," he said. "It's quite simply a case of illegal activity based on greed."
Braaten said Sanchez Delgado wasn't the only one to benefit; so, too, did businesses, management and unknown others.
"There is no doubt that for three years he did things that caused substantial harm to others," he said.
Braaten said what started, in part, as a benevolent reason to give work to people who otherwise couldn't work turned into something different. 
In the end, Gerrard said companies paid Sanchez Delgado $15-$17 per hour for the workers, whom he in turn paid $10-$12 and charged $50-$75 check-cashing fees. And he and his wife were buying homes in Las Vegas and profiting hundreds of thousands of dollars a year.
"This is one of the most egregious financial schemes that this court has encountered and I've encountered a number of egregious schemes," the judge said. 
Gerrard said this wasn't a simple scheme to harbor illegal aliens. 
"The guidelines do not account for this kind of behavior, for this type of abuse of undocumented workers, for this type of rank profiteering," he said. 
Soon after, he sentenced Benitez, Sanchez Delgado's wife, after her attorney, Toni Wilson, argued for a sentence of time served: 15 months. 
Wilson said Benitez was born into extreme poverty and came to the U.S. in search of a better life and the American dream. She called Benitez humble and compassionate and a loving mother whose role was to give jobs to people at the Mexican restaurant she and her husband ran in O'Neill. 
Wilson said Benitez had no idea of the conditions of the people who worked for her husband through the staffing agency.
Woods said, by her own account, Benitez was the money manager for her husband's business, which was no small thing. 
After they serve their time, they'll be deported to Mexico.
As part of Sanchez Delgado's plea deal, he and his wife also agreed to forfeit more than $178,000 seized from bank accounts and four homes in Las Vegas.