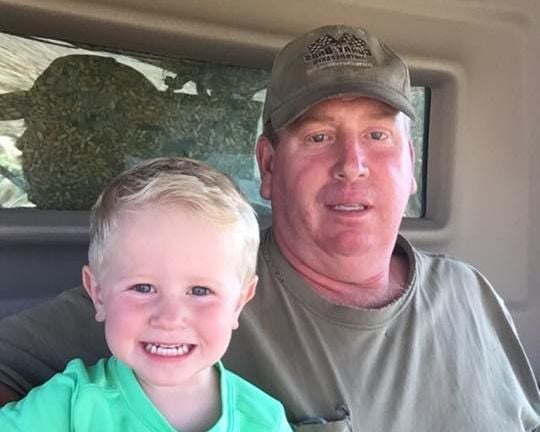 COLUMBUS -- A John Deere tribute video recognizing late Columbus farmer James Wilke, just less than 4 minutes in length, generated nearly 17,000 views in the first week it was posted.
The video pays homage to Wilke, who died on March 14 after the bridge stretching across Shell Creek along Monastery Road north of Columbus collapsed as he drove his John Deere 8100 across in an effort to rescue people with floodwaters rising.
The clip isn't lengthy, but shares the kind of person Wilke was through interviews conducted by John Deere representatives with Wilke's family and friends.
The tribute begins with a television news clip discussing the flood situation, followed by several clips of ice chunks and inclement weather, laying out for viewers the magnitude of the situation that unfolded throughout the state and surrounding Midwestern areas.
Wilke's wife, Rachel, discusses her late husband's strong faith and how working on his farm truly was the highlight of his life.
A family friend, Isa Stewart, goes on to discuss how she viewed Wilke as a second father figure, how he was such a huge supporter of her through her successes, and failures, with Future Farmers of America.
The video transitions to Wilke's son, Colton, recapping what happened the day of his father's death.
"He got a call saying that somebody was stranded and that they needed a tractor because it was pretty windy and rainy out, yet," Colton says in the video. "He got in the tractor (and) took off down the road."
Rachel goes on to discuss how law enforcement let him pass to the bridge and that there was no water going over it when he attempted to pass. Colton looked away and when he looked back, his dad's tractor lights were gone.
"Dad always told me that, 'if you ever get in the floodwaters, you're just gone,'" Colton says. "So at that point in time I knew to go home and tell mom."
Attempts were made to locate Wilke, but the extremely high and fast-moving floodwaters made all attempts initially futile, the Platte County Sheriff's Office reported shortly after Wilke was swept away. His body was eventually located in the creek by a search team.
After the incident was highlighted, others close to Wilke spoke. Aaron Witt, pastor of Christ Lutheran Church, noted how everyone calls Wilke a hero, but how he never saw himself in that light.
Colton at the end of the video lovingly said how life on the farm has been forced to move on a little bit differently, but how "if he was still around he would be shaking his head, or yelling."
Paul Wilke, James' cousin -- also featured in the tribute video -- said during an interview with The Telegram that John Deere corporate leaders caught wind of what had happened through a Humphrey implement dealer who worked with the Wilke Family.
Ultimately, corporate leaders reached out to Rachel Wilke and got the OK to come out to the Columbus area with a crew and film. Once the clip was complete, the Wilke family and a few close to them made the trip July 11-13 to John Deere headquarters in Moline, Illinois, to be recognized.
Dan Egger, a close friend of Wilke, said that he believed that tribute video hit all the right notes. He and James met in 2003 and bonded over their farming backgrounds, faith and both having three children.
"He was always someone that you could talk to about crops, irrigation, cattle -- he was just always doing the same stuff I was doing," Egger said, noting how he also attended Christ Lutheran Church with Wilke. "He was just in the same boat as I was … And he was just very good at what he did, he was a great farmer and cattle feeder … And he loved John Deere."
Paul Wilke echoed Egger's sentiment regarding the video. It was tough talking on camera -- he got a little more emotional than he would have liked, but the video served its purpose well. He said he has been receiving lots of positive feedback and phone calls in the aftermath of the clip being released.
"It's been really good," Paul said. "A lot of good things have come out of it, I think it's inspired a lot of people."
In the clip, Colton Wilke said that if his dad was going to leave this earth at least he was riding a Deere.
"I was just glad he got to go in his favorite tractor," Colton says.
Be the first to know
Get local news delivered to your inbox!