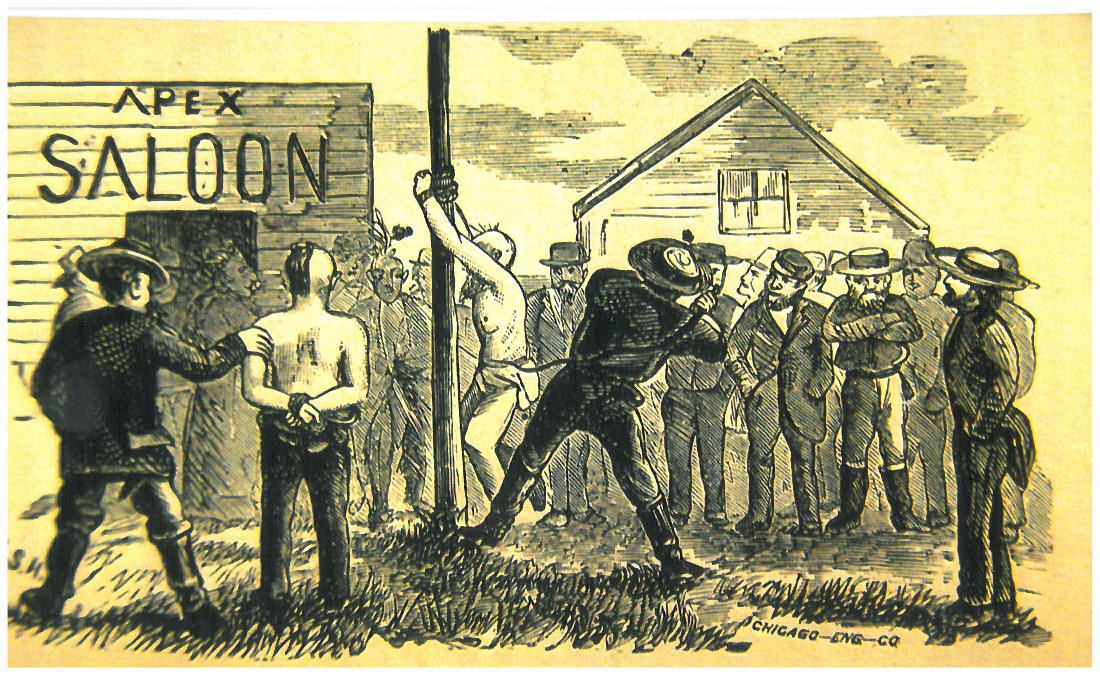 As the Nebraska Territory formed in 1854 and would-be settlers crossed the Missouri River from Iowa, there was no effective or legal way to own land until it was federally surveyed and accurately described. Additionally, there was virtually no law enforcement, and because settlers' only true possessions were often land, horses and cattle, a means of protecting them became a necessity.
It was therefore not surprising that horse thieves were thought of as equal to or even worse than murderers. The almost instantaneous formation of claim clubs to protect land ownership and vigilante groups to enforce those claims was natural. It was then only a step away from protecting livestock and land claims to escalating into lynchings.
Even before statehood a group of men began staking out land in what would become Omaha City and further south along the Missouri River, but they were rebuffed by the Indian agents. As the territory was born, land was controlled but not legally owned by squatters waiting for the federal land surveys which began in 1855 and moved generally westward. These surveys were halted during the Civil War and not completed in Nebraska until the late 1870s. On March 5, 1856 the territorial legislature passed the Claims on Public Land Act which more or less legitimized claim clubs and allowed squatters to hold up to 320 acres if a claim club was officially formed and land claims subsequently filed with appropriate county clerks. Although these clubs were in opposition to U. S. statutes, they took advantage of the situation to set punishment of violators as harsh as expulsion or death.
Omaha City's claim club was headed by Mayor Jesse Lowe and the club's constitution specified claim-jumpers could "be treated as any other common thief." James Woolworth noted that claim clubs and the territorial legislature afforded "pretty safe possession" though the law "is unconstitutional." Claim clubs quickly formed at Bellevue, Brownville, Elkhorn, Florence, Nebraska City and Plattsmouth," providing the only "real government of the territory." To enforce their decisions vigilante groups were formed with no written records except occasional membership lists and were often filled with attorneys, government officials and otherwise respectable businessmen.
As government surveys continued, claim clubs slowly dissolved but new vigilance committees formed to protect settlers from cattle rustlers and horse thieves. In the summer of 1856 several stolen ponies were sold to two Pawnee men near Omaha City. A vigilante committee regained the horses for their owners and the Pawnee urged to be on the lookout for other thieves. The same two thieves then offered mules to the same Pawnee men who captured the thieves and turned them over to the vigilantes. One thief's head was shaved on the left side, the other on his right side. The pair was then tied to a post at 12th and Harney streets where each received 39 whip lashes from the mule's true owner. Chief Justice Fenner Ferguson tried to intervene but while "the citizens all regretted the affair [they] regarded it as necessary."
Several more trials and lynchings were conducted for Omaha City area horse thieves who were "always presumed guilty," though one trial in 1859 saw a young burglar "strung up" but then cut down and allowed to escape to the river and into Iowa amidst a fusillade of warning gunfire. Alfred Sorenson, who chronicled the affair in 1879, pointed out that the vigilantes "were always for the good of the community, and we have yet to hear of a case wherein they made a mistake."
Sorenson, considerably overconfident of the good done by vigilantes, also reported on a Cass County vigilance band of supposedly 300 members, who captured Jim Tibbits and a man named Hunt probably in April of 1857. A trial overseen by "Judge Lynch" with defense by "Jim Doom" saw both men admit their guilt and then sent to Omaha City for a more proper trial. The pair however escaped to Iowa, stole two more horses, were pursued by Iowa vigilantes and subsequently shot and killed. Others were sometimes expelled from Nebraska but mysteriously drowned while crossing the Missouri River.
North Central Nebraska proved to be one of the last strongholds of rustlers with Doc Middleton's capture and the subsequent lynching of Kid Wade on February 8, 1884 "at the hands of parties unknown." By 1906 horse thieves sere almost universally gone in the state, "no necktie parties were held; justice, though slow, was done according to the law."
12 Nebraska outlaws
Historian Jim McKee, who still writes with a fountain pen, invites comments or questions. Write to him in care of the Journal Star or at jim@leebooksellers.com.