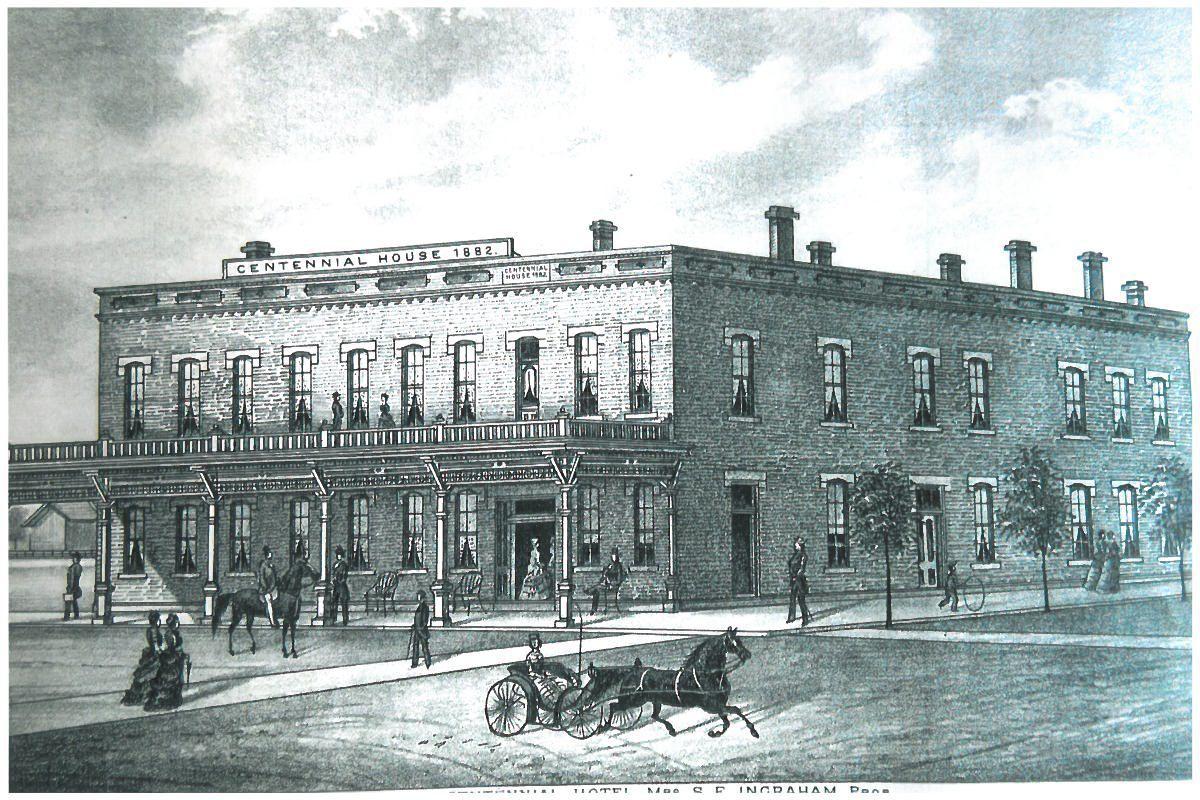 While many Nebraska towns are named for people who have never set foot in the state, not many have been named for a person who never even existed and certainly very few have lost the popular vote to be their county's seat yet retained the title.
Combining all these qualifications, Tecumseh, Nebraska, is probably unique.
In 1855 the first territorial legislature created Johnson County, named for U. S. Vice President Richard M. Johnson, from what was originally Forney and then Nemaha County. The county, which was subsequently organized the following year, was well-known for its location on the Brownville-Fort Kearny/Brownville-Marysville Trail.
At about the same time Col. John Boulware sold his Missouri River ferry and chose a relocation site on the Big Nemaha River directly west of Brownville. In the summer of 1856 "a half dozen settlers gathered together in a nucleus, forming a hamlet on which John Maulding laid out the town of Frances" near the center of the county. Some accounts say it was named for Nebraska Territory's first governor Francis (sic.) Burt however most agree that it was in honor of the wife of Colonel Richard Mentor Johnson, namesake of the county. This too is questioned by others who claim that Johnson did not have a true wife, only a common law partner whose name in fact was Julia Chinn.
An act of the legislature in February of 1857 placed the county seat at Tecumseh, named for Shawnee Chief Tecumseh who may or may not have been killed by Colonel Johnson in 1813 during the second year of the War of 1812. What is known is that Johnson, a U. S. senator from Kentucky, used the slogan "Rumpsey Dumpsey, Rumpsey Dumpsey, Colonel Johnson Killed Tecumseh" when running for the U. S. presidency. At any rate the Tecumseh post office was established in May of 1857 with William P. Walker as postmaster.
Although appointed county seat by the legislature, the people were not completely satisfied and as no courthouse existed, the village of Tecumseh offered 25 city lots to finance a building and Lexington countered with an offer of 50 lots.
The county commissioners offered all the lots at auction to provide money to build a courthouse however no offers were forthcoming. On Aug. 2, 1858, a general election, petitioned by 76 county voters, was held to determine if the county seat should be relocated. The tally showed Kingston favored by 47 to Tecumseh's 46 and Centerville's three votes. Nebraska law however said a 3/5ths majority was needed to move a county seat meaning that although a simple majority voted to move, it stayed in Tecumseh. This proved providential when it was shown that Kingston "had no tangible existence at that time or afterwards except on paper," just a relay point on the trail to Salt Lake.
In 1858 Tecumseh's first hotel/livery barn was built by I. C. Lawrence. The 24-by-30-foot building was purchased by K. Tierney and a decade later had been enlarged to the three-story Sherman House Hotel.
A $2,800 stone courthouse followed in 1868 on a square block bounded by Third, Fourth, Clay and Broadway streets after an editorial called the original building "an obsolete pile."
Tecumseh was incorporated in 1867. The Atchison & Nebraska Railroad arrived on April 25, 1872, and built a depot at about Third and Webster,  increasing the city's potential and growth. This connected Tecumseh with Lincoln and was partially funded by bonds sold in in Nebraska's capital city. With the railroad, it was stated that there were about 20 businesses and 100 houses had been built.
A fire in 1875 destroyed the block of buildings between the Sherman House and Centennial hotels, and in 1882 the new Centennial Hotel, as pictured, was completed by Mrs. S. E. Ingram, who had settled in Tecumseh from New York in 1869.
In 1882 Tecumseh noted there were three hotels, the Centennial, the Caledonia and the Sherman, six dry goods stores, two banks, three grain elevators, an iron foundry, nine grocers, four hardware stores, three druggists, three saloons, three furniture stores, five restaurants, seven churches, three newspapers, the Chieftan, Torchlight and Journal and a second railway, the Republican Valley Railroad had arrived.
A new courthouse was planned in 1887 by Lincoln architect William Gray to be a "duplicate of the York County courthouse" and completed in 1889. The new and extant building was placed on the National Register of Historic Places in 1990.
Nearly 50 square blocks are contained in the Tecumseh Historic District while the city's population is now estimated at 1,700, down from its high of 2,104 in 1940.
Historian Jim McKee, who still writes with a fountain pen, invites comments or questions. Write to him in care of the Journal Star or at jim@leebooksellers.com.
Be the first to know
Get local news delivered to your inbox!