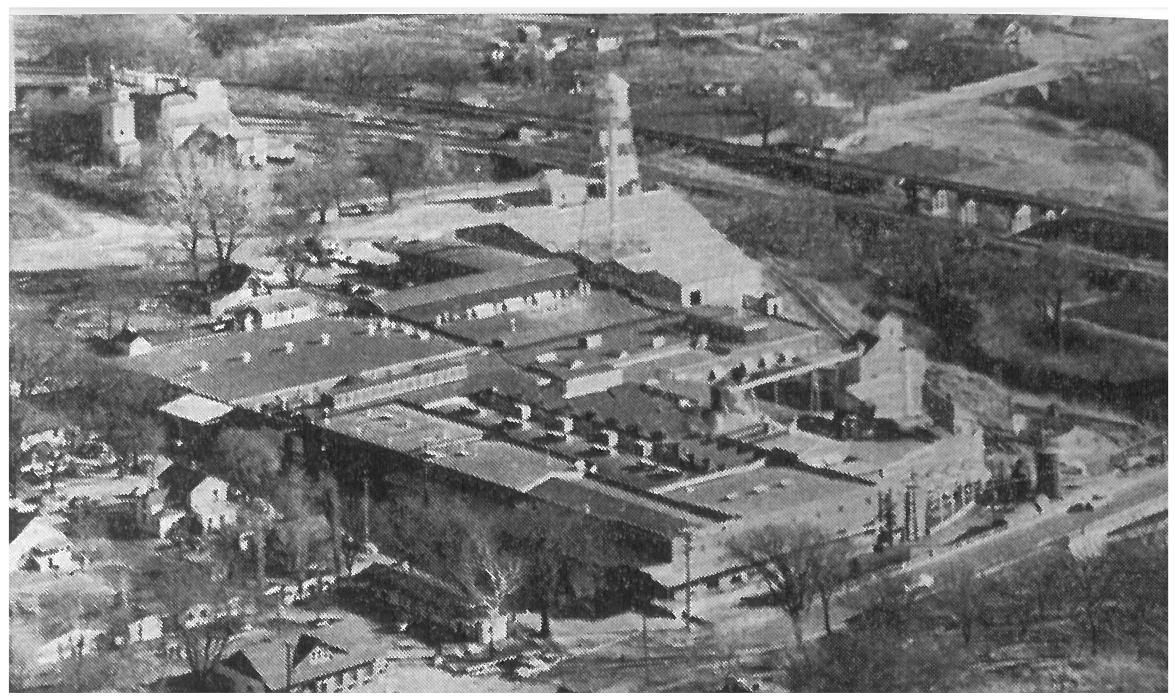 When one thinks of the Morton family and Nebraska City, Arbor Day is usually the first thing to come to mind.
If the word business is added to the mix, salt would be the main topic yet for a time the biggest employer in the city was Morton-Gregson Company which, with several others, made Nebraska City a prominent player in the packing and canning industry and before 1890, the 51 industrial and manufacturing firms employed 10% of Nebraska City's population with two packing plants alone employing over 400 workers.
Meatpacking began on a large scale in Nebraska City in 1881 when Portus Ware of Chicago established the Nebraska & Iowa Packing Company on a Burlington & Missouri River Railroad siding on a 40-acre tract donated by local businessmen on South 14th Street.
Almost from the start it was claimed that Nebraska & Iowa Packing was the "third largest of its kind with a capacity of 2,000 hogs a day." Four years later the firm was purchased by Nebraska City Packing Co. and three years later advertised they were serving "customers throughout he United States."
Later the firm became the Chicago Packing & Provision company before becoming part of Western Cold Storage Co., which in turn would become a part of Morton-Gregson Company.
You have free articles remaining.
With J. Sterling Morton's gift of a 40-acre tract southwest of Nebraska City in 1885 and a $10,000 incentive grant put up by local businessmen, Thomas Powers of Montana established the Trans-Missouri Packing Company, which reorganized in 1887 as the Missouri River Packing Company. Joy Morton, oldest son of J. Sterling Morton, and W. L. Gregson purchased the firm in 1901 renaming it Morton-Gregson Packing company, to which they appended Western Cold Storage Co. already known as the "best equipped cold-storage plant in the west."
The entire facility built around the five-story building, by 1905, had become the second largest packing plant in the state and Nebraska City's largest employer. The facility was later purchased by Wilson Company of Omaha, who closed it May 30, 1932.
John Black of Shenandoah, Iowa, was the next food processor, but not a meat processor, to enter the city when he opened the Nebraska City Canning Company on 11th Street and Seventh Corso. His Otoe, Pearl and Pioneer brands canned corn, tomatoes and pumpkins during the harvest season and additionally, during the off season, had the capacity to process 3,000 cans of apple butter a day employing up to 500 during peak production.
Nebraska City Canning was acquired by Otoe Preserving Co., in 1901 which had a capacity of canning 65,000 to 80,000 cans or 2 million cans per year and was then reorganized by John W. Morton and E. L. Steinhart as Otoe Food Products Company.
Their primary products included corn, tomatoes, but they added spinach, apples, green beans and other locally produced vegetables as they became available. In 1918 Otoe Food Products also began canning pork and beans as well as other non-seasonal commodities such as hominy and soup. By 1954 the firm was producing 2 million cases of canned goods annually with a staff of about 400 in their 250,000 square foot facility. In 1949 the firm was sold, and production increased to 400,000 cans per day from what had, by 1967, become known as Morton House Kitchens.
The fourth major facility opened in Nebraska City in 1888 by Omaha Cold Storage who headquartered at 801 Farnam in Omaha. In 1924 their Nebraska City branch opened as an egg and poultry facility in a small 70 by 50-foot building on land donated by the Nebraska City Chamber of Commerce on Seventh Corso between Sixth and Seventh streets. After the building was doubled in size the corporation and its 175 employees were acquired by Ocoma Foods Company, which also had plants in South Dakota, Iowa, Arkansas and New Jersey.
The Morton House Kitchen complex was purchased by Lipton Company in 1966 but closed in 1982 with the physical plant sold to James Gerking Co. with the remaining buildings used primarily as storage. The few left deteriorated and were considered for demolition in 2012 but least two of the structures are still standing at 1009 Seventh Corso, all that apparently remains of the city's once giant canning and meat packing business.
Historian Jim McKee, who still writes with a fountain pen, invites comments or questions. Write to him in care of the Journal Star or at jim@leebooksellers.com.