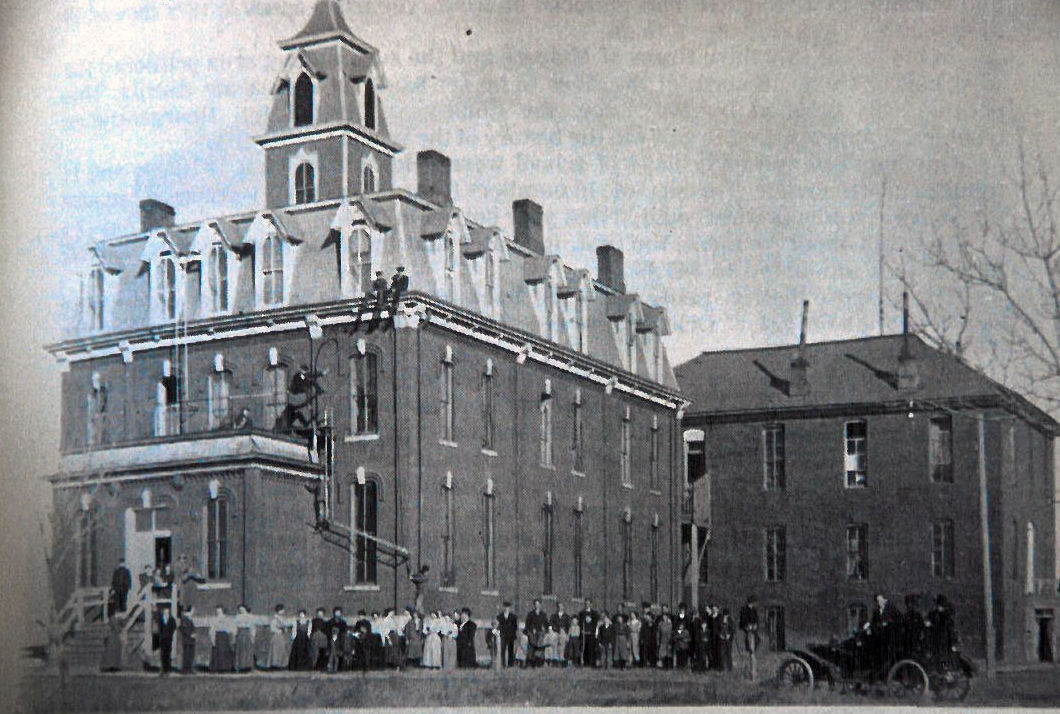 With the creation of Harlan County and the subsequent arrival of a branch of the Burlington & Missouri River Railroad, Orleans was almost perfectly situated to become the county seat and to host a denominational university.
Both came about, but were not destined to have long-lasting success.
In 1869, retired Civil War Gen. Victor Vifquain camped near what would ultimately become the village of Orleans while scouting land for settlement. There, on subsequent Section 17 about where the Orleans depot would be built, he and a small group of men built a 40-foot-square stockade with 2½-inch-thick sod walls. The following year, Vifquain drew a town plan for what he called Napoleon, southeast of the later site of Orleans.
On June 30, 1871, Harlan County was created from a corner of the original Lincoln County, and an election to determine the county seat was called for July 3. Although the store Frank Bieyon built at the birth of the village of Melrose near the center of Harlan County was perhaps the only real building in the county, the seat of government was given to Alma, on a 37-5 vote, over Napoleon, which had no population, houses or buildings whatsoever.
In 1872, the stockade burned to the ground, but in June a newspaper reported that "Republican City and Melrose each had a store, a hitching post and a clothes line."
On June 29, as a few other settlers arrived in the county, another election for the county seat yielded Republican City 37 votes, Melrose 36, Alma 31 and Napoleon 24, with none receiving a "sufficient majority." Still, the county records were moved to Melrose.
Another vote was held Aug. 8, with Napoleon dropped for having no official townsite records on file, having had the smallest number of votes in the previous election and no population. There was still no legal decision, as state majority requirements were again not met.
Yet another vote was held Aug. 29, with Alma dropped as being the lowest vote-getter. Melrose was declared the winner and the second floor of Bieyon's store became the courthouse. Although a question arose over the legality of the election, Melrose was considered the winner by default. Melrose also was platted the same year on the east half of Section 17 with east/west streets named for eastern universities and north/south streets numbered.
A post office opened in Melrose in January 1873, about a mile northwest of Orleans, with F.A. Bieyon as postmaster. At that point, Orleans claimed to have 10 buildings to Melrose's seven.
Republican City challenged the 1872 election and sued to have the county seat moved there, claiming it had the largest number of votes in that election. Confusingly, Judge Gaslin ruled that because the later election had never been challenged, the county seat should be moved from Melrose to Alma even though most electors were satisfied with Melrose. Then, even though there was no suitable building in Alma, the records were moved with "a little trickery … without violence."
Orleans filed incorporation papers in 1879 as a village in Section 22, less than a mile from Melrose. A $2,000 building termed a courthouse/auditorium was erected to woo the county seat. It became obvious that two competing villages could not exist so close to each other. The Melrose post office was moved to Orleans, with Bieyon again named postmaster, and the plat of Melrose vacated, with many houses and buildings moved to Orleans.
In the fall of 1881, another vote for county seat ended with both Alma and Orleans claiming victory. The Nebraska Supreme Court found voting irregularities in the Alma precinct, resulting in those votes being thrown out and meaning that Orleans would be the county seat. But at the same time, the court also ruled the entire election voided, meaning Alma still retained the seat.
As early as 1870 an annual Methodist Conference stated the need to establish 10 to 12 academies or seminaries (secondary schools) around Nebraska to feed students into Methodist colleges or universities. Orleans' Burton's Addition — about a four-square- block provision bounded by North, Linn, College and Harvard streets — was set aside as the "seminary grounds."
This "land grant" attracted Rev. C.M. Damon of the Free Methodist Church, based just across the state border in Kansas, to build the brick, two-story-plus sunlight basement Orleans Free Methodist College in 1884. The college was briefly joined by H.B. Beaches Business College, which converted the courthouse/auditorium building at Oak and Orleans streets to his school in 1886.
With Nebraska Wesleyan's opening in College View, Nebraska, in 1888, it was pointed out that seminaries or academies would give students two years of education before "more challenging college work," which gave Orleans Free Methodist College a continuing promise of success. The Free Methodist school closed in 1893, with the school's building going to the Methodist Episcopal Church, which reopened it as Orleans College. In 1895, it was reported as having a respectable enrollment of 456 students.
Unfortunately, the National Bank of Orleans failed in 1897, which in turn forced closure of Orleans College. In 1914, the then two-building complex was razed and materials reused in other Orleans buildings.
Today, memories of Orleans' days as a college community or county seat have faded nearly into oblivion. The village is perhaps now most remembered as once having "the world's largest co-operative creamery."
Historian Jim McKee, who still writes with a fountain pen, invites comments or questions. Write to him in care of the Journal Star or at jim@leebooksellers.com.