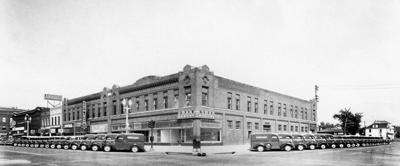 The exact date the first automobile appeared in Nebraska is a matter of conjecture.
It may have been in Nebraska City in 1895, Omaha in 1899 or even Lincoln in 1902 though a Locomobile was definitely sighted, according to a Nebraska City newspaper, in 1901.
To add to the confusion H.E. Sidles' P Street bicycle shop advertised auto parts in 1896. Registration was lackadaisical in the early days. Still, people registered 571 automobiles in Nebraska in 1905, and the following year registration nearly doubled to 1,087. With the introduction of the Ford Model T, the number jumped to 15,000 in 1910.
Lincoln quickly joined the revolution, and auto dealers began proliferating along P and O streets. A number of these purpose-built showrooms still exist with the Lord Building on the northwest corner of 17th and O as one of the most prominent.
Charles A. Lord was born in 1868 in Illinois and graduated from high school in Salem. With an interest in automobiles, Lord moved to Lincoln in 1909. In 1910 the Lord Auto Co. was in business at 1200 P St. offering three brands. The 34-horsepower, chain-driven Reo was said to be the "final culmination of a perfect car" at $1,200. The Premier four-cylinder, $2,800, 40-horsepower was called the "quality car," and the air-cooled Franklin, which had models selling for $1,800 to $3,800, was described as "classy, quiet and powerful."
By 1917 Lord Auto Co. had moved to 230 N. 12th St. and was selling Hudson and Saxon cars.
From the earliest city directories the north side of O Street between 16th and 17th Streets was empty or had houses, but in 1910 Lincoln architects Woods & Cordner designed a two-story, $6,000 brick building for the Geistlinger Baking Co. at 1644 O St. At 1630 O St. was Jonathan Cline's horseshoeing and 1632 O St. was Frank Call's carpentry.
The building at 1644 was described as being 50-by-142 feet in 1916. Evidently the bakery never occupied the building or did so only a brief time because, in 1915-16, the building housed the Card-Adams Motor Co. representing automobiles in Nebraska, Iowa and Kansas while the east end of the building at 1648 O Street housed the Overland Motor Co.
In the early 1920s Card-Adams moved east across the street to 1738 O St. and Lord Auto occupied 1644 O St. Charles Lord ran unsuccessfully for mayor in 1923 and by the second half of the decade the cornice of the building sported a stone marker at its center proclaiming it the Lord Building. The second floor of the west portion of the structure housed seven apartments with their entrance at 1628 O St. Lord Motor Co. also changed dealerships to sell Hudson and Essex automobiles in 1927 but switched again in 1928 to Graham-Paige cars which they distributed throughout Kansas and the "South Platte territory."
By 1930, with 25 new car dealers now listed in Lincoln, Lord had turned the dealership over to his son-in-law James C. Higgins.
In 1935 the north side of the 1600 block of O Street had separate used car dealers listed at 1600, 1620, 1624, 1630, 1636 with Lord still occupying 1644.
The city directory then listed Charles Lord as being in farming and Higgins as being retired. In a bizarre turn of events, Lord died in an automobile accident in 1936. Graham–Paige stopped producing cars in 1940 with their assets selling to Kaiser-Frazer, and the Lord Motor Co. disappeared.
The Omar Baking Co. was established in 1917 and in 1923 built one of four Midwest bakeries in Omaha. In 1935, the Omar city delivery depot for Lincoln was at 1821 N St. In 1941, Omar took over the Lord Building at 1644 O for office and deliveries with bread and pastries still produced in Omaha. With 37 regional mills/bakeries in the U.S., the Omar man was "knocking at your door" in 1,300 towns, but by the mid-1960s, the company virtually was out of business nationwide.
Kryger Glass Co. was established by Walter Kryger in 1940 in Lincoln later moving from 1340 N. 17th St. to 1644 O. Though still a very active business, Kryger Glass is now headquartered in Kansas City, Missouri. As home to various bars, ethnic grocers, bike shops, antique stores, a tattoo studio and an event center, the Lord Building soldiered on.
With all the recent upper floor conversions in the past few years perhaps it, too, will become condominiums or apartments as downtown Lincoln continues to redefine itself.
Historian Jim McKee, who still writes with a fountain pen, invites comments or questions. Write to him in care of the Journal Star or at jim@leebooksellers.com.