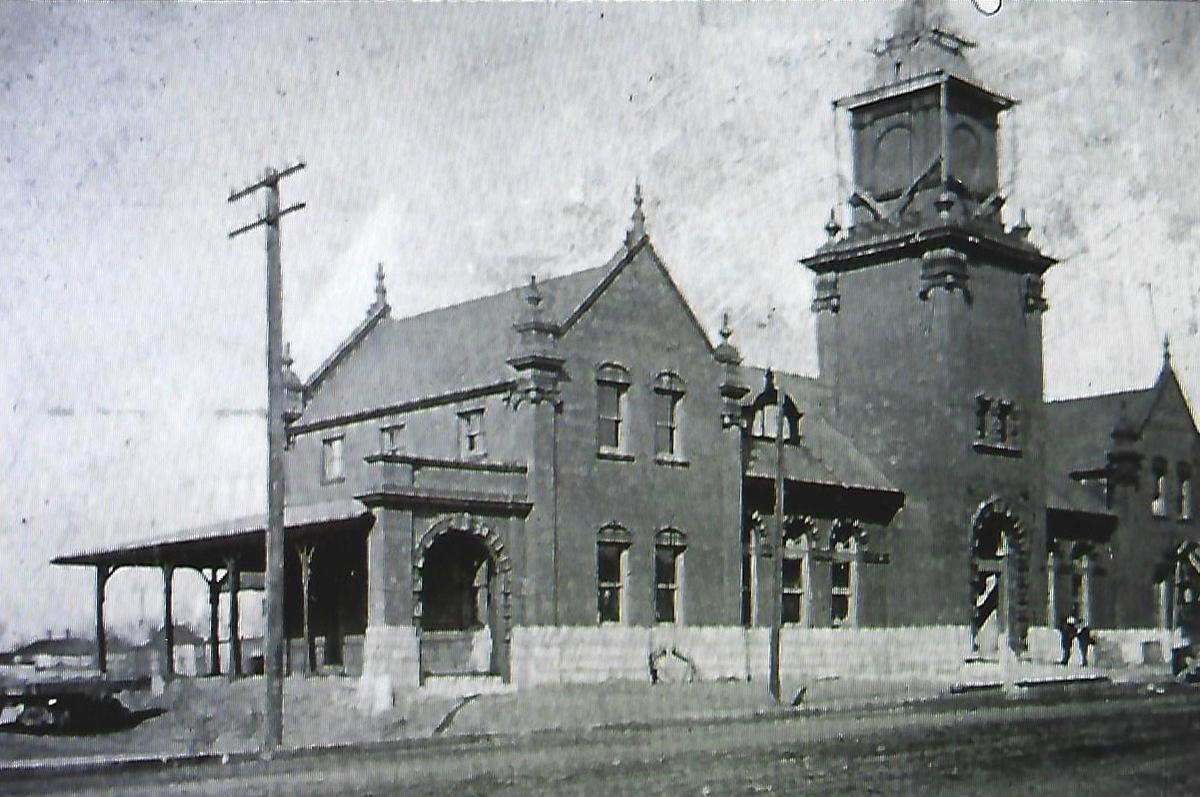 Nebraska had barely been granted statehood in 1867 when the clamor for a railroad began. Railroads provided a gateway for trade and travel, a window on the world and were considered a necessity for a city's growth, prosperity and even survival.
Besides the rails, the obvious presence of a depot, the grander the better, showed all comers how successful the community was. As railroads consolidated and closed, more and more of the various branches' depots began to disappear. Some were repurposed, others moved, and most were simply razed.
Lincoln became the home of Walton's depot at the Children's Zoo, the Roca depot is now at the Lancaster Event Center while the Rock Island depot has been repurposed and the old Burlington depot is a central feature of the historic Haymarket while a new depot has now been built a couple of blocks to the west.
The Burlington & Missouri River Railroad was the first to reach Lincoln, but before that a tiny depot/whistle stop was built at Newton about where Glaxo Smith Kline now sits on Highway 6 northeast of Lincoln. That depot was physically moved to Havelock, but both were well outside of Lincoln before annexation.
The engine Hurricane finally reached Lincoln on July 26, 1870, and late that November a small cottonwood depot and immigrant house were built at about what would become 5th and Q streets. The immigrant house is clearly visible in photos, but only the roof of the first depot is recorded.
In 1871 the second Burlington depot was built at 7th and P. This Victorian Gothic building, whose construction was overseen by A. E. Touzalin, was a three-story, masonry, 54-by-182-foot structure whose top floor was mostly occupied by a huge storage wet-cell battery capable of maintaining 907 miles of the railroad's telegraph lines, but the building itself had no lavatories or electricity.
In 1906 the depot was renovated, modernized and the extant 1,600 foot canopy built. At that point in history the depot and grounds had over 40 miles of track, employed over 800 workers and hosted an average of 25 passenger and 75 freight trains daily. The third, extant, Neo-Classical Revival depot was completed by Kiewitt Construction Company on October 28, 1927, at a cost of $1 million.
The second railroad to build a depot in Lincoln was the Midland Pacific, whose primary objective was to capture as many governmental land and cash grants as possible. The Nebraska legislature granted them 100,000 state-owned acres in 1869 with considerably more should they, as they planned, be the first to reach the new state capital of Lincoln. The Midland Pacific actually arrived in April of 1871 with seven intermediary station stops after leaving Nebraska City. A 24-by-50 foot cottonwood depot was erected on the northeast corner of 5th and H streets near their roundhouse. In the 1940s the depot was moved to a lumberyard on the southeast corner of 8th and N for storage before being razed and becoming Baker Hardware, which was also removed as the site of 8NLofts apartments.
The Union Pacific Railroad completed a 58-mile connection between Valley and Lincoln in 1877 and opened a small, frame passenger and freight depot and telegraph building at about 5th and O streets in 1879.
Around 1884 they added a 38-mile connection to Beatrice using the same depot but in 1927 moved passenger service to the new Burlington depot. This lease option ended in 1952 when the Union Pacific ended passenger service in Lincoln.
The Chicago & Northwestern Railroad, with its corporate connections with the Missouri Pacific, received $50,000 in Lancaster County bonds in 1886. Although they had begun Nebraska service in Fremont as early as 1879, they felt Lincoln would not generate sufficient freight revenue, but with the bond revenue, they connected Lincoln to Fremont and built a small wooden depot at 8th and S streets which faced the south, requiring a wye to the north of the building rather than a normal configuration of through-tracks beside the depot.
A second, brick depot was completed on the site in 1900. In 1907 the Chicago & Northwestern absorbed the Fremont, Elkhorn & Missouri Valley Railroad, which meant the new combination had 137 Nebraska stations in addition to the Missouri Pacific's 52. The brick depot was renovated in 1949, but in 1952 the Chicago & Northwestern ended passenger service, the depot closed and was razed the following year.
In 1889 it was announced with certainty that the Chicago, Rock Island & Pacific Railroad would finally build to Lincoln. In 1892 the Rock Island's connection was completed, and the following year their depot at 20th and O Street was completed. The French Chateauesque, steep-roofed, stone and brick, 82-by-28 foot, passenger and freight depot joined small frame depots at University Place and Havelock which were completed by 1911. 1966 saw passenger service ending, and in 1984 the depot closed completely with the end of freight service.
In 1971 Amtrak assumed all railroad passenger service to Lincoln and in 1982 the Arter Group remodeled the Burlington depot as Lincoln Station with the Burlington as a tenant on the upper two floors.
Sinclair Hille Architects designed a new $1.3 million, one-story, masonry, 2,750 square-foot passenger depot with an 800-foot passenger canopy for Amtrak at what would have been Sixth and Q streets. On June 26, 2012, the first westbound California Zephyr arrived at 1:00 a.m., 45 minutes late, at the new depot even though there was no connection to any Lincoln street. Today the new depot has an actual street connection at 277 Pinnacle Arena Drive with two Amtrak California Zephyr arrivals daily, one westbound, and one eastbound.
The old Burlington Depot and Rock Island depots live on as successful adaptations in the historic Haymarket and at 20th and O Street with the only other remaining depot being a freight building at Havelock Avenue and Touzalin.
Historian Jim McKee, who still writes with a fountain pen, invites comments or questions. Write to him in care of the Journal Star or at jim@leebooksellers.com.