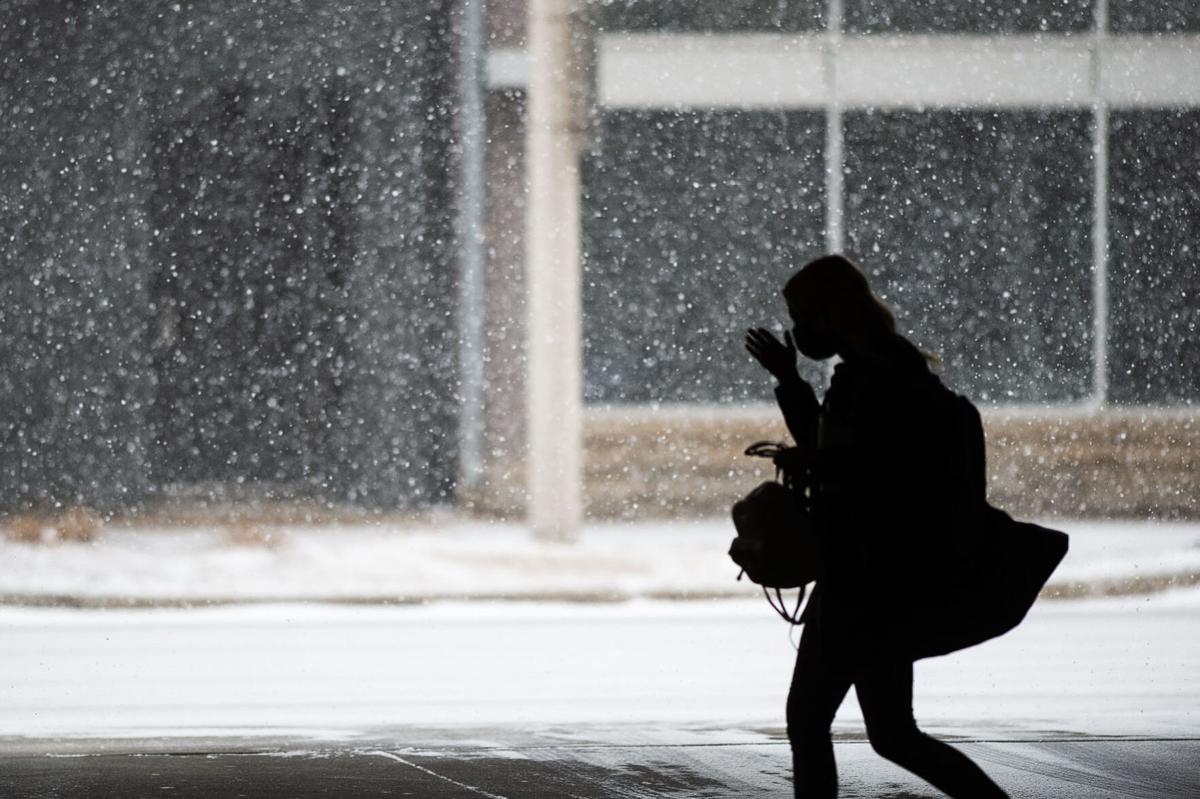 It may not be much, but as 2020 has gone, at least Lincoln residents can enjoy a white Christmas.
Only freezing temperatures have followed the 1 inch of snow measured at the Lincoln Airport following Wednesday's storm, which means it technically qualifies as only the 24th white Christmas in the Capital City dating back 73 years.
And Lincoln residents are taking advantage. At Pioneers Park on Christmas Eve, children swooshed down the snowy ramps preceding the rolling hills of the southwest Lincoln park. Tanker Hill in Arnold Heights was marked by snowy footprints and flat paths of crushed snow. 
The idyllic concept of a white Christmas is defined by the National Oceanic and Atmospheric Administration as "1 inch or more of snow on the ground" on Christmas morning. This means snow doesn't have to fall on Dec. 25 or before kids wake up to open presents — as long as there is at least 1 inch of snow cover. 
Based on historical data, forecasters say the chance of a white Christmas in Southeast Nebraska ranges between 25-40%, with the likelihood rising across the northern tier of the state.
That's where more snow fell in Wednesday's storm, with 5 inches falling near Burwell and 4 inches reported near Atkinson.
With Wednesday's gusty winds, measuring the snow was difficult across Nebraska, and drifts certainly left more snow behind in some areas.
Taylor Nicolaisen, meteorologist for the National Weather Service in Omaha, said we're not likely to see any additional snow in eastern Nebraska before next week.
Christmas is shaping up as a nice day, with a high near 42 in Lincoln but with a relatively strong wind.
"Even though it'll be about 40 degrees (on Christmas), the wind chill is keeping the snow around," Nicolaisen said.
Lincoln went from 1984 to 1996 without a white Christmas, but snow cover has been more common on Dec. 25 in the last 23 years, with nine occasions of a white Christmas.
A 1-inch snow depth pales in comparison to 11 inches on the ground on Christmas Day in 2000 and 10 inches in 2009, which remains known for a Christmas blizzard.
The last time Lincoln had snow on the ground on Christmas Day was 2017.
Memories of favorite Lincoln places
Memories of favorite Lincoln places
Christmas memories at Gateway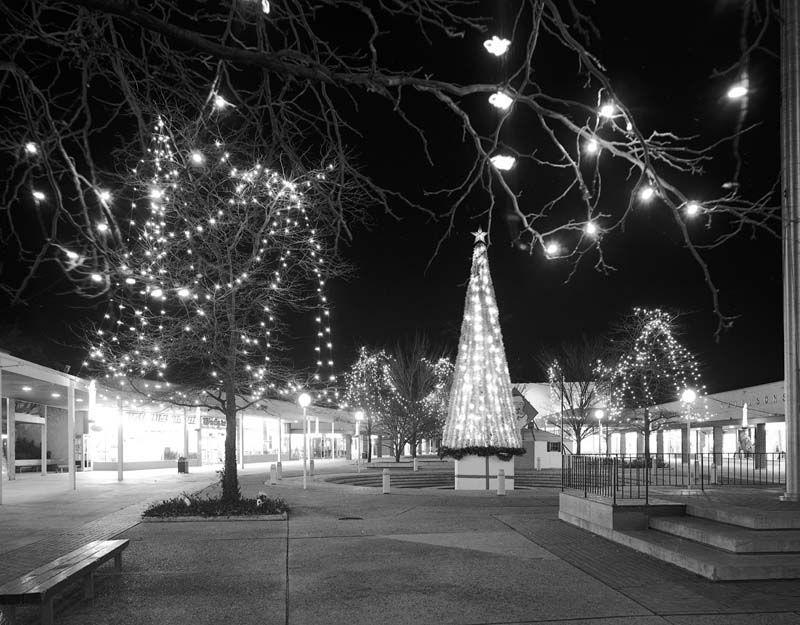 My fondest memory was waiting for Santa and Mrs. Claus to arrive at the mall via helicopter. I stood in anticipation with my husband and daughter and all the other families anxiously waiting for them to land. I was so proud when they landed and stepped out and was happy to see them as they were there in all their glory … my Mom and Dad, that is. Yes, they were Mr. & Mrs. Santa Claus at Gateway Mall for many years. Not many daughters can claim having a personal connection to the "Guy in the Big Red Suit!"
Early years of Gateway Shopping Center, especially around Christmas, are precious memories for me now! Mom and I going there every week of the Christmas season, starting at Miller's budget store, then crossing over and climbing the stairs to Kresge's. Walking out of Kresge's onto the open mall, seeing the trees decorated with Christmas lights blowing in the wind and the lights reflecting off the snow in the evening was special. My parents even had to suffer through a couple grade school Christmas plays at Gateway auditorium! Youngtown (THE toy store of Lincoln then) was beautifully decorated for Christmas. The push button outside the store made the front window display come alive with movement, music and Christmas magic. I never got tired of pushing that button! Montgomery Ward's was a necessary stop for last-minute Christmas presents. Lastly, Mom & I were off to Hinky Dinky for weekly grocery shopping. I miss all these great stores. They're gone, but the wonderful memories remain. Gateway was at its best in the early '60s through late '70s.
Many years, many memories of Miller & Paine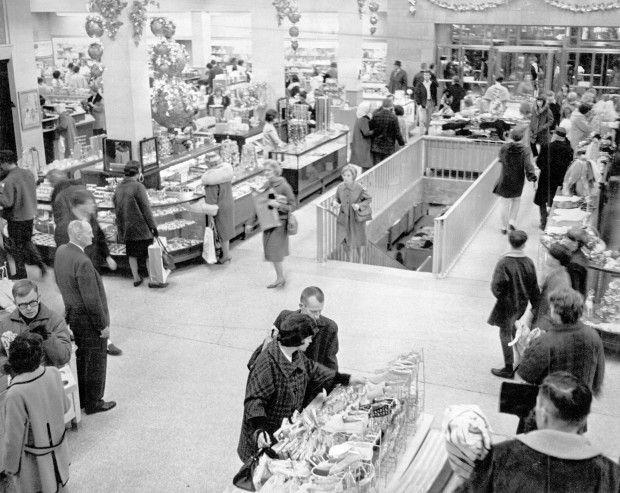 My memories of Miller & Paine go back a LONG way, from the time I was very young until I worked part time at Gateway Mall in the '70s.
In the late '30s my family would occasionally travel from York to Lincoln to shop. When we heard that M & P was installing an escalator (the first in Nebraska) from the first to second floor I practiced going up only one stair step and standing still, so that I would be ready for the big adventure. It was a wonderful babysitter - while my mother shopped my brother and I would go up and down the escalator. I can't imagine a mother today leaving her children alone in a big store. However, the floor walker didn't look kindly on us going up-the-down, and vice versa. When we tired of this we went to the lounge on 2nd floor where we watched a very talented and patient lady hand color portraits - there must have been no color photography in those days.
Lunchtime meant an elevator ride to the 5th floor tea room for chicken pot pie and cinnamon rolls (still a treat, though the store is long gone). The display of M & P handmade candy was always tempting. It was a special treat years later to take my daughters to a Saturday in the tea room when they were young, all dressed up with hats and gloves.
The elevator ride was also exciting as the operator stopped on each floor and announced what wonderful things were available there. It sounded like a dream job someday when I would grow up.
Each floor had special meaning - the china and silver department where I registered my wedding gifts in 1954 - taking my children to see Santa in his decorated house to have their picture taken - the 4th floor fabric and needlework department and the lady who taught knitting - the children's department where my mother bought Shirley Temple dresses and other back-to-school clothes - the bookstore where you could buy the latest releases or get them from the lending library, and even the basement where you could check coats and packages and receive free gift wrap.
The window displays were magnificent all year, but especially on a Thursday night in October when all of the downtown stores opened their big show window curtains to the very special unveiling of the newest in fall merchandise.
Many fond memories of days gone by, and stores no longer with us.
-- Kathy Bruggeman, Lincoln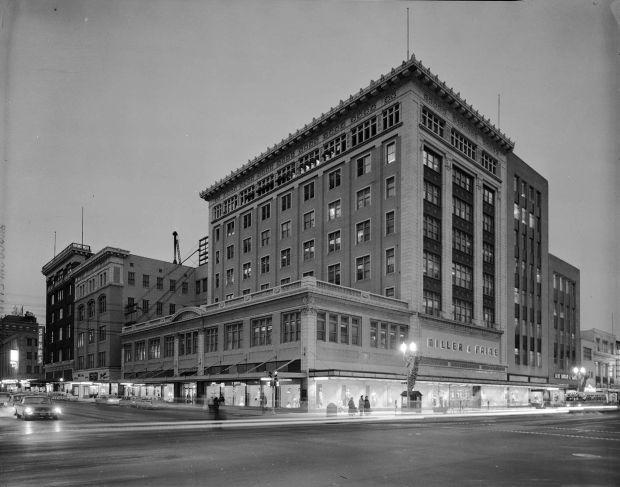 While a student at UNL from 1971-1975, I would take Friday afternoon breaks downtown at the Miller & Paine store. I couldn't buy much at all, but I had to have a cinnamon roll and iced tea. It was a real treat! I also remember now that I had my portrait taken to send a small framed photo to my boyfriend (now husband) in the studio there.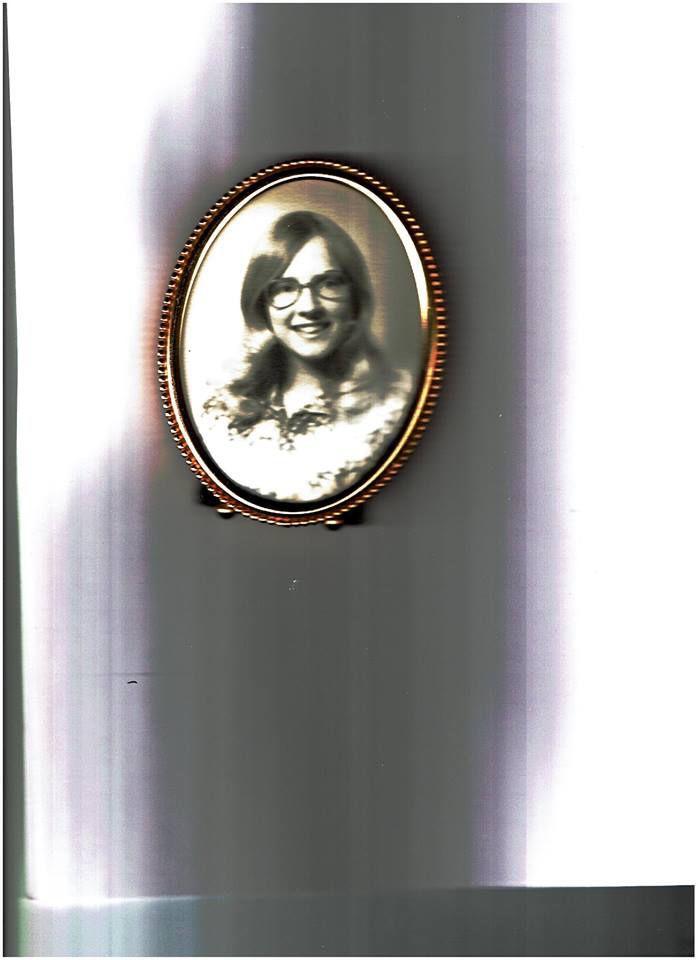 Memories of King's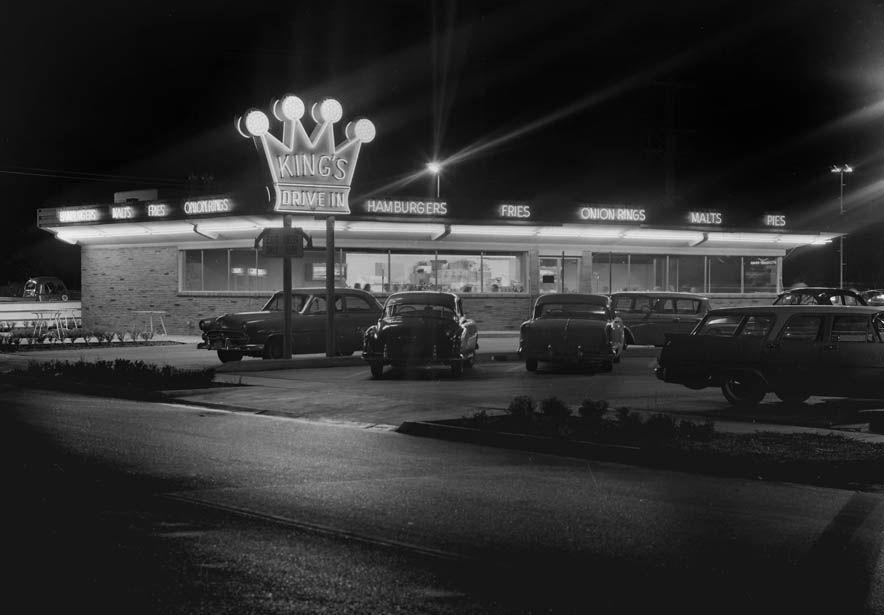 King's on South Cotner was THE only place to go during high school years of 1956-57. Everyone who was anyone went through the drive-in after every football game, basketball game, dance, date or just to meet friends. Many times, food wasn't even purchased. The main idea was to see all of your friends, wave to them, holler out the car windows, honk horns, sometimes get out of the car & run over to a friend's car to "shoot the breeze."
Cars would stack up as people visited with their friends. At least twice a night, the incoming traffic would meet the outgoing traffic and vehicles would be stuck in a circle that didn't move. You didn't just drive through once, but many many times per night.
Favorite drinks and food were hamburgers, root beer floats, cheese frenchees & malts. All of the week's news was discussed during these hours. After everyone saw all of their friends (& they saw you), the evening was complete and they headed home.
Not only did King's have great hamburgers and shakes, but it was our "social network" in the '60s and '70s when more teenagers started to get their own cars. At one time Lincoln had a dozen locations for King's, but four locations became known for meeting kids from the four public high schools and Pius X. "Southeast" and Pius X King's was at 40th & South; "East" King's was at 66th & O streets; "Lincoln High" King's was at 19th & O and "Northeast" King's was a few blocks north of Cotner and Vine. Since I had attended two different grade schools that sent kids to three different high schools and I had competed against guys that went on to Northeast, we could "cruise" to any location at night and always see somebody we knew.
In June 1955, we moved to Lincoln from Fremont because my husband had leased the Skelly Station on North Cotner Blvd. We discovered someone was building a drive-in near the station. We didn't know the people who were building it but we soon did. Harlan (my husband) said he was the first customer on opening day (at King's).
We were renting the top floor of the house on a hill right behind the drive-through. After games, students would drive around the building, honking if they won their game. From our bedroom window we could look into the couples sitting in their cars. Larry finally hired "Pete Peterson" to help keep the noise down. The kids respected him.
If we got unexpected company we would go next door to eat at King's. I remember the graham cracker cream pie for dessert. We became friends with all the Price family and their helpers.
The summer of 1959 we had to move because Larry wanted to enlarge the parking lot. We found a new home in Uni Place but we came back many times to King's to eat. It was my family's favorite place to eat.
King's on Cotner Blvd. was the place to go after a movie, football, basketball game or skating on a Friday or Saturday night. It was a place to meet friends and make new ones.
I remember one time after a movie, my sister had left her car headlights on. The car started then, but when we went to King's and shut it off, the car wouldn't start. We didn't have a cellphone in the '60s, so three boys pushed us over to Four Star Drug. They then took us to our farm house to get our folks to come jumpstart her car. Those were days when it was safe to go with strangers.
We enjoyed our Cokes, hamburgers and onion rings (The Best in Town), and met some very nice boys. What fun and good food. Thanks, James King and Larry Price, for the memories!
Memories of Gold's Department Store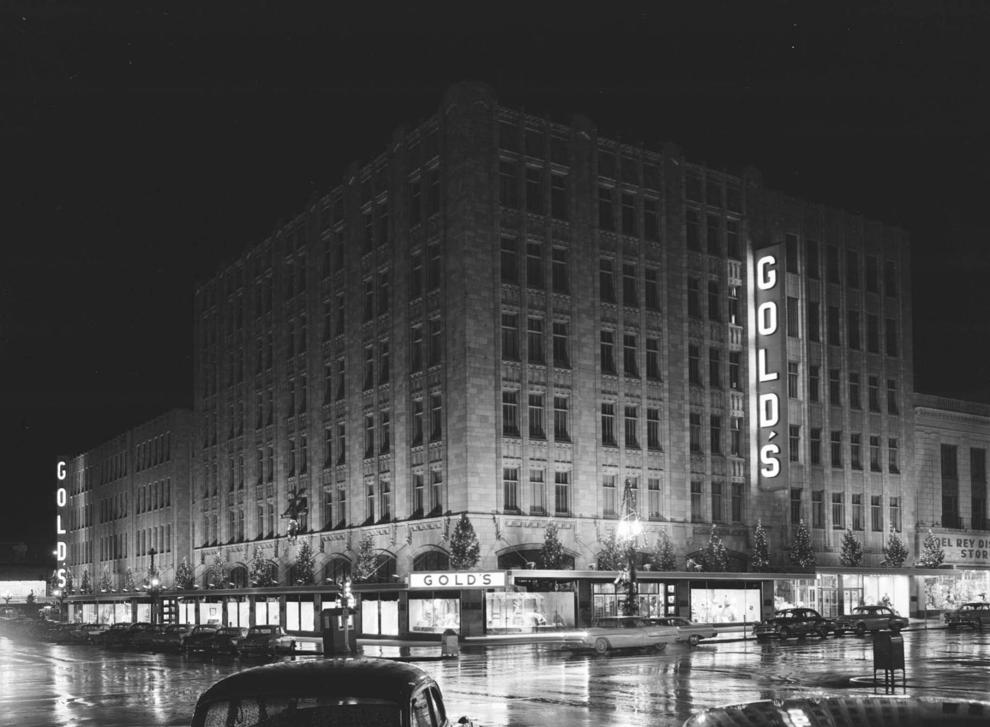 I graduated from Lincoln High School in 1933. I wanted to go to the University of Nebraska but finances were tight during the Great Depression. At the end of my first year my Dad said that I would have to get a part-time job if I was to continue my college education. I applied at Gold's and was hired. I arranged for all of my classes in the morning and I worked at Gold's every afternoon. The first two years I worked on the delivery trucks. The next two years I worked in the drapery department installing window shades, drapes and venetian blinds. My pay was 35 cents an hour. From that I was able to save enough for my tuition and books. I graduated in five years. I am grateful to Gold's for helping me get a college education. I am 99 now.
Most people I talk to today did not know Gold's had a grocery store. It was just south of the main store where the parking lot used to be. In 1947 when I returned from the Army I was hired to work in the meat department. In 1950 Nathan Gold added to the southwest corner of the main store with a new grocery store: Gold's Food Basket. In the fall of 1951 we moved in. Everything was new and employed nine full-time meat cutters. We enjoyed the coworkers' cafeteria. We were all one big family. Anyone who ever worked at Gold's remembers football game day Red N feathers, the Fifteen Year Club, Gold Tips, store meetings, Plantation shortcake, store discounts, and a moment of silence before store opening. These were the good old days. I was with Gold's Food Basket for 23 years.
Gold's was commerce at its busiest. In the aisles were open bins of items on sale, usually surrounded by flailing shoppers in search of bargains. On the busiest days, the oak flooring resonated with a loud, clattering noise as people pushed and shoved their way through the narrow walkways to the elevators. Muz, as my brother and I called her, was my grandmother. At Gold's, she always gripped my hand tightly as if she feared I might be swept away by the tides of humanity flowing past us. One day, while waiting for an elevator, an older, well-dressed man with a flower in his lapel approached and warmly greeted my grandmother by name, Mayme. Muz proudly introduced me to the gentleman who, I assumed, was some friend of the family. The man nodded with a smile and strode off, greeting others as he went. I asked Muz who the nice man was and she told me it was Mr. Gold, the store owner. That chance meeting with Mr. Gold made a lasting impression on me and made me appreciate family-owned businesses, the merchants who cared deeply for their customers and the communities in which they lived and served.
I worked at Gold's in the mid-1960s. Gold's ran a newspaper ad for a $2 plastic wallet. A female customer looked at the wallets, and chose one of leather. The co-worker informed her that the leather wallets were not on sale; but the plastic wallets were. The irate customer said the ad was misleading as it said 'small leather goods.' The clerk informed her that 'Small Leather Goods' is a department and that only the plastic wallets were on sale. The shopper demanded to 'speak to her supervisor.' The clerk called the advertising department. Nathan Gold happened to be in our office at the time and said 'I'll speak to her.' Curious to see how Mr. Gold would handle it, I followed him in the elevator down to the first floor. He introduced himself, asking how he could help. She complained that the ad was misleading. Mr. Gold took her hand and said: 'I understand your confusion. You're absolutely right. You pick any wallet and the price will be $2.' She beamed as she chose a red leather wallet. Gold's philosophy was 'The customer is always right.' Nathan Gold had just made another customer for life.
-- Leta Powell Drake, Gold's former radio/TV director and fashion coordinator
Memories of The Steak House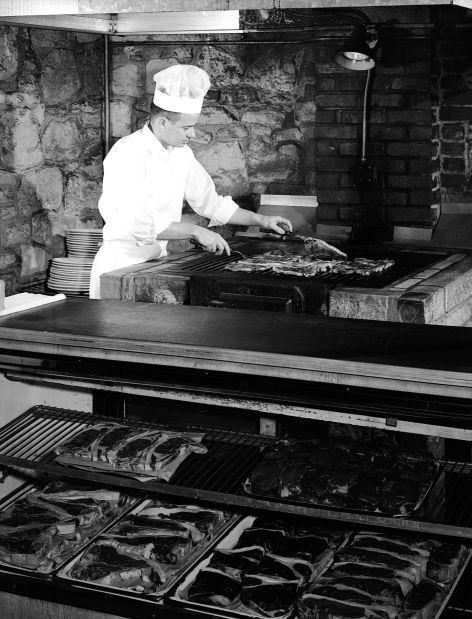 The Steak House was located at 3441 Adams St. and was in business for more than 65 years. A used-car dealer bought the property in 2014. Here's what one reader had to say about The Steak House:
I have many fond memories of The Steak House. It was much more than just the great steaks and great service. My parents and I would go there frequently. Earl and Joanne Vermaas were so gracious.
I remember the checkered table cloths, the fireplace, candles on the tables and Earl's trophy animals and fish on the walls. They even held a certain table for us. We became friends with many of the waitresses and cooks and we still correspond with some of them today!
It wasn't unusual for us to walk in the restaurant and the cook would place a steak aside for us, as they knew our order. The steaks, shrimp and lobster were top notch and now, when we go to other restaurants, we compare them to The Steak House. Every family occasion was celebrated there.
I remember athletic teams going there to celebrate a winning season. We made many friends there and when the restaurant was sold to Larry Snyder, we were happy that he kept the standards high and traditions alive. Joyce Standley was there for many years and was always a good friend.  The Steak House will be missed. It was a big part of my life growing up.
Memories of the original Valentino's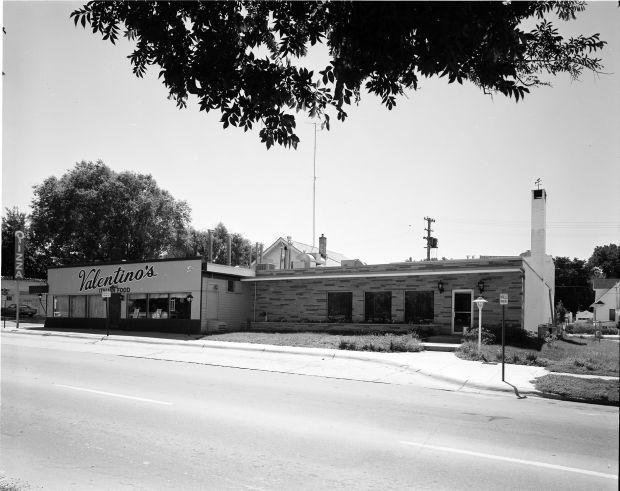 Two old-time memories come to mind from Valentino's (35th and Holdrege) many years ago.
The first was their original dining room, which was a small space that was recently used as a takeout area. The menu was printed on a round disk, and I think a small pizza was 75 cents.
But, what I distinctly remember was starting to call Val's around 4 p.m., so we could pick up a pizza that night. This was long before a "redial" button was on a phone, since the phones were all rotary anyway. My brothers and/or friends would take shifts continuing to call until we got through. How exciting when someone picked up the phone and we only had to wait 2–3 hours until we could pick up our pizza.
I believe I read once that the north location pumped out over 7,000 pizzas during a boys' state basketball tournament day.
I still regard a Val's regular-crust pepperoni pizza as about as good as it gets.
Second helpings of memories from Tony & Luigi's

Love was in the air on the night of July 9, 1976 at Tony & Luigi's when I proposed to the girl of my dreams. We were seated at a slightly secluded table for a little privacy. As we ate lobster for the first time, we listened to comedian Ralph Winn. I took a chance and kneeled down in front of her. With a glimmer of hope and true love in my heart, I asked the question every young man wants to be able to ask his one and only true love. She (Doris Jean) rewarded me with the answer I was longing to hear. It has been 39 wonderful years. Tony & Luigi's served as "The Place" to eat. We were disappointed when they tore it down, but our memories will last the rest of our lives. Thank you Tony & Luigi's for the perfect evening I found my "perfect match."
-- Aaron Schoeneman, Lee's Summit, Missouri
Soon after WWII a family friend, Bill, brought home an 'Italian war bride' named Gisella. We took them to Tony & Luigi's for a real Italian dinner. After we were served, "Gisa" commented loudly in Italian, "You call this spaghetti?" This disturbance brought the owner (I think it was Tony) to the table. He spoke to Gisa in Italian, assuring her that what we were eating was the American recipe. He then invited Gisa and Bill to his home for his wife's real Italian dinner. Gisa told us later that at his home they experienced true Italian hospitality and food.
Memories of The Cornhusker Hotel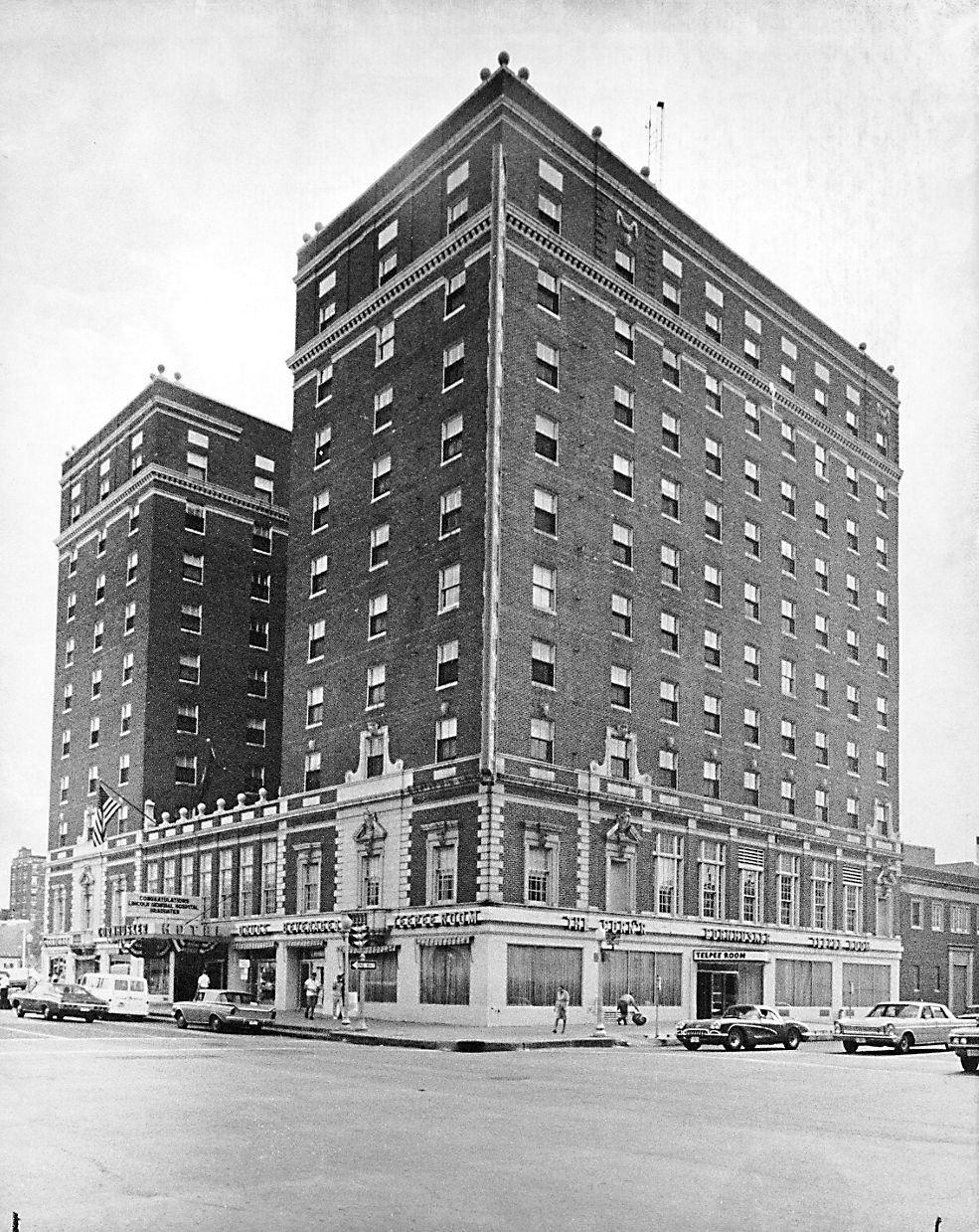 I worked at the Cornhusker Hotel in 1951. I operated the PBX; a real old-fashioned switchboard with lots of cords and lights. Guests would schedule a wake-up call; we would wake them up saying, "Good morning, this is the hotel operator with your 7:00 wake-up call. It's 72 degrees and sunny."
We had guests from all walks of life; businessmen, politicians, celebrities and movie stars, honeymooners and salespeople. The Cornhusker had The Landmark for fine dining and the Teepee Room for casual eating.
Mr. A. Q. Schimmel, owner and manager, was present every day and knew how to run his hotel and please his guests. The most exciting time was when state basketball tournaments were here…the Cornhusker was THE place to be. We were booked solid and even had kids sleeping in the lobby!
I don't know a more exciting place to work than a hotel.
-- Joyce Lattimer, a former Cornhusker hotel employee
Born and raised in York, I sometimes came to Lincoln with my parents as a child in the late 1950s. Occasionally we'd stay overnight at the Cornhusker, and once as we checked in, I piped up, "We want room 330, because that's where we stayed last time." (I don't know why I remembered this particular piece of trivia as a young child, but apparently I felt that room 330 was ours and only ours!) From that day forward, little room 330 did become our home away from home when we stayed in Lincoln.
Before the Cornhusker was imploded in 1982, I bought the heavy, solid-core door to room 330, unscrewed it from its hinges, and dragged it into the elevator, my car, and my home, where it has served as a conversation-starting desktop ever since. The key is still in the lock, and the great memories remain.
Another highlight was the Cornhusker's Teepee Room, where surrounded by imposing portraits of Native Americans, I'd happily dive into a Pocahontas Sundae, a giant concoction of peppermint ice cream and chocolate syrup.
Bowl-Mor Lanes memories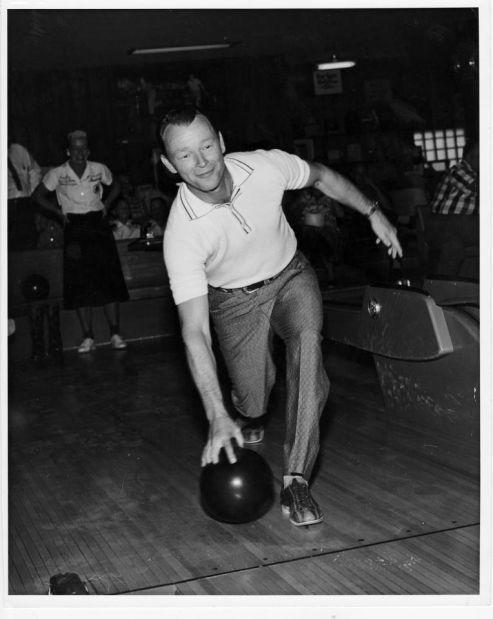 Bowl-Mor Lanes, a downtown bowling center at Ninth and M streets, existed a half-century ago. A quick check of the records revealed that the owners of perfect games rolled there included Glen Porter (1957), "Bill" Koehler (1958) and Irvin Kahl Jr. (1973). Cowboy legend Roy Rogers, an accomplished bowler, rolled a few games there while passing through Lincoln.
I started working at Bowl-Mor Lanes at age 14, taking coats for the bowlers. Max and Ernie were the owners. With my teachers' help we started the first High School Bowling League.
I was there when Roy Rogers and Pat Buttram would come at 8 a.m. for coffee and practice. They were there for the grand opening of the new automatic pin-setters for Bowl-Mor. Bowl-Mor had 16 lanes with wooden, boxlike pillars to hold the ceiling. Also noteworthy: Marion Ludwig, Queen of the Women's Bowlers, and Roy had a match and people were there to watch. Marion won the first game, 196-168. (I can't remember the other games.) At that time Martin and Shurtluff bought Bowl-Mor and also owned Hollywood Bowl. After some years I went to work for Hollywood Bowl, stayed for 54 years.
My memories of the Bowl-Mor start with the time before automatic pinsetters.
In the mid- or late-'40s, I set pins one summer. I don't feel I ever got as fast as some of the setters who handled two alleys and were able to earn twice as much money. We may have earned 10 cents per line. At the time I believe there were only two bowling alleys, both on P Street. One upstairs on the north side and the other on the south side connected to a pool hall on the southwest corner of 11th & P street. That was for DuckPins.
In the '50s, I was in the Post Office afternoon bowling league with Bill Koehler and Irv Kahl. Not only were they good bowlers who were always willing to help a novice like me, they were great guys. I also remember eating good hamburgers there.
In the early 1960s there was a Wednesday noon lawyers bowling league at Bowl-Mor Lanes. The teams were a young lawyer, a senior lawyer and a judge. I bowled with Ed Carter and Judge Paul White. It was a great opportunity for young lawyers to know other lawyers and judges and to create enduring professional relationships. Three games, a bowl of soup and back to the office by 1:15 p.m.
Hovland-Swanson evoked great memories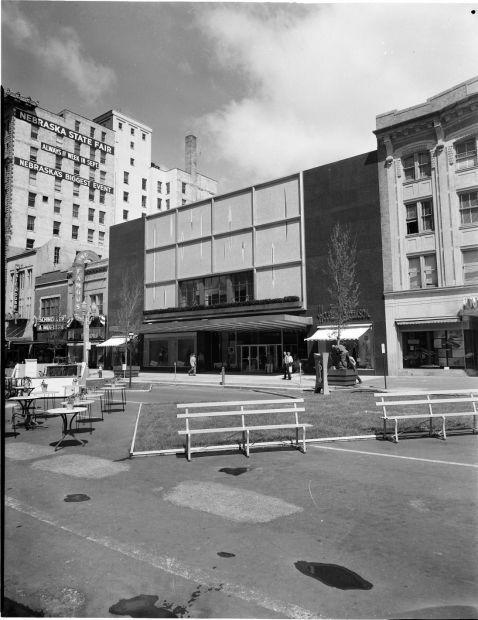 A half-century ago, Hovland-Swanson Department Store was one of the anchors of the downtown shopping scene. It occupied three floors when it opened its new downtown location in 1959 at 1230 O St., after 20 years at 1240 O St. Hovland-Swanson would later open a Gateway Mall branch in 1972.
A sparkly sidewalk and scented air greeted you as the spotless glass doors opened into the store's vestibule. A wall of stunning crystal and silver as you stepped inside gave a definite aura of exclusivity to Hovland-Swanson. It took me three times before I felt suitably dressed to enter the rarified walls.
It wasn't like my only shopping experience had been at the Mode-O-Day back home in Scottsbluff. After all, my mother was a California girl and those trips back to Los Angeles to see my grandmother included shopping at Bullocks and other swanky downtown L.A. department stores.
Those experiences certainly qualified me to feel comfortable shopping at Hovs. And yet, I was wholly intimidated. That was the Hovland-Swanson mystique. Eventually, I mustered up my courage and went on to purchase the latest in beach wear, a ball gown and my first (and only) ultra-suede suit.
Yes, I do remember Hovland-Swanson's. When I got married in 1960, I bought my dress, shoes, hose, garter, and earrings all in pale pink at Hovland's. I loved the store and it always smelled so good!
Oh, by the way, I still have all my wedding attire and the same guy, 55 years this June. "Wow"!
My Mom had introduced me to Hovland-Swanson at a young age. I loved to shop at the downtown store. Later when I was in my late teens, shopping at the Gateway store I saw a winter coat that I wanted. I told my Mom about the coat and she said: "Your birthday's coming up … take my credit card and get yourself the coat from me." So I went to Hovland-Swanson, and tried on MY birthday coat. When the salesperson rung up the purchase, she said: "You are eligible to for a complimentary foil wrap." I wanted to treat myself. A foil wrap from a top-quality store was a big deal. I went to gift wrap and as I was selecting the paper, I said "It's a gift and I think she would love this paper and bow." I couldn't say I was wrapping my own treasured birthday gift!
I moved to Lincoln in the early 1950s with my husband, Jim Raglin, who went to work for the Lincoln Journal as a sportswriter. I found a job at Gold's Department Store doing illustrations for their newspaper ads. I picked up the clothes and "layouts" and worked in our home at the kitchen table, returning it all the following day.
A few years later, Gold's closed and I was hired by Hovland-Swanson. My arrangement was the same. Their advertising office did the "layouts" based on what was to be printed in the paper, and I took the merchandise home, hung it on my refrigerator door and did my artwork. Everything, including me, went back to Hovland's the next day. I had five children by the time the store closed 20 years later. I was so lucky! That beautiful store! Those lovely clothes! My swell family!
-- Mrs. Richard (Sally) Marshall
Memories of Ideal Grocery
Before it was gutted by fire in 2016, Ideal Grocery was a mainstay among Lincoln grocery stores since 1920.
When I was young we lived in a house on 23rd street between E and F. Ideal was our grocery store. We only had one car and dad took it to work. Ideal was within walking distance and was handy. Before the parkway was built, there was a bridge over Antelope Creek, which ran to the west of Ideal. I would walk up D Street and cross the bridge and find my way to Ideal. They had hamburger 4 pounds for $1. They had a great meat counter even back then. The neighbor kids would get a pound of liver for a quarter and take it to Antelope Creek put it on a string and catch crawdads for bait. Everyone always knew you had to have been to Ideal by the green-colored bags. They were very thick and one year we made scarecrow costumes for my brother's kids out of them. My sister-in-law and I sewed patches on the bags and made head and arm holes. They lasted the whole evening.
I even babysat for the produce manager's children. What memories!
In the 1940s my family moved to a big stone house on the southeast corner of 27th & Randolph. Soon after that my father started a business on that corner that ended up a store. This required both parents working there.
My sister and I did the grocery shopping on Saturday morning, of course shopping at Ideal. Along with the grocery list was a highlight to buy a dozen cake doughnuts from their new machine (one of the first in Lincoln).
Glen (Curly) Wagner helped us get good produce. The butcher was most helpful to the two kids. Everyone treated us kindly, just as they do now. If we were lucky a high school sacker helped us home (one block) with our groceries, which we thought was great.
Thank you, Ideal, for many years of great service.
In 1946, we came to Lincoln so my husband could attend the University on the famous "G.I. Bill." We rented a small duplex from Pauley Lumber Company at 29th & E streets. We had no car, so we'd would walk to Ideal Grocery store for our groceries and push them home in the Baby Buggy and later in the Taylor Tot carrier. Lyle Hans was so helpful and nice to us! Our trips were almost daily, as we only had an icebox and our budget allowed $1.50 a day for food.
I am almost 92 years old now and living in the house my husband designed and built for us 64 years ago. Our five children are grown and all have grandchildren of their own and my husband has passed away. I still enjoy shopping at Ideal Grocery.
-- Connie (Mrs. Harold) Fouts
I grew up shopping at Ideal Grocery. My dad (Howard Boyd) was a partner and head of the Meat Department for 35 years until retiring in 1983.
As a little girl, I remember going shopping there with my mom and my best memory was the "donut lady" and eating a fresh, warm doughnut while we shopped. As I got older, mom would drop me off at Ideal on a summer day or Saturday and I'd do the grocery shopping for our family and then get a ride home at lunch time with my dad.
After I grew up, married and had children of my own, I would take them to Ideal with me. My oldest daughter remembers seeing grandpa behind the meat counter, sliding the packages down the front of the meat case one by one into her hands.
Gardner Moore and his successors created a wonderful family environment to work and shop in. The minute you walked in the door, it almost felt like coming home. Customer service was (and still is) their number one commodity. It's sometimes hard to find that in today's world.
I and my father before me have shopped Ideal for close to 70 years. Three things have not changed in that time: the friendliness of the employees; their conscientiousness, and their ability to quickly learn and remember your name.
In days past, the sackers/carry-out kids that worked after school and on weekends would sometimes become full-timers and be there for years (the Ellenwood boys, e.g).
One of my many happy memories is from the 1950s, when my neighborhood buddy Bobby Brodekey and I would ride our bikes down to Ideal and go right to the wonderful, amazing Do-Nut making machine that sat in one of the center aisles. We would marvel at its gyrations and the beautiful deep-fried, tasty pastry it made.
We would make general nuisances of ourselves until Jack Moore or Lyle, in order to get us out of there, would give us each a brand-new, fresh, hot Do-Nut!
Some of my favorite memories of Ideal center around the annual Fall Frozen Food Sale. Things were always crazy and fun those weeks. As a new wife, I was assigned to help pass out free popcorn to customers. It was a very fun job! I enjoyed talking to people and helping them find what they were looking for. As the years passed, each of our sons had opportunities to pass out the popcorn as well, two of them with a matching-age cousin, and one with a best friend. Our boys learned so much by interacting with Ideal's wonderful customers and friends!
Ideal Grocery was always a most unusual store for its friendliness and offer to obtain almost any product you asked about that they did not carry.
It began when one entered the door and you would be addressed by your first name. As you moved into the store other staff would greet you as well by your first name. You knew you had reached the intimate stage when you were invited into the "cave" where product was stored and the office location. That's where the annual order for my client's "Christmas Baskets" was offered and agreed to.
We became good friends with the Jack Moores and all their children and were treated to the "Ideal Spot" outside Estes Park, Colo. We traveled the world with them.
I always parked on the south side of the store with entry out of sight. Dog always sat in the car. One day I left the window of the car rolled down. I was all the way in the back of the store when I heard one of the guys yelling "Tilly!" She had jumped out of the car and let herself in on the electric doormat! I went running to the front of the store. They wanted me to leave her in my cart, but of course I took her out to the car. Obviously, I never left the windows that far open again.
Runza memories tastefully done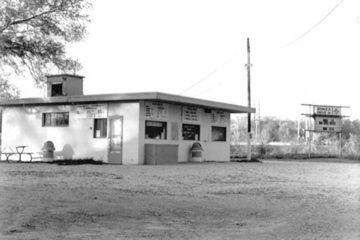 Time passes on. The culture of the community changes. The quality remains the same, 65 years later.
My wife and I lived in a small town west of Lincoln. Thursday evening was shopping time. I vaguely remember the building, but I remember stopping by and purchasing a box of Runzas (12) for $11, with singles right at a $1. We would take them home and freeze them and have them for a quick lunch later. I still have the original box, I store cards in it now. (Wish I had one more!)
I am 95, and live at Grace Point (Tabitha) Assisted Living.
A large contingent of German-Russian immigrants settled in the so-called North and South Bottoms of Lincoln. They brought with them the recipe for a sandwich called the Krautrunza: Hamburger, cabbage, onion, salt and pepper wrapped in dough and baked.
Their kids brought this sandwich to Lincoln High for lunch. From South Lincoln, we brought peanut butter and jelly! They were tired of the Krautrunza. We, likewise, of PB&J's. So we traded. A win-win deal!
That sandwich morphed into "Runza" and became the central item in creating the very successful Runza restaurant franchise. So when the first Runza opened, we picked up the sandwiches for our family picnic dining at Pioneers Park … renewed decades of memories which still remain.
I remember the first Runza – the original Runza – and my visit there in 1949. It's one of the memories of my childhood.
I was 7 years old, when my older cousin from Broken Bow came to Lincoln and took my little brother, my grandmother and me there. The Runza was huge as seen by my young eyes and was so good. It seemed like we had to travel a long way to get to the Runza and the anticipation of actually having a "treat" that I had not heard of before was so exciting to me!
That was my first Runza. I still enjoy going to Runza Restaurants to this day – but my first Runza was the best!
I was the first carhop hired by Runza at the west Van Dorn location. I worked part time because I was only 15 year old. One of my best friends also worked there.
I learned a lot about preparing food from my bosses Mylan Everett and Alex Brening. My youngest son, to this day, has to have his fix of Runzas before he goes back to Colorado. He makes sure I get some, too. Oh, for the good old days!
Cruising on O Street always led to Ken Eddy's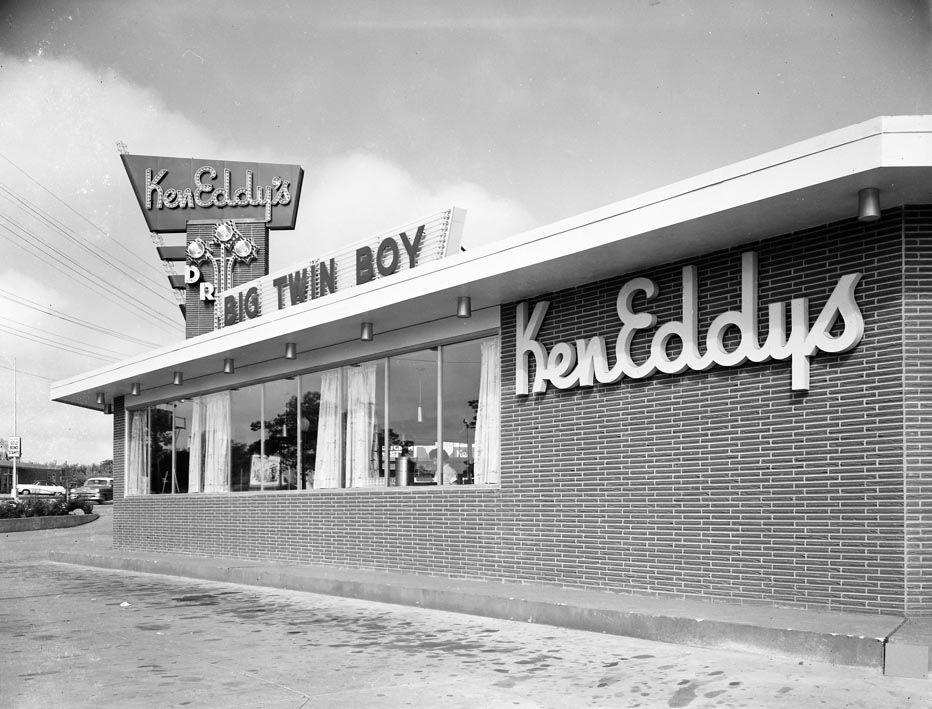 Memories of Ken Eddy's were as varied as their menu.
Ken Eddy's Drive-In on the corner of 48th and O streets was opened by Ken Lydic and Eddy Gold and was one of Lincoln's late-night hotspots.
The things I remember about Ken Eddy's Drive Inn were always memorable. It was "the" place to go after a weekend date. My husband and I were dating during the mid-50's, he from Beaver Crossing and I from Staplehurst, both small towns just west of Lincoln. We'd go to a movie theater (so fancy), a drive-in (so new and fun), roller skating at Capital Beach, or miniature golf at Cool Crest. Always after these dates was the stop at Ken Eddy's for hamburgers, malts – his chocolate & mine vanilla -- and a shared tray of onion rings. The food was so good and atmosphere unique.
I was probably 16 years old then and was one of the first car hops they hired at Ken Eddy's. We wore roller skates to the cars to get their orders and back to turn in the orders. I think our jackets had fur on them.
I had told Ken (Lydic) that my older sister was expecting and we thought it was going to be a boy. Kenny said if she would name him Kenny, he would give her a $25 war bond for him. So she did and his name is Kenny Martin. My sister has passed away, but my nephew Kenny Martin is the head Game & Parks person at Sherman Reservoir by Loup City.
I lived in the first house that used to be on the hill to the west of Ken Eddy's on O Street.
-- Dorothy ("Pork") Tritsch
My family moved to Lincoln in 1957 when I was 16. I got a job with the evening shift at Ken Eddy's. They had an older clientele than their main rival (King's). Bob Beebout was the evening manager. On football Saturdays, we were always very busy. I was the fry cook & the grill was constantly full of burgers from 5 p.m. to 1 a.m. The Big Twin Boy was the signature item -- the Big Mac before the Big Mac came to Lincoln. It was a great place for a new kid in town to meet some great people. Most employees were college and high school kids from all over Lincoln, Union College, and mainly Lincoln High & Lincoln Northeast.
-- Thomas Evans, LHS, Class of 1958
The mid-1950s marked the Eisenhower period, "the age of innocence." Lincoln High was a dominant athletic force in the state, drawing athletes from south Lincoln and the South and North Bottoms. Cathedral (now Pius X), Teachers High and Northeast were not far behind. Life was good in the Midlands.
Lincoln was basically cut in half at O Street. The Lincoln High crowd and the Northeast kids cruised O Street and always the meeting place was Ken Eddy's. Occasionally there was a "rumble" but basically there was mutual respect.
The hamburger pickles were cut the "long way" and that is a lasting memory that I will take to the end ----- my, those were the good days.
-- Marlen Luff, Lincoln High Class of 1955
Memories of lion's temporary stay at Lincoln zoo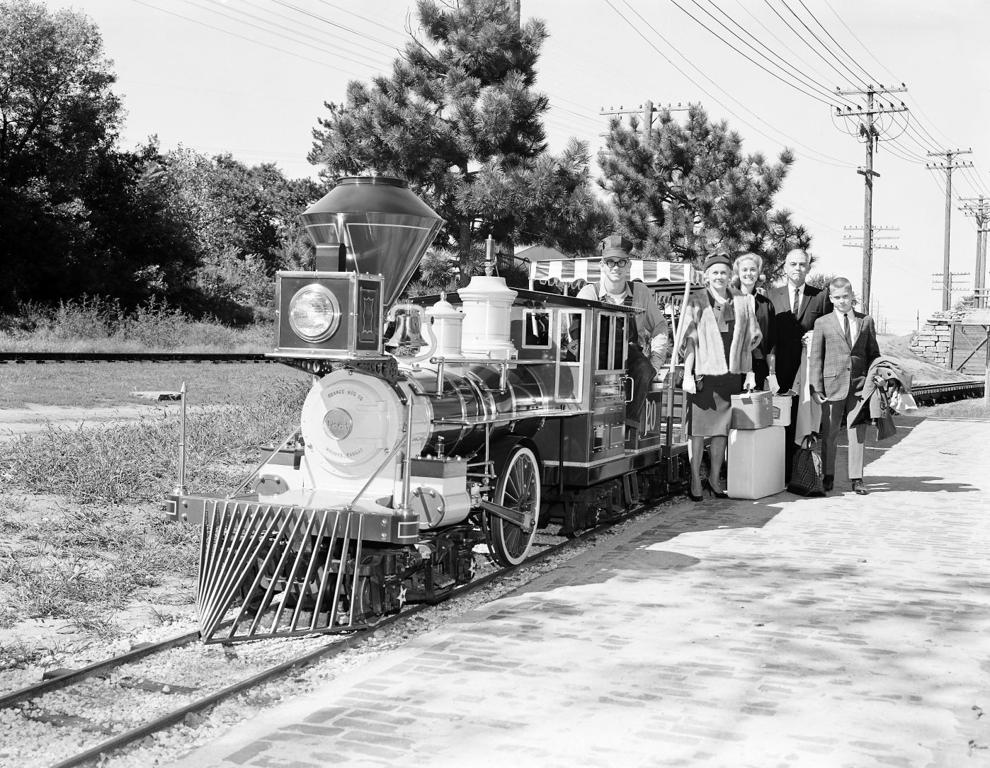 In the early 1980s Dandelion made his temporary home at the Children's Zoo. He was resting before going on to his final home in Omaha. I was a docent at the time. Docents named him and we had a brief time to "play" with him. He was our "purrfect: guest. After a few weeks Dandelion was transferred to Omaha.
The following spring we (Docents) were guests of the Omaha Docents. They took us for a "behind the scenes" view of their care of lions, tigers and snakes. We asked which lion was Dandelion. They pointed him out and told us that he was the only lion called by name! We had to see if he would answer us. One of our docents called his name and he came to us! We could scratch his head. He even "purred" for us. It brought more than one to tears! Dandelion was majestic. We were overwhelmed at his size and that we once were allowed to play ball with him. Dandelion was not our pet; he was a powerful yet beautiful critter we had had a chance to know, a once-in-a-lifetime opportunity.
As Docents, we took animals to various elementary schools. One of our favorite and the children's favorite was Julius, our boa constrictor. Julius would only go only if the weather was favorable and we knew he had been recently fed. The teacher would greet us, introduce us to the children and ask if we had our snake. If we said yes, most teachers would literally turn the class over to us and leave the room! We fielded many questions about Julius. Many smiles came as the children experienced what Julius felt like. He was always a good choice to take.
As a Foster Grandmother; the annual kindergarten trip to the Lincoln Children's Zoo and a train ride is always a big hit. The children are beginner readers; for the first time signs around the zoo are being noticed and read! Children who have never been to the zoo are overwhelmed with joy. Those who had been there numerous times still have a great time. The animals seem to know the children are there. I have seen monkeys get very active and "perform" for the children! When the flamingo appears, the children laugh and point at "Pinkie." Other animals greet the children in their own way.
The train ride is a lesson in being patient. The kids are eager to get on and toot their horn! Some classes sing as the train takes them for a ride.
I would often think to myself "Who came first … the children, the zoo or the train?
The sights, sounds and smells of the State Fair
A tradition in Lincoln from 1901 to 2009 before pulling up stakes and heading off to Grand Island, the State Fair was a widely anticipated attraction at the old State Fairgrounds. From deep-fried Twinkies to the big-name concerts, nearly everyone has State Fair memories.
My memories of the State Fair begin in the 1930s when mother would pack a lunch and we'd set off for the "long trip" from Princeton for a magical day – ice-cold watermelon wedges, picture booth, and mother always bought a bushel of Colorado peaches. In my teen-age years, my best friend and I felt so grown up as we attended the Fair – games on the midway, root beer served in heavy glass mugs – and the evening show in the grandstand.
In 1954, Roger and I came back from our brief honeymoon and attended the Fair - I especially remember the "Dancing Waters." For a few years our church had a food stand where we sold "Presbyburgers" and homemade pie.
As our family grew-- two daughters and three sons-- the fair became an annual family event—the rides, the games (i.e. The Claw), marching bands, the quilts, peanut-covered ice cream bricks on a stick, and Larry Price's hamburger stand.
Time passed and then our children took their children to the fair – all 10 grandchildren -- for an exciting family outing. Eventually, Roger and I enjoyed "Senior Day."
I can't go to the Fair anymore – but I will always cherish the memories of so many years at the Nebraska State Fair.
-- Rosemary (Lucke) Rhodes
I remember the Agricultural Building where you could get apple cider from Nebraska City, apple turnovers, honey and honey ice cream. They made a picture made of apples.
I remember the great horse shows. I enjoyed the fish tank & fish display and they always had beautiful flowers. The fair food was great, like the root beer from mugs.
Back in the '40s I only remember one entrance to fair off Holdrege Street at the bottom of the viaduct. After finding a place to park we would go to see if we won anything on our projects. One building had school exhibits and sometimes our country school had a display. We would check out displays of farm machinery with our dad and also the animal barns. I remember an egg-hatching display where we could see baby chickens hatch. At noon we would head back to the car for lunch and a nap.
When I was young in the late '30s we would go to the fair all day. We lived on a farm, My Dad would go through the machinery and livestock buildings and my Mother would go to the buildings with quilts and baked giids. My Mother always packed a lunch of fried chicken and potato salad as we couldn't afford to eat there. It was a very special time for me.
The first time I attended the Nebraska State Fair was in about 1961. I lived in Kearney at that time and was with the Kearney High School band and we marched around the midway. We also played in the Open Air Auditorium. The St. James United Methodist Church booth had very good pies and hamburgers. I also enjoyed the corndogs on a stick and cotton candy.
This memory of the State Fair is not be about the midway or the foods. Back in those days, they would patrol on horseback. Six of us would time how long they would be back, once we got over the fence, we would meet somewhere on the midway. Only on one night did we get chased, but lost him, 'cause his horse was afraid of the sounds of the midway!
Husker fans share memories of Memorial Stadium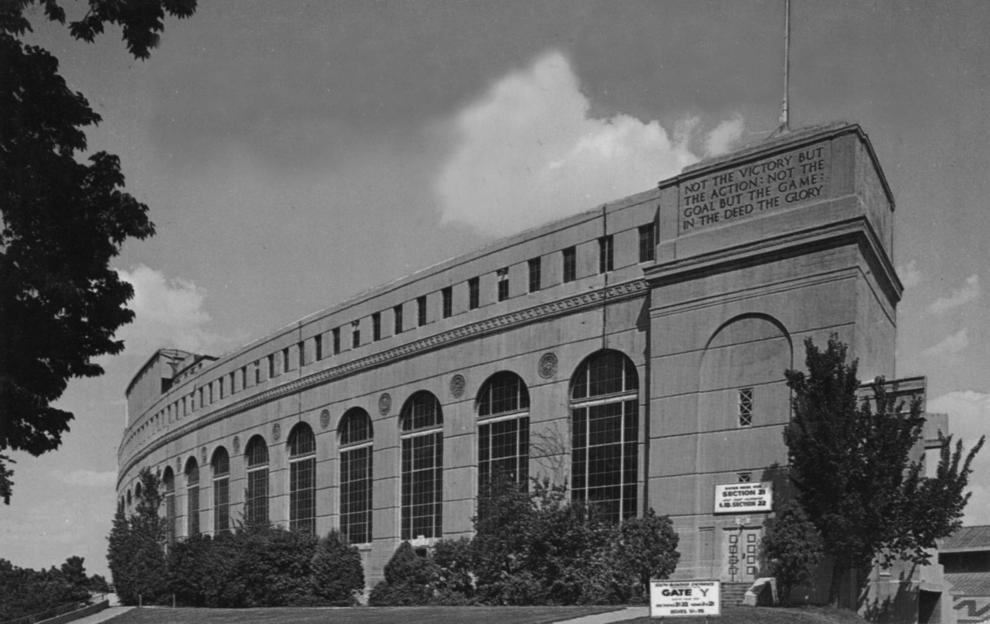 November 11, 1978. Unbeaten and top-ranked Oklahoma comes to Memorial Stadium to take on the #2 ranked Huskers, who are also riding a nine-game winning streak of their own.
Most will remember this game for the "fumble that wasn't" when John Ruud crushed Kelly Phelps on a kick-off late in the game. The ball was jarred loose and recovered by the Huskers, but the officials determined it was not a fumble. Or they will remember Jim Pillen's recovery of Billy Sims fumble with 1:31 left in the game to secure the win. Or certainly Coach Osborne will remember finally getting his first win against Barry Switzer and the Sooners.
My memory of that day involves the post-game celebration on the field tearing down the goal post. As a college sophomore along with my fraternity brothers, I secured my own piece of Husker History. After removing the goal post from Memorial Stadium we triumphantly carried our trophy back to 1548 S Street, where we took turns sawing off pieces of the goal post – a prize I still have today from one of my greatest memories in Memorial Stadium.
The 1958-1962 era found the NU marching band a mere shadow of its present self. We marched only 100 musicians. It was easier to get in the band under Bill Jennings as the football team was wining only 1-2 games per year. So by the 3rd quarter most of the fans had left in despair with the band still in place to support the team to the end. When Jack Snider took over direction of the marching band in 1960 we were able to increase the band to 120 members.
"I don't care how they play their instrument," Jack said, "just so they can keep in step and march." We found 20 more willing souls and the band started to grow. I was a percussionist and specialized in the bass drum, that big, bulky thing that keeps all the other musicians playing at the same tempo. There was one single bass drum in those days and I was it! Today it takes four or five bass drums to keep the 300-plus marching band in time.
Since the football team practiced on the football field at the same time the band rehearsed its halftime and pregame show, we practiced on an open field on the south end of the stadium which was not yet enclosed on the north and south ends. Bare ground was marked with line markers and we practiced Mondays, Wednesdays and Friday from 5 to 6 p.m. and Saturday mornings on game day when we got to actually use the field.
My first home game was a thrill I will never forget. Here I was on the actual football field with the east and west stadiums full of people and kids in the knothole sections on the north and south end bleachers. All those people seemed to be looking at me and I had better do a good job or the band would fail. Between playing songs, the band would march to drum cadence and this gave me time to soak in the environment. The thrill was like none other.
In 1939 we played a six-man football game at Memorial Stadium; it was to demonstrate the game of six-man football to coaches who had gathered in Lincoln in July for the annual conference of the Nebraska Coaches' Association. We played on real grass, on the usual bare dirt, a few weed patches here and there, a result of the terrible drought, and the Great Depression of the 1930s. There are still 18 6-man football schools in Nebraska, and 108 8-man squads. Texas still has many 6-man football teams.
Six-man football started at Bruning in 1938 and was started in Chester, Nebraska by Coach Steve Epler in 1934. The first game in Nebraska was played at what was then Hebron Junior College, between Chester-Hardy and Alexandria-Belvidere. Bruning's equipment was cast-offs from Hebron Junior College (no money in the Bruning School system for such things).
I'll never forget one play which worked well for a few times. I would center the ball to quarterback "Mook" Wilhelms and jump over the line of scrimmage in time to get a shovel pass (must be 1 yard of more), and immediately hand it to Mook as he came crashing through. However, I was tackled and fell on the ball, knocking the wind out of me. You think you're dying when losing your wind, and then all at once, you can jump up and start playing again.
Another time at Memorial Stadium, someone at Bruning sent a group of youngsters to a game and we filled the knothole section (it cost almost nothing to get in). The crowd was sparse, as most people did not money for such things in those days. It happened to be raining that day and there was a huge balcony toward the back, so our group was able to sit there without getting wet.
Delicious memories of Tastee Inn

An institution on North 48th Street for nearly 70 years, the Tastee Inn was known for its loose-hamburger sandwiches and onion chips.
I worked at Tastee Inn twice — once when I was 14 and again when I was 16. The first time, in the early 1960s, I worked in the kitchen where my only task was to put mustard and pickles on buns. All day long I put a smear of mustard and two pickles on each bun, a smear of mustard, two pickles, smear of mustard, two pickles, on hundreds of buns every day. As boring as it was, it was my first job other than babysitting, and I was thrilled to have it. It was interesting to see the "inner workings" of the kitchen of a place my parents had taken us kids many times.
My second job there was as the server in the dining room. It was fun to pop the little canister into the vacuum tube that transported orders to the kitchen, and I enjoyed waiting on the customers. Seating then was on picnic tables, and the addition on the north side hadn't been built yet. Root beer was served in icy mugs. I dipped clean mugs into water and placed them into the freezer to get them frosty. In those days, Tastee Inn had many flavors of malts and shakes – maybe a dozen or more -- and I managed to taste all of them during the year I worked there. Banana splits were also on the menu; they took a lot of time to make, so the manager explained to me that they kept the price high so not too many would be ordered. I never got tired of the food there - Tastee sandwiches, Tastee pups, onion chips, fries and shakes.
Not much has been written about the early years when Tastee's was a going business in the '50s and '60s. It was one of the first drive-thrus in Lincoln, if not the first.
Harold "Jug" Jorgensen was the founder. The recipe for the Tastee Sandwich was his mother's and was a well-guarded secret for a long time. It still takes a certain touch to get it right.
My mother went to work at the Tastee Inn at 13th & Q when I was 4 years old & moved to 48th & Holdrege later. I went to work there when I was 12. Mom and I both worked there off and on until the mid-1980s.
I remember Saturday & Sunday nights when the line of cars was continuous for 3 or 4 hours. Tastee would take in more than $1,500 in one evening. That's a lot when you consider the sandwiches and fries were 15 cents! You could get a sandwich, fries and a malt for 49 cents.
The original menu was Tastees, fries, the Tastee Pup and chili. Onion chips came later. The idea for the chips and the recipe for the chips came from a friend of Mr. Jorgensen's who was a chef in Omaha.
As time went by and other drive-ins opened business declined, but there was still only one place to get a "Tastee." When people would come back for a visit it was the Tastee Inn, Runza, and Lee's they'd want to visit.
I'm a little sad when I pass by and see it boarded up. There was only one Tastee Inn, and it's gone.
I remember 60 years ago like it was yesterday. As a young girl, I couldn't wait for Sunday to arrive. Every Sunday evening my grandparents would come over and we would jump in the car and head for Tastee Inn. We would order through the outside speaker a tube of Tastee's, French fries, onion chips and chip dip and thick chocolate malts. We took our food home and set up out TV trays and enjoyed eating our yummy Tastees while watching the Ed Sullivan Show. It was a Sunday tradition like none other. We continued to frequent Tastee Inn throughout my adult life and I greatly miss and savor the flavor of Tastee Inn!
When I turned 16 my younger sister and I would leave Sunday church early so we could go to Tastee and not tell our folks. Except one day I backed my "tank" 1954 Chevy into another patron in the parking lot. Since my car was so big I figured I didn't hurt anything so just left. About an hour later the police showed up at our door – my folks were NOT impressed.
So many wonderful memories in high school piling in the car at lunch time with friends and sneaking off to Tastee – especially the one downtown since it was so close.
This continued all my life 'til they closed. I would plan a trip at least one a week to be able to get my Tastee "fix". They knew me so well that when my car pulling up in the driveway on 48th & Holdrege I didn't even have to order – they had it waiting for me at the window.
-- Judy Feather McDowell, Tastee's Mother/Daughter Duo
My family's association with Harold (Jug) Jorgensen and "Tastee Inn & Out" goes back to its conception in the late '40s and early '50s. My mother Thelma Ellyson was one of the first cooks to work for Jug making the now-famous loose meat Tastee, Tastee Pup, and onion chips.
During this same time, I too started to work at Tastee as a car-hop. For some promotion I was chosen to represent the eatery as "Miss Tastee."
I also met my future husband Rex Moore at Tastee, where he worked as the "fountain boy."
-- Doris Ellyson Moore Sandell
Tasteful memories of grocery shopping ad B&R Stores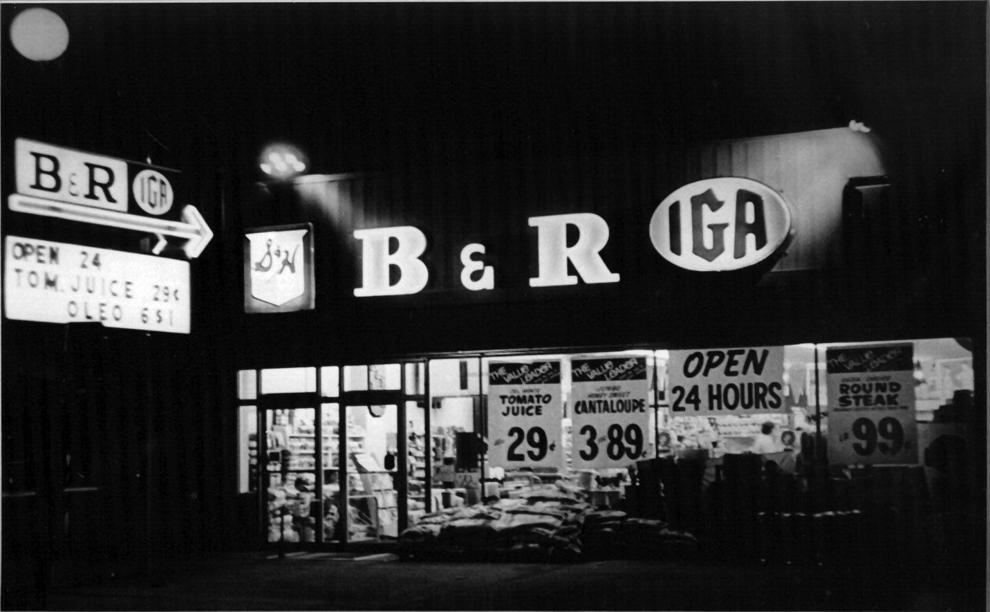 Remember when tomato juice cost 29 cents, "oleo" was 6 for $1, and collecting S&H Green Stamps was a special incentive to shop?
Then you remember the early days of the B&R IGA store, founded in 1964 by Russ Raybould and Clayton Burnett, and located at 17th and Washington streets.
Do you have friends that go to the grocery store at meal time so they can "feast" on all the samples being handed out? Well, I was the first "sample person" in Lincoln! I was shopping one day and Russ (Raybould) asked me if I would like to hand out some hot dog samples to his customers. He said he was going to try something new. So the next Friday I took my "trusty" electric skillet, a paring knife and off I went! Well, it wasn't all that easy as the customers had never seen this before and they all walked on the other side of the aisle so I couldn't put some hot dogs in their baskets! Well, the rest is history (1972). I still have the hot dog delivery man say "hi" and we have a good laugh!
I worked with Clayton & Russ at the Safeway store at 16th & South streets before they started B&R Stores. When I had a day off from work I would go down to B&R about 9 a.m. Clayton, Russ, another friend or two and I would go over to Wagey Drug right next door for coffee. They would leave a checker and one other person to run the store while they were gone. Who knew it would grow to be what it is today!
I have enjoyed many shopping trips to B&R from the early days. The good deli food was a treat to take home or enjoy in the store's pleasant dining area. Occasionally a young lady with a guide dog was shopping there and the dog was so happy to check out the tasty offerings in the bake case. Everything was so good and if I'd been born with a tail, it would have been wagging too! When I bought a house I was glad to get suet from the meat department to feed the birds. The top memory bringing the most smiles was many years ago when remodeling was being done and there was a long ditch with water flowing through it in about the center of the store. It had to be stepped over.