TECUMSEH — The room is full of rare motorcycles, and Bill Montz can tell you what makes them so collectible, and what makes them go.
This is a 1902 Peugeot, likely the oldest bike in Nebraska. This is an all-original 1912 Harley, driven by a leather belt. This is a 1917 Indian, with a headlamp you light with a match. This is a 1967 Royal Enfield, one of 175 made.
He could go on, and he will, for a while.
But what Montz really wants to talk about — what he values the most — are the stories behind these bikes, the memories he's been collecting since he was 6, when his father bought a 1.5-horsepower Doodle Bug at Gambles in Tecumseh.
His dad had carved a path around the garden. Montz and the scooter were supposed to stick to it.
"I don't remember being naughty, but I left and they couldn't find me," the 76-year-old said. "It pretty much disappeared after that."
But there would be more boyhood scooters, and then a lifetime of motorcycles, and they would all eventually lead to this — the Montz Motorcycle Museum, a 4,000-square-foot showcase of two-wheeled history he and his wife, Carla, built themselves and opened last year.
"It's been a joint effort, a labor of love," he said. "It will never be a profit-maker, but it's a fun job."
The bikes span 105 years. They range from 1.5 to 400 horsepower. They come from all corners of the world — made by Harley and Hodaka, BSA and Ducati, Sunbeam and Sears.
The museum is open Fridays, Saturdays and by appointment. A $10 admission not only gets you inside, but it often comes with a personally guided tour through time.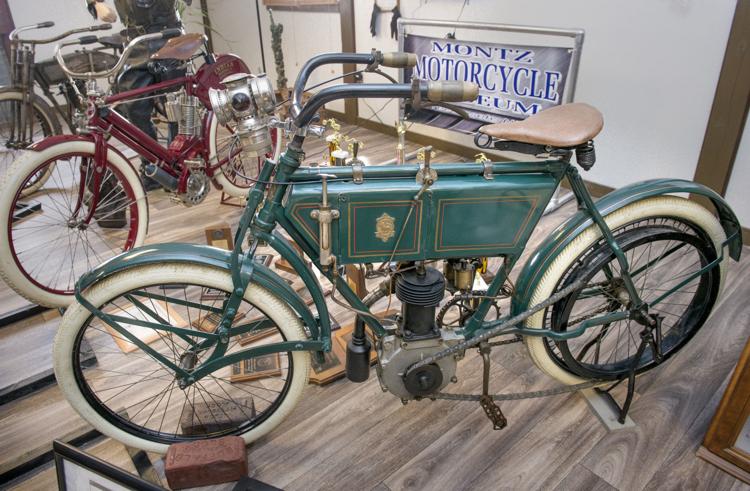 Brush with celebrity
Start with the oldest, the 1902 Peugeot.
"It's very, very valuable," he said. "It's never been restored."
Montz picked it up in 1984, when he traveled to Las Vegas for an auction of Steve McQueen's motorcycles. He knew he was sitting next to a celebrity, because the guy kept signing autographs, but Montz had no idea.
"I didn't know who he was and he was real shy about it. I asked, and he said he wasn't a movie star. Finally, he said, 'Have you ever heard of the Doobie Brothers?'"
Later, with Pat Simmons — a founding member of the band — urging him on, Montz placed the highest bid for the bike, $4,500. He's not comfortable disclosing what it's worth today, though it's been assigned overnight guards at motorcycle shows.
But Montz was surprised to even get a chance to bid on McQueen's bikes that day 34 years ago. He was convinced the auction was limited to top buyers, he said. "And not some hick from Nebraska."
Montz's roots run deep in Tecumseh. He's been mayor since 2008. One of his grandfathers drove the ice wagon, the other built the town's grandest homes. After high school, Montz worked construction around the state before living for nearly 30 years in Lincoln, working first for the roads department, then opening Bill's Auto and RV Sales at 48th Street and Cornhusker Highway.
He was restoring and collecting cars and motorcycles, but the bikes would take over.
"As you get older, they're easier to push around if they don't start," he said. "And you can fit more in the garage."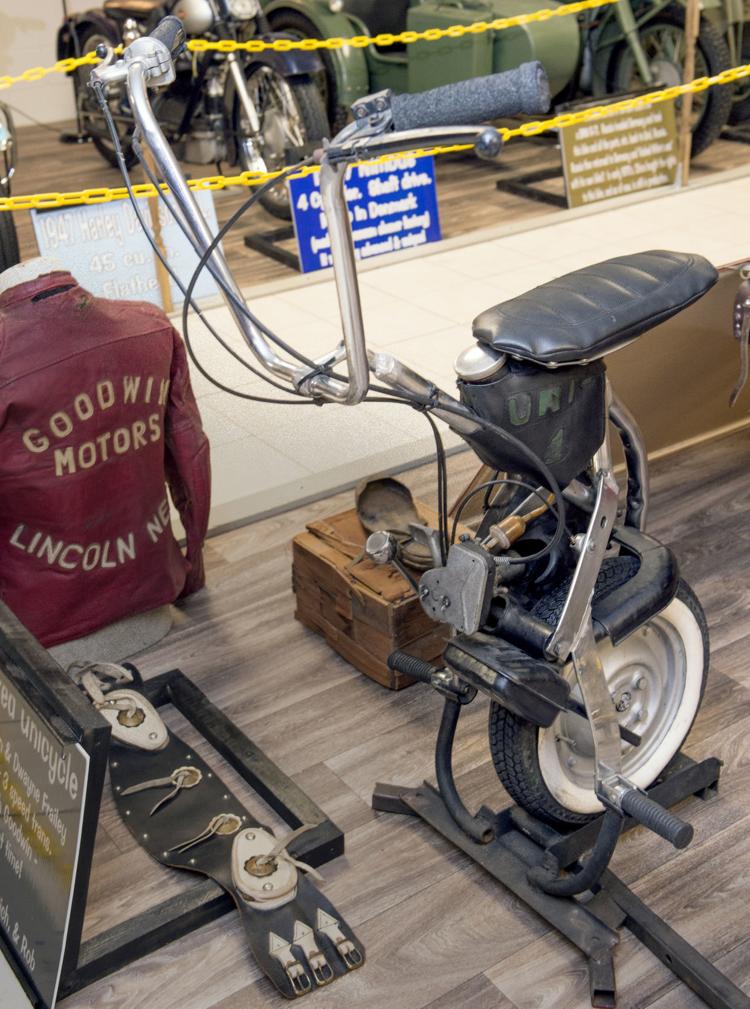 The 90cc unicycle
Next, the Ocycle, delivered by Richard Goodwin of Lincoln.
Goodwin's father was Vern Goodwin Jr., a longtime Kawasaki dealer and renowned sidecar builder. His grandfather, Vern Goodwin Sr., sold Indians from the 1930s through the 1960s.
"He's got a family history that goes two miles deep," Montz said.
You have free articles remaining.
Vern Goodwin Jr. had built a mock motorized unicycle out of Vespa scooter parts as a prop for his showroom. But after a few beers one night in 1970, he and a friend made it work.
"Everyone who tried to ride it would get 10 feet and fall on their face," Richard Goodwin said. "It happened to me the first time. I got so irritated I decided I was going to ride it."
He practiced for months. He started staying on longer. And then he was showing it off at Sturgis, racing it at Pershing Auditorium, getting his picture in the paper.
After Vern Goodwin Jr. died in 2016, his sons loaned the unicycle to Montz. They also brought a working, miniature BMW their father had built as a Christmas present for them in the 1950s, powering it with a washing machine's gas motor.
Montz's museum is the perfect home for their father's legacy, Richard Goodwin said.
"We've got all this history of motorcycles in our family, and he's helping us put it on display. If it sat in my house, nobody would ever see it."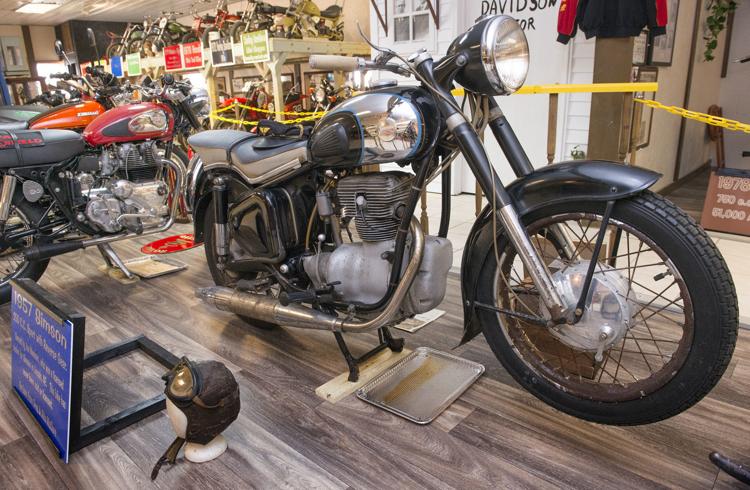 The 60-year-old new bike
Joe Meehan sold Simsons — East German bikes — but he was also a collector. The World War II vet from Havelock had accumulated so much military memorabilia he opened his own museum along the interstate between Lincoln and Omaha.
Before he died earlier this year, he'd started auctioning his collection. Greg McClure ended up with Meehan's prized 1957 Simson, which had sat in storage for decades, never sold, never titled and rarely ridden.
"He was one of my closest and best friends," McClure said. "He always told me about it, and he never wanted to sell it."
McClure has also been friends with Montz for decades. He used to visit Bill's Auto to talk bikes and cars.
The car salesman had a fabulous collection of both, he said. "I wasn't on the same level as him. He always had the best — not that mine aren't good ones."
It made sense to loan the Simson, and three little Italian bikes, to the museum. Like Montz, McClure is passionate about sharing the cultural history of motorcycles.
"It's better where it's at right now. We're real interested in telling the story of motorcycle riders in Nebraska."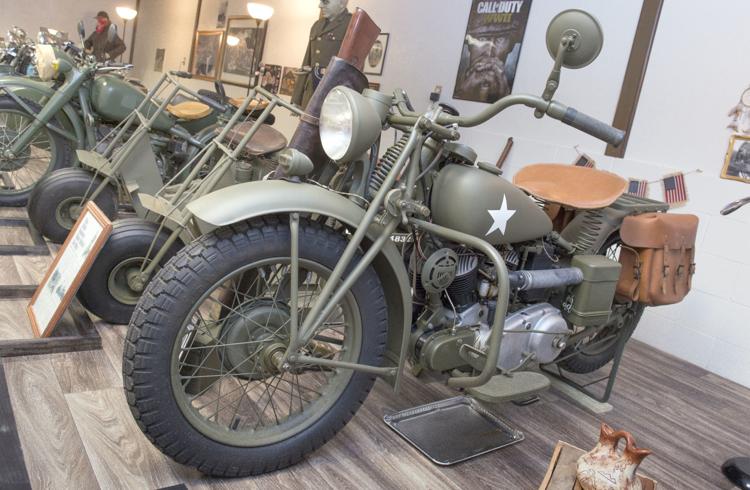 The bike that finally came back
Montz has always been on two wheels. Not long after the boy strayed from the garden and lost the Doodle Bug, his father painted a car in exchange for a Cushman scooter.
"And I rode the wheels off it," Montz said.
When Montz was 13, his father bought him his first real motorcycle, a military surplus 1943 Indian. But it was too slow, topping out at 45 mph, so Montz traded it for a Harley.
This might be Montz's longest story, spanning more than a half-century, but here's the summary: After he moved to Lincoln, he began searching for a '43 Indian, the childhood bike that got away.
He met a couple of brothers, kids at the time, who had one — in pieces and in boxes. "They told me this story about how this guy gave it to him. I said, 'I'm going to buy it from you. I'd pay you a lot of money.' They said no."
He kept asking for 50 years. And the brothers, no longer boys now, kept saying no.
But then they sold it to a friend of Montz's, who restored it to military standards. When he traced the title, he learned it was Montz's first motorcycle.
Montz had spent five decades chasing the bike he didn't even know was his. But it's on display now in Tecumseh.
Something to look at, but like the other 75 nearby motorcycles, something to talk about, too.
"The stories," he said, "are worth more than the bikes."