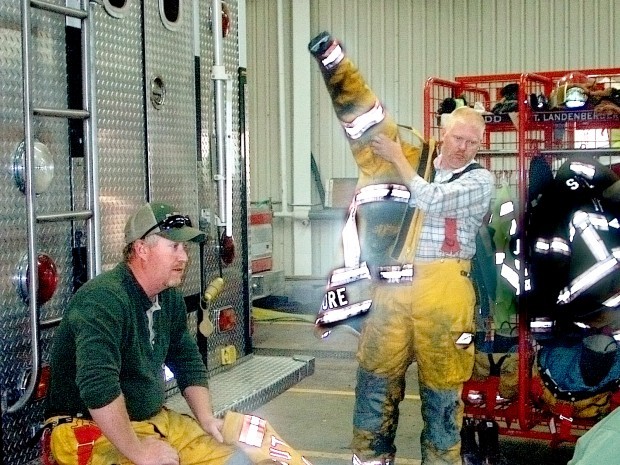 SUTTON -- When a fire roared skyward in 40 mph winds southeast of Sutton on Wednesday, 12 fire departments and as many as 50 farmers with tractors and tillage equipment raced to the scene.
The all-hands-on-deck response says something about the tinder-dry conditions in much of Nebraska and also about a town-and-country combination rallying to a perilous cause along the border between Clay and Fillmore counties.
"A group of people get together on short notice like that and they get 'er done," Sutton Fire Chief Chris Moore said Thursday. "There's no jacking around, no he, she or I. They just get it done."
Having gotten only two hours sleep, the haggard-looking Moore and Assistant Chief John Schurman and others from their 40-member volunteer department were back at their fire station about 70 miles southwest of Lincoln on Thursday.
They were getting ready to take their turns looking for lingering hot spots.
The wind was even stronger Thursday and contributing to fire trouble in other parts of the state.
As of early afternoon, it appeared the Sutton fire would not cause more trouble.
But despite the quick and formidable response, it burned an area about 3/4 of a mile wide and 5 miles long in a southeasterly direction toward Geneva. The area added up to about 3,500 acres, and it took about four hours to get the flames under control.
"If the wind had not been blowing like it was," Moore said, "it never would have made it out of the field."
Several occupied homes had to be evacuated, but there were no injuries to either firefighters or residents.
As of noon Thursday, the cause of the fire was undetermined.
The damage included two homes, one abandoned and one unoccupied, as many as seven farm buildings including three machine sheds and a barn, 20 acres of corn and 80 acres of soybeans.
Because of the wind and the loss of plant residue on the soil surface, the dust in the fire area looked like swirling fog and cut visibility to a few hundred yards.
Fortunately, the harvest was about 90 percent complete.
But also on the list of destroyed property were about 30 antique tractors owned by local farmer Ryan Winter.
Winter estimated the total value of the charred Allis Chalmers at more than $100,000.
A few weeks ago, he said, he turned down an offer of $20,000 on the rarest of them, a 1959 D-14 High Crop that was one of six distributed before the model was shelved.
"Now there are five," Winter said.
You have free articles remaining.
He was headed home from Geneva about 3 p.m. when he saw the huge cloud of smoke billowing up from about 2 ½ miles southeast of Sutton.
He and others started center-pivot irrigation units to help firefighters with their job.
Winter, a 1993 graduate of Sutton High School, wasn't surprised by the mass of humanity and equipment that descended on a remote spot where all the roads are gravel.
"That's just the small-town, community atmosphere," he said. "If something needs to be done, everybody chips in."
Besides Sutton, the list of responding fire departments included Grafton, Fairmont, Geneva, Ohiowa, Shickley, Clay Center, Edgar, Fairfield, Glenvil, Davenport and McCool Junction.
Area businesses sent tanker trucks filled with water that normally are used for agricultural jobs.
Moore didn't want to think about what would have happened if the fire had started after dark or if Sutton had to handle its problem alone.
Some farmers drove tractors as far as 25 miles to get involved.
"They disked about 80 acres out in front of (the fire) along Highway 41," he said.
Even with all the help, it's not easy to stay calm when a fire is still in the expanding phase, Moore said.
"Right as it was getting going, I was thinking to myself where's it going to go, especially when you're talking about a 40 mph wind pushing it?"
But Winter said the total damage could have been much worse.
"Basically, the wind stayed in the same direction. That's why it was a narrow path. If it had switched direction one or more times, it would have taken out a lot bigger area."
The fire just missed Doug and Cathy Barritt's horse ranch as it moved farther southeast.
Seated at their kitchen table Thursday, the Barritts were counting their blessings.
"I was just worried that the wind would shift or something," Cathy Barritt said. "We would have been right in its path."
Even though it didn't touch their house and cluster of outbuildings, they loaded up six horses and moved them to a friend's place as a precaution.
"I think we were pretty darned lucky," Cathy Barritt said.
And they were lucky, too, to see how people in a rural place treat a fire as a shared responsibility.
"It's their livelihood, too, just like ours," Doug Barritt said of farmers who pointed the noses of their tractors at a cloud of smoke and hit the throttle. "It could just as easily happen to them."