Gulie Khalaf comes from a farming background, but none of her family members who moved to America continued farming here.
"Even if they make enough money where they could buy a little plot of land and start farming, the soil is so different, the environment is so different ... and also the regulations are so different," she said.
But for about 10 years, they still wanted to open up some kind of business, especially her brother Tahsin. The question was what the business would be.
Throughout the years, as the Yazidi refugees lived in Buffalo, New York, and eventually moved to Lincoln, they came up with a variety of options: a pizzeria using naan bread for the crust; a cleaning operation for schools and businesses; a towing company. None of them stuck.
When they came up with a grocery store idea, they felt it was doable because numerous family members had retail experience and they wanted to bring their knowledge to a Mediterranean market in Lincoln. And they decided to place it downtown, where a grocery store was sorely needed, Gulie Khalaf said.
After months of preparing the space, importing stock and arranging groceries, the store had its grand opening in July.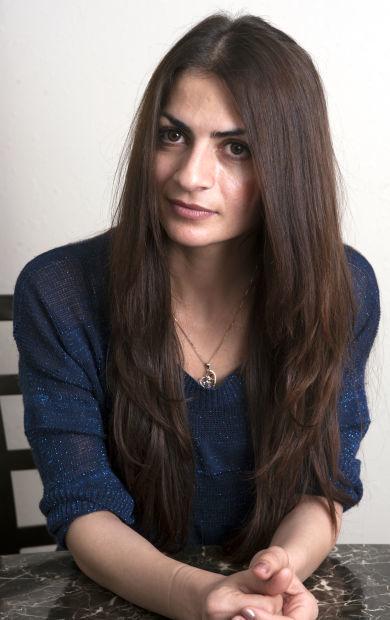 "I think it's a doorway ... and it's the best way that I know or believe in that we can grow," Tahsin Khalaf said.
Yet, he said, there are still challenges.
He worries about things like keeping the store going, but pushes ahead because he wants to keep providing a well-organized and clean space with affordable and varied merchandise — in other words, a great customer experience — for Yazidis and native Nebraskans alike.
"That (uncertainty) has always been something that's deep, deep, deep down in the back of my head," he said. "But I chose to kinda ignore that ... We're just gonna do our best and hopefully everything works out."
Lincoln Mediterranean Market is now one of several Middle Eastern grocery stores in Lincoln, said Zainab Al-Baaj, the Middle East North Africa Hope Project coordinator at Good Neighbor Community Center.
She said having a variety of stores helps the business owners, refugee families and the city of Lincoln as a whole, a sentiment Tahsin Khalaf echoes.
"When the community does good, you do good; and when you do good, the community does good," he said.
"We're all part of a whole."
You have free articles remaining.
Refugee- and immigrant-owned businesses have helped Lincoln develop into the diverse city it is today, Al-Baaj said. She came to Lincoln in 1994, when there was only one Middle Eastern market in town.
That diversity has also changed local supermarkets, which helps refugees feel more at home and means more money is spent locally, she said.
"Now with Super Saver they have a Middle Eastern section, one of the freezer sections is halal," she said. "It makes it easier for us to get the stuff we grew up eating."
More than 110,000 refugees migrated to the U.S. in 2016, but that number was capped at 45,000 in 2017 and could be lowered again next year by the Trump administration.
Last year Lincoln resettled 323 refugees, but so far this year it has resettled 37.
Al-Baaj, who has seen Lincoln grow into a refugee-friendly city, says fewer resettlements could undermine the momentum many ways.
"Housing, grocery stores, it's all a chain," she said. "Everything will get affected, I think. Schools even … they hired a lot of bilingual liaisons; if (refugees) stop coming, they might lay people off."
She said Lincoln has developed a reputation for helping refugees and secondary migrants through organizations like Good Neighbor, which offers food and clothing donations as well as walk-in services.
Helping refugees find jobs and build skills is key to many of these organizations, and they enact this mission through English classes and professional development.
The Lincoln Partnership for Economic Development works with these organizations to help refugees find careers, said Bryan Seck, director of workforce development.
"Our job is never to get people a job, the job is to get somebody a job and keep them in the job," he said. "We're not interested in numbers but the quality."
Gulie Khalaf said it's important to provide resources for refugees who want to advance or change their career, but connecting them is more of a challenge.
"Some were teenagers who left school and got tempted by $13, $16 an hour, and now they're in their 30s and have families and they're stuck," she said. "They don't have enough language, they don't have necessary skills to leave such jobs ... and there's no way out of it."
When it came to opening the Lincoln Mediterranean Market, Gulie Khalaf said it took "a lot of YouTube and Google" to navigate the American entrepreneurial landscape, as well as help from their family and community support.
Refugees have more obstacles and face higher stakes when it comes to owning a business, but Gulie Khalaf hopes the grocery store provides an example for the community.
"We wanted to do something different, not just work in a factory or (other) place for the rest of your life," she said. "Hopefully that is going to inspire people in the community to start doing something similar.
Once you are a business owner ... it gives you some power and with that, you're able to empower others."