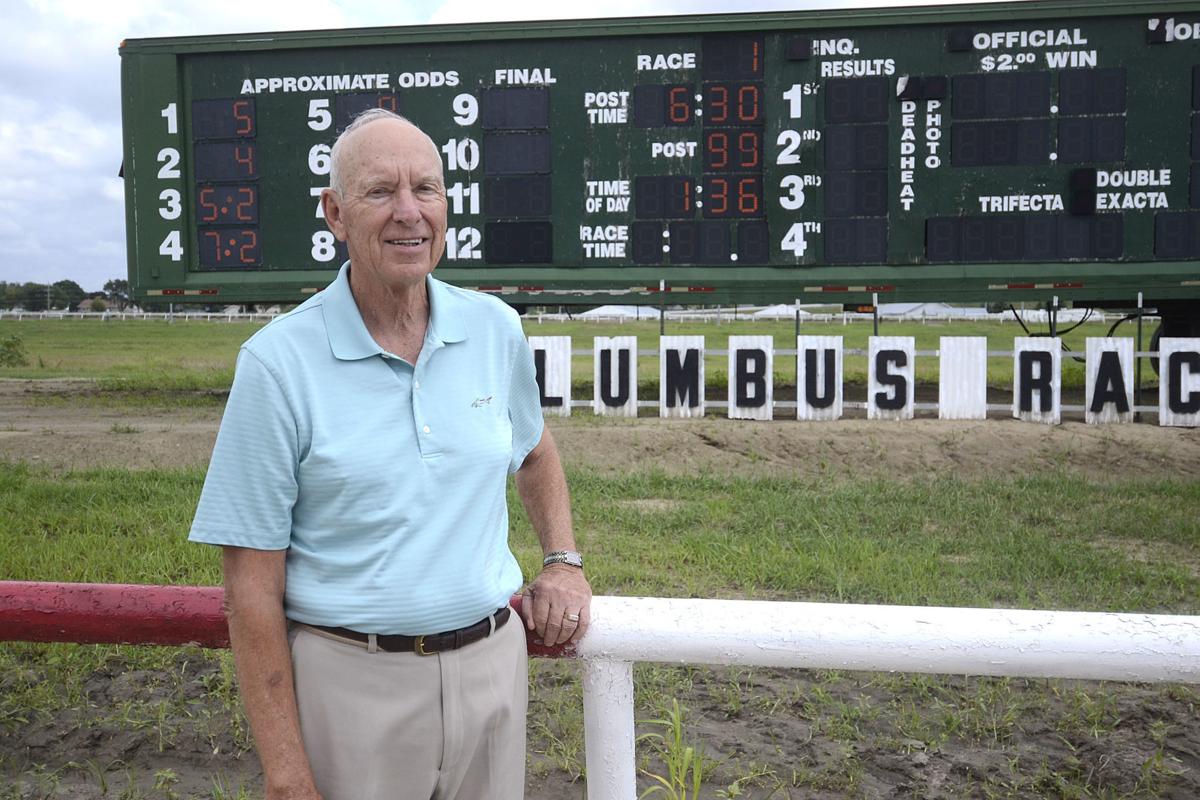 COLUMBUS — It was a muggy day in early May 1975 when Bob Pollock was on top of the grandstand at Ak-Sar-Ben racetrack. The severe weather warnings that had been issued earlier in the day proved to be accurate.
Remembered as the most famous tornado in Omaha history, Pollock was six stories above the ground experiencing it all alongside the track's announcer.
"It was pretty scary. We had horses ready to be saddled waiting in the paddock for the second race. I looked over to the west and it looked like there was a whole roof moving in slow motion," Pollock remembered. "All those little rocks that sit on top of the grandstand were being blown like bullets."
It's just one of the hundreds of stories Pollock can recount from his 50 years in the horse racing industry.
He's back in Columbus again this summer for his 10th straight year, after a break of more than a decade when he was running a track in San Antonio. Pollock actually retired a few years back but couldn't stay put.
In addition to serving as a steward at tracks in Grand Island and Omaha, he spends a month in Columbus away from his wife of 54 years. Although he doesn't have any direct influence on results the way a trainer or a jockey does, it's the continued care for the sport that has become part of his identity.
"I like Columbus, for one thing," Pollock said recently from his desk inside the racing office at Ag Park. "I would do anything to help racing here, as well as the other tracks in Nebraska."
A kid from a town of fewer than 100 in north-central Oklahoma, Pollock first found a love for horses when his family began buying, owning and training them at the age of 7.
The Pollocks raced all summer on the Nebraska circuit, with Bob and his brother setting out on their own a few times to run horses at Park Jefferson is South Dakota.
Pollock went to college and studied sociology and physical education and took a job at a Goodyear tire plant in Kansas, but he was soon back in racing. While working in Topeka, he was asked by the head of racing in South Dakota to come up and serve as a steward.
You have free articles remaining.
Half a century later, he's one of the most recognizable faces in the Nebraska racing industry. He began coming to Columbus in 1970 and typically spent nine months out of the year in the state, working at Ag Park, Fonner Park, Ak-Sar-Ben and State Fair Park.
Eventually, he and his wife bought a house in Grand Island and raised a family there until the mid-1990s.
Now, Pollock is a resident of Frisco, Texas, except for the time he spends up north during the Nebraska racing season.
He left Nebraska in 1995 to become the general manager at Retama Park in San Antonio for 12 years. But when retirement in 2008 didn't suit him, he found his way back to Columbus, where he lives in an apartment, plays golf and attends church for the month he's away from his wife.
"Retirement's not for me. I couldn't take it. Mow the lawn, clip the roses, that's about it," he said. "I always had friends up here. Everybody who owned a horse or worked up here, I probably knew them all."
Pollock's job, at least the short answer, he said, is interpreting and enforcing the rules of Nebraska racing. Every day he's at the racing office at 7 a.m. to help owners, trainers and jockeys get through the day. That can include assisting in entering a horse, scratching a horse, exercising a horse, making a jockey change, bookkeeping and paperwork.
"The bottom line is to make a difference to racing, make it better. I try every day," Pollock said.
But at 77, just how much more work does he want to put in?
"Who knows? I even say sometimes, 'Why would anybody want to hire me. I'm old,'" Pollock joked. "I'm not worn out, but I'm old. Probably a few more years."
Pollock will likely head back home the day after Labor Day, the final day of the 2019 Columbus season.
Although it seems odd now, Columbus and all of Nebraska was once a hotbed for the industry in the 1970s. Yet even today, Pollock said, Ag Park typically has better attendance than many small tracks around the country.
"Columbus was terrific racing back in those days. You couldn't even find a seat in the grandstand, it was so packed," Pollock said. "The reason I keep coming back, I always say I want to make a difference for racing. I think I kind of do a little bit, if nothing else, through leadership."