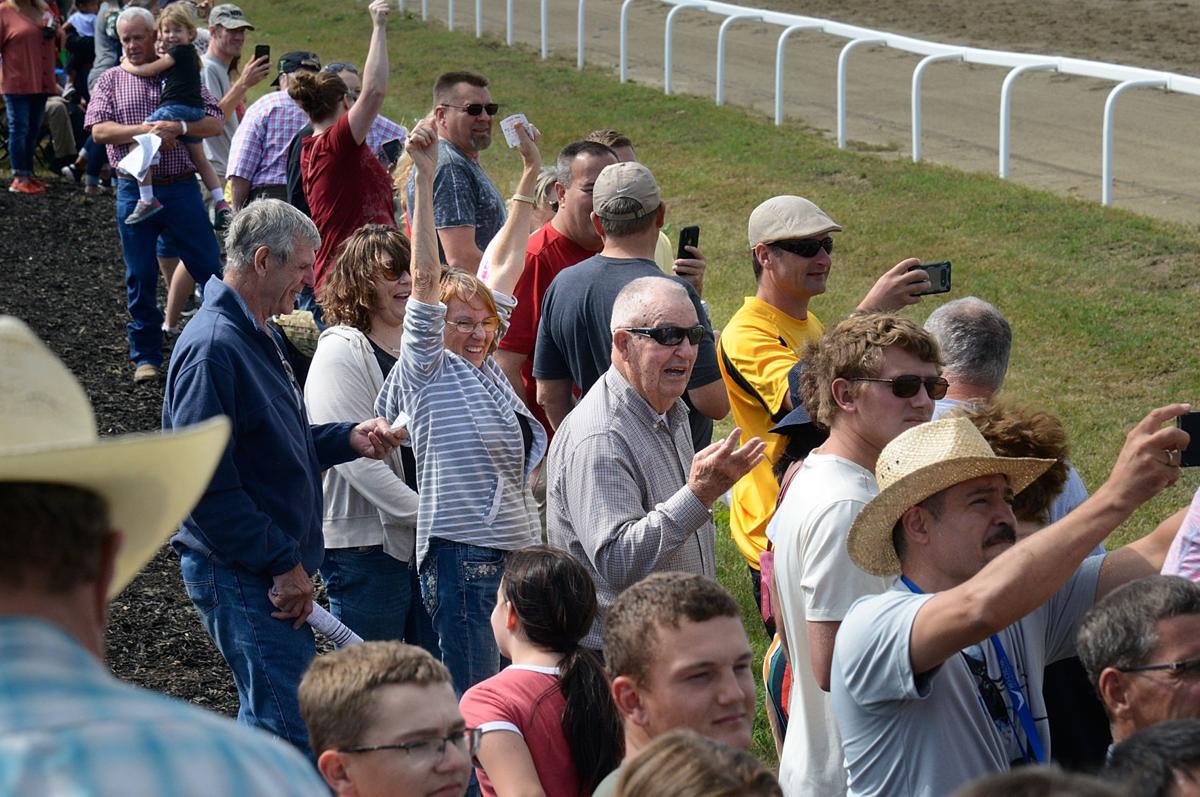 SOUTH SIOUX CITY — If Nebraska voters approve expanded gaming in 2020, Ho-Chunk CEO Lance Morgan says it'd be a win for rural Nebraskans.
A group led by Ho-Chunk Inc. is collecting signatures for a 2020 ballot initiative that would allow casino gambling at state-licensed horse racing tracks, including Ho-Chunk's Atokad Park in South Sioux City and Lincoln Race Course.
The measure, proponents say, would be a godsend to Nebraska's racetracks, which have struggled in recent years. Morgan stressed that Nebraska's equine economy —the stables, food, training, veterinary care and so on — would thrive under an expanded gaming law.
"Given the fact that rural Nebraska — rural America really — is really struggling in a lot of ways, I think it'll be great for the rural economy," Morgan said at the annual day of horse racing held at Atokad Downs on Saturday.
Atokad has just one day of live horse racing per year, the minimum required under state law for Nebraska tracks to offer wagering on simulcast races from tracks in other parts of the country.
Hundreds of spectators turned out to see the five races held Saturday afternoon. It was the largest number of races held at the track since Ho-Chunk bought it in 2016.
Ho-Chunk Inc. tried three years ago to get an expanded gaming measure on the ballot. That initiative failed before it ever reached voters after Nebraska Secretary of State John Gale's office rejected tens of thousands of the petition's signatures.
Ho-Chunk is in ongoing litigation with Northstar Campaign Systems, which it blames for inflating the number of signatures collected.
Morgan did not wish to disclose the total number of signatures gathered in the new petition drive, nor did he disclose the name of the third-party vendor gathering signatures this time around, though he did say they are "doing a great job."
"We have a great process in place, for not just gathering signatures, but also verifying the validity of them," Morgan said.
Ho-Chunk employees and affiliates appeared to be actively encouraging attendees of Saturday's horse races to sign the gaming petition. One signer, Veronica Roberts, said she wants to support horse racing in the state. She'd like to see South Sioux City host more than one day of live races a year.
"It's just fun to do," Roberts said.
Morgan described Nebraska's horse racing industry as rather "modest," where once it thrived. Betting on horse races, approved in 1934, was once the only type of gambling allowed in the state.
In later decades, the state moved to allow bingo, lotteries and simulcast horse races.
Neighboring states, including South Dakota and Iowa, have since permitted casinos and slot machines. Lynne Schuller, the executive vice president of the Nebraska Horsemen's Benevolent and Protective Association, said the other states' casinos, along with Nebraska's lottery and keno games, have left the state's horse tracks in the dust.
"When (Omaha racetrack) Ak-Sar-Ben was running, there were no riverboats in Iowa. There were no casinos in Missouri. There were no slot machines in South Dakota. There was no gaming in Kansas," Schuller said.
"If casino gaming is passed, we will take every penny, almost, that we make from that casino gaming, and we will put it directly into the horse industry, live racing."
Horsemen are investing in building a seven-furlong track at Lincoln Race Course, which officials hope to debut on the track's single day of live racing Nov. 9.
Also, the State Racing Commission has approved adding historic racing terminals for use at Fonner Park at Grand Island.
Tracks also operate in Omaha, Columbus and Hastings.
Should the voters bless the measure (if it reaches the ballot), Morgan said Ho-Chunk will move quickly to expand its operations at Atokad.
"We'll get right on it," he said. "We've already had plans in place; if it passes, it's going to happen almost immediately."
Be the first to know
Get local news delivered to your inbox!