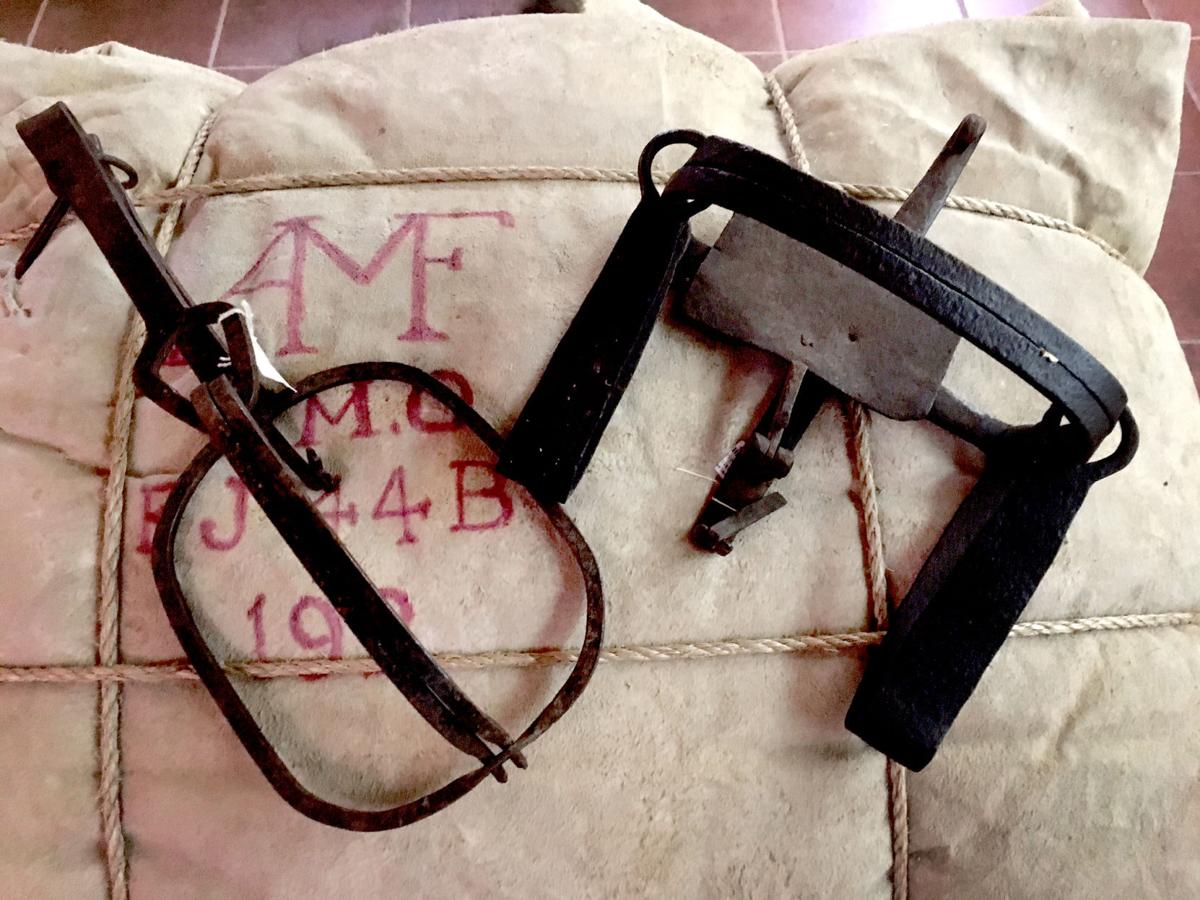 They were forged by blacksmiths, sold to fur companies and fur traders, and put to work in a younger and wilder America.
These traps took muskrat and wolf and fox but mostly beaver, supplying the country -- and the world -- with fur for fashion and warmth.
But that was two centuries ago -- in some cases, nearly three. The handmade traps carried by mountain men and pioneers would become relics and rarities, and dozens would eventually become the property of the Museum of the Fur Trade near Chadron.
And this week, some of them could have become yours.
Like a massive wolf trap with foot-long jaws that could have been used for bear.
Or a rare single-spring design that dates to the 1750s.
Or a French Canadian trap with a solid cannon ball attached as the drag.
Or a beaver trap with a hand-built chain and low-arched jaws that was popular during the early 1800s, the peak of the mountain man era in the North American Rockies (think Leonardo DiCaprio and "The Revenant").
The private museum has been gathering fur trade-era traps -- and tools, guns, utensils, blankets, blades and other provisions -- for 60 years. And over time, it's ended up with duplicate pieces, said director Bill Armstrong. Some more desirable than others.
You have free articles remaining.
"There are things that have been on exhibit that we have better versions of now," he said. "There's no point in having one that's not as exquisite as the one we've acquired."
So museum staff recently selected 30 surplus traps and put them up for sale, announcing their availability in the spring issue of Museum of the Fur Trade Quarterly. Some of them are missing pieces and parts, but all of them are old, authentic and historically important.
"It's a pretty mundane-looking object but, quite honestly, if you know the history of westward expansion, it's the tool that created a lot of that discovery," Armstrong said. "That's one of the reasons they're so collectible -- they're so symbolic."
Fur trappers and traders blazed the trails later followed by settlers, and the traps for sale reflect that movement.
Some of the oldest traps, for example, were used in the Great Lakes and the Old Northwest -- Ohio and Indiana -- in the 1700s. The traps from the early 1800s helped open the mountain west.
With help from an apprentice, a good blacksmith could make a trap in a half a day and sell it for about $10, a high price two centuries ago. And most mountain men would be packing three to six traps. But not all blacksmiths were good, and chains would break and springs would fail and the traps would disappear.
So these remaining traps are more than symbolic. They're rare, and they're priced accordingly. The museum is charging between $75 and $500 apiece, although most are $250 and $300.
"They are so unusual to have around," Armstrong said. "They're iron, they're forged, they spent their lives submerged in water."
They're also selling fast. The museum already packed up 20 of the 30 traps this week.
"I've got collectors, other museums, calling me," he said. "It's a big deal."