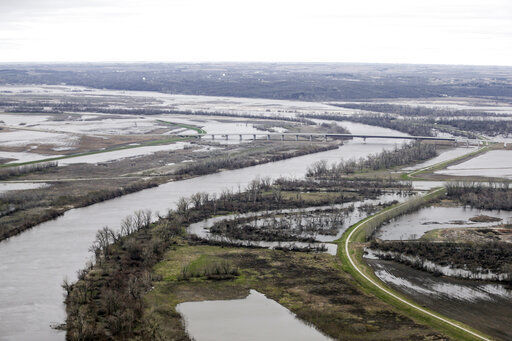 The U.S. Army Corps of Engineers is increasing water releases at Gavins Point Dam because of heavy rainfall in the past week.
Releases were set to increase to 60,000 cubic feet per second, up from 50,000 cfs.
John Remus, chief of the corps' Missouri River Basin Water Management Division, said there's no estimate on when releases will return to normal levels.
Because of the rain, which totaled 2-5 inches in some areas, inflows into Gavins Point, as well as South Dakota reservoirs upriver at Oahe, Big Bend and Fort Randall, have increased, taking up more space in the reservoirs' flood control pools. Releases from Gavins Point, near Yankton, South Dakota, will allow more water to pass through the Missouri River reservoir system and slow the rise in the other reservoirs.
You have free articles remaining.
Mountain snowpack continues to melt and enter the system in Montana and North Dakota, Remus said, and the corps must ensure that reservoirs have enough room to hold that runoff.
The heightened releases follow flooding in March stemming in part from record Missouri River flows.
Runoff in March in the basin above Sioux City was 11 million acre feet, which surpassed the previous record of 7.3 million acre feet in 1952. The average March runoff is 2.9 million acre feet.
The floodwaters breached or topped dozens of levees in Iowa, Nebraska, Missouri and Kansas, damaging Offutt Air Force Base and closing interstates and highways.
Flood warnings continue along the Missouri River south of Blair with the river still above flood stage south of Plattsmouth.