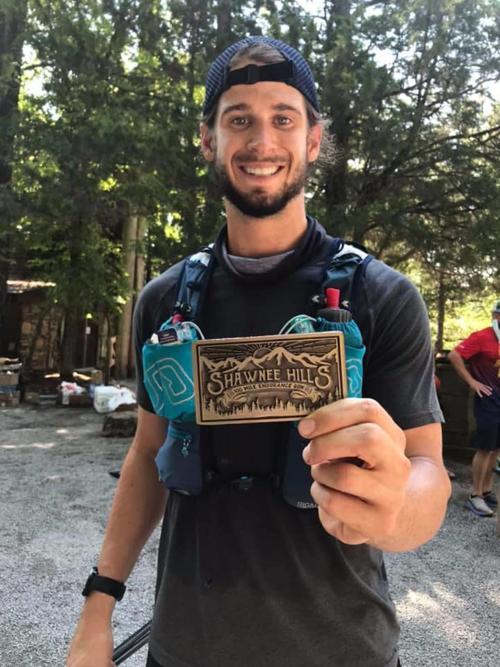 Ethan McGowan isn't the type of person to make a New Year's resolution and then break it within a week.
No, he'll set one and then double up on it four months later.
Give him another year, and he'll exceed it by almost eight times.
At least that's the assumption that can be made after what the 2013 Grand Island Senior High graduate and current Grand Island Utilities Department lineman accomplished over Aug. 22-23.
McGowan successfully completed his first attempt at a 100-mile ultramarathon. He finished the Shawnee Hills 100 endurance race at Camp Ondessonk, Ozark, Illinois.
"It was pretty overwhelming," McGowan said about crossing the finish line.
McGowan never viewed himself as a potential distance runner until recently in his life.
During high school, he was a hurdler for the Islanders track team. His falls were spent running around the football field, not across golf courses on the cross country team.
In high school, telling McGowan that he would run 100 miles – at one time – would have gotten an incredulous response.
"I would have said you're crazy," he said. "When I was in high school, I wouldn't have thought that was even an option. Even three years ago, I would never have thought it was an option. I wouldn't have expected that this is how my life would have gone, but this has changed me and I think it has made me a better person."
The relatively short path to McGowan becoming an ultramarathoner began on New Year's Eve when he was ready to ring in 2019.
"I made my New Year's resolution for 2019, and it was to run the Lincoln Half-Marathon in May," McGowan said.
This is where McGowan isn't the traditional resolution maker who discards those goals in a short amount of time.
"I ended up switching to the full (marathon) halfway through my training," he said. "So I ran my first marathon in May 2019, and I never slowed down from there. I found out that I really enjoy distance running."
McGowan took up trail running and that only added to his enthusiasm. He completed a 50K and then a 50-miler. He was preparing for his first attempt at a 100-mile run scheduled for April, but that was among the many races canceled once the coronavirus pandemic hit.
"Jeff Morrick, one of my buddies, and I started looking for another one, and (the Shawnee Hills 100) was the first one," he said.
His first attempt turned out to be a successful one.
"I did pretty well physically," McGowan said. "There never was a time where I thought my legs wouldn't be able to finish. Mentally, I hit mile 75 at 2 in the morning. The next 10 miles were in the middle of the night, and I had trouble staying awake. Those 10 miles were tough.
"The sun came up around mile 85, and I started to get a second wind. I was able to pick up my pace again until I reached the finish line."
McGowan was fourth out of the eight male finishers (seven men did not finish) in 29 hours, 43 minutes and 32 seconds.
The course around Shawnee National Forest in southern Illinois isn't exactly an easy one.
"There is 11,000 feet of elevation gain, so that's 22,000 feet of elevation change total. There are three loops, and the first loop is a little longer to get to 100 total miles.
"There were some mostly loose rocks, so it was tough to keep your footing at times. Sometimes it was tough with the distances that the aid stations were spread out."
Maybe just as amazing as McGowan's accomplishment was the fact that he was back on the job on Monday after his grueling weekend.
"My feet hurt," he said. "There was some water on the course, so my feet got wet and I had blisters. It was tough Monday when I went back to work. I had trouble getting around. I still struggled on Tuesday, but by Thursday I felt fine. I went on my first run since I got back on Saturday."
While completing a 100-mile run is a huge individual accomplishment, McGowan quickly gives credit to those who helped him along his path – both literally and figuratively.
He said that Jeff and Jenny Morrick were big assets as friends and supporters. Jeff – who has completed a 100-miler – was a training partner and helped give McGowan tips on how to prepare both mentally and physically for running this type of endurance event.
They were also travel partners for the event, where Jeff attempted the 100-miler and Jenny successfully finished the 50K event.
McGowan said he also got a huge assist from David Harvey.
"You're allowed a pacer after mile 50, who is someone who runs with you that isn't entered in the race, for the 100," McGowan said. "David Harvey paced me, and I can honestly say if it were not for him helping me through those tough miles that I would have still finished, but it definitely wouldn't have been as pretty.
"He was able to get me through that time when it hit me harder than I thought it would. I wasn't thrown off as much with him there."
As expected for someone who went from setting a goal of running a half-marathon to running a 100-mile race within 20 months (and that's with a pandemic delay), McGowan isn't ready to stop.
"I'll definitely do another 100, but I'm not sure when," he said. "I'm on a waiting list for one on Oct. 16 that is sold out. I'm also looking at the Hitchcock 100 (Dec. 12-13 in Honey Creek, Iowa)."