The hospital that has served Friend for nearly 90 years needs a lifeline of its own, and it doesn't have much time.
If Friend Community Healthcare System can't collect up to $800,000 to update its hospital's electrical system by the end of the year, it will lose its Medicare funding and be forced to close, said board member Nick Svehla.
And the community of about 1,000 people in northwest Saline County would feel the loss on several levels.
The hospital's first birth was in 1933, the year the original building opened. It doesn't deliver babies anymore, but it still offers a range of services — surgical scopes and physical therapy and radiology —  and sees an average of four patients a day.
Without its emergency room, Friend residents would be forced to drive to Crete, Geneva, York or Seward, up to 30 minutes away.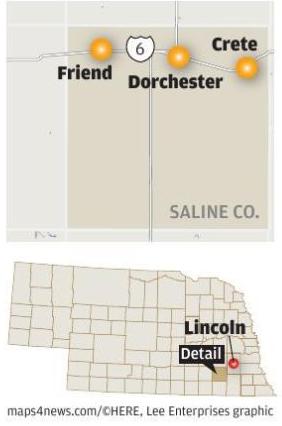 And the hospital helps drive the economy, providing jobs to a staff of 50. "We're one of the largest employers in a town this size, and knowing there's viable health care close to home is extremely important," Svehla said. "Keeping something like this viable is greatly beneficial."
Svehla and other hospital promoters are hoping at least half the town agrees with their solution — a bond issue on the May 15 ballot to raise enough money to update the wiring and prolong the life of the struggling hospital.
Supporters are optimistic, because a successful vote would not carry a bigger burden for property owners, he said.
"We're not raising taxes, and that's a huge deal as far as getting people on board," he said.
Here's why: The hospital district raised its levy last year in anticipation of this work, but it needs the money faster than it can collect it. The bond issue would be like a loan, Svehla said, and the district would make bond payments with taxes it's already receiving.
"Everyone hears bond and they're worried about their taxes going up," said Jim Vossler, a hospital board member. "But they shouldn't."
The money would solve a problem identified in 2016, when the Department of Health and Human Services conducted a site survey at the hospital. As part of that, the state Fire Marshal's Office inspected the building, too, and determined its generator was outdated and much of its wiring out of compliance.
The fire marshal ordered the hospital to make repairs by January 2019. If the hospital isn't compliant with code, it will lose Medicare funding. Without that, it can't operate, Svehla said.
The electrical work is estimated to cost at least $600,000, but the board asked for a bond request of up to $800,000 to cover any surprises.
"You're dealing with an old building," Vossler said, "and you don't know what you'll run into."
Still, even a successful vote won't guarantee longevity for the hospital, which has struggled financially and operated at a deficit recently. Last fiscal year, for example, it generated $4.8 million in revenue but spent $5 million, though it's in the black the first six months of this fiscal year, president Chad Thompson said in an email Tuesday.
Thompson wasn't answering follow-up emails Wednesday; he resigned Tuesday night, Svehla said. The departure was unexpected, he said, and unrelated to the upcoming bond issue.
The hospital's financial health has improved slightly, and its daily patient count is rising — from an average of 2.5 two years ago to four this year. The number of patients visiting its clinic also increased, from a daily average of two last year to six.
But those numbers need to keep growing for the hospital to survive, Svehla said.
"We want the people of Friend to know that every time you go to Lincoln to see a physician that could be seen in Friend, that's hurting us."