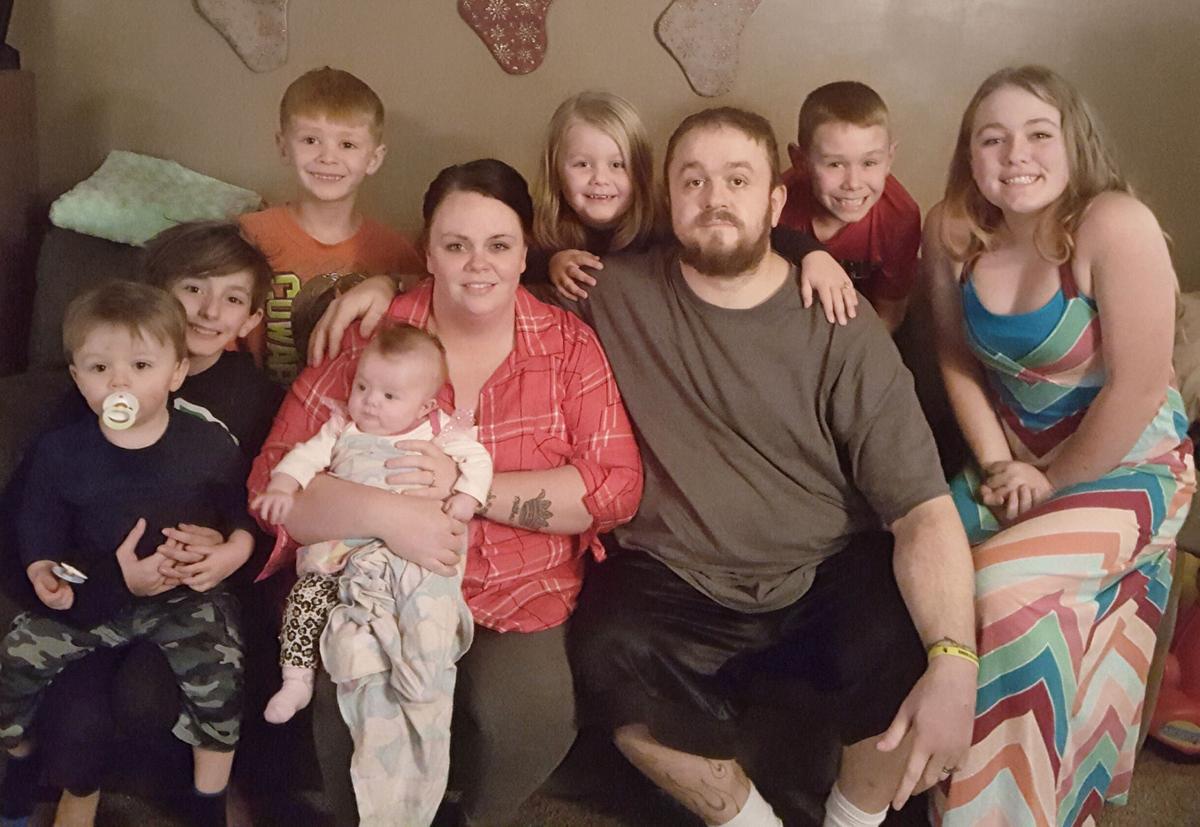 The problems started piling up in late November, when Mark Lloyd woke with a mouthful of blood.
He'd been sick for weeks, the doctors thinking at first he might have bronchitis and treating it with antibiotics before the real diagnosis came Nov. 26: adult acute lymphoblastic leukemia. Cancer in his blood and bone marrow.
Then the furnace at the home the 37-year-old shares with his wife, Jen, went out, just as the weather was turning.
"We're living by space heaters," she said Wednesday, a day after Mark was released from the hospital. "He has to stay healthy, which means he has to stay warm."
Plus, Christmas is approaching, and they have seven children between them -- including five under their roof in Friend -- ranging in age from 3 months to 9 years.
But still, Jen Lloyd didn't want to ask for help.
Her friends wasted no time when the diagnosis hit, quizzing Jen on her immediate needs -- gas cards to get to the hospital, a winter coat for one of the kids -- and then orchestrating more long-term support, including a fundraiser later this month.
"I don't normally ask for help and they knew that," Jen said. "So they didn't ask. They just did."
Jen has what she considers a small army of friends. Jessica and Nick Clark. Jaime and Matt Sell. Cassi and Levi Hillgren. They were all gathered for a Friendsgiving meal when Jen took the call from her mother-in-law, confirming Mark's diagnosis.
"Jessica sees me crying and she says, 'What can I do ?' They've just been a blessing from that moment."
They opened a bank account in Friend for donations. They started a Facebook page to provide updates and advertise the Dec. 30 benefit dinner in Lincoln, and nearly 400 people have already joined. They're gathering items for a silent auction, including a Pro Bowl jersey signed by Ndamukong Suh, an autographed photo of Rex Burkhead and a football signed by half a dozen Huskers.
Support for the family came from other directions, too. They were adopted by the Friend elementary student council. They were overwhelmed by all of the offers to give the Lloyd kids a bountiful Christmas.
"We've had such an outpouring of people who want to help the family," said Jessica Clark. "We've had to start telling people, 'Please, no more Christmas gifts.'"
Jen's mother provided another gift. When Mark was hospitalized in Omaha and Jen was driving 200 miles daily to be with him, her mother took care of their children. She also postponed plans to move to Minnesota so she can help further, Jen said.
They're not sure yet what kind of help they'll need. Mark hasn't been able to work since the diagnosis, and won't be able to return to Tenneco in Seward for at least a year, Jen said.
He'll need a spinal tap to see if the cancer has spread to his brain, she said. He'll likely need a stem cell transplant, which can require a 100-day hospital stay.
They were recently approved for short-term disability, she said, and she's applying for food stamps and other benefits through the state.
All of this is frightening and unfamiliar ground. Her friends are helping her through it.
"My little army," she said. "They've been amazing."