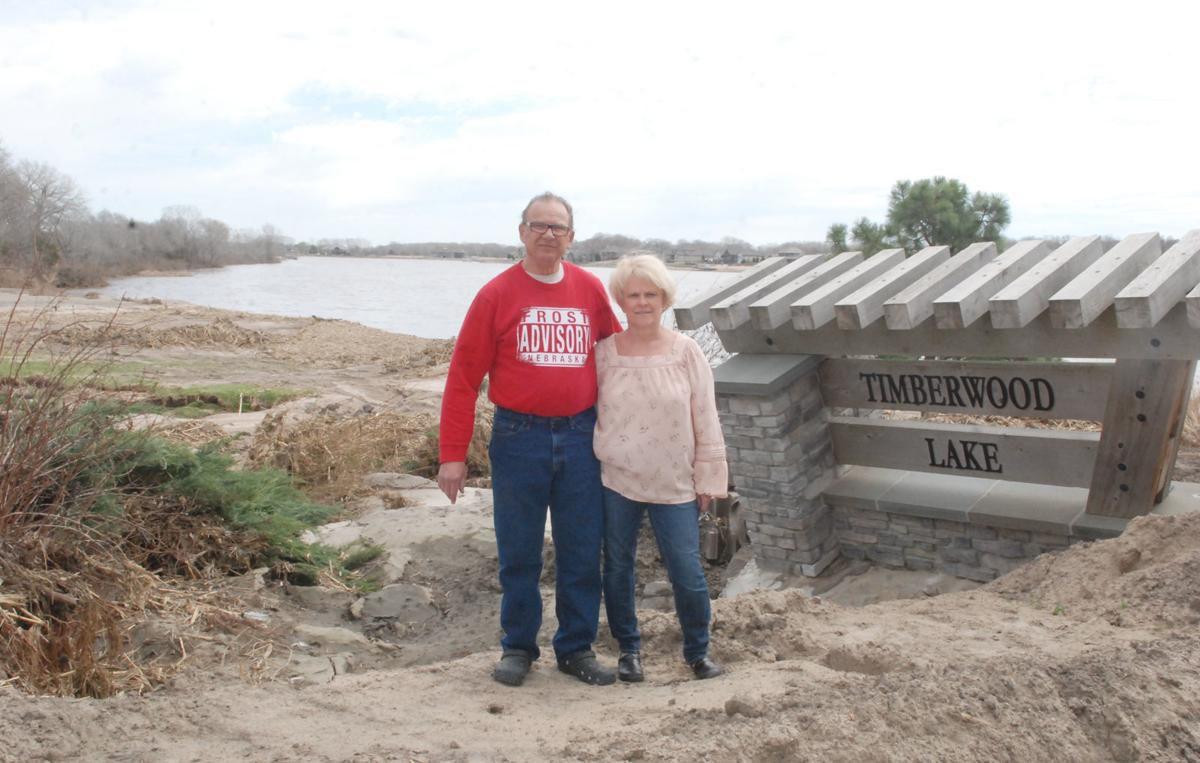 Facing a quadruple bypass surgery, Curt Goracke watched raging floodwaters flow over the entrance road of the Timberwood Lake subdivision.
That was on March 15 when historic flooding engulfed towns and rural areas near Fremont, which would become an island as water-covered highways became impassable.
Yet friends, family and even kind strangers rallied around the Gorackes, enlisting the help of two airboats, a rescue squad, a sheriff's deputy and an airplane pilot to get the Fremont man to Omaha in time for a much-needed surgery.
Weeks later, Goracke and his wife, Lynn, relaxed in their bright and spacious home as he pointed out dates on a calendar.
Goracke is eager to return to work at the Touch of Class Hair Studio, which he opened in 1977. He hopes to be back later this month and said people already have been asking if he couldn't sneak in just one haircut.
The scene is much different than what the Gorackes faced last month.
Looking back, Goracke said he noticed some chest pains about three years ago, but didn't tell his family.
"Men don't talk about their weaknesses," he said.
Goracke eventually did talk about it, however, when the chest pains came at shorter intervals at the end of February and he decided to see a cardiologist.
Tests on March 7 showed he'd need open heart surgery. On March 13, he was scheduled for the March 19 procedure.
But on March 14, the Gorackes' daughter, Brooke, had to leave her home in the Woodcliff subdivision due to flooding and went to stay with her parents.
That evening, the Gorackes went to the cutoff ditch east of the subdivision. It was bank full. When they'd left the subdivision, water was just starting to come over the pavement. When they returned 20 minutes later, it was running across the road.
The next day, Goracke was ready to head to work in Fremont at 5 a.m., but by then the road was compromised.
"You could not drive across it, because the water was so deep," Lynn said.
As water came closer to the house, Lynn and Brooke used sand from a common ground area and old bags of cement to sandbag the place along both doors of the home's walkout basement.
The day wore on and subdivision homeowners saw the waters rise.
"We would gather at the entrance and watch the road disappear," he said.
No one could get in or out of the subdivision.
"We all knew this was not good," Lynn said. "It was raging like a river. Our road was gone. Our huge cottonwood trees fell and they were across the road. It washed out the landing where we all put our boats in."
The Gorackes said the levee east of Legge's Lake breached and the water found an old river channel flooding into Timberwood Lake and into people's homes on the east end.
"They got like 2 feet of water in their basements," Lynn said.
During the mid-afternoon, electrical power and landline phone service went out in the subdivision.
"We would all drive around in our cars and charge our phones," Lynn said, adding, "We were beginning to get nervous about Curt's surgery."
At 4 a.m., March 16, a helicopter flew a paraplegic veteran, who had an infection, out of the subdivision.
The Gorackes were asked if they wanted to leave, but they wanted the helicopter only to be used for dire emergencies.
Goracke also wasn't looking forward to open-heart surgery and figured a delay would be all right.
You have free articles remaining.
But someone in the subdivision called for another helicopter, because they'd mistakenly heard Goracke had suffered a heart attack.
That helicopter flight was canceled.
In the meantime, someone else contacted the North Bend Volunteer Rescue Squad, which came to the area in an airboat.
Goracke tried to tell those aboard the boat that he didn't need a ride.
"We didn't want them to endanger themselves," Lynn said.
But first responders countered with the facts that they'd already come this far and that Goracke needed to leave, because he had a serious condition.
Goracke already had packed a bag, but his wife and daughter only had their purses when they all quickly boarded the airboat. Goracke hadn't wanted to leave his neighbors behind.
"It was hard leaving everybody here when we were the only ones to go," he said.
The airboat took the Gorackes across the water and to a rescue squad further out on the entrance road. The squad transported them a half mile east on U.S. Highway 30 to another airboat.
That airboat, driven by a volunteer, took them to the bridge of the cutoff ditch. There, a sheriff's deputy took them to Steve and Cindi Dodd's rental house in Fremont. Former Lake Timberwood resident Angie Freund loaned the Gorackes a vehicle.
On March 17 — St. Patrick's Day — the Gorackes still couldn't reach Omaha due to flooding which closed highways around the city.
But a friend, Leann Greser, told the Gorackes that planes were taking people out of the city — for free.
Goracke was given a phone number for pilot Mike McGillick.
McGillick's wife, Susan Wikert McGillick, answered the phone.
"When I started my career in Fremont, 41 years ago, I did her hair when she was in high school — and here she is helping me," Goracke said.
Goracke learned Susan's mother, Marty, had told her son-in-law that she'd pay for the fuel for the plane rides he would provide.
The Gorackes boarded the plane at 1:30 p.m., which landed at the Millard airport, where their son, Spencer, who lives in Omaha, picked them up.
He took them to the home of their niece, Heather Batt, who was vacationing with her family in Florida.
Goracke had his pre-op in Omaha on March 18 and the quadruple bypass surgery — as scheduled — on March 19.
The 4½-hour procedure went well and Goracke was back in his home at Timberwood Lake four days later.
Lynn said they came home and discovered their sewer had backed up into their basement.
"We had that to deal with, but that's trivial," she said.
Without the surgery, Goracke could have had a heart attack, and the family is grateful for all the help they received.
"Words can't describe that," Lynn said.
The Gorackes are thankful for their children, Brooke, Spencer and Haley.
And Goracke — who'd never been in the hospital before — is ready to get back to work.
Besides launching the hair studio when he was 22 years old, Goracke and his wife later owned Dime Store Days for 26 and have owned the Woodcliff Restaurant with their daughter for nine.
As he reflects on his multi-unit rescue and successful surgery, Goracke denotes an accomplished mission, saying:
"We got to the finish line."
Nebraska flooding photos, video