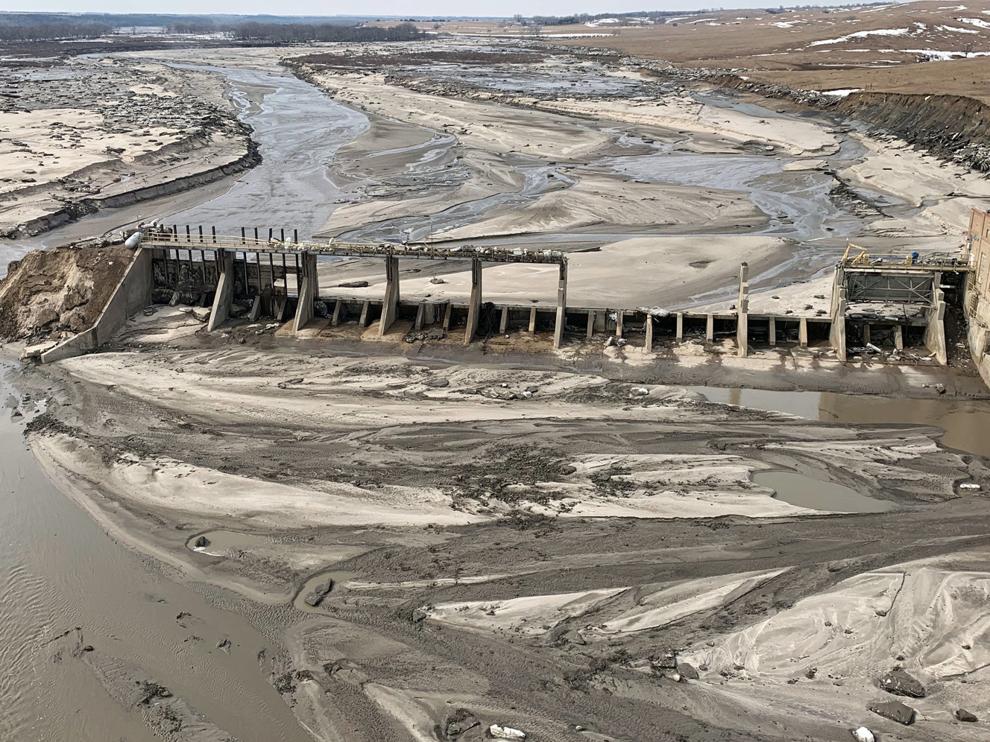 From their offices in Lincoln early Thursday, hydrologists with the U.S. Geological Survey were monitoring the final few moments of a stream gauge more than 200 miles away, on the Niobrara River.
It was hinting at something catastrophic.
"We were watching it from here, and it looked like something incredible was happening that we couldn't believe," said Jason Lambrecht. "And suddenly, everything went dark."
The gauge had been ripped away by the wall of water released when the 90-year-old Spencer Dam failed under the pressure of the river, swollen with rain and rapid snowmelt and broken ice. But its last readings allowed Lambrecht to measure the size of the surge.
Earlier, the Niobrara had been running at 5 or 6 feet of gauge height. After it broke through the dam, it measured nearly 17.5 feet. It wasn't a gradual increase, either.
"It started a really fast rise," he said. "There was an 11-foot wave that rolled through."
And in its wake, three Nebraska counties would learn how that much moving water can become immediately destructive and potentially deadly. How it can cause instant pain and long-term suffering. How it can harm not only those in its path, but those living miles away.
First, the wave swept away a section of U.S. 281, a nearby riverside saloon and at least one home, possibly occupied. And it continued downstream, barreling toward the town of Niobrara — and its mouth at the Missouri River — about 40 miles away.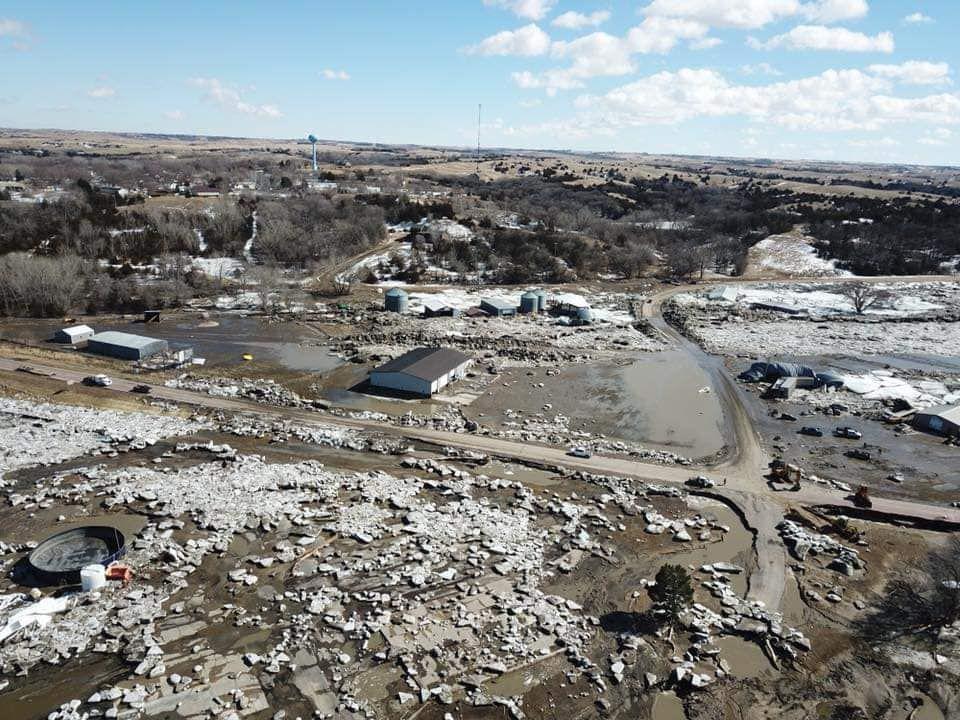 Knox County: 'It's crazy'
The service station owners thought they were ready for the coming water.
They'd taken the tire machine and other equipment away. They brought the important paperwork home. They put their '68 Camaro up on the lift. They moved the rest of what they could to higher ground, filling the rafters with inventory.
And the couple had a huge inventory. Vic's Service has anchored the west edge of Niobrara for 25 years, and had enough hydraulic fittings and plumbing pieces to serve as a kind of farmer's supply store, said Ruth Janak, who co-owns the station with her husband, Victor.
They checked on their business Wednesday, and found it already swamped with 4 feet of water, her desk upturned, pop machines on their sides. A mess, but nothing they couldn't handle.
"We thought, when the water recedes, we'll be able to get in and clean all that up," she said.
They returned Thursday, and found most of it missing.
"Our main building, the one we did our business at, it's gone. The gas pumps are gone. We lost the propane tank. So many tools are gone," Janak said Friday. "Where's all that stuff at? It's crazy."
Later, she would find a jug of hydraulic fluid — and someone else's pontoon boat — on what remained of the town's golf course. But their main building, and much of what it contained, had likely tumbled downstream.
Theirs wasn't the only missing building. The wall of water had brutalized Niobrara's west side, a low-lying commercial district, and the part of town closest to the river.
Jody Stark, the chair of the village board, listed the other casualties. Several buildings from a hay business? Gone. A state Department of Transportation garage? Gone. A Knox County road shop? Gone. The Mormon Bridge on Nebraska 12? Stark has video of the deck floating away. The Country Cafe? Still standing, but it had been nearly swallowed by water and ice, with maybe a foot of the roof visible at one point.
"A lot of buildings washed away," he said. "They were pretty much swept right down the river and they're in the Missouri somewhere."
The good news? Almost all of the 300 or so residents of Niobrara live on higher ground, and weren't directly hurt by the floodwaters.
Still, his town was struggling. The flooding compromised the town's two wells, leaving its residents without a water supply, and the fire department was going door-to-door, filling containers. Getting in and out of town was also difficult; by Friday, the Standing Bear Bridge to South Dakota had reopened, and there was one passable gravel road south of town. Nebraska 14, the main route south out of Niobrara, was so strewn with ice it was only open for emergency travel.
The damage was unprecedented, Stark said, and worse than they had originally expected. But that was before they'd heard the Spencer Dam had failed and even more water was headed their way.
"They did tell us there would be a surge coming, but we had no idea how much, when or how long it would take," he said. "I don't think anybody expected to see the water that we did see come."
It wasn't just Niobrara. A dozen miles to the south, Verdigre's main street resembled a river. "The streets were covered with water; they are really broken up," said Laura Hintz, the Knox County emergency manager. "The café there has a ton of mud, it took the brunt of it."
It is far too soon to put a dollar figure to the damage, she said.
"Everybody is still trying to wait for the water to go down and figure out what's gone, what's still there and what's salvageable."
Which is what Ruth and Victor Janak spent Friday doing: Dodging ice chunks to see what remained of their business.
Earlier, on Thursday — after they'd heard the surge had swept Vic's Service away — Ruth Janak and her son had stood on a lookout near Standing Bear Bridge, watching for their livelihood to float by in the Missouri River, but not wanting to witness it.
"Thank God we didn't see anything," she said.
Friday, she and her husband tried to recover what they could — before others got the same idea. They found a tool box. They found the shipping container they used for storage tangled in the trees.
And they found their newer building still standing, their Camaro still safe up on the lift.
Holt and Boyd counties: 'Do something drastic'
Despite its age, the Spencer Dam was still functional, and valuable.
Built in the late 1920s and owned by the Nebraska Public Power District since the early 1970s, it could still generate electricity when the utility needed it.
And it was in transition. NPPD was in the process of selling the dam, and its easements and water rights, to several northern Nebraska natural resources districts for $9 million, said utility spokesman Mark Becker.
He wasn't sure where the deal stood after its failure, he said. And NPPD didn't yet know why Spencer Dam failed, though a helicopter carried a crew to the site Friday to examine what remained.
It was a flow-through hydroelectric dam, with garage-type doors that let water through, and Becker said it wasn't known whether the doors had been open or closed at the time. They disappeared downstream, he said.
Its breach triggered immediate and long-term problems. It swept away a Holt County house just downstream, and authorities were still searching for its owner.
And the force of the flow severed the supply of water to the north, in Boyd County. Many of its 2,000 residents relied on the pipeline from Holt County that was buried beneath the river. Now that it's gone, they don't have the water they need for drinking, for livestock, for flushing.
They received a truckload of bottled water Friday, enough to last maybe a day, said Doug Fox, Boyd County's emergency management coordinator. They need more.
"The water is still a threat, and it's going to get to be more of a threat in the next few days," he said. "We're going to have to do something drastic for water."
That wasn't his only problem. Ponca Creek was still rising, threatening the town of Lynch, where nearly half the population — more than 50 homes — remained evacuated Friday.
And Boyd County was struggling to stay connected with the rest of the state. The failure of Spencer Dam took out a pair of routes over the Niobrara River, and the only ways out of Boyd County were north into South Dakota or west into Keya Paha County, Fox said.
Like so many other communities in Nebraska, their work was just beginning.
"It's not going to get any better for a while."