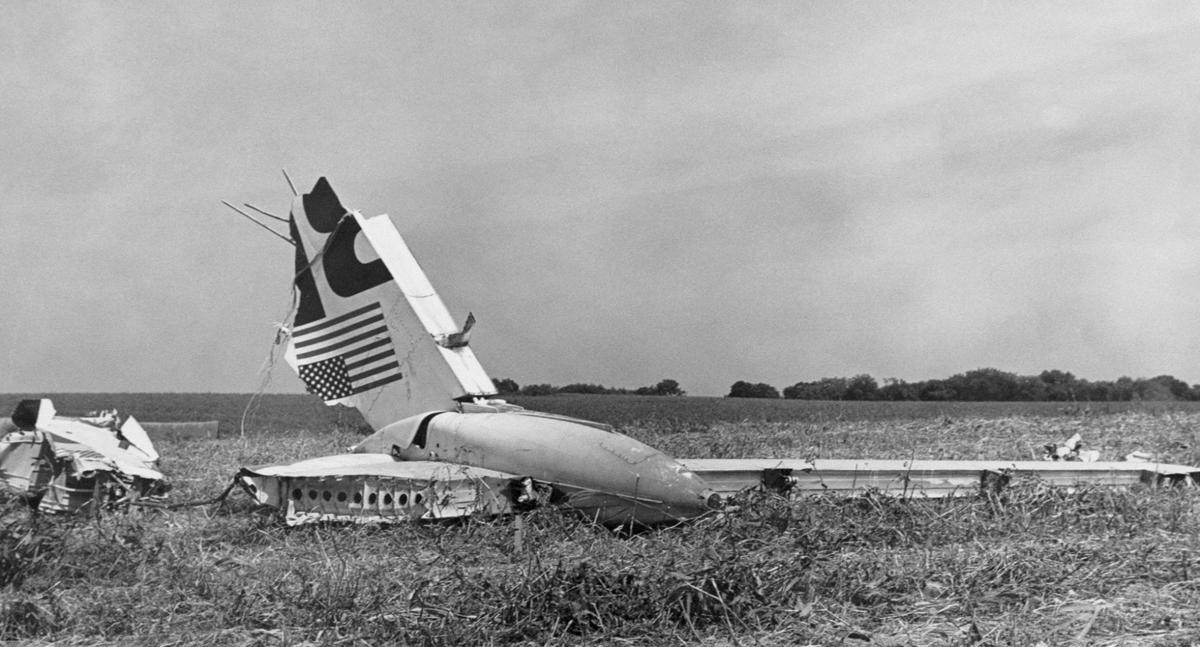 FALLS CITY -- The night the sky exploded and scarred her family's farmland, Judy Schawang was in the back seat, eyes closed.
It was late, and the 14-year-old had fallen asleep on the 10-mile drive home from a card party at her aunt and uncle's house.
Her mother's voice jolted her awake.
"She said, 'Oh, my god. The world is coming to an end.'"
They were about a dozen miles northeast of Falls City, almost home. The three of them watched the dark outside their car windows turn a bright orange, a fire in the sky illuminating the countryside.
And they watched what looked like part of a plane falling with the flames.
It's going to crash at Joseph Lippold's place, her mother said.
No, her father said. It's going to hit ours.
The fireball disappeared behind the horizon, so they didn't see the impact. This is hilly country, west of the Missouri River in Richardson County, and their farm was beyond another rise.
But their bean field was burning when they got home, the flames just a few hundred feet east of their house.
"There was just all kinds of explosions going on around there," Judy Schawang said. "Intense heat. Even from the road, it was intense."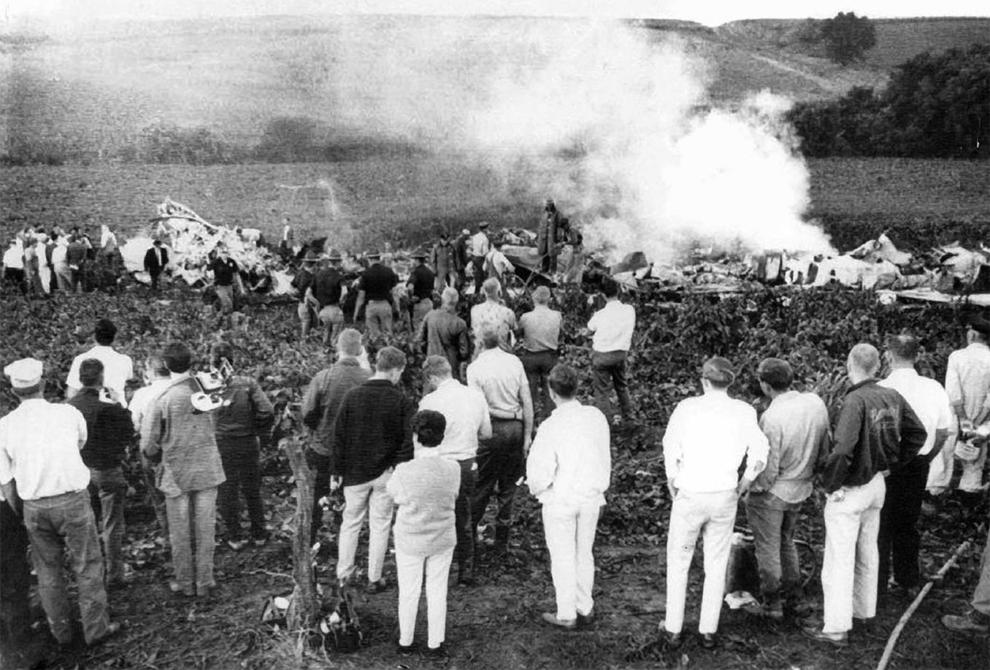 All of this happened on a stormy Saturday night 50 years ago. Judy Schawang is Judy Hanna now. She lives near the Black Hills. But what unfolded in those next few moments -- and how it changed so many lives, including her family's -- was seared that night. Her memories are strong.
If you knew her father, she said, you wouldn't be surprised by what Tony Schawang did next.
He drove straight to the fire, jumped out of their car and climbed over the fence.
"I said, 'Daddy, don't go up there. You're going to get hurt.'"
But she knew what he was thinking: Someone might need his help.
Vernell Schawang and her daughter ran home. Judy picked up the phone and dialed.
Something crashed and there's a fire, she said. We need help.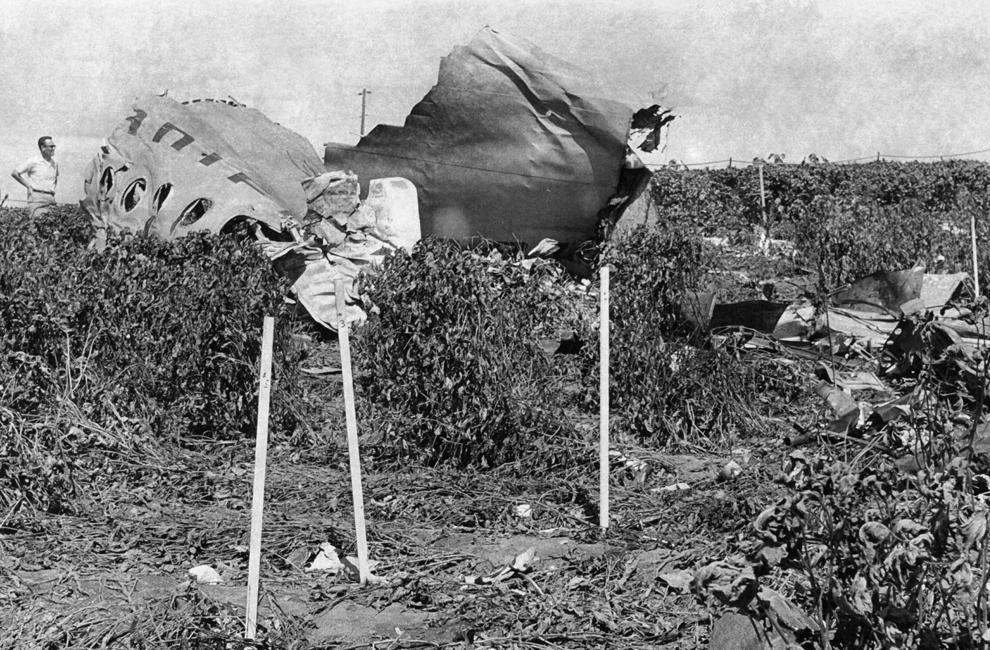 Rough skies
The final minutes of Braniff Airways Flight 250 were captured by voice recorders.
At 11:02 p.m. on Aug. 6, 1966, somewhere above the Nebraska-Kansas border, the co-pilot said: "It's getting a little rough."
The crew had been worried about the weather that night. Flight 250 was nearing the end of its regular route from New Orleans to Minneapolis, with five stops along the way -- including Kansas City and Omaha.
In Kansas City, its pilot, Capt. Donald Pauly, 47, spoke to another Braniff pilot who'd just flown in from Chicago. A line of thunderstorms had developed and was stretching across Southeast Nebraska, Iowa and Missouri.
The other pilot gave Pauly his thoughts about the line of storms: "As long and mean a one as I'd seen in a long time and I didn't feel the radar reports gave a true picture of the intensity."
Still, Flight 250 left Kansas City at 10:55 p.m., bound for Omaha with four crew members and 38 passengers. They included a nurse from Omaha on her first flight, two teenagers from Arkansas headed to Lincoln to see their older sister, a mother and son returning to Omaha from a day at the zoo, a woman heading home to Minnesota after burying her brother, and at least 10 servicemen, most of them young, most of them either preparing to go to Vietnam or just getting home.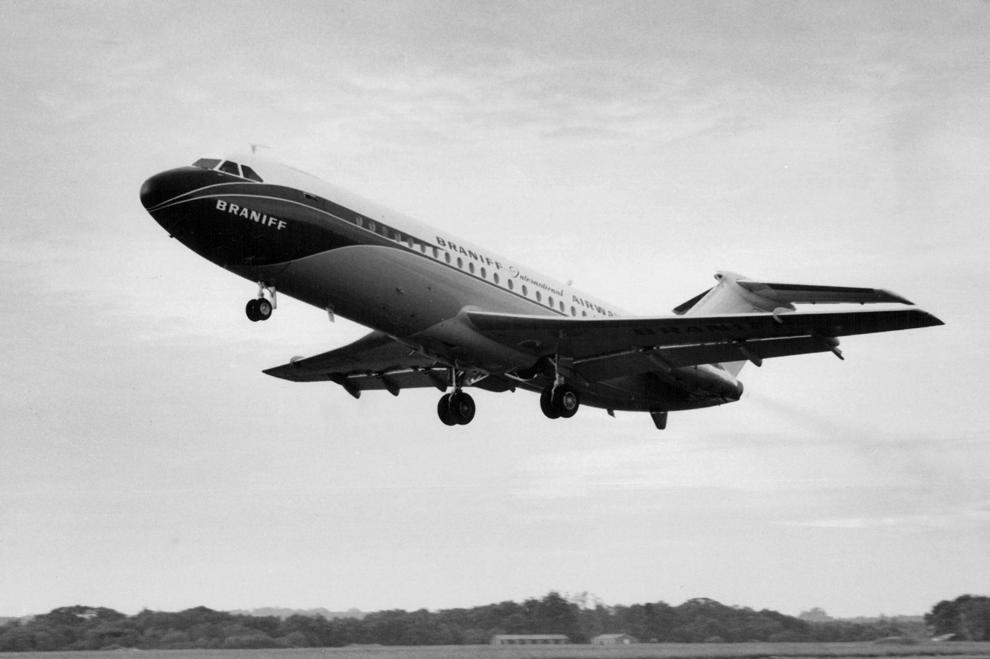 At 11:06, the crew was cleared to fly lower than planned -- 5,000 feet instead of 20,000.
At 11:08, the crew traded weather information with a Braniff pilot who'd just departed Omaha.
At 11:11, the pilot or co-pilot could be heard saying: "Ease power back."
A few seconds later: The rush and whistle of air, then four clangs of the plane's stall warning, the last of them cut short.
'Big ball of fire'
By 1966, commercial air travel in Nebraska was nearly 40 years old, with an average of 216 daily departures and arrivals across the state. There had been private plane crashes and military plane crashes but never a loss of life on a commercial flight.
Dozens of people would watch that change with Flight 250.
"The plane comes over every night. I heard the jet engines, right on time," Morris Jones, who lived in the river town of Rulo, told a reporter 50 years ago. "Then the engines suddenly shut off and there was an explosion. It lasted a good 30 seconds."
State Patrolman Marvin Gifford had pulled over a truck on U.S. 73 when he saw "a big ball of fire" and headed toward the scene.
First Sgt. Rex Jones, the full-time administrator of Falls City's National Guard unit, was returning from his brother's barbecue when he saw the flash. The 30-year-old didn't know what it was, but he knew it was bad.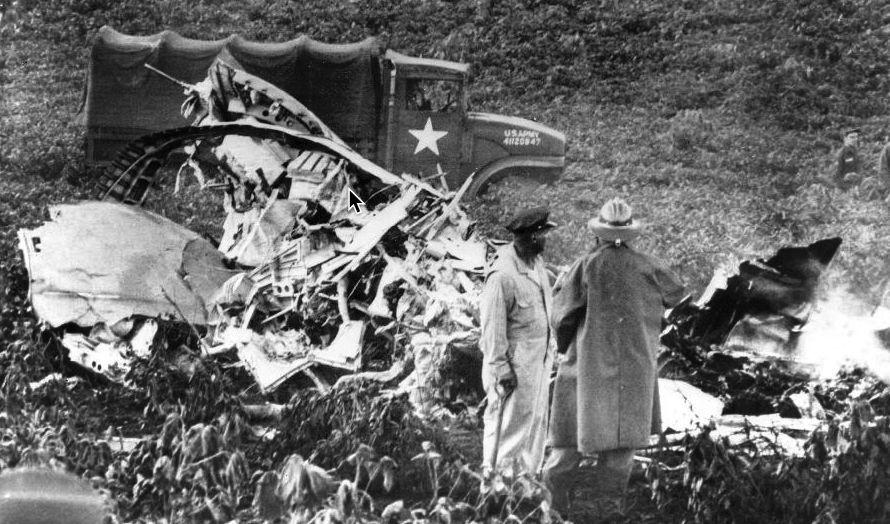 "I told my wife I'll be getting a phone call shortly," he remembered recently. "And it was just a few minutes until I did."
His soldiers and trucks were needed, and Jones was rolling north with eight to 10 volunteers within the hour.
Bill Schock was at the Country Club, celebrating his 48th birthday, when The Associated Press reached him. The Falls City Journal city editor was also a stringer for the news service, and the voice on the other end of the phone told him a plane had gone down northeast of town.
Those are the Barada Hills, Schock said. They'll never find a crash at night in this weather.
The AP called back moments later: Maybe we weren't clear. It was a jetliner.
Schock was on the road in minutes to start reporting on Flight 250, and he wouldn't finish for months.
In Omaha, Braniff employees knew something was wrong when they tried filing flight plans for Braniff 250's final leg up to Minneapolis.
No, the Chicago air traffic control center told them. Might want to hold off.
"There was some indication that something wasn't right," said longtime employee Omer Kuhlmann. "So we monitored the squawk box."
They learned a plane had gone down, and then they learned it was Flight 250. Kuhlmann and a co-worker were ordered to Richardson County, and they were joined by a third Braniff worker. Bob Kuhr was off-duty but at the airport, waiting to pick up his wife and 5-year-old son, who had flown to Kansas City for the day.
The three drove south through the storms, Kuhlmann said, a news reporter tailgating them the whole way. The fire was still burning when they arrived, more than two hours after the crash, and it was clear to them that nobody could have survived.
Kuhlmann watched Kuhr's reaction.
"Of course, Bob was not knowing what to expect and he saw the burnt wreckage and I remember the first words out of his mouth was, 'Well, they didn't have a fighting chance.'"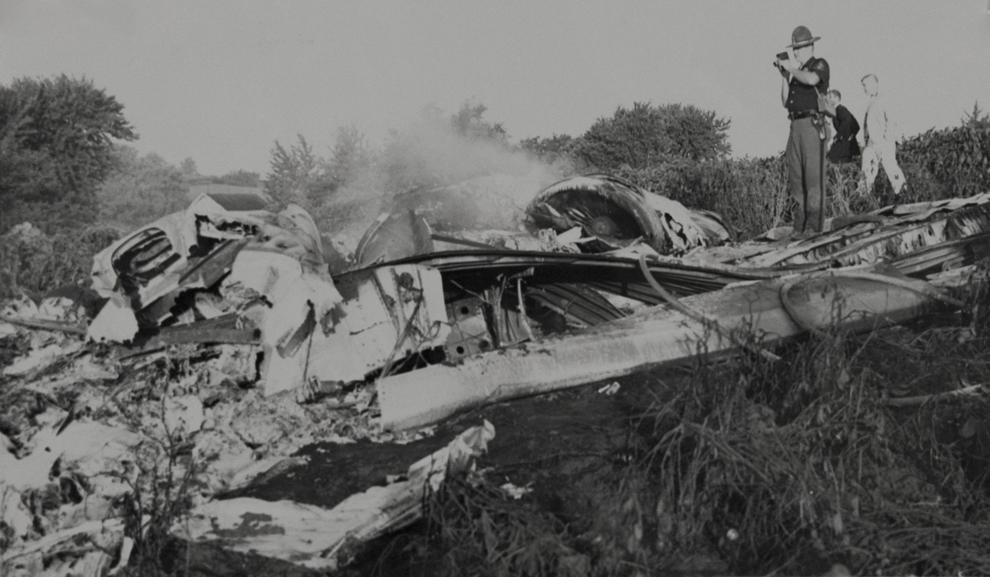 Kuhlmann delivered Kuhr to a trooper and then took over the Schawang telephone, staying on the line all night and part of the next day, relaying information to company officials in Dallas.
After she'd called to report the crash, Judy Schawang grabbed a flashlight and ran to their barn to check on Cheetah, her spirited Appaloosa. The horse was spooked -- snorting, pacing, turning in circles -- but still there.
Their farm was overwhelmed that night with law officers, soldiers, firefighters, Braniff employees, and federal aviation and transportation investigators. Vernell Schawang made coffee.
Judy Schawang remembers the tangle of temporary phone cords snaking around their farmhouse, and she remembers her father's insistence the next day.
"My father was a very strong Catholic, and when it came time to go to church Sunday morning, they had the road blocked off. They said, 'Sir, you're not going anywhere,' and my dad says, 'Well, by God I am.' And we did. We did."
'Those poor people'
Flight 250 broke into pieces nearly a mile above Richardson County, and then its fuel exploded, and then it fell to the earth in a shower of flames.
None of which was gentle on the 42 lives on board.
"It was a pretty grisly scene," said Jones, the National Guard sergeant. "It was an odor you don't ever forget, and the sight of those poor people, you never forget that, either."
At daybreak, the remains were collected by undertakers, wrapped first in plastic sheets and then in body bags brought in from Fort Riley, Kansas. The National Guard moved the remains to a temporary morgue at Prichard Auditorium in Falls City, and into three refrigerated trucks a few days later.
Grim work, but necessary.
"It wasn't anything you're too proud about doing," Jones said. "It was something that had to be done."
Kuhlmann, the Braniff employee from Omaha, also helped with recovery. The bodies were photographed, and any of the passengers' possessions found nearby were packed with them.
But there was no way to know. The fire had been intense.
"It took a little while to get over it," Kuhlmann said. "I didn't sleep very well."
After most of the bodies had been identified, the Nebraska State Patrol escorted one of the refrigerated trucks to Omaha, and the other two to the border, where they were met by Kansas troopers to continue the trip to Kansas City.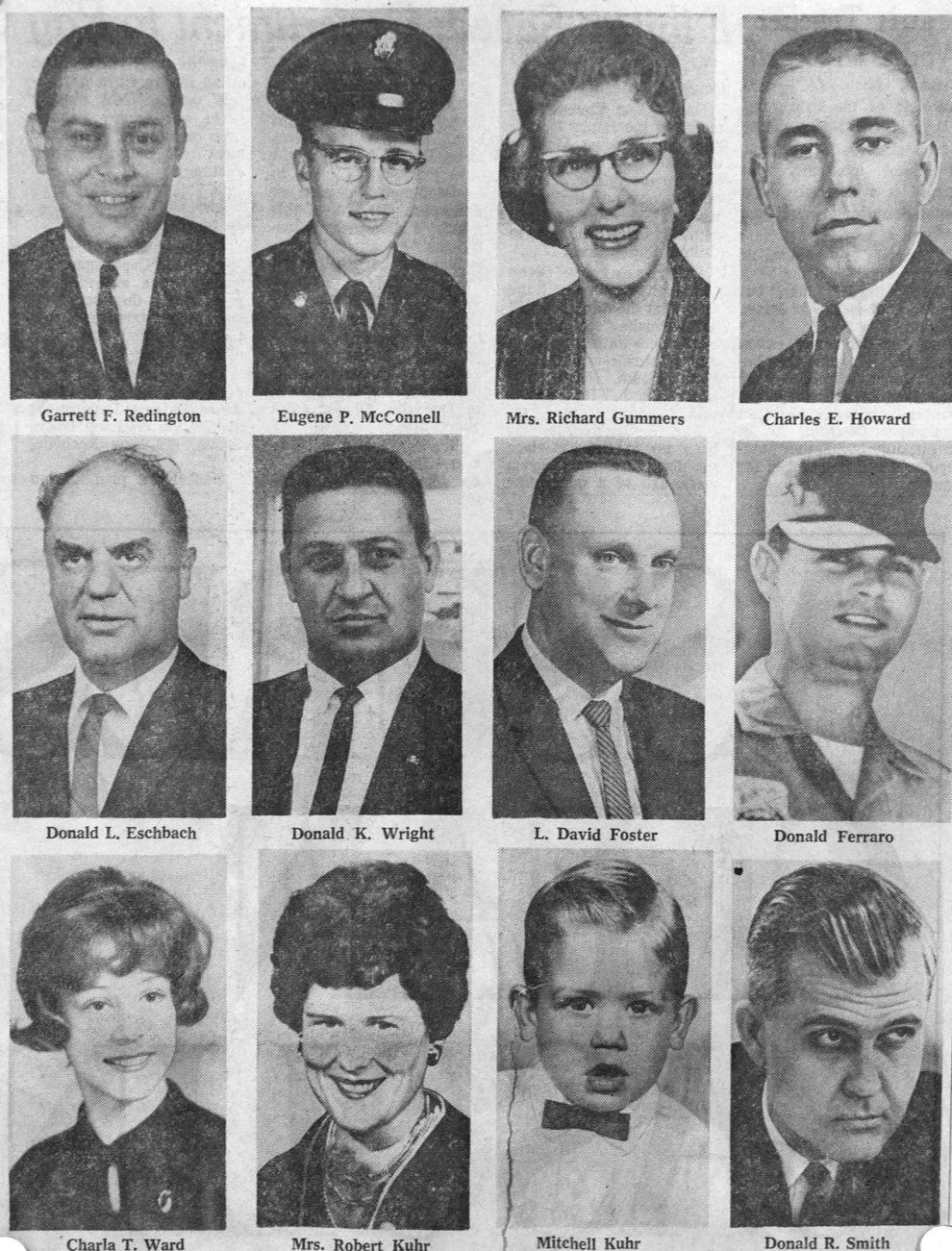 Families hear the news
They didn't have money, so Sharon Hendricks' family was thrilled when she escaped their small town of Sawyer, North Dakota, to take a job as telephone operator in nearby Minot.
And it was an even bigger deal when the 21-year-old became a stewardess, a position that would take her from North Dakota.
"It was quite the status," said her brother, Dennis Hendricks, who was 9 when his oldest sister got the job. "We weren't well off, and this was pretty special."
The rest of the family had moved to Washington at about the same time. In early August 1966, Sharon wrote her younger brother a letter from "aboard a Braniff jet."
"I'm sure sorry you don't like living out there in Tacoma. It takes awhile. I can remember when we first moved to Sawyer though -- I just hated it. In fact I cried quite a few times over that but after awhile I just loved the place."
Five days later, the brother woke to a pastor in their home, talking to his parents.
Families of other passengers would sue Braniff, but the airline flew the stewardess' survivors back to North Dakota for her burial, and that stood for something.
"As a poor family, we thought that was pretty neat. Braniff Airlines was good to us."
Loren Duerksen was 8 and watching a rodeo in Deadwood with his family when his father was paged over the loudspeaker. Two older brothers had stayed home in Bridgewater, South Dakota, to run Duerksen Produce, so they assumed there was some trouble with the business.
"Dad came back and told us there had been a plane accident."
Jean Duerksen, 22, had been on her first flight, returning to her nursing job in Omaha after vacationing at a brother's home. She had planned to come back sooner but changed her ticket to Aug. 6 to spend more time in Texas.
Her brothers back in Bridgewater traveled to Falls City with the town's undertaker to identify and retrieve her body. They kept the casket closed at her funeral.
"My brother said, 'No one is going to see that.'"
He would think about that when he buried another sister, taken by ALS. There was a difference here: He could see JoAnn in her coffin and he could get closure from that, something he never was able to find in the loss of Jean.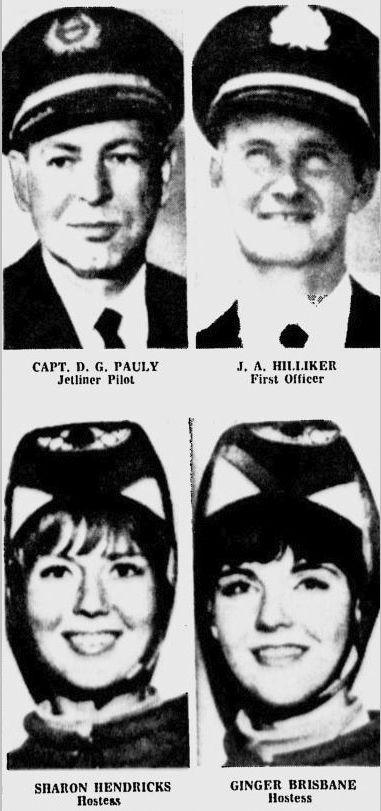 Later, he would spend 20 years in Henderson, Nebraska. It never occurred to him to go to Falls City to see the crash site. But then he found himself watching his daughter play volleyball at Prichard Auditorium.
"And I told my wife that this is kind of eerie, but this is where my sister's body was taken. Here I am, how many years later, and my youngest daughter is playing volleyball here? It just kind of ran full circle."
Tom Redington was only 3, too young to remember hearing the news of the crash, too young to even remember his father, Garrett. The 32-year-old had flown from Omaha to interview for a job at Texas Instruments.
His mother rarely spoke of the crash. And Lassara Redington, widowed with five children under the age of 8, never remarried.
But she did something remarkable. "That's the biggest part of the story for me is how she raised five kids, got us all through high school," her son said. "She did a good job."
In Bloomington, Minnesota, a pair of uniformed Braniff pilots showed up in the middle of night to tell Pat Hilliker her husband, James, the 39-year-old co-pilot of Flight 250, was gone.
Dan Hilliker slept through that. But the 15-year-old woke later to his uncle in his room, trying to break the news.
"I thought I was having some sort of terrible nightmare," Dan Hilliker said. "I think I even took a swing at him."
What went wrong
Most of what remained of Flight 250 had landed largely in one area, as one compact mass, although investigators found part of a wing a half-mile from the fuselage, the tail even farther away.
The Schawang farm was scoured: 70 soldiers from Fort Riley searched every inch of the field and found several hundred small pieces, but the soil would yield remnants of Flight 250 for years.
The engines were taken to Kansas City to be studied, and 2,000 pounds of key debris -- including the plane's instruments and hydraulics -- were analyzed in Dallas.
Federal investigators interviewed 300 people in and around Falls City about what they saw and heard that night, and about the weather. They talked to meteorologists and other pilots flying in the area.
In April 1968, the National Transportation Safety Board released its final report.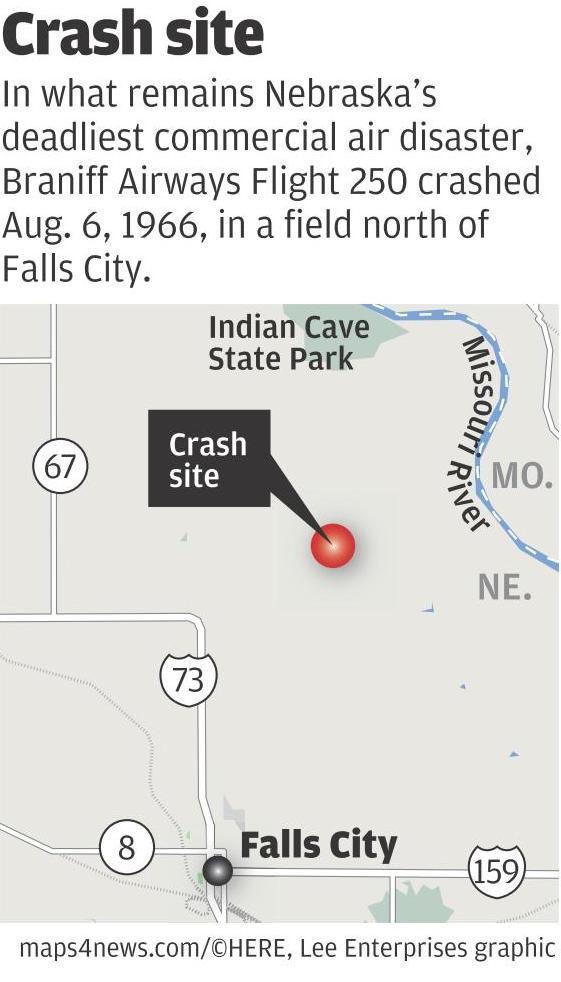 The weather played the biggest role, but it could have been avoided, it concluded: The U.S. Weather Bureau had forecast the severe squall line, but Braniff's own forecast "was somewhat inaccurate with respect to the number and intensity of thunderstorms and the intensity of the associated turbulence in the system."
A Braniff dispatcher did not delay or reroute the flight, and did not alert the crew that other pilots were avoiding the squall line.
Flight 250's crew could have flown west around it -- the first officer had, in fact, suggested that -- but the pilot tried to penetrate the storm, using his radar to find a light area.
The wind ripped the plane apart. It hit heavy turbulence even before reaching the squall line, and the fin and right tailplane -- one of the two smaller wings at the tail -- broke loose. The plane pitched forward and the right wing failed.
Flight 250 likely tumbled at first, but then fell, in a flat spin, out of the sky above the Schawang farm.
Honoring the dead
The soldiers and investigators and company officials soon left the Schawang farm.
And so did the Schawangs.
The trauma that night was too much for Vernell Schawang, who'd watched 42 lives come to an end in her soybeans, who'd watched her husband head into the inferno, who'd witnessed the recovery and investigation outside of her farmhouse window.
A few years earlier, a prison escapee from Kansas had ended up on their farm, and Tony Schawang and his brothers had traded gunfire with the man before rounding him up and giving him to the sheriff.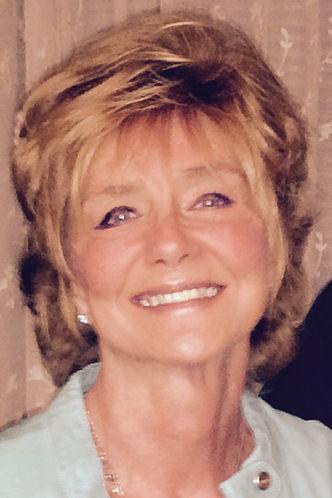 "I think my mom had her fill," said Judy (Schawang) Hanna. "I don't know if my mom would have ever gotten over it if we would have stayed there."
So Tony Schawang bought his in-laws' nearby farm and moved his family but kept the crash site. It was some time before he could plow it, his daughter said, and when he did, it produced pieces of the plane.
The site went unmarked for decades.
Then 10 years ago, in the spring of 2006, the son of the co-pilot landed in Omaha to train for a new job selling medical supplies. Dan Hilliker had a free weekend, and he realized he wasn't far from Falls City.
He called city hall, which told him to call the library, which told him to call Falls City newsman Bill Schock, who had covered Nebraska's first and worst commercial airliner crash on his birthday.
"To walk in a pelting rain through the smoking wreckage of an airliner which only an hour before had been streaking through the sky with 42 persons on board makes an imprint that is quite indelible," Schock would write after the crash. "Death in its most grotesque forms is not something one sees and then dismisses from his mind. Many men around here can tell you this is so."
The publisher showed this story -- and all of his other stories, and his photos -- to Hilliker.
"I remember excusing myself at one time," the co-pilot's son said. "I got kind of emotional."
Schock took Hilliker to the crash site, now owned by Judy Hanna but farmed by her cousin and his family. They gave him a small piece of wing they'd found, and he took it back to Minnesota and added it to his wind chime.
Before heading home, he returned to the site with flowers he bought in Falls City and sat down in the field that had held his father. He felt like he needed to be there.
His visit started something in Richardson County. Within weeks, Judy Hanna approved the placement of a marker on her land and her relatives who live there helped build a monument.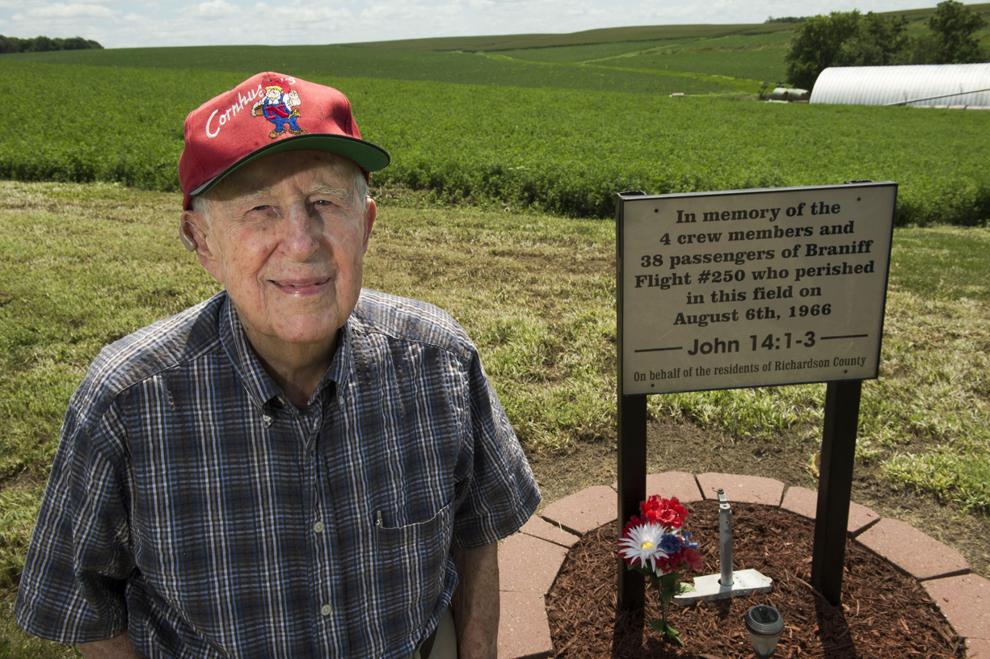 A few months later, Dan Hilliker returned for a 40th anniversary ceremony, the first formal memorial to the crash. They gathered at the site, attended church and visited with locals who wanted to share where they were and what they saw when Flight 250 fell out of their sky.
"It was kind of surreal," Hilliker said. "I couldn't believe people still gave a damn after 40 years."
He met the families of passengers. He met residents connected to the crash. He felt the embrace of a community connected by a single violent moment.
"I think those people are some of the best people I've met. It was one of the coolest things that ever happened in my life."
Tom Redington brought his mother, Lassara, who had raised five children after her husband died. She was solemn that day, not smiling with the others but not shedding any tears, either.
Her son cried, though, realizing the memories he lost in the field north of Falls City.
"I remember thinking, 'Wow, I wish my dad were alive to know my son.'"
He'll return Saturday for the 50th anniversary. He'll be joined by Hilliker, who lost his father, too, and by Duerksen, who lost his sister, and by Kuhlmann, the Braniff employee on the scene, and by Jones, the National Guard sergeant, and by Hanna, who watched the flames and felt the heat, and by dozens of others.
Organizers expect to feed 100 people.
Strangers before the night the sky exploded.