PINE RIDGE, S.D. — She found the young boy playing outside his home, just off a road leading to the sculpted rock formations of the Badlands. The boy looked carefree.
Eileen Janis knew better.
He walked over and asked what she wanted.
"Are you the little boy who helped your sister last night?"
"Yeah," he said, smiling weakly.
It was early summer 2012, and a call from an older woman who knew Janis had sent her to Porcupine, a village 25 miles northeast of the town of Pine Ridge.
Janis asked the boy where his parents were. He said they were out partying and that there was no food in the house.
Janis then asked him what had happened the night before. But before he could answer, a car pulled up, and the boy's face turned white when his mother stepped out. Janis told him to go inside.
What do you want? the mother asked. Janis told her someone had called to say the woman's 7-year-old daughter had tried to hang herself from a swingset at a playground, but her 8-year-old brother had taken the rope.
Janis asked if she could talk to her daughter, but the woman refused to let the girl come out. The woman and her boyfriend walked inside and slammed the door.
Janis could see the little girl at a window, waving to her.
She called the tribe's child welfare department but was told they couldn't take the girl into protective custody.
For several minutes, she just sat in her car, hoping the girl might sneak out, helpless to do anything else.
"That just broke my heart. There was nothing I could do."
The healers
The Lakota have always had healers.
They would treat physical and spiritual wounds through the use of plants, herbs and ceremonies. They held great respect among their people, and their visions often would guide the Lakota's decisions.
Sitting Bull saw a vision before the 1876 Battle of the Little Bighorn, soldiers falling into the Lakota camp like grasshoppers falling from the sky. A few days later, his vision was fulfilled when Crazy Horse and nearly 1,800 warriors wiped out Lt. Col. George Armstrong Custer and his nearly 200 men.
The holy man Black Elk saw a vision that foretold of an apocalypse that would break the sacred hoop of the Lakota before a Seventh Generation would mend it. Many Lakota see the 1890 massacre at Wounded Knee as the event that broke their sacred hoop.
And some believe the young people of today are the Seventh Generation prophesied by Black Elk, an idea that has become a rallying cry to improve the lives of Native youth on Pine Ridge.
Today, the tribe's healers are typically men, and some say women should not even try to become healers.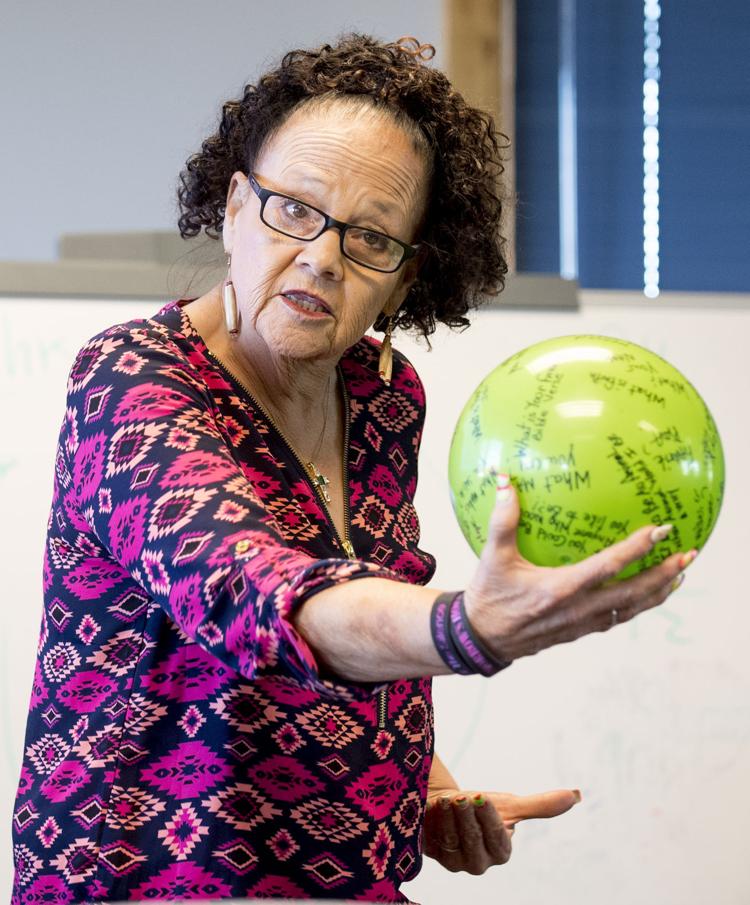 But even before the idea of a Seventh Generation was born, a woman brought the Lakota their canupa, or medicine pipe. The White Buffalo Calf Woman was a sort of prophet for the Lakota and taught them their seven sacred rites, including the sweat lodge and sundance.
Women continue to treat their people's wounds, despite not being allowed to run ceremonies. They bring hope and knowledge of new and old healing methods to those suffering.
Eileen Janis and Yvonne "Tiny" DeCory are two such healers.
"They're the main two who hold the community together," said Flower, a 16-year-old girl who attempted suicide but was saved by the two.
In one of the poorest places in America, where nearly 53 percent of families live in poverty and 29 percent of those old enough to work don't have jobs, DeCory and Janis are on a two-woman crusade to turn the tide of hopelessness and despair destroying so many youth.
Between December 2014 and June 2015, more than 100 young people on the reservation attempted suicide, according to former tribal President John Yellowbird Steele.
The scourge of youth suicide hit the reservation especially hard in 2015, when 23 young people took their lives, DeCory said.
It is an epidemic fed by dysfunctional families, staggering rates of alcoholism and a shortage of adequate behavioral health care.
With just one hospital on the Pine Ridge Reservation, few mental health professionals are available to children. As a result, the tribe typically sends children who attempt suicide or express a desire to do so to a psychiatric hospital in Rapid City, nearly 80 miles away.
To provide help at home, Janis and DeCory serve the BEAR Program -- a youth mentoring program -- and the Oglala Sioux Tribe's Suicide Prevention Program.
Their work goes so much further than merely handing pamphlets to parents and at-risk youth, so far beyond the occasional speech to parent groups.
DeCory, 66, and Janis, 56, work in the trenches, handing food directly to hungry children and giving teens too scared to go home a place to escape inside a downtown Pine Ridge community center -- the Billy Mills Hall. They host summer art camps, skateboarding competitions, prom dress giveaways and theatrical skits meant to teach life skills and positive decision-making.
Because of them, hardly a day passes in Pine Ridge without some kind of youth activity, and their adventures have been documented on Facebook.
Jaden Turning Holy started visiting the Bear Cave several years ago. The 18-year-old's father was killed in a shootout with tribal police when she was 4 years old.
Then she got pregnant as a junior and dropped out of school. Her life seemed hopeless. DeCory, she said, talked her out of suicide.
"She means everything to this community," she said.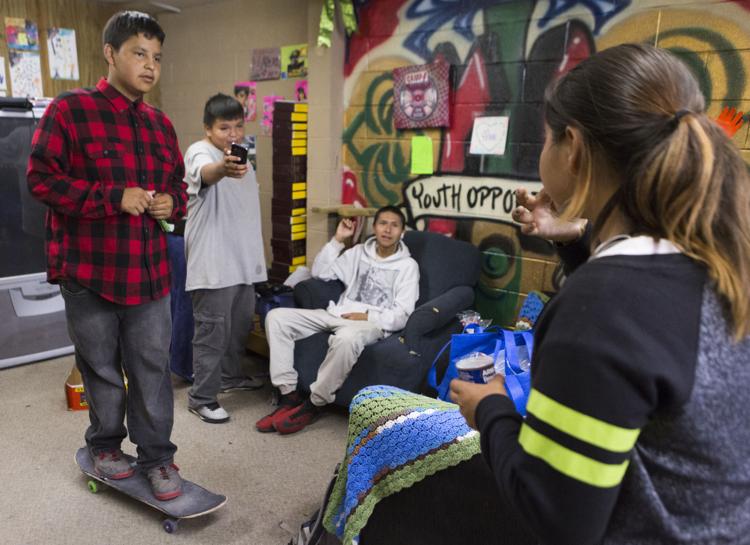 The BEAR (Be Excited About Reading) Program is funded primarily through donations. On a recent day in June, those included piles of Ramen noodles, boxes of crayons, reams of paper, books, water bottles and cold drinks stored in a refrigerator. It also included six skateboards DeCory and Janis plan to hand out.
Inside their "Bear Cave," the two disburse two parts wisdom and two parts concrete support by way of food, books and school supplies to nearly every child who walks through their doors. They also host events outside the Bear Cave.
Here's DeCory, speaking to kids involved in a summer program at a family support center near the Pine Ridge Hospital.
"Your hurt is temporary. Your struggles are not all bad. You can get over them and put them to good use."
DeCory also never fails to mix humor into her presentations.
She shares a story about pulling up to an Arby's in Rapid City the day before and shouting her order into what she thought was a microphone. After the clerk failed to respond, she accused the clerk of being a racist, she tells the kids.
Eventually, Janis -- sitting beside her -- informed DeCory she was giving her order to a trash can.
"See, I have my moments, too," DeCory says.
"What you put into your life, that's what you're going to get out."
A reason to help
Her sister's voice shook, and Eileen Janis struggled to keep her composure as she stood in her kitchen holding her phone.
Her sister told her that her nephew's gun had gone off.
The July day in 1989 had just spun out of control.
Janis turned to her mother, suffering from cancer and barely able to stand, and told her the news. Her mother told her to go to her sister's home.
When she got there, tribal police were walking out, heads hanging low. Inside, her sister was shaken. Police continued walking in and out of the house, trying to clean up her nephew's room.
When her other sisters arrived, Janis returned home to check on her mother. She found her in their backyard, standing by the family's sweat lodge.
"Mom, my chest hurts," Janis said.
Her mother told her she needed to cry.
You have free articles remaining.
She cried for her nephew, for her mother and sister and for her broken people.
She thought about her nephew and remembered taking him as a boy to buy candy at the convenience store -- Big Bat's in downtown Pine Ridge -- and to basketball practices. She remembered the 22-year-old who liked to trap rabbits and fish, who would run errands for medicine men such as picking sacred herbs in the hills surrounding the reservation, and who always had guns nearby.
Her nephew had folded his clothes neatly before completing the deed. Still, his mother never fully accepted her son's death as a suicide.
"It was so hard," Janis said. "We'd never lost anyone in our family."
Later though, Janis would use her nephew's death to help others suffering from their own family suicides.
A broken hoop
The children Black Elk promised are crying.
They are losing hope for a future free of drinking, violence and broken families.
They have forgotten Black Elk's vision of a restoration of the Lakota, and a unification of all the people of the world.
They are lost on the black road, a path of war and trouble -- as seen by Black Elk in his vision. They must find the red road, a road of balance and renewal.
Janis knows the Seventh Generation is in peril.
She knows because she saw it in the 6-year-old boy whose desperation drove him to attempt suicide on a gravel road near the Nebraska border. And in the 80-year-old woman whose family had stopped caring for her.
And she heard it in the pained voice of a teenage girl who called the tribe's suicide hotline to say she was considering ending her life but then hung up before giving any personal information.
Janis and DeCory found the girl by posting her phone number on Facebook, and were able to stop her.
So many parents miss warning signs within their children, such as sleeplessness and self-isolation, Janis said. She described meeting the parents of a 5-year-old boy who would come home from school, go straight to bed and not wake until morning. The boy later told Janis about being bullied and wanting to die.
Janis said she never realized the miserable living conditions so many of her tribe's children must endure until she started visiting families who had suffered suicides.
She described walking into a trailer house where a young boy had hung himself in his closet. Five children, all suffering from fetal alcohol spectrum disorders, lived among piles of garbage and mice.
"It was a bad deal, and it didn't have to be that way," she said.
One especially tough call to Janis and DeCory convinced Janis' son Robert Watters that he could no longer accompany them to homes where children have died.
Around Christmas 2013, DeCory got a call from a family about a boy who had hanged himself.
As soon as he entered, Watters felt like he had been there before, though it was his first time in the home. The graffiti on the home's interior walls, and the place where the boy had taken his life, were as clear to him as if he'd seen them the day before, he said.
Later, he found himself crying uncontrollably, something he had never done after such a call.
A respected elder from his community later told him that he had only thought he cared until that moment.
PINE RIDGE, S.D. — Robert Watters prayed, asking for guidance and wisdom from his creator, and then sprinkled tobacco over the logs stacked in…
"Now you know you care," she told him.
Each difficult call takes something from Janis and DeCory.
Janis shared the story of the youngest person she's ever known to attempt suicide.
The 6-year-old boy lived west of the town of Pine Ridge near a gravel road that provides the most direct route between the reservation and Chadron, the largest nearby community.
The boy -- who lived in a remote trailer house where people partied nearly every night and where garbage piled up in corners and the cupboards were empty -- had decided he no longer wanted to suffer his circumstances, Janis said.
Just before dusk one evening, he walked out to the gravel road, a road that carries dozens of reservation residents each day, and placed a cardboard box in the center. He crawled inside the box and waited for a car to run over it.
One driver after another steered around the perfectly intact box until a woman decided to get out and inspect the container.
Inside the box, she found the boy.
Flower's story
Inside the Bear Cave on a recent summer afternoon, two teenage girls hung out on worn leather couches, looking at their phones, while others listened to DeCory talk about the need to stay busy during the summer.
One of those two girls was Flower, a teen who attends Pine Ridge High School.
She said she started visiting the Bear Cave three years ago, shortly after attempting suicide.
She had recently moved home to Pine Ridge from her father's home, where she had suffered emotional and mental abuse, she said. When she would start to cry, she was criticized.
"I bottled up all my feelings all the time I was there," she said.
Not long after she returned home, her grandmother died and she began getting bullied at school and fighting with her mom at home.
Then her friends started taking their own lives.
"I thought of it as, 'Oh, they left so easy. Why shouldn't I?'"
Her March 2013 attempt landed her at a psychiatric hospital in Rapid City, where she spent about a week working with therapists. When she returned home, her mother forced her to start visiting the Bear Cave.
Her depression immediately began to lift after talking to DeCory and Janis and the other youth in the BEAR Program.
"It feels good to be around people your age because you know you're not the only one who felt like that," she said. "There's no judgment down here."
With time and attention from those she met in the basement of the Billy Mills Hall, she began to repair her broken heart and troubled mind. She credits Janis and DeCory with pulling her out of her depression.
Skateboarding also helped her cope.
The first time she rolled down a street, she felt cleansed, like stepping out of a sweat lodge.
"That first time I rode a board I felt like the world lifted off my shoulders."
On a recent evening in June, Flower joined dozens of others at a skate park in Pine Ridge for a competition hosted by a church group and the BEAR Program.
As she sat joking with friends on a bench, a boy walked up to Flower.
"Can I try out your board?"
Mending of the hoop
The sacred hoop is being restored.
It's happening in the many young people who have left the reservation to become educated and are returning to help their people. It's happening in the work of Janis and DeCory and in the movement toward sobriety and language and cultural revitalization.
And it seems to be happening in the life of the girl Janis met five years ago, shortly after the 7-year-old attempted to take her own life.
In May, Janis saw the girl at a social dance held at Billy Mills Hall in Pine Ridge. She was with her mom, the same woman who had refused to let Janis talk to her and who used to drink and party.
The woman seemed to have sobered up and brought the girl to dance, something Janis never imagined might happen when she saw the girl through the window of her home in 2012.
The girl didn't wear a dress to the dance, and seemed shy.