Twice this year, Carl Bryant was forced to gut and rebuild the Wendy's restaurant he owns east of Nebraska City.
First, after the levee broke in March and flooded the strip of businesses along Iowa 2 near Interstate 29, and again when the water returned Memorial Day weekend.
And with the Missouri River swelling upstream again Friday, he was fearing the prospect of a third renovation.
"With the temporary levees, and as high as the river is supposed to still go up, it's a little bit worrying," he said, taking a break from a mid-day rush. "But there's not a lot we can do about it. We're just waiting."
Nearby, Dave Schaefer was cleaning out the waterlogged belongings that still fill the self-storage center he co-owns — and watching the nearby river.
If the levee holds, they should be fine, he said. If not, they'll be under water again.
"We're back in the same place we were in March: We don't know what to do. What do you do? You hope for the best."
Fueled by heavy rains in the Dakotas and recent downpours upstream of Omaha, the Missouri River is again flowing above flood stage, crossing fields and roads and forcing the Iowa Department of Transportation to close a 10-mile stretch of I-29 north of Council Bluffs, between Missouri Valley and Crescent.
And all of that water must move south. The river was expected to crest near Blair overnight Friday but remain above flood stage for more than a week, said Corey Mead, a meteorologist with the National Weather Service. It should crest near Omaha on Saturday morning and near Nebraska City on Sunday.
Officials there are watching, but not worrying as much as some of the Iowa 2 business owners. The U.S. Army Corps of Engineers repaired the levee near Percival, Iowa, in late July, and it still offered 4 feet of protection as of Friday, said Mike Crecelius, emergency manager director of Fremont County, Iowa.
"There may be some water in the fields west of them. But Highway 2 and I-29 are not going to be threatened by the water coming down this weekend."
You have free articles remaining.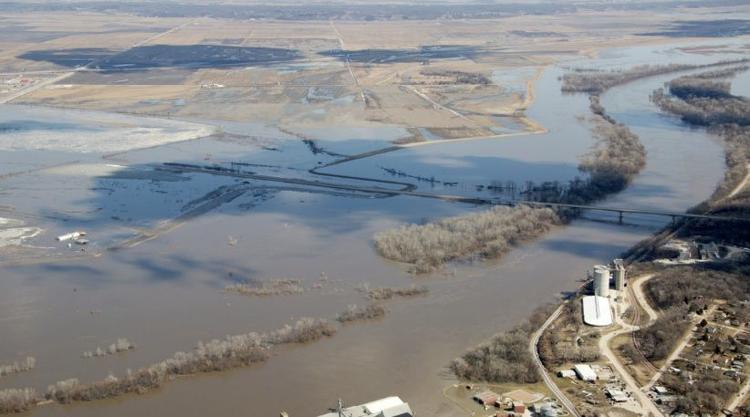 He'd heard from a Corps project manager, who told him the agency plans to monitor the levees through the weekend, just in case. "If they see something that could be a problem, they'll get people there to make a repair on the spot," he said.
The flooding Missouri River shouldn't slow construction of Iowa 2, said Scott Suhr, a spokesman for the Iowa DOT.
The former four-lane link between Lincoln and Interstate 29 reopened in early August with head-to-head traffic in the old westbound lanes. Contractors will rebuild the eastbound lanes, move traffic over, then build new westbound lanes.
The project — designed to move floodwater beneath the road, instead of over — is on schedule, he said, but could take two to three years.
The traveler-friendly businesses at Iowa 2's junction with I-29 were closed for months this year after the 1-2 punch of March and May flooding, with many not reopening until last month and at least one, a longtime antiques mall, closing for good.
The work isn't done for Schaefer. He and a partner have spent three weeks clearing and dumping about 80,000 pounds of possessions from their storage center's 75 units. They told their renters to clean them out, or pay the owners to: They need the units power-washed, reopened and making money again, he said.
But it's not pleasant work. "The worst things are the totes that are full. It's like dumping black sewer water; this is one of the nastiest jobs I've ever done."
At Wendy's, Bryant was busy — but not nearly as busy as he was this time last year. He estimated he fields 20 to 30 calls a day from people wondering if he's reopened, and expected it could take a year before business rebounds fully.
Nearby, the sprawling Sapp Bros. center — with its gas station, store, restaurant and shop — has fully reopened, said Dan Adams, president of the company's travel centers.
He's watching the river, but he's also listening to assurances the levee has capacity, and that it will hold this time.
"As far as water this weekend, it makes us a little nervous, of course," he said Friday afternoon. "But we're not building berms or anything right around the building right now."