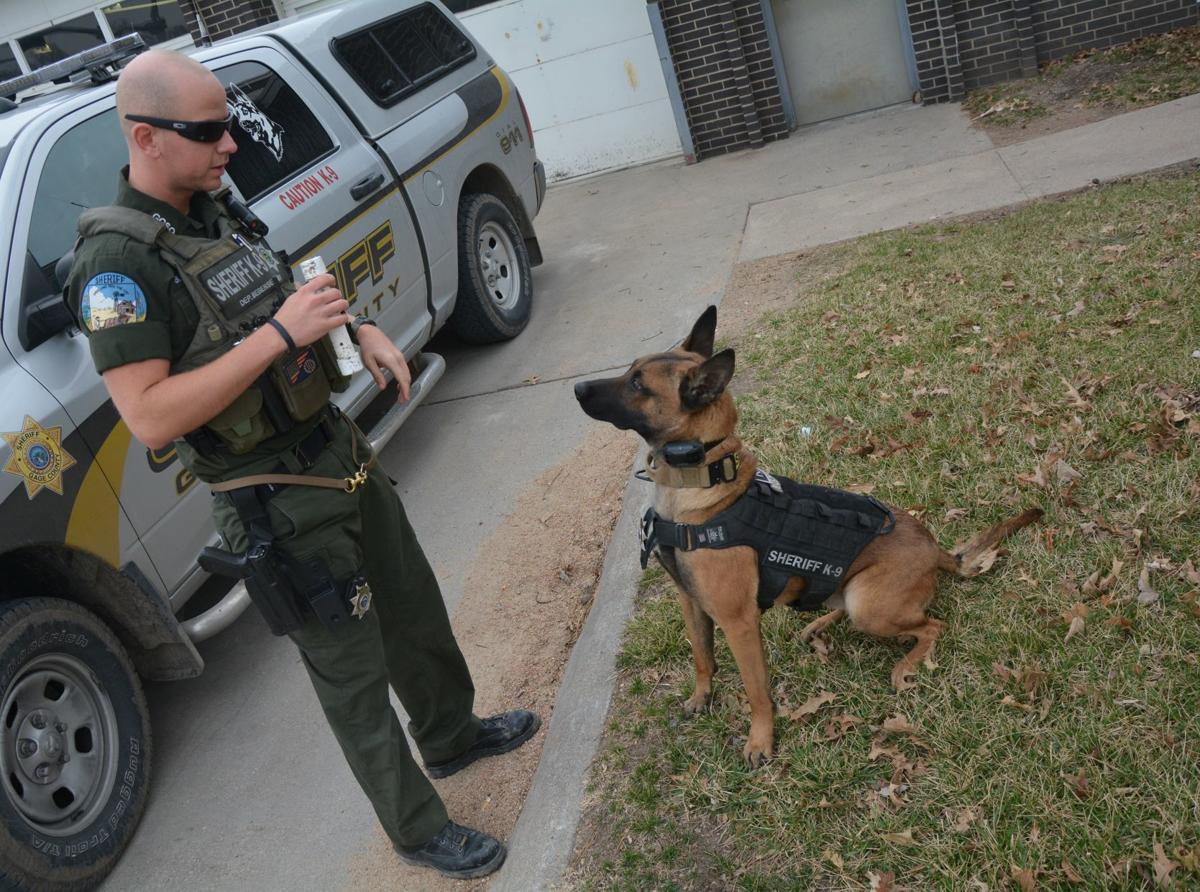 BEATRICE — The Gage County deputy in charge of the sheriff's office K-9 unit will have the option to purchase the dog he's handled for three years as he leaves the department.
Deputy Coltin Bebensee has handled Buster, a 4-year-old Belgian malinois, since the department's K-9 program was reinstated three years ago.
Bebensee notified the Gage County Board of Supervisors this month that he's accepted a position with the Washington County Sheriff's Office. He said family medical issues have resulted in frequent trips to Omaha, and being closer to that area was a factor in his decision.
He requested the dog be retired from the department and accompany him to Washington County as a pet.
The dilemma, which marks the end of the K-9 program in Gage County, prompted lengthy debates by the County Board if Buster should be retired and given to Bebensee as a pet or sold at auction like a piece of property.
You have free articles remaining.
The board ultimately decided to offer the dog to Bebensee at a cost of $250.
Bebensee attended Monday's board meeting, telling members that Buster won't work with anyone else. This sparked a debate among board members if the dog has remaining value to the department under a different handler, or if attempting to retrain the dog would be a wasted effort.
Dogs can be retired if they're no longer able to perform their duties or service. Bebensee pointed out that if the two are separated and Buster won't work with another deputy, it would justify retirement.
Gage County was able to add the K-9 unit thanks to about $10,000 in donations, and Gage County has invested more than $70,000 in equipment and training.
Sheriff Millard "Gus" Gustafson stated that the department doesn't currently have a deputy interested in working as a K-9 handler and that he's already removed all costs associated with the program from his budget for the next fiscal year.
The board voted 4-1 to allow Bebensee to purchase the dog. The lone vote in opposition was from board chairman Erich Tiemann, who said the dog was worth more than $250.