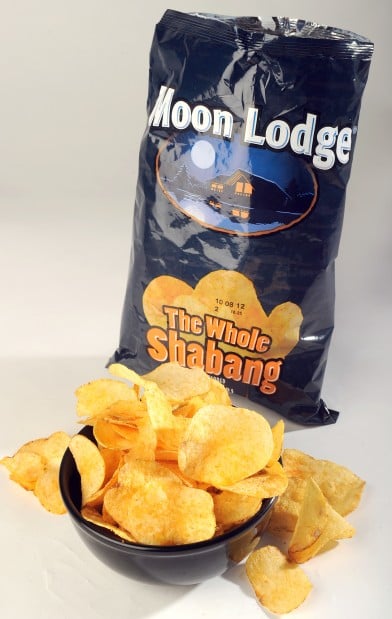 It isn't often you hear that the people who have gotten out of prison have a craving for food they ate there. 
But former prisoners search the Internet and hound the distributor for one brand of potato chips you can get only when serving time -- or when visiting someone who is.
You have to commit a crime to get your hands on Moon Lodge chips.
Inmate Brenda Sigler, who works at Lincoln's Community Corrections Center's canteen, sells the popular chips for $1.05 per 6-ounce bag.
The Whole Shabang is one of the most popular, along with flavors like Stuffed Jalapeno and Hot Hot Hot! Barbeque. The center gets them in, and they sell out quickly, said Helen McKinney, canteen supervisor.
In fact, Nebraska Parole Board members have a standing request for the canteen to hold a couple of bags so they can buy them when they come to the center for hearings.
The canteen gets a shipment of two or three 16-bag boxes of each flavor every Thursday, and by Monday, the supply is gone or low.
Visitors and inmates love The Whole Shabang, Sigler said. But the hot chips also are popular.
"It seems like the men love the hot, hot chips. They'll mix it with their burritos," Sigler said.
The quality is excellent and the flavors are unique, she said. They're cheap for a client base that earns only $1.21 to $3.78 a day.
Dean Pollnow, who does product development for Keefe Group, which supplies the chips, is aware of their popularity.
"We appreciate the support, and we receive requests from customers all the time and inquiries pertaining to where they can purchase Moon Lodge chips, particularly The Whole Shabang," Pollnow said.
Former inmates and family members search high and low, unsuccessfully, for The Whole Shabang, which is flavored with salt, vinegar, barbecue, garlic, smoke flavor and secret spices, with a hint of sweetness.
Moon Lodge chips are made specifically for Keefe Group by a Canadian manufacturer. They're only supplied to prison commissaries around the country -- not available in retail stores, Pollnow said.
Their products are uniquely packaged for inmates.
While they appreciate the popularity of the chips, their minds seem to be made up on not making them more widely available.
"So the Moon Lodge chips present us with a tough choice," a review on taquitos.net reads. "Abide by the law, or get a chance to enjoy these delicious chips on a regular basis."
Be the first to know
Get local news delivered to your inbox!