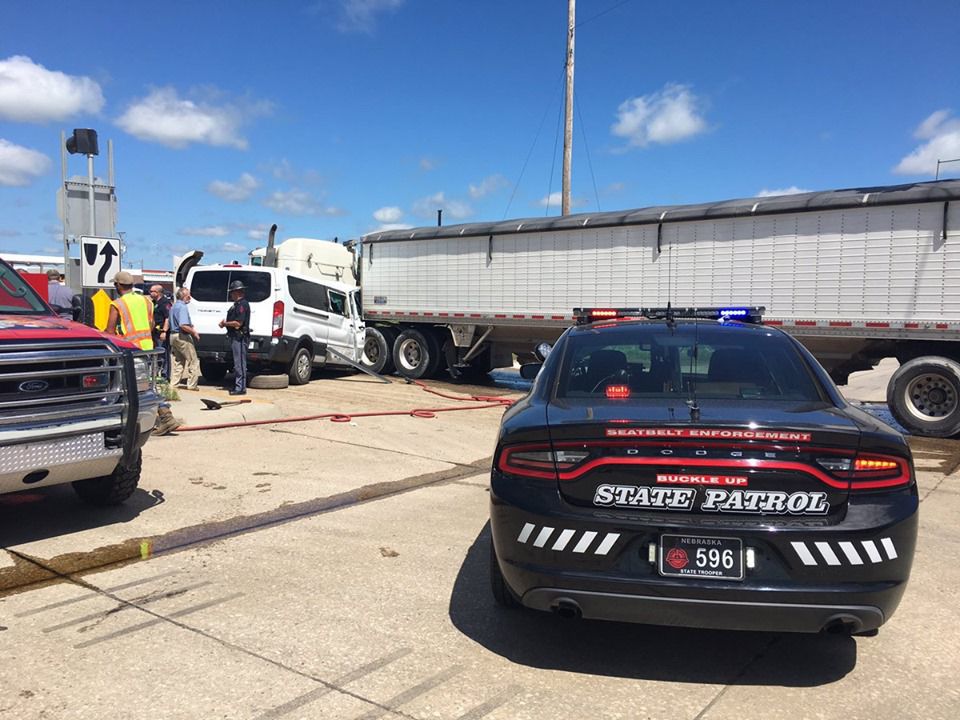 It could be coming to a roadway near you.
But for now, the first so-called RCUT intersection in Nebraska has been OK'd to allow safer crossing of two highways near Humphrey — four-lane U.S. 81 and two-lane Nebraska 91. The new intersection design incorporates restricted crossing U-turns, hence the name RCUT.
It will replace a standard stop sign-controlled intersection, the stop on east-west Nebraska 91, according to Mike Owen, roadway design engineer with the Nebraska Department of Transportation. U.S. 81 has through traffic.
The intersection nearly halfway between Columbus and Norfolk has a three-year crash rate of 1.449 crashes per million vehicles. The state average is 0.391 crashes per million vehicles for rural expressway intersections, said Jeni Campana, Transportation Department spokeswoman.
The state started studying the intersection in 2011, Owen said.
"We've made some minor improvements, but it really hasn't affected the crash rate," he said.
Something more needed to be done, he said. And the public was calling for action, too, Owen said. In a review of many of the crashes, traffic on Nebraska 91 either didn't stop, or didn't yield to traffic on U.S. 81. 
"We felt obligated to act fast to do something to reduce the crash rate at the intersection," he said.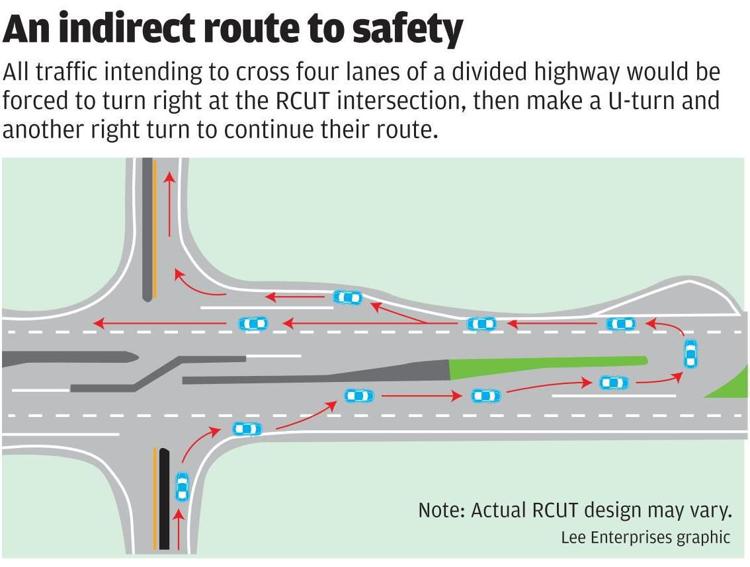 A 2019 thesis study on restricted crossing U-turns at rural intersections by Timothy Adams, a University of Nebraska-Lincoln graduate student, showed that over 10 years, there were 53 crashes at the intersection, five of those with fatalities.
In May 2018, two people from Grand Island were critically injured when their eastbound pickup was hit by a semi going south on U.S. 81. A third vehicle was also involved.
This year, on July 9, a Ford Transit van was traveling north on U.S. 81 when a semi headed west on Nebraska 91 pulled in front of the van, causing a collision, according to the Nebraska State Patrol.
Those injured included eight children, ages 2 to 15, who were transported to hospitals with nonlife-threatening injuries.
Most of the crashes at the intersection are right-angle crashes, Owen said.
Here's how the RCUT works: All Nebraska 91 traffic would turn right at the intersection with U.S. 81. Drivers who want to go the other direction would then make a U-turn at the designated location. Drivers on U.S. 81 could make a left or right turn onto Nebraska 91.
U.S. 81 has an average daily traffic count of 6,900, and in 20 years it is expected to be 11,000, Owen said. The west leg of Nebraska 91 sees 3,200 vehicles a day, and the east leg 1,600. That is expected in 20 years to increase to 4,500 on the west leg and 2,300 to the east.
You have free articles remaining.
The department is building an intersection similar to the RCUT south of Hooper on U.S. 275. That will be a U-turn with what Owen calls a "loon," or a jug handle that extends beyond the shoulder of the road, which gives additional clearance for turning vehicles.
Owen said several states around Nebraska are constructing RCUTs, including Missouri, which has many in place.
A meeting with people in the Humphrey area gave the department a better idea of how the intersection is operating now, and what the problems are, he said. 
The majority of people that have met with the department prefer either a simple fix, reducing the speed limit and adding a traffic signal, or building an elaborate interchange in which traffic on Nebraska 91 would go over U.S. 81, with on- and off-ramps, he said. That more elaborate fix would cost about $15 million and take much more time.
Owen said a traffic signal would not comply with federal guidance.
The RCUT would cost an estimated $1.5 million, Owen said.
Lauren Veik of Humphrey, who wrote a letter to the Journal Star last month, said that in his opinion, the RCUT proposal would be a safety hazard. The U.S 81-Nebraska 91 junction sits at the top of a hill, he said, and traffic would not be able to see cars making a U-turn until it would be too late. The same visibility issues would confront those trying to make a U-turn.
He said traffic signals were the right answer, and encouraged people to contact Gov. Pete Ricketts to tell him their concerns.
"People understand traffic signals; they won't understand a glorified U-turn," Veik said.
But Owen said the RCUT is safer because the crossing is separated into two movements. The change reduces the number of potential conflict points (one vehicle against another) from 42 in a traditional intersection to 24.
A Minnesota Department of Transportation study of RCUT intersections showed a 100% reduction of fatal and serious injury right-angle crashes, a 77% reduction of all right-angle crashes and a 50% reduction of injury crashes.
Studies regarding concerns about the RCUT intersections included drivers often being confused initially when presented with the new design and having difficulty merging after the U-turn. And some did not like the idea of driving out of their way to turn.
Some said the restricted movements discouraged drivers from accessing adjacent businesses. And they questioned accommodation of large vehicles in the U-turn.
Owen said the intersection can be designed to accommodate large trucks and semis.
"I think we will end up building more of these," he said. "It's just like a roundabout. When you build your first one, nobody likes it."
Then, most people become OK with them.
The RCUT project near Humphrey was originally scheduled to begin last spring, but the start of construction was delayed.