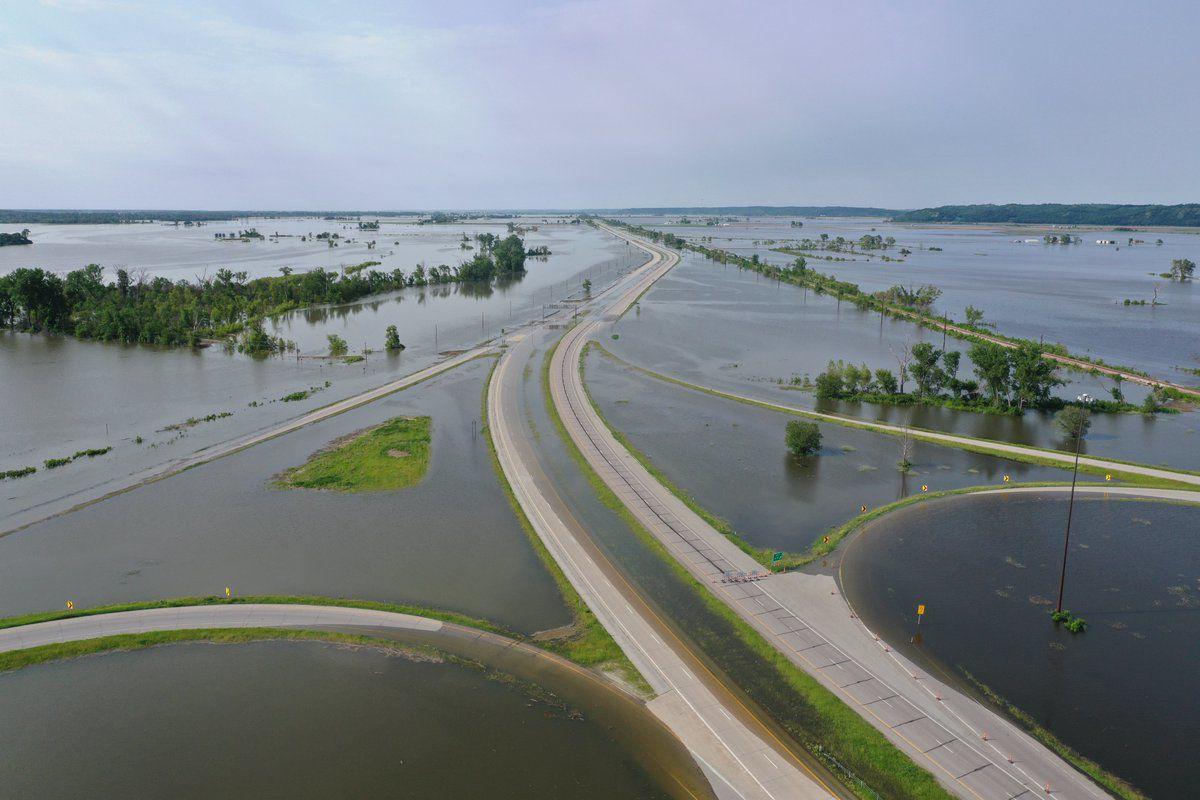 NORTH SIOUX CITY, S.D. — Flood-control measures along the Missouri River to the south of Sioux City, Iowa, must be changed, a top U.S. Army Corps of Engineers official said last week.
Whether that means altering the channel in the Sioux City area to allow the river to spread out and carry more water, or other possible solutions, remains to be determined.
"That could be one of the recommendations of a lower river management study. We have to increase the volume of water that can be carried safely down the river," said Brig. Gen. Peter Helmlinger, commander of the corps' Northwestern Division, which oversees the six Missouri River reservoirs and other flood control measures.
Helmlinger said the study has not yet been initiated, but could begin in fiscal year 2020, which begins Oct. 1. Once started, the study would take three years to complete, and congressional appropriations would be needed to implement recommendations.
Speaking in North Sioux City after a hearing of the U.S. Senate Environment and Public Works Subcommittee on Superfund, Waste Management and Regulatory Oversight, Helmlinger said solutions could include widening the channel and rebuilding levees farther from the river in order to give the Missouri more room. The corps could study measures to control flows of Sioux City-area rivers such as the Big Sioux and James to reduce the amount of water entering the Missouri downriver from the reservoirs. Helmlinger said there are no plans to eliminate portions of the river's navigation channel, which stretches from Sioux city to near St. Louis.
Helmlinger said change is necessary to prevent future flooding in hard-hit areas in southwestern Iowa and southeastern Nebraska, areas that saw dozens of levees topped this spring after record amounts of runoff entered the Missouri through tributaries south of its reservoirs. The system of levees is not adequate to control the amount of water that comes into the Missouri south of Sioux City during extreme runoff years, such as 2019, the general said.
"We need to do something different than simply rebuild the system as it is now," he said.
About 40 people filled the North Sioux City Council chambers, where subcommittee chairman Sen. Mike Rounds, a Republican from South Dakota, asked Helmlinger and John Remus, chief of the corps' Missouri River Water Management Division in Omaha, a series of questions about how the corps could adjust reservoir releases when wetter years are expected.
You have free articles remaining.
"When wet years do occur, we need to be able to manage them," Rounds said. What residents of states along the Missouri River are asking, he said, is "Are we doing the best we can to manage storage levels and water capacity of the Missouri River reservoir system?"
Rounds repeatedly asked why, with the region currently in the midst of a wet cycle in which average annual runoff has been above the 121-year average the past six years, the corps can't base annual forecasts on recent trends, rather than the historical average, and begin clearing water from the reservoirs earlier to leave more room to store spring runoff and alleviate flood risks downstream.
"Is it possible, in this day and age, with more resources available to us, that we can begin trending earlier in the year?" Rounds asked.
Remus said river ice limits winter water releases. Releasing too much water can lead to ice jams, which can cause water to back up and lead to flooding. Remus said the corps generally can't do preemptive releases until after March 1, when most of the river ice is gone.
The corps has forecast 2019 runoff into the river's upper basin above Sioux City at 52.9 million acre-feet, which would be the second-highest total in 121 years of record keeping, behind only the 61 million acre-feet in 2011. Precipitation and runoff has exceeded normal levels in most months, and since spring, releases from Gavins Point Dam near Yankton, South Dakota, have been at 70,000-75,000 cubic feet per second, nearly twice the average rate for this time of year. Remus said releases could remain at 70,000 cfs beyond September.
Flooding has been constant in some areas since March, when an intense storm system dropped 2-4 inches of rain onto frozen, saturated soil across a wide area of Nebraska and South Dakota. Snow cover melted quickly after that, leading to another pulse in flooding downstream and causing hundreds of millions of dollars of damage to river levees. Interstate 29 was closed from Missouri Valley, Iowa, to the Missouri border for several weeks, and access points between Nebraska and Iowa remain closed at Brownville and Rulo.
In sum, millions of dollars of damage was done to federal, state and local roadways.
Helmlinger said an estimated $1.1 billion will be spent on 64 levee repair projects on the Missouri and other rivers. The corps is waiting for water levels to drop before it can assess 30 other damaged areas.
Rounds said additional resources could be appropriated for levee repairs. He also supports increased appropriations if the upcoming corps study provides effective flood control measures.
Rounds was the only one of the seven subcommittee members present.
Be the first to know
Get local news delivered to your inbox!