The storms rolled in one after the other that summer.
Tom Johnson slept upstairs in the house on the hill in Osceola in 1967 — a 12-year-old sharing a bedroom with his younger brother.
Before the month was over, it had rained 14 inches. Severe storms hit the town for nine nights running. The creek flooded. And more than once, his parents called out to Johnson and his brothers as the thunder rumbled and the night sky sparkled: You boys better sleep downstairs.
Johnson loved the sound of those storms, the wind and pelting rain on the roof. The power of nature.
"That kind of made an impression on me," he said this week.
The 64-year-old is at home Tuesday in the house where he grew up. He'd been up early like always. At 7 a.m., he noted the temperature: 23 degrees.
He headed to his computer and sent that number off to the National Weather Service in Hastings, along with the high and low for Monday and the dusting of snow — four-tenths of an inch — that fell in his tiny neck of the nation.
He typed in a note: Cold. Early evening, light snow.
Johnson is a citizen weather observer, one of more than 10,000 volunteers in the country, keeping tabs on the temperature, noting precipitation. Providing a daily look — and a long lens — on weather patterns, the data then used by government agencies, educators, researchers, insurance companies.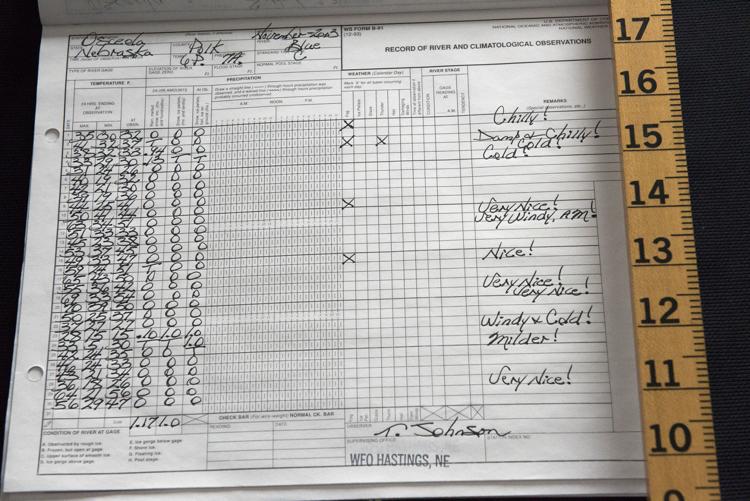 Earlier this month, Johnson was honored for his devotion.
The Thomas Jefferson Award is the highest honor given to weather observers, said Mike Reed from the weather service office in Hastings.
No more than five weather observers across the country receive the honor each year, named for our weather-recording third president and judged on a long list of criteria that include accuracy and dedication and personal attributes.
Johnson's work checked all the boxes on the 12-page nomination form.
"It's a very prestigious award," Reed said. "And we're very happy that he got it."
Johnson comes from a farming family, living halfway between York and Columbus.
He watched the skies as a boy. Driving the tractor, he'd feel the wind shift, watch the thunderheads rise up to the west.
He could tell if the storm's path would cross his grandfather's land. Could feel when the drier air moved in.
And he knew. He was going to get cheated out of a storm again.
He was still in high school and mowing the neighbor's yard when he got the chance to do more than watch.
The neighbor was a citizen observer with a small weather station outside the nursing home he ran — a white, louvered box on stilts, Johnson says, with two thermometers inside and a rain gauge outside.
Each day, like all weather observers, the volunteer recorded the day's high and low, wrote it down on the carbon paper-lined form and sent the results to Hastings.
If it rained or snowed, he recorded those totals, too.
In was 1971 when he wondered if the high school sophomore would like to take over. He thought he'd be a good fit.
"It was, 'Yeah, I'm interested in the weather,'" Johnson remembers. "It was like a gift from heaven."
He took on the task. He was dedicated, diligent, precise.
"I'm a big one on detail. If I'm going to do it, I'm going to do it right."
The neighbor lady and then his folks filled in during his college years at Peru State and for a few years after that, when he landed jobs in Omaha and then Dallas.
And then he was back home to stay. The weather service had long ago moved that louvered weather station closer to the family's home and eventually took it down for good.
The program was changing with the times.
"Nowadays, I have a temperature sensor right outside the window. It records to a tenth of a degree."
And the Weather Watcher of Polk County takes the same careful notes he did in the early years.
"I'll admit it, I have to have my cheaters on in the morning."
After a career in social services and insurance underwriting, Johnson took a job in 2011 at the Upper Big Blue Natural Resources District, planting trees and helping with maintenance.
He was coming up the stairs after lunch that Monday in March when it started. Thud. Thud. Thud.
Someone in the office heard the sound and looked up to ask what was wrong.
"I was kicking the back of each step with my left foot," Johnson says. "But I had stuff in my hand and I attributed it to that."
The next day he had a dizzy spell at work, the worst of his life. And then another. He worried about a brain tumor and then the spell passed.
He noticed more trouble lifting his left foot when he got home but he went to sleep and, in the morning, he couldn't get up.
"I fell out of bed," he says. "I tried to walk seven or eight times and then I called my boss and told him I think I'm having a stroke."
He still sent in his weather report.
Johnson spent 2 1/2 days in the local hospital and six weeks at Madonna Rehabilitation Hospital in Lincoln.
More than six years later, he has limited use of his left hand.
But he can drive and he can walk and he can talk, same as always. Lucky, he says, that the stroke didn't affect his speech.
You have free articles remaining.
Keep reading for FREE!
Enjoy more articles by signing up or logging in. No credit card required.
He went back to work part-time. Now he works seasonally for the NRD, managing three campgrounds near York, Utica and Aurora, collecting payments from campers, keeping the bathrooms clean, making sure everything runs right.
"Tom is very good with the public. The campers who come out, they invite him over for breakfast in the morning," says his boss, Ken Feather.
Easygoing and dependable, he says.
The stroke didn't stop Johnson from his volunteer work for the weather service, either, Reed said. That's one of the reasons he was nominated for the award.
"About the first thing he thought of after the stroke was who is going to do the observation?"
Johnson has chased a few tornadoes.
In 2011, he and his cousin chased an EF-3, their cellphone footage making its way onto the Weather Channel.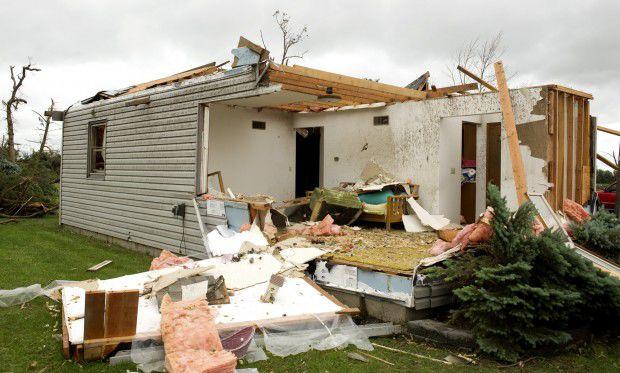 He likes to be outside watching when the sirens sound. He's seen three tornadoes on the ground and a funnel cloud in the sky just outside of town.
He loves spring and summer for just that reason.
"This is a boring time of year for me," he says. "It's kind of depressing."
The weather watcher is looking forward to winter. Snow and basketball, he loves them both.
He measures snowfall from the ground with a calibrated snow stick and then with a copper gauge, melting it down to water and sending in the measurement with his daily report.
He knows the coldest temperature in his decades of observation: 30-below in January 1973.
And the hottest: 110 in September 1974.
The most rain in a single day came just two years ago, August 2017: 6.95 inches.
And the most snow: 14 or 15 inches in 24 hours in the early '80s.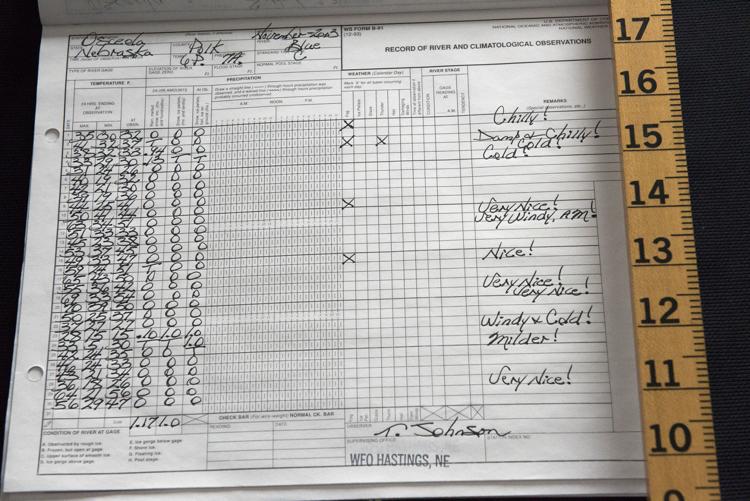 He reads all the National Weather Service reports the Hastings office puts out and sometimes calls in to report a typo, Reed said.
He'll let the meteorologists know if he's spotted hail or cloud rotation.
And his daily reports come in like clockwork.
"He's very thorough," Reed said. "And his attention to detail is something we want in all our observers."
The farmers who gather for coffee at the Casey's General Store along U.S. 81 know the blue-jeaned man with the trim white beard.
"He's our weather man here in town," Dan Wieseman said Tuesday. "I think he does all right."
Although the farmers sometimes question his numbers, Johnson said.
"They'll say, 'Oh, hell, we had more than that,' and I'll say, 'Maybe where you live.'"
Johnson laughs about that. He likes his town, likes where he lives. Up on that hill where he can watch the skies.
He almost got married once, but it didn't work out.
He's independent, he says. Likes to come and go as he pleases.
Back in 1971, he'd wanted to get a degree in meteorology, but none of the state colleges offered one, Johnson says. So he settled for a heavy load of science classes.
And for the next four decades — and counting — the title of Citizen Weather Observer.
There used to be a stipend, he said, $30 a month, but that went away during the Obama administration.
"I feel like I'm contributing to something bigger than myself," he says. "That's why I try to be so consistent, why I hate to be gone and have a gap in the data. I feel compelled for a small town to keep that going."
When he was recovering from his stroke, an employee from the Hastings weather service helped out. She couldn't come every day, but the sensor system stores data for 30 days, he said, so in the end it all worked out.
He's back at it steady now, although six weeks ago he was having trouble with his computer and couldn't get his report sent.
His phone rang and a meteorologist was on the other end.
"Just checking in to make sure everything was OK," Johnson says. "That meant a lot to me."
At 7 a.m. Wednesday the temperature sensor outside Johnson's window read 22 degrees.
The high on the hill in Polk County had been 36 degrees Tuesday. The low 22.
He pecked in a note: Cold!
Then he reviewed his daily contribution to the weather records of America.