Last week, I played duckpin bowling in the Panhandle.
The bowling ball was cantaloupe-sized and made of wood.
The pinsetters were human.
All afternoon, those pinsetting people of Potter patiently set up scattered pins for 467 Tour de Nebraska cyclists, who ventured up a flight of creaky steps to the old-time bowling alley in the small town in the far west stretch of our long state.
At the nearby ice cream parlor, a line for tin roof sundaes and pie stretched out the door, while out on the main street, a couple of old-timers made small talk with the out-of-towners -- directing them to antique store bathrooms and the free blinky lights at the American Legion down the way.
And not just in Potter, population 337, a place I'd never been (nor heard of).
The kindness played on a loop in Mitchell and Kimball, too. In Dix and McGrew, Sidney and Bridgeport, Gering and Scottsbluff, Bayard and Melbeta and Dalton.
In 11 summers of bike tours, I've ridden through dozens of small cities, smaller towns and villages, burgs and blips on the Nebraska map.
The locals always know we're coming, so no one is surprised by all the spandex shorts and funny shoes.
And there's usually something in it for them. A way to raise money for school projects or community causes.
There's work, too, and the unexpected, like rain washing out a street dance or heat that keeps bikers pedaling past rest stops in their hurry to get to their night's destination.
But there are always, always Random Acts of Small Town Kindness.
Like the afternoon in Kimball, when a clerk at the downtown drugstore made me a pair of earring backs from a pencil eraser, after we wandered in looking to buy a pair to keep my earrings from blowing off on a Wildcat Hills down slope. (She had a box cutter, she told us, emerging from the back room with two round disks.)
Like the wet Friday in Mitchell, when a local gave a sandal-wearing cyclist a new pair of socks he had in his truck, so she wouldn't be miserable on the ride out of town. (The local happened to be Mayor Dave Curtis, and, no, he didn't want Julie Thomsen's money.)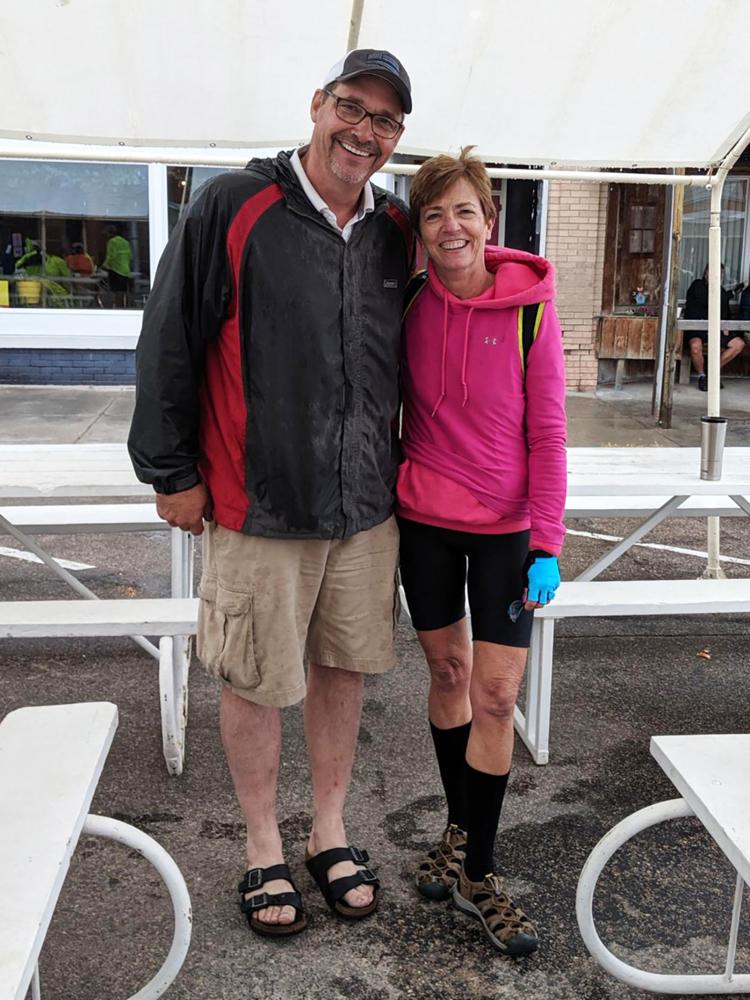 That same day at the Brown Sheep Company, three soaked cyclists spent two cozy hours waiting for the storm to pass, sipping hot tea and Swiss Miss, covered in blankets the local ladies hauled from their trunks. (One rider bought a ball of wool and began to knit socks.)
"It was a really big deal for those small communities," said Shari Rosso, a Lincoln rider and Scottsbluff native, who pushed for and helped organize the ride through her home territory. "Living out there, you're so far away we kind of get 'out of sight, out of mind.' Folks are just really thankful."
You have free articles remaining.
From the Sidney high school principal, who greeted riders when they arrived on Tuesday night and welcomed them back all day Sunday.
To the gentleman who lived near the school in Gering, who insisted a pair of riders plug their camper into his shop's electrical outlets and filled them up with water. (In turn they bought a matched set of Parrish Abel's handmade cutting boards.)
To the employees of the Monument Inn -- You've never visited Scotts Bluff Monument? Get. Out. There. -- who shuttled riders and stored bikes.
To the staff at Bluffs Middle School, who turned on coffee pots and hauled out yoga mats, and a woman named Katie Bradshaw (who drove a car she named Clementine), who set up an impromptu shuttle service.
To the stalwart women of Dalton who baked cinnamon rolls and lemon bars, and to the twin boys dressed in Sons of American Legion attire who proudly shared the story of their grandfather's service.
Just small town country values, said Lincoln cyclist John Fecht, who grew up in the Cheyenne County village. (His mom and her fellow servers from church wore their matching "Live Generously" T-shirts, while they did just that on the tour's last cold and windy day.)
"The church ladies have always volunteered their time and effort," Fecht said. "They were busting their butts and they were tickled."
The Dalton native saw sights he'd never seen on the tour as he pedaled the back roads up by Bayard and beyond.
"There a lot of cool things to see and do that even people who lived out here take for granted."
I've spent my life on the eastern edge of our flyover state and I'm happy to report I finally made it to Banner County and Laura Lee's Double L Country Store and Cafe to eat blueberry parfaits and listen to the Green Valley Homesteaders play twangy tunes.
And to the Pink Palace in McGrew, where the bartenders offered up hot breakfast burritos and cold beer before the noon bell rang.
And to the Mixing Bowl in Gering, where coffee is served in cups the size of soup bowls and the pancakes are as fluffy as the post-storm cotton ball clouds in the vast Panhandle sky.
I made it to see Chimney Rock and Jail Rock and Courthouse Rock and all the sandstone beauties that guided long-ago travelers west.
It's a trip worth taking. In a car or on a bike.
And the people of the Panhandle are pretty nice, too.
"Honestly, every time I went to a stop, I kind of cried," Rosso said. "It was my home."