The mystery drones flying nighttime formations over Colorado have crossed the border.
Residents and law officers in Perkins, Chase, Hitchcock and Lincoln counties spotted flocks of unmanned aircraft with multicolored lights filling the night skies Sunday and Monday, floating and flying on.
Perkins County Sheriff James Brueggeman saw stationary drones with red, green and white navigational lights Monday, he said. One of his deputies saw several flying in a flank formation near Venango, headed west toward Colorado. His office also fielded reports from Grant and Brandon, and he heard drones were spotted as far east as south of North Platte.
To the south in Chase and Hitchcock counties, the drones lit up the sky — and social media — Monday, with reports of activity above and around Imperial, Wauneta, Enders, on the road toward Benkelman and near Palisade.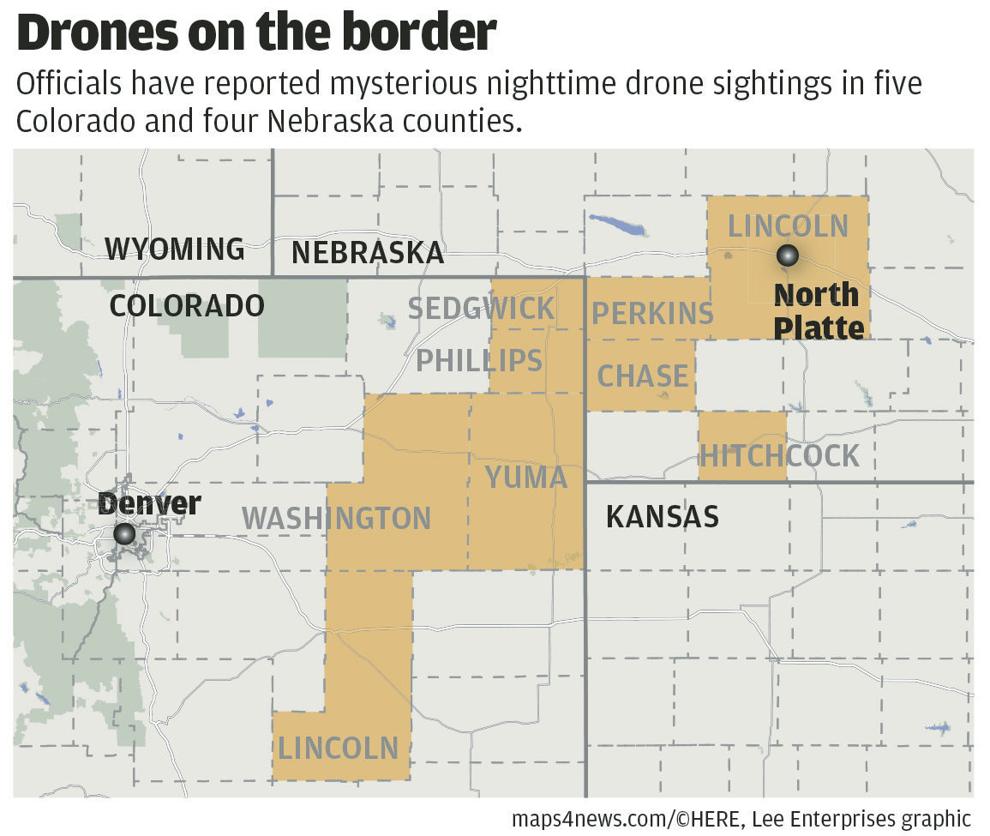 At one point, Missy Blackman counted 19 drones in the skies above her home near Palisade. Some were flying formations in small groups, others were hovering. One floated above the town for more than an hour, she said, and at least three spent time fewer than 500 feet above her property.
She spotted the drones at about 8:30 p.m. Monday, and some were still around more than four hours later.
"It's a little disturbing," she said. "You have to wonder what's going on."
In Chase County, Heidi Anderson counted five drones in the air above her home near Enders.
"Probably the most significant thing we saw was a really, really, really bright one that hovered over the center of Enders Lake," she said. "We saw several and they were all little and mostly the same, but this one was different and really bright."
Anderson first saw the drones at about 6:45 p.m. outside her lakeside home. They would hover and then move on. She saw more when she went out again at about 9 p.m. But she never saw who was controlling them.
And that has been the mystery that has puzzled several northeast Colorado counties and caught the attention of the rest of the country after the Denver Post reported the sightings: Nobody has been able to identify the pilots or explain their activity.
The Federal Aviation Administration, Drug Enforcement Administration, U.S. Air Force, and U.S. Army Forces Command have all said they do not have information about the aircraft. Law officers haven't been able to get answers, either.
"It's definitely unusual activity," Brueggeman said. "That's what we're investigating and trying to get to bottom of: What is the origin of the flights or the purpose of the flights?"
He doesn't think the drones are violating local laws, he said, though he wasn't sure about federal aviation regulations. His office did contact the FBI on Tuesday, but he couldn't say whether its agents were investigating, too.