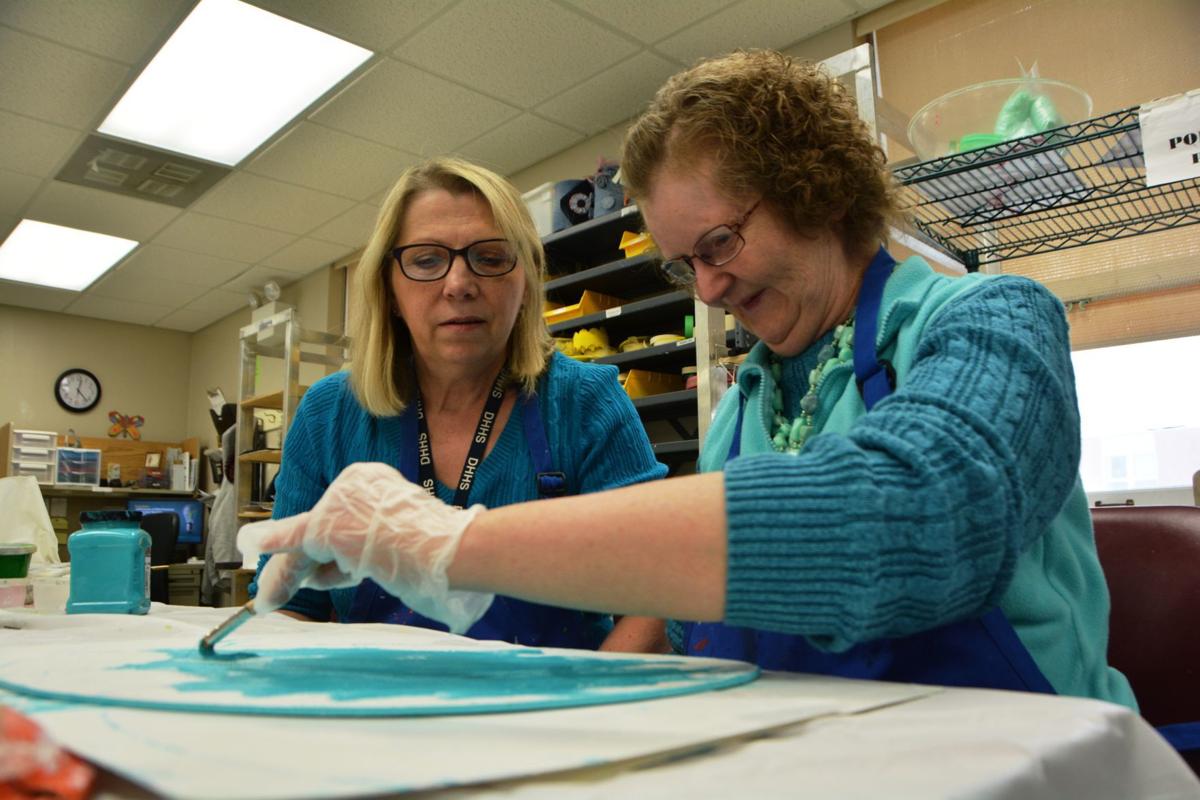 BEATRICE — The majority of the 109 individuals who live at the Beatrice State Developmental Center have a job to do.
Whether it's cleaning, performing assembly for local manufacturers or holding a job at Beatrice businesses, BSDC residents stay busy.
Based on their age, health and life goals, BSDC residents are able to find a job that allows them to develop their abilities and marketable skills, helping them be as independent as possible.
"A majority of our folks are employed," said Corina Harrison, BSDC's interim facility administrator. "Usually, if they're not, it's because they've hit retirement age and they just want to do their leisure activities, just like any of us would."
While the U.S. Department of Labor allows employers to pay workers with physical and mental disabilities less than non-disabled people, that's not the case for BSDC. Every BSDC resident with a job is paid minimum wage for the work they do, Harrison said.
Bear Creek Gifts on the BSDC campus employs more than 20 percent of the center's residents, with 20 employees working in the studio. They paint signs, put together original art, create pottery and make wall hangings.
If it would look good in your living room, they probably make it.
The employees of the Bear Creek Gifts studio are professional artists and they take a lot of pride in their work, said James Bush, an active treatment program specialist at BSDC who also runs the shop.
"We're always looking for new products that the individuals can take part in," Bush said. "The thing is with it, too, it's not just an art project, but it also has to be a marketable product. So that's where bringing it in as employment ties in to the art side of it."
It's not a gift shop, he said, which he thinks surprises a lot of people who come through. They don't sell things you can find anywhere else. Each of the pieces is a one-of-a-kind work of art.
There are slumped bottle spoon rests — made from old wine and soda bottles melted in a kiln — decoupage magnets, flower pens, doormats and University of Nebraska decor.
How well the Nebraska stuff sells depends on how well the Huskers do, said Pat Sookram, an active treatment program specialist who runs the studio side of the operation.
"That goes with the season," she said. "Hopefully, they do well this year and we'll sell more."
A big focus is on keeping up with the seasons. In preparation for spring, Linda Free and Debbie Brown were painting some upcoming pieces. Free has been working on a cutout of a mason jar that will soon have a quote or saying on it, while Brown has been painting Easter eggs.
Each of the shop's employees works as long as they're able to and on whichever product they enjoy making most, Sookram said. Sometimes it's painting, sometimes it's pottery, sometimes it's decoupage. It's all based on the employee's skill level, endurance and interest, she said.
Typically, workers come to the studio for two-hour shifts a few times a week which, in addition to helping with their skill set, it offers an escape from the norm, she said.
"It's something for them to look forward to," Sookram said. "Because it is something different than what they have in the normal routine of their day."
Looking at the price tags, it's hard to find anything that costs much more than $10. From framed pencil drawings by BSDC artist David Courtney to the hand-thrown, kiln-fired pottery and even ground coffee, everything in the shop is remarkably affordable.
Almost everything in the shop is made from recycled, re-purposed materials, Sookram said. Nearly all of their supplies are donated by BSDC workers and the public, and, if the residents can use it, they'll make art out of it.
Filling the shelves is important, Bush said, and they try to keep up with trends and are well-versed in finding inspiration on Pinterest, but if it's something that would take too much staff involvement, they won't do it.
"We make sure that it's something that the individuals are doing the work," Harrison said. "It's not a staff project, it's truly the individual's project and it's truly their work."
BSDC prides itself on integrating residents into the community, Harrison said. They're out interacting with the public and attending various events around town. Bear Creek is just one way of trying to get the community to return the favor, Bush said.
"We're always trying to get our individuals out into the community to take part in activities," Bush said. "This was a way of the two-way street of bringing people back onto campus and to be comfortable coming to see it. It's just a part of the community."