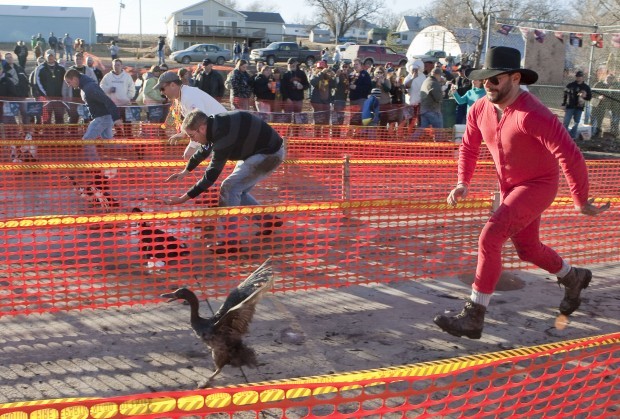 Thirty-three years ago, two guys sat in an Avoca bar and had an argument something like this:
"My duck's faster than yours!"
As happens with arguments that start in bars, the men hauled their ducks to a farm pond and raced. Who won isn't important.
What matters is  that race evolved into the Avoca Quack-Off, one of Nebraska's quirkiest -- or quackiest -- winter events.
Last year, more than 1,000 people came to watch and compete in duck races. Avoca, population 240, is about 32 miles east of Lincoln.
"It's just a heckuva lot of fun," said David Seay, who has lived in Avoca since 1990.
People come by the busloads from Omaha, Lincoln and other towns. Last year, there were more than 40 buses, Seay said. Many bus trips are organized by bars.
To get into the spirit, some people dress up in duck costumes or other duck-related apparel to cheer on their favorite fowl.
You have free articles remaining.
Local farmers raise the ducks, which are collected the day before or the morning of the event and held in a cattle trailer until race time, Seay said.
This year's 33rd annual Quack-Off will be  Saturday. Contestants can register their own ducks or rent  ducks from 10 a.m. to noon at the town hall. Races start at 1 p.m.
This year there will be a beer garden and hog roast, t-shirt sales and other merchandise available. People are advised to dress warmly because the races take place outdoors on tennis courts. Saturday's high is forecast to reach 30 degrees.
Here's how the races work: Five ducks compete in each heat. The winner advances to face other heat winners until a final race determines the Quack-Off winner.
There are no prizes, just bragging rights, Seay said, who noted that last year about 300 people signed up to race ducks.
So, what's the secret to picking the winning duck from the rent-a-flock?
"Get the one that's hardest to catch," Seay said. "That will be the fastest."
The event is a fundraiser for the Avoca Volunteer Fire Department. Last year, the department raised about $12,000 to buy and maintain equipment, said Janine Cruz, a longtime resident.
So what is the secret to the Quack-Off's staying power over the years?
"I think it has a lot to do with it being crazy cold in Nebraska and everybody wanting something to do as a break in the winter," Cruz said. "In the summer, people have county fairs … and camping. In the winter, there's nothing to do."
Cruz recalled that one year a Minnesota couple got engaged at the Quack-Off. They went back home, got married and came back the next year with cake to share.
Avoca folks thought that was just ducky.