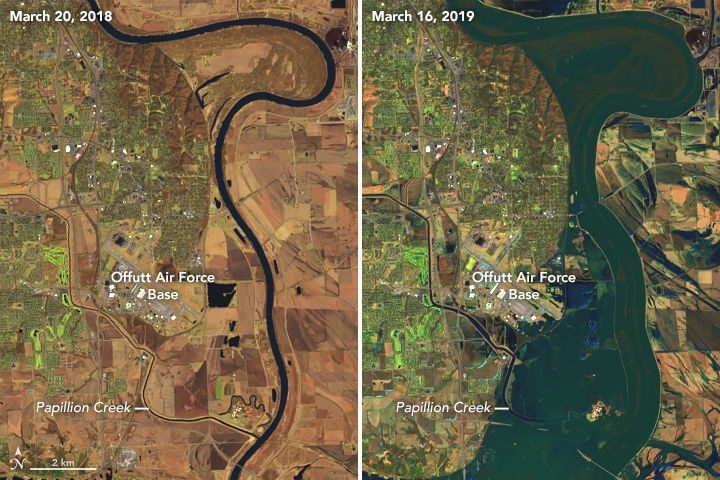 Climatologists at the University of Nebraska-Lincoln scheduled a statewide climate summit weeks ago, when much of the state was still buried under snow and bracing against frigid temperatures.
Then a bombogenesis, meteorologists' term for the rapidly forming inland cyclone that pushed warmer air across Nebraska, hit quickly, melting the lingering snow.
As it churned eastward, the storm dumped more precipitation than the soaked land could manage, leading to devastating floods that have caused an estimated $1.3 billion in damage in Nebraska alone.
While Thursday's summit at Nebraska Innovation Campus was called to discuss the Fourth National Climate Assessment, and particularly what it says about Nebraska, the catastrophic flooding that still has a hold on many parts of the state was never far from the conversation.
Doug Kluck, a native of the Columbus area who now leads the National Oceanic and Atmospheric Administration's central region in Kansas City, said rising global temperatures will create conditions where catastrophic weather events such as this month's flooding are more common.
"This was all written before the flood," Kluck told those in attendance, "but you'll see some things in there that will lead you to believe this kind of event may be more likely in the future."
Worldwide, the average temperature has been recorded at levels about 1 degree warmer than a century ago, Kluck said.
While that might not seem like much, the warmer temperatures have injected more moisture into the atmosphere, leading to a 25 percent increase in what meteorologists consider "heavy precipitation events" in Nebraska between 1958 and 2016.
Continued warming, as is projected in current climate models, is expected to increase precipitation 10 to 20 percent over the next century, specifically in winter and spring months, Kluck said.
Temperaturewise, the result could mean considerably more days of 90-degree temperatures and fewer days of 30-degree temperatures each year, on average, which climatologists said will alter the state's ecosystem and agriculture industry.
Barb Mayes Boustead, a former member of the National Weather Service in Valley who now works at the office's training center in Norman, Oklahoma, said changes to the average temperature, even by a degree, "shifts where the extremes go, too."
Global temperatures are projected to rise by an average of 4 degrees over the next century if carbon emissions, driven largely by the burning of fossil fuels, remain at current levels.
The resulting warmer temperatures may mean hotter summers, Boustead said, but it will also result in fewer cold outbreaks that kill off pests or diseases, particularly in large agricultural states.
Invasive plant species or pests once prevented from spreading into Nebraska by chilling winters may not be deterred in future years.
And as the climate changes, snowpack in the Rocky Mountains will melt earlier each year, filling Nebraska's rivers and streams at a time when more precipitation is already expected.
Nebraska farmers could, as a result, see fewer workable field days, delays in planting and more years requiring re-planting, as well as problems with soil capacity or drainage.
The "confluence of the worse of these factors together" is something Nebraskans in certain parts of the state are seeing right now, Boustead said.
You have free articles remaining.
She cautioned, however, against using the historic flooding this month in Nebraska as proof on its own of the changing climate.
A baseball player who hits a home run might not be suspected of taking performance-enhancing drugs, but if that player increases his batting average and begins hitting longer home runs more often, suspicions may be raised something is wrong.
It's the same with the intensity and frequency of extreme weather events, she said: "That pattern becomes climate change showing itself."
Kluck said while most people are concerned with their local weather, they should also be aware of what's happening globally.
The average temperature across the U.S. for February showed a nation enveloped in the frozen grips of the polar vortex, but globally, the average February temperature was among the five warmest on record.
Globally, the period between December and February was one of the warmest winters recorded since 1880, Kluck said, and 2018, as a whole, was the fourth warmest year on record.
Al Dutcher, the associate state climatologist, said global temperatures trending upward for decades do not preclude a year — or decade — of apparent cooling in smaller regions.
Although the average February temperature in Nebraska has been cooler in recent years, Dutcher said that trend would need to continue for another 50 years or more in order to offset the total average temperature increases as observed in the state since the 1890s.
That's not likely to happen, he said.
Dutcher said using the long- and short-term data, Nebraska municipalities should be considering ways to mitigate the extremes in the state's weather.
Natural Resources Districts in Nebraska are already doing that, said John Berge, general manager of the North Platte NRD in Scottsbluff, through groundwater management techniques and managing infrastructure to prevent loss of life and property in the event of extreme weather events.
Berge said two events in recent years in which 7 inches of rain fell over a short time — both considered 1,000-year events — have begun to show the limits of planning and preparation on the micro level.
The pair of rain events in consecutive years overran the Yensen Drain Dam in south Scotts Bluff County, which helps collect surface water running off a 40,000-acre area, and caused the cement structure to buckle.
"We had to go back and recalibrate the whole thing," Berge said of a $1 million project for an agency whose annual budget totals about $6.5 million.
While they were able to make the repairs to the Yensen Drain, a series of nearly 50 other drains either built before the NRD was formed or still owned privately, are in danger of failing, raising the risk for losses to life and property, Berge said.
Neither the North Platte NRD nor the local maintenance committee that manages the drain system has the funding in place to address up to $30 million in infrastructure needs as the rains grow heavier.
Berge said its time for the Legislature and Congress — those who shape policy solutions at a macro level — to follow the lead of local agencies in discussing the impacts of climate change as well as how to mitigate natural disasters from becoming man-made disasters.
"We're having more extreme droughts, we're having more extreme rains, we're having less frost days," Berge said. "We can either figure out a way to mitigate those different factors of what I call climate change, or we don't. If we don't, we run the risk of not being able to see through to the next day."
Latest flooding, cleanup photos and videos