The floodwaters that swept through Kearney on Tuesday, forcing hundreds of travelers and conference attendees from the city's hotels and leaving two mobile home parks under water, pushed onward Wednesday.
Thirteen miles to the northeast, along U.S. 30, the residents of Gibbon braced themselves and prepared. They filled sandbags and moved equipment from the city's shop on the north end of town. 
Many residents who'd learned a hard lesson four months earlier packed up and left this time.
"It wasn't their first rodeo," said Buffalo Emergency Management Director Darrin Lewis.
Historic floods that swept through Nebraska in March inundated the northern part of Gibbon, and on Wednesday the floodwaters returned in force. 
The fire department — and a host of volunteers — filled about 1,000 sandbags on Tuesday, and because the city shop is located on the north end of Gibbon, city workers moved much of the heavy equipment they'd need to the south.
This time, they had a better idea of where the water would flow and could be better prepared, said City Administrator Chris Rector.
And because more residents left Tuesday as waters from the Wood River threatened to overflow, fewer families had to be evacuated this time, he said.
"Some people have not even quite moved back in yet and it flooded them again," he said.
By late Wednesday afternoon, water had risen to the booths in Mary Chuy's — again.
Four months earlier, floodwaters caused nearly $25,000 to the Mexican restaurant on the north side of town that Maria and Bernardo Trevino opened about seven years ago about 75 feet from the river's banks.
"It's just devastating," said Yesenia Arias, their daughter. "It took us two months to recover the first time. Who knows how long it will take to recover this time?"
They'd tried to prepare Tuesday, putting plastic around the whole building, moving the food and as much equipment as possible to another location and raising the remaining equipment as high as possible off the ground.
The first time, they had stayed, making tortillas until the water rose so high it forced them out. The community came to their aid — raising about $14,000, Arias said. That, plus what little their parents had managed to save, allowed them to remodel, buy new equipment and reopen in May.
This time, Arias watched the water rise from images from a surveillance camera in the business and worried they wouldn't be able to reopen — at least not in that building. 
You have free articles remaining.
South of the railroad tracks that divide the town, Manual Portillo's family restaurant, Dona Mary, was still dry Wednesday afternoon, though he and his family had evacuated their home earlier in the day.
He fed a host of volunteers free enchiladas after they helped put about 100 sandbags two layers high outside his and other businesses along the street.
As Gibbon battled the floodwaters that moved west after up to nine inches of rain fell in storms that struck Buffalo, Dawson, Frontier, Gosper, Kearney and Phelps counties on Monday night, Kearney officials scrambled to recover. 
The rains that flooded parts of Kearney Tuesday morning did significant damage to the city's bustling tourism business.
"It happened so fast you couldn't even get sandbags," said Roger Jasnoch, executive director of the Kearney Visitor's Bureau. "If you were walking, the water was following you up the sidewalk."
The Younes Convention Center, along with event space at the Holiday Inn and Ramada Inn, was flooded, along with eight to 10 hotels on the south end of town.
Between 400 to 450 hotel rooms were out of commission, and many hotel guests moved to the University of Nebraska at Kearney, which opened a residence hall to more than 250 people who needed shelter.
The flood caused the cancellation of the Miss Basketball Showcase scheduled for this weekend, as well as another conference bringing about 700 people to the Holiday Inn, which had 3 to 5 feet of water on its first floor Wednesday, Jasnoch said.
The conference and convention space draws about three groups a day — including weddings and other events — and Kearney officials spent much of Wednesday trying to figure out how to best accommodate everyone. Some of those businesses were still without power Wednesday afternoon.
Tourism generates well over $115 million annually and employs about 1,600 people in the county, Jasnoch said.
On Tuesday, airboat enthusiasts helped evacuate hotel guests — and some got a ride out in the bucket of a front-end loader.
On Wednesday, many were making their way back to get their things from their hotel rooms and see if their cars would run. About 40 hotel guests took a bus to Lincoln to rent cars, Lewis said.
In other areas, the floodwaters caused one death. Shelly Masoner, 46, of Eustis, died Wednesday from injuries she suffered on Tuesday when her car encountered floodwaters on Nebraska 21 south of Cozad, rolled into a ditch and filled with water.
In Gibbon, Rector hoped the floodwaters would crest soon — though officials kept pushing back the hour they thought that would happen.
"I hope it quits," he said.
Photos, video: Central Nebraska flooding
Alda roads
Superior flooding
More Superior flooding
Flooding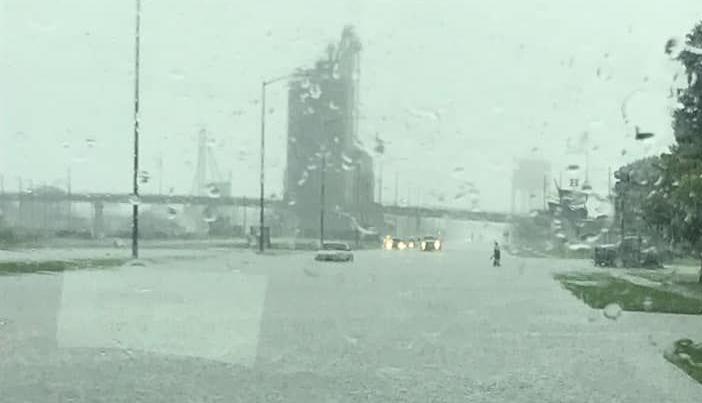 Sapp Bros.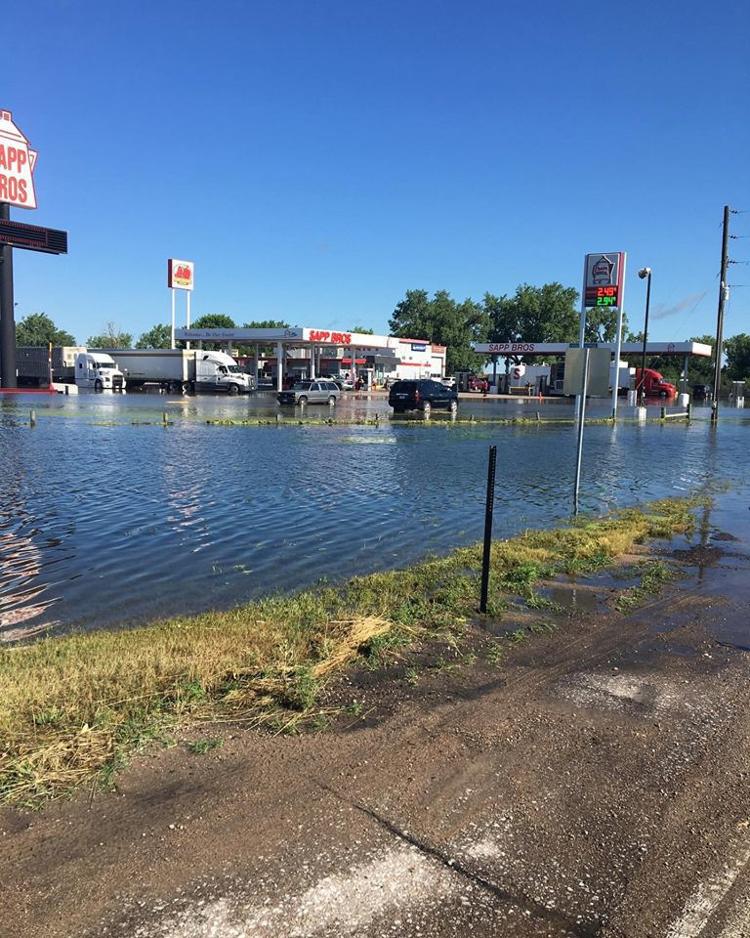 Lexington area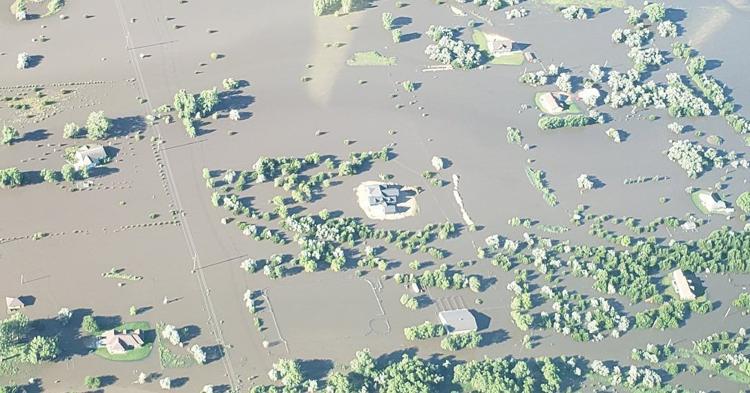 Lexington flooding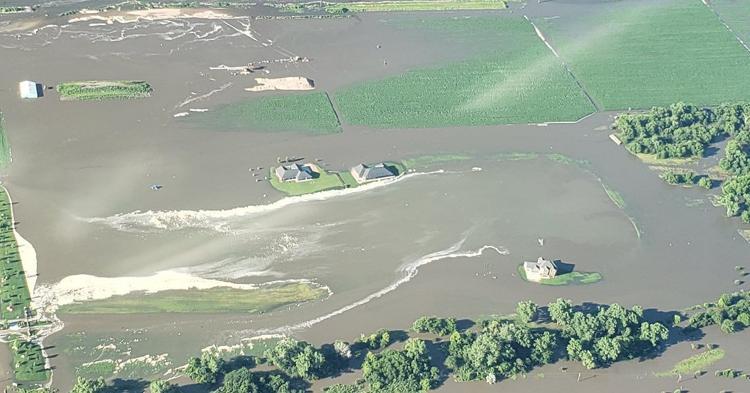 Lexington flooding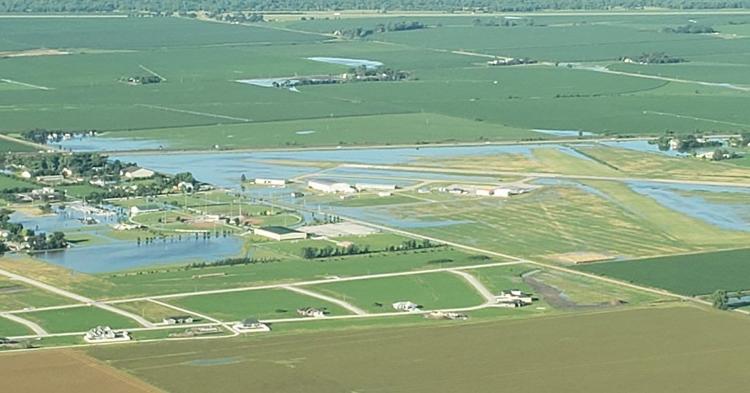 Darr interchange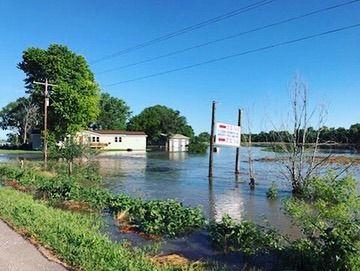 Oxford flooding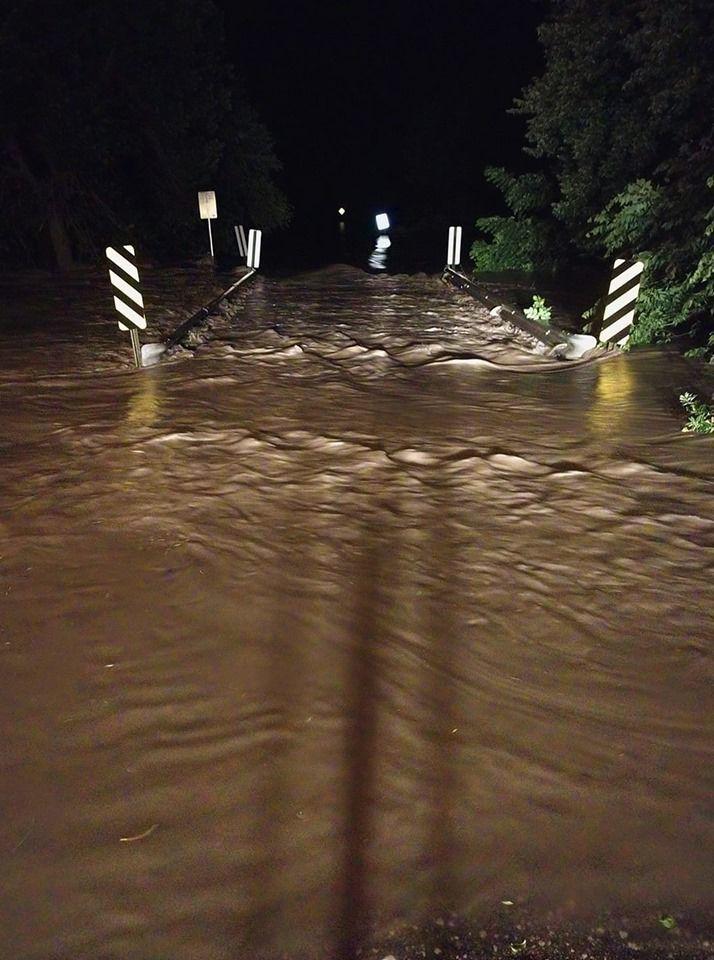 WATCH: Heavy rains cause flash flood chaos in Nebraska
Kearney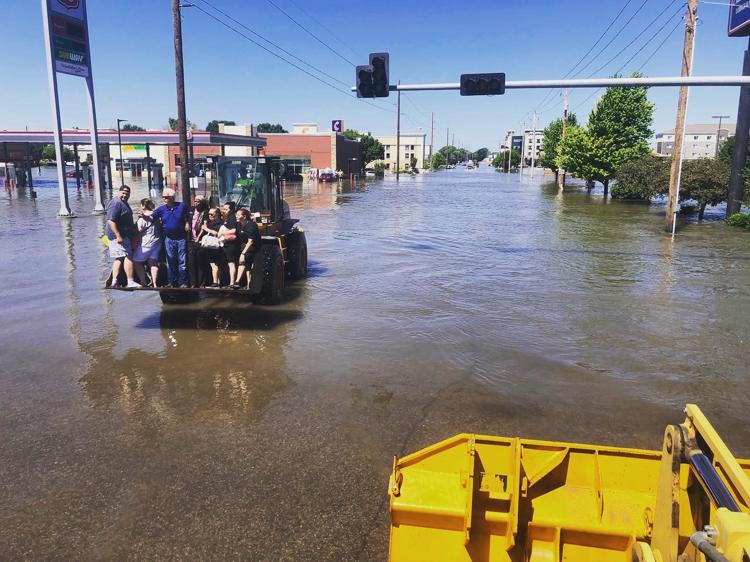 Kearney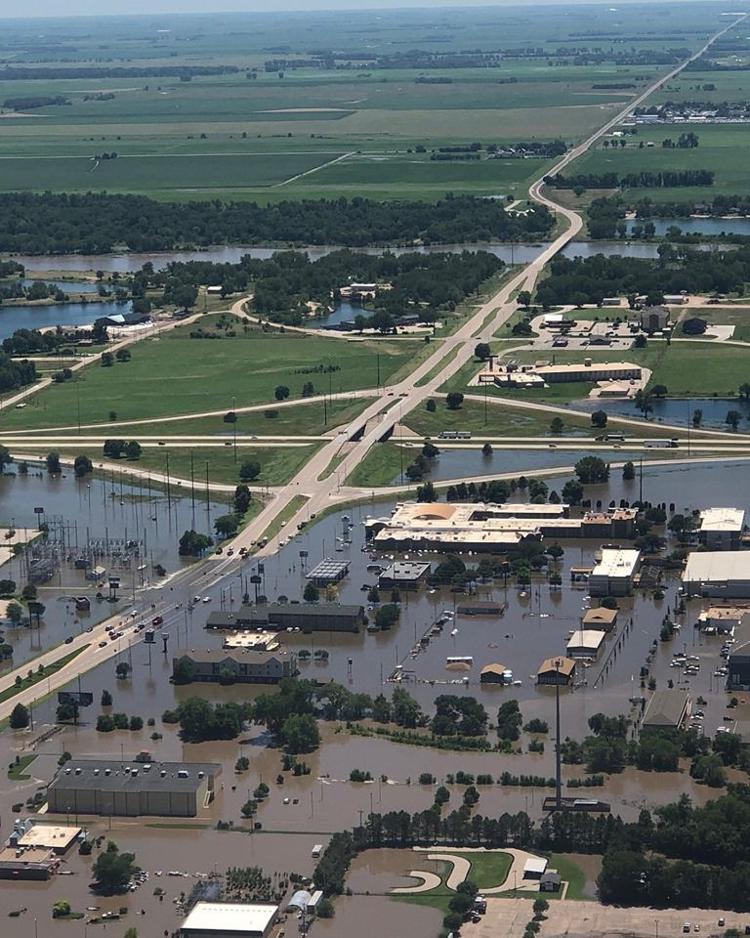 Dawson County water
Video: Kearney flooding
NSP views from light armored vehicle
Looking for stranded pets
NEMA on job
Nebraska Emergency Support Function representatives received a brief in the State Emergency Operations Center and on a conference call about flooding in south central Nebraska following up to 9.5 inches of rain overnight. pic.twitter.com/z7H0IJHGlY

— NEMA (@NEMAtweets) July 9, 2019
Train derailed after railing washed out
Light armoed vehicle in Kearney
Kearney flooding Wednesday morning
Sandbagging in Superior
Kearney flooding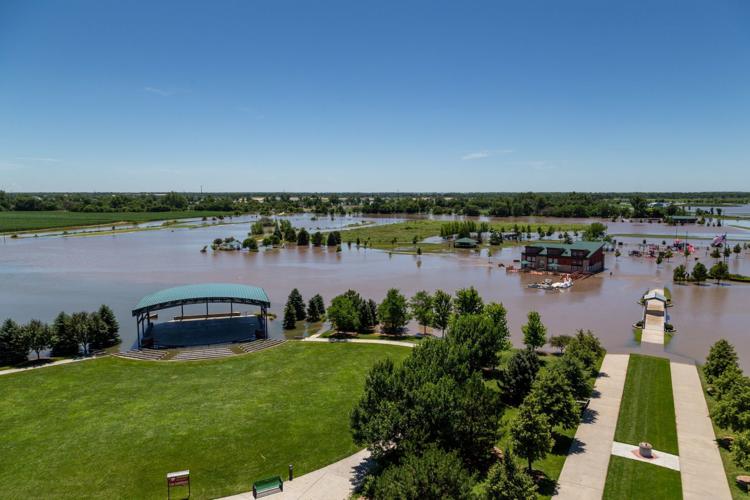 Kearney flooding
Kearney flooding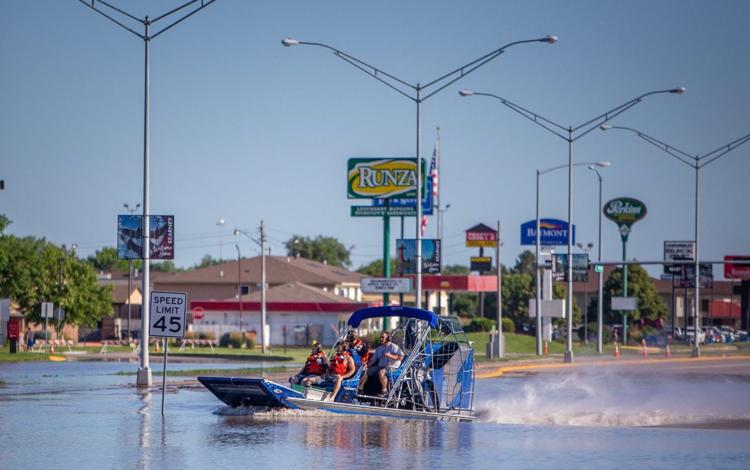 Kearney flooding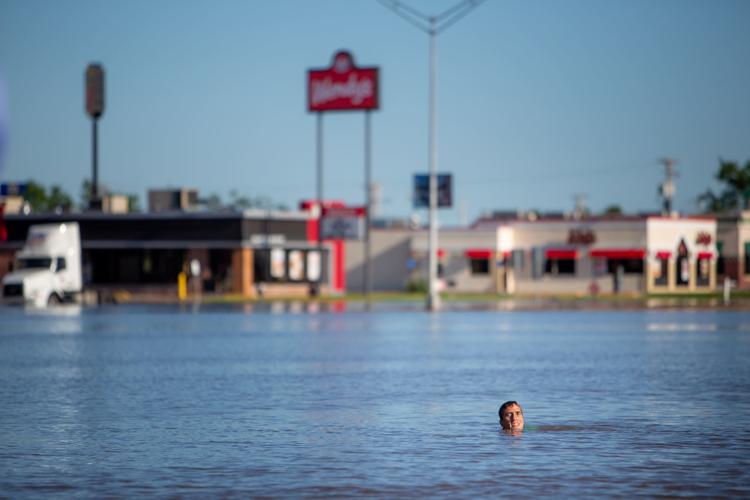 The Associated Press contributed to this report.