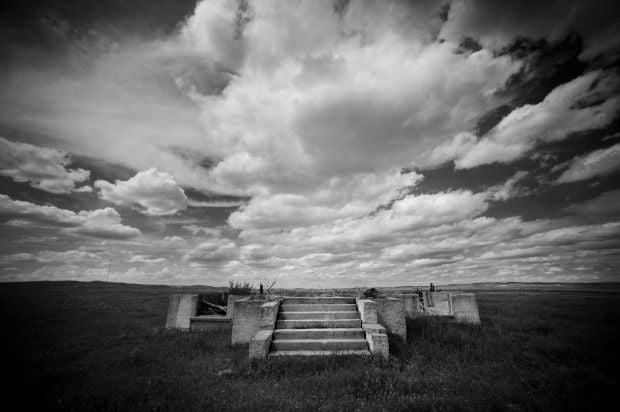 BROCKSBURG -- Only sparrows and mice still attend the old school.
It hides in a pocket of the Keya Paha River valley in far northern Nebraska. Most who speed past on Nebraska 137 miss the building, shrouded in late-day shadows and tangles of trees.
They'll never know they just drove through Brocksburg, a Nebraska community that faded from the map like paint on the school's wood siding.
But at least one Brocksburg resident found her way back. In 2001, she walked inside and with a delicate cursive left a bit of graffiti on the chalkboard.
Irene Leetch Welch, student, 1916
No historical markers tell about Brocksburg. No kiosks or brochures help out a curious visitor. Cellular signals fail to penetrate the valley, so Googling on a smartphone is not an option.
So you stand inside and let your imagination fill the space and sketch the story. You hear school children reciting multiplication tables and the Pledge. You see them smile and frown, misbehave and raise their hands as straight as yardsticks.
Then you look back at the front door, half expecting the teacher to walk in.
You feel like an intruder.
You're a flesh-and-bone voyeur at ghost school.
The 2010 U.S. Census says Nebraska has 530 incorporated cities and villages, ranging in population from 408,958 (Omaha) to 1 (Monowi). Obviously, the census doesn't count ghosts.
It's hard to say how many settlements once dotted the Nebraska landscape. A review of census records indicates incorporated municipalities peaked at 536 in 1950. But the census never tracked dozens of unincorporated places that exist now only in lore.
Communities with names such as Spring Ranch, Jim Town, Minersville, St. Deroin, Antioch, Dunlap, Amboy, Nonpareil, Opportunity, Mars, Venus and Xenia.
Most emerged, however briefly, at a time when Nebraska's population was predominantly rural. The Homestead Act of 1862, which gave land to those willing to live on and farm it, likely brought more settlers to the Nebraska prairie than would have arrived without that incentive.
As a result, numerous towns were sown to support farm families, who lived two, perhaps four, to a square mile. In the days of horse-and-wagon, towns were roughly spaced so farmers could make a round trip in a day.
Railroads also heavily influenced town development, said James Potter, senior research historian for the Nebraska State Historical Society. Trains needed places for depots, and steam engines needed water supplies along the tracks at regular intervals.
If towns sprang up like sunflowers, they were winnowed by a relentless population migration spurred by the Great Depression of the 1930s.
"Even before the Depression, the automobile started to make a significant impression on Nebraska life," Potter said, adding that increasing car ownership sped the development and improvement of roads.
Motorists suddenly could skip the nearest town and sell eggs and cream for a better price in a bigger place. Faster transportation meant access to more and different opportunities.
Cream and eggs were two economic staples at the store in Venus for years, said Burnell VonSeggren, who grew up in the former community in southwestern Knox County. His parents operated the store from 1952 until his father died in 1978. By then, most folks in the area were already gone.
Now, leaning posts threaten to drop the store's veranda roof while rusted nails protrude from facia boards. Chunks of plaster lay shattered on the floor, exposing ceiling lathe like ribs through a gaping wound. Clearly legible hand-written receipts litter the floor.
"The memories are here," VonSeggren said as he looked at the store. "But there's not many of us left who have a connection to that generation."
Perhaps even fewer than he thinks.
In 1900, for example, only four in 10 Nebraskans lived in the state's 15 most populous counties. By 1950, the proportion of residents living in urban counties was a bit over half. Today, three out of four Nebraskans are urbanites, said David Drozd, census data specialist with the Center for Public Affairs Research at the University of Nebraska at Omaha.
We tend to associate ghost towns with bust cycles, but for some communities, the bust has been playing out for decades.
For example, a village must have at least 100 residents to become incorporated, although it retains the status even if it falls below the threshold. The 2010 Census found 100 villages with fewer than 100 people, which is nearly one in every five towns in the state. Forty of them have populations below 50.
The village of Gross in Boyd County represents an extreme example. Gross' population once peaked at 325. In 2010, it was 2.
"It's kind of a vicious cycle," Drozd said. "Once people move out, you don't have the births. The places are just kind of doomed to experience population loss."
Could better commodity prices attract more young farmers to the countryside? Can small towns stop the losses?
It's hard to say, but demographers and data analysts have seen little evidence of it.
Yet they shall try to project the future.
Meanwhile, Carol McKenzie likes to glimpse the past.
She and her male companion enjoy few things as much as exploring Nebraska off the beaten path. When they have free time, they climb into a pickup and drive, stopping at rural cemeteries and ghost towns they encounter.
Corn fields or pastures have reclaimed many of them, although she sometimes stumbles across building foundations, an abandoned house or a church still looked after by locals. She loves to stop at the one-room, stucco schoolhouse north of Spaulding where she attended kindergarten.
While the 69-year-old York woman knows little about most ghost towns she visits, she can't help but feel a connection to them. Perhaps it's a yearning for a time when more people moved slower, and every town bustled and thrived.
"It's just like they come alive," she said. "When I'm in one of those little towns, I can picture the horses and the buggies and the people sitting in the churches. It just comes alive."