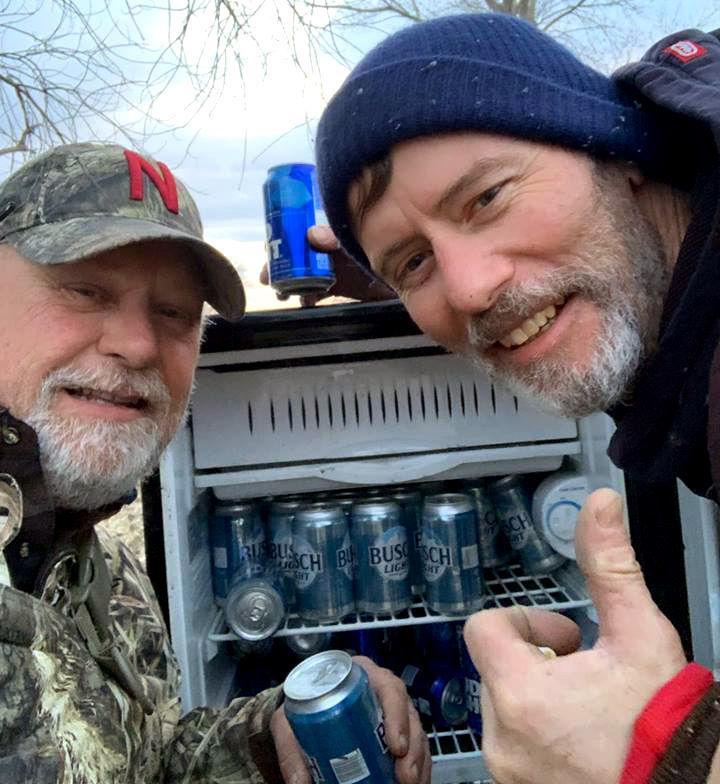 By sunset Sunday, Kyle Simpson was wrung out from a full day of cleaning mud and muck from his property on the Platte River.
Now he and his friend had to walk more than a mile in chest waders to get back to their car, dodging debris and ice chunks and washouts in waist-high floodwater.
A perfect time for a cold beer.
And that's when his friend, Gayland Stouffer, saw what looked like a refrigerator.
It was on its back, about 50 yards from what remained of the road near Linwood in Butler County, a small tangle of debris wrapped around it.
Stouffer investigated. Simpson was skeptical.
"He says, 'Hey, this is a refrigerator.' And he opens it up and says, 'It's full of beer.'"
"And he reaches in and says, 'It's ice cold.'"
The refrigerator door had protected the Busch Light and Bud Light from the floodwaters, so the friends cracked a couple. Simpson took his first-ever selfie. And then they finished trudging back to their car, went home and became internet folk heroes.
By Tuesday, 18 hours after his photos were posted on the Facebook page Nebraska Through the Lens, they'd been shared 4,500 times and liked by 7,500 members. Nearly 300 people left comments, calling it a magic fridge, a pot of gold, a silver lining.
Nebraska is a small state, and it didn't take long for the fridge's owner to be found, and the fuller story to emerge.
Brian Healy saw the Facebook photos and thought it looked like the refrigerator from his family's cabin near Linwood. And then he saw the mix of Bud Light (what his father drinks) and Busch Light (what the rest of the family drinks). The ratio was right.
The magic fridge had now weathered a flood, and it had already survived a fire. After his parents' house burned in 2007, the refrigerator still worked but smelled like smoke, so they moved it to their cabin on the river.
"It's just a summer cabin, no heat to it," Healy said. "But it had a full beer fridge; you always got to have one of those."
Healy and his family spent the weekend in Schuyler, where they run a seed company. They filled and stacked sandbags to protect their warehouses, and they were humbled by the help they received from friends and customers and strangers.
"The flood sucks and everything," he said. "But I want to say how great everyone's been and how helpful everyone's been and how they came together and worked together."
They learned later their cabin didn't make it through the flooding. It was either torn apart by a tree or pummeled by ice chunks, the river dropping the cooler in a field nearly 4 miles downstream.
Simpson's drive from his home in Elkhorn to his cabin typically takes less than an hour. Closed roads and bridges stretched Sunday's trip to two hours. The walk from the car took a hard hour.
His cabin had survived. He'd built it on stilts. But several outbuildings — he runs a waterfowl hunting club and rents the property for family reunions — were swamped."We've been there a long time, we've been through floods, and this one by far is the worst," Simpson said.
And after a day of cleaning, the beer was delicious, he said. It also left them with questions. "It was a gift sent from the heavens, and we were happy to see it. But we hoped the people who lost the fridge were OK, we hoped their property was OK."
Simpson and Healy spoke Tuesday. Simpson promised to reunite Healy's family with the refrigerator, minus a couple of beers.