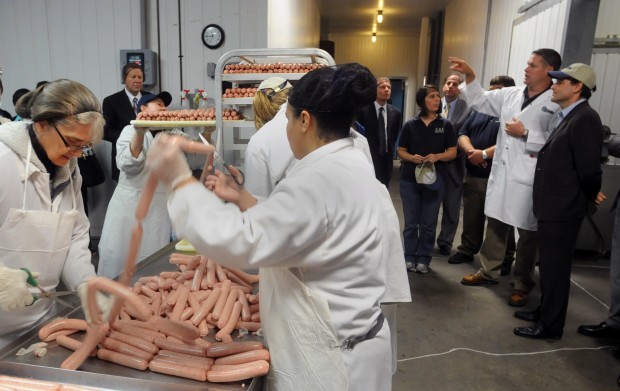 DILLER -- The Internet wasn't even available in his remote hometown near the Kansas border when Chad Lottman went into business in Diller at age 19.
In the 17 years since then, Lottman and his wife, Courtney, have made such a success of a high-speed connection with the Internet to market hotdogs, bratwurst, jalapeno ham sticks and other specialty meat products that they earned a visit Wednesday from the chairman of the Federal Communications Commission.
Julius Genachowski called the Lottmans' ability to do business with more than 7,000 customers as far away as Maryland "incredible" and said it "points out why high-speed Internet is so important in rural America."
The 36-year-old Lottman agreed. Without an electronic marketing system, "I would probably have moved on to somewhere else."
Genachowski came to Diller, population 300, with 2nd District Congressman Lee Terry, who is part of the Energy and Commerce Committee and part of the leadership on its Subcommittee on Communications and Technology.
Third District Congressman Adrian Smith and Nebraska Public Service Commissioners Tim Schramm of Gretna and Rod Johnson of Sutton also were part of a delegation that converged about 65 miles southwest of Lincoln to tour Blue Valley Meats.
The group of perhaps 25 also looked over the electronic gear at the Diller Telephone Co. that has allowed its management to offer underground high-speed service to Blue Valley and about 500 area subscribers.
Genachowski was so far from his home turf and so far into a rural setting that Diller Telephone President Randy Sandman made a joke out of covering the last leg of the trip in a van.
"I didn't get you stuck," he said with a laugh.
But Terry and the FCC official, who is finishing his second year as chairman of the five-member commission, arrived with a much more serious purpose in mind than traveling the back roads.
"People like Chad say they have dreams," Genachowski said, "and they have to go somewhere else. That's not a good solution for the country."
Terry acknowledged the risk of Internet providers making the investment to extend service into rural areas only to see their customers join the exodus to Lincoln, Omaha and more populated places.
But he said he takes a different view of closing what he called "the digital divide" between rural and urban areas.
You have free articles remaining.
"I look at the other side of the line," he said. "If you don't extend it," people who might be able to hold jobs tied to commerce in bigger places, without living in those bigger places, "don't have a choice. They have to leave."
A recent University of Nebraska survey showed that 76 percent of 2,900 respondents had some type of Internet service beyond dial-up.
The Public Service Commission is advocating for the state to get its share of $350 million made available with the federal Broadband Improvement Act of 2008.
Lottman said he was lucky that the Diller Telephone Co. made an aggressive push toward broadband access at the same time as he was trying to expand.
That allowed him to base his growing business in the same place where his grandmother once ran a local restaurant and where his father and uncle operate Lottman-Carpenter Construction.
Among other things, his high-speed link allows for an accelerated ordering system. The Web home page he established in 2002 makes his presence known to people who might never have visited Nebraska, let alone Diller.
As demand for products sold under the Blue Valley, Pony Express Ranch and other labels has grown, the Lottmans have opened a satellite business in Beatrice and boosted their payroll from seven full-time and four part-time workers in 2002 to 22 full-time and eight part-time employees now.
Much of the meat-processing team was busy with a bratwurst order Wednesday.
The Blue Valley president also has been able to reach out electronically to people who want him to process their pork, beef and venison after it arrives on the hoof.
One customer is from Steamboat Springs, Colo. "He literally hauls live animals 10 hours to get to us," Lottman said.
Lottmann is going to need more bandwidth and more employees to keep up.
"Just last week, we had a potential customer drive six hours from Iowa," he said.
Genachowski posed for a group picture in front of the outdoor cooker where Lottman was preparing a lunch of bacon-wrapped filets and spare ribs and then took a few questions from the media.
He said 20 million to 25 million Americans don't have access to broadband service, and only 67 percent of those who do have made the connection, either through underground or a wireless provider.
"Both sides," he said, "are not changing fast enough."