The strangers looked like trouble, even from a distance.
Their Ford was too new, too nice, to be cruising the soft dirt road of rural western Boone County; their city clothes and dress shoes ill-suited for the edge of the Sandhills.
So the locals were suspicious. A rancher checking his fences saw the pair and, worried they might be rustlers, notified the sheriff. The men were gone by the time the lawman investigated.
They thought they saw the car again a couple of days later. A few farmers and ranchers gathered on a rise beneath a stand of cottonwoods, watching it from a distance.
One of the farmers held a rifle.
"And he said, 'These guys are not getting by us because we've been looking for them a long time,'" said Myron Norskov.
What happened next would change Boone County. It would tear a family apart and then, decades later, pull it together. It would make a stranger sob under the weight of new responsibility.
Norskov was 8 on that sweltering day in June 1937. He doesn't believe all of his memories now, but he trusts this one:
The farmer with the rifle told the boy's mother to go call the sheriff.
"I remember taking that ride with her down that road; it was two sand tracks with grass in between them, that's all there was for a road," Norskov said. "She took me down that road about as fast as I have ever traveled."
Others were trying to call Sheriff Lawrence Smoyer, too. But he wasn't home that morning. He hadn't been home since the day before, when he'd left to search for the strangers again.
The farmers and ranchers were still watching from the cottonwoods when the county attorney and a deputy pulled up.
"When those two guys got up there where these men were waiting for them, they looked down and said, 'You know what? I think that's the sheriff's car,'" Norskov said.
"And they went down there, all of them did, and they discovered what had really happened."
Roberta Duffy's father rarely talked about what happened to his own father. But then they'd be watching "Gunsmoke," and Matt Dillon would come on the screen, and her dad would point to the television.
"He would say, 'That's just what your grandfather was like.'"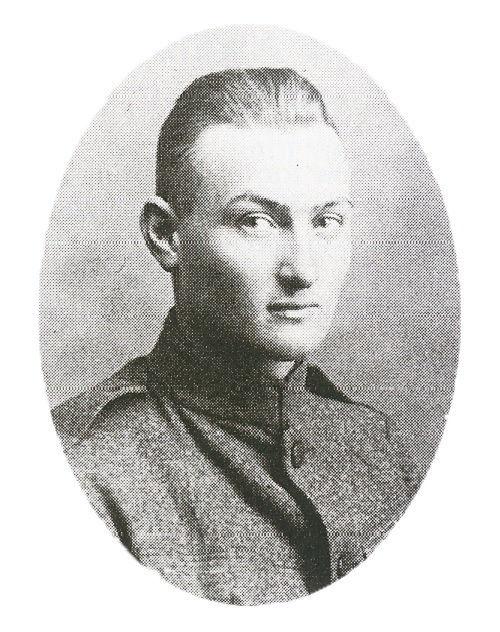 Boone County Sheriff Lawrence Smoyer was 41 in June of 1937, the husband of Lillian and the father of six.
Smoyer had already spent hours searching for the strangers after a rancher reported them but had returned to Albion empty-handed.
He was chasing another sighting a couple of days later, on June 17, when he drove back to the Akron area with Constable William Wathen, also a husband and a father of two.
"They get up there in the Sandhills and they go to a gate, and right beside the gate they discover what appears to be a little campsite," said Joe Yocum.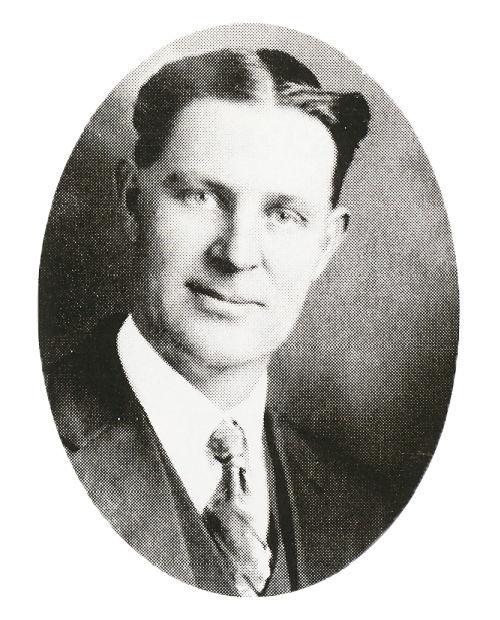 Yocum is the sheriff in Seward County, nearly two hours southeast of Albion. But he's spent hundreds of hours sorting through records and reports and interviewing old-timers to be able to tell this story. It's important to him, and to the relatives of Smoyer and Wathen.
He continues. "Just as they open up the gate, over the rise and toward the two lawmen comes this late-model sedan."
The cars approached each other and stopped in the sandy pasture. Smoyer climbed out, his revolver still in his shoulder holster. He never had a chance to pull it.
"Shots ring out and Smoyer goes down; he dies almost instantly. Wathen, as he gets out, he is shot through the hip. It takes out his ability to stand."
From the ground, the constable emptied his gun into the other car. It stopped, one of the men got out to strip the lawmen of their guns and keys, and then the Ford disappeared.
Wathen called out to Smoyer, on the other side of the car, but the sheriff didn't answer. The constable scribbled notes -- the other car's license, a description of what happened, a goodbye to his wife.
The silence and the heat would settle in, and the day would stretch on. "He was being attacked by grasshoppers and they were swarming all over him," Yocum said. "And they're as big as your thumb up there in Boone County."
Wathen's thirst would become so unbearable he would drink the ink from his fountain pen, Yocum said.
When they realized the car in the distance belonged to the sheriff, they all descended on the pasture -- the farmers and the county attorney and the deputy and 8-year-old Norskov.
"I walked around the sheriff's car and there were bullet holes in it, and I walked around it putting my fingers in the bullet holes," he said.
He remembers a lawman trying to make a cast of the Ford's tire track, but the road was too sandy to yield an impression. He remembers the sheriff's body being driven away in a stock tank on the back of a truck.
He thinks he remembers -- but he's not sure -- seeing Wathen waving to him from the back of an ambulance.
Constable Wathen lived for several more months, undergoing surgery in Omaha, but never fully recovering.
His grandson, Dorald Robinson, visited him in the hospital. "I remember one time I went up to see him, and there were these big, long, steep stairs I had to climb up. And then he was laying in his bed smiling at me when I came in," he said.
You have free articles remaining.
Wathen's death in October would always be hard on his daughter Mabel, Robinson's mother.
"She thought quite a bit of her dad," he said from his home in Wisconsin. "But she didn't say much about what happened."
In the days after the ambush, rural Boone County was on alert. "It was one of those deals where we were just in the middle of the Depression, it was just a sad time," Norskov said. "Nobody ever thought about locking the door, that was unheard of until this happened."
Smoyer's younger brother, Scout, was appointed to fill the sheriff's term.
The Ford -- which had been stolen in Denver -- was found days later in Wyoming, Wathen's bullet holes in the trunk. At the same time lawmen were running down leads, hundreds of people gathered for Smoyer's funeral.
Years later, the sheriff's oldest son would still pull out newspaper stories about it. "He would look at those papers a lot," his daughter, Roberta Duffy, said from her home in Virginia. "He would marvel that there were so many people at his dad's funeral."
That outpouring was also important to his daughter Juanita.
"She talked about the suddenness of losing him, not being able to say goodbye," said her son, Tony Kleibecker, a retired police chief in Michigan. "But the memory she talked about most was the hundreds of people who showed up for that funeral. I think to the day she died that had quite an impact."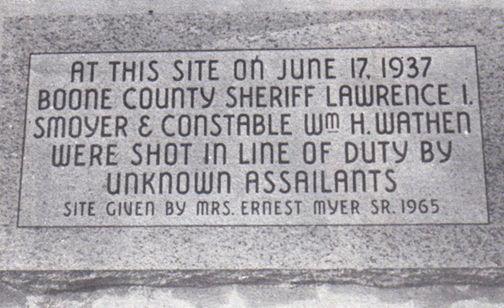 It was hard for his mother when he became a cop, he said. She'd lost her father in the line of duty, and she worried now about her son.
Kleibecker never investigated his grandfather's killing, but he did visit the scene of the crime.
"It's so desolate and so quiet and peaceful at the same time. You start thinking, 'How in the world could something like this happen here?'"
Seward County Sheriff Joe Yocum began researching Nebraska officers killed on duty a few years after Craig Dodge, a Lancaster County deputy, was killed in Hickman in 1987.
"I bought my first computer and started documenting who they were, what agencies they worked for," he said. "I've been trying to help remember them and make sure citizens remember the sacrifices of those officers."
By 1991, he'd compiled 75 files. Today, he's active in the Nebraska Law Enforcement Memorial and helps decide whose lives, and deaths, are eligible for inclusion. The memorial in Grand Island now pays tribute to 136 officers.
But the Smoyer and Wathen killings became personal. Years ago, he spent hours talking with Scout Smoyer.
He chokes up remembering how the conversation ended.
"He said, 'Joe, find the guys who did this.' When someone asks you to solve a crime that totally decimated their family and caused so much heartache, you don't give up."
After the ambush, officers had rounded up multiple suspects but became focused on two: Charles Doody and Marion Cooley.
Doody vanished. Cooley made it to California, where he turned himself in and confessed to robbing a bank at the same time as the Nebraska killings.
He served 10 years for a crime he likely didn't commit, Yocum said. But he was smart.
"If you admit you rob a bank in Colorado and there's no way you can be there and in Boone County, Nebraska, at the same time, you've got an alibi. He knew he could get the death penalty for shooting a cop in Nebraska."
When Cooley was released in 1948, the new Boone County attorney examined the 11-year-old case and deemed it too circumstantial, Yocum said. "He said, 'I can't prove this, and they let him go.'"
Cooley disappeared then, too, changing his name, starting a family and staying out of trouble.
But about three years ago, Yocum's phone rang. Someone claiming to be Cooley's son was on the other end.
"And he said, 'We believe my dad did it.'"
On Saturday, Boone County will honor its officers 80 years after they fell.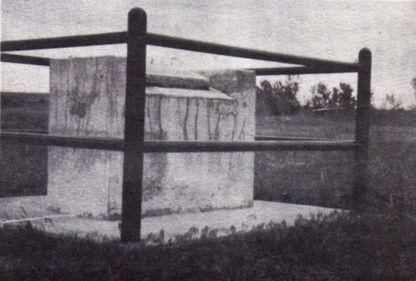 They'll dedicate a monument on the courthouse lawn and present a program about Smoyer and Wathen. Later, a caravan of four-wheel-drives will visit the pasture where the two were shot. The Akron Presbyterian Church will serve roast beef.
Despite the suspicion that Cooley was involved -- and Yocum's phone call -- the killings of Smoyer and Wathen remain officially unsolved. And Yocum will talk about his ongoing investigation at the event.
But the day will be as much about their lives as it is their deaths, said Mary Jane Noble, one of the organizers.
"We can talk all we want about the mystery -- and it is an unsolved mystery -- but these were two men of Boone County who had gone out to do a public service and were shot in the line of duty. So we want to commemorate them as two individuals, too."
They're expecting a couple of Wathen's relatives and more than 60 of Smoyer's -- from Utah, South Dakota, Ohio, Virginia, Maryland and Nebraska, turning this into a family reunion as much as it is a memorial.
Kate Mueller will drive up from Eagle. She never met her great-grandfather, but she remembers a field trip to the pasture, her classmates not believing she was related to the sheriff who died there.
"But my first-grade teacher knew my grandmother, so she stepped in and said, 'That was Kathy's great-grandfather.'"
Roberta Duffy will come up from Virginia to reunite with her cousins, and their kids, and their kids.
They're all still close, a good outcome to the bad thing that happened to her grandfather.
"The rest of the story is that all of his grandchildren will be there, and many of his great- and great-great-grandchildren will be there," she said. "That's what I think is his legacy. "