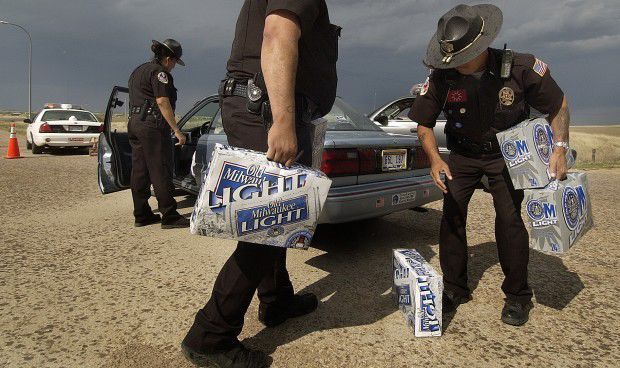 Ten people live in Whiteclay, but nearly 10 percent of calls to the Sheridan County Sheriff's Office during the month of April came from the tiny village that is home to four beer stores.
Activists fighting for change there showed the sheriff's log to members of the state Liquor Control Commission in Lincoln Tuesday. They say the state has failed to enforce liquor laws, and they want the stores closed.
Filmmaker John Maisch said the dispatch logs show the dozens of calls to law enforcement included alleged assaults, car accidents and a fire in Whiteclay.
"It's a snapshot of the conditions in Whiteclay, where four beer licenses have been issued," he said. "I don't think these four licenses should have been issued because existing licenses haven't been enforced."
Maisch and Winnebago activist Frank LaMere called on the commission to stop renewing the liquor licenses for the stores. The commission took no action on the request Tuesday.
Whiteclay has long been the source of divisiveness between activists who would like to see the stores closed and those who support their right to operate. The four sell nearly 4 million cans of beer a year, mostly to residents of South Dakota's nearby Pine Ridge Indian Reservation, where alcohol is banned.
Maisch said the Sheridan County Sheriff's Office dispatch logs show people called the sheriff's office on most days during April to report fights, unconscious people, sick people and public drunkenness. One caller reported a man lying in front of a building for a few days, although a sheriff's deputy later failed to find anyone.
Another caller reported some men in Whiteclay throwing rocks at a car after being refused money.
On April 26, a caller reported a large fire on the town's northwestern side. The sheriff's office responded by calling someone in Whiteclay to ask if they could see a fire, and the log never said whether the report was confirmed.
Maisch decried response times of as long as 3½ hours, but acknowledged the sheriff's office is 20 miles away in Rushville. He blamed the commission for allowing so many beer stores to operate in such a small town.
"Issuing four licenses creates an undue concentration of licenses in one area," he said.
Liquor Control Executive Director Hobert Rupe said Sheridan County officials have the right to cancel the liquor licenses for Whiteclay's beer stores themselves, though the state Liquor Control Commission would have to approve such decisions. However, Sheridan County officials have not attempted to cancel the town's liquor licenses, he said.
Sheridan County's population is about 5,500.
After his presentation, Maisch questioned commission Chairman Robert Batt about his demeanor, saying he appeared agitated.
The question prompted a heated exchange.
"Don't pretend to speak for me," Batt said.
"Unlike you, when I have something to say to you, I say it to your face," Maisch said.
Batt responded that Maisch had "no standing in this matter" and was "grandstanding" for the media and to earn profits.
Maisch then claimed Batt appeared to be cozy with beer distributors at a conference for alcohol regulators last September in Chicago. Batt denied receiving any financial advantage from alcohol regulators and called Maisch a liar.
"I think your actions have been shameful," Maisch said.
"Why don't you say it louder for the cameras?" asked Batt.