COLUMBUS -- Farmer and cattleman Bill Lehr is no stranger to extreme quantities of water. Actually, he experienced his first flood in 1947 when he was just a 6-year-old child living at his parents' rural Columbus home.
Now, the 77-year-old man owns that same land. Though there have been plenty of good years, there have also been some tough ones. Prior to March's natural disaster, there was the historic flooding of 1993 that ripped through his more than 200 acres and left massive amounts of damage in its wake.
Blizzards, hail, plenty of water — he has seen it all, but nothing compares to the most recent tragedy that left Lehr and so many other producers in Platte County grasping for straws regarding how to piece their lives — and livelihoods — back together.
"I've been telling people that this wasn't a flood, this was a tsunami," Lehr said on Thursday while navigating his red pickup around his battered property.
Lehr, the owner of the Lehr Inc., has about 4,000 head of cattle. The majority of his herd is stationed west of Duncan, but about 130 cows and 130 calves living on the rural Columbus property were either killed or not recovered.
"It washed out two feeding lines, washed out towers and damaged the wells," said Bill's son, Jeff Lehr. "About 40 acres is completely covered in sand."
As a result, Jeff and his dad won't be planting any corn this spring. The majority of that harvest, Jeff said, goes toward feeding their herd. Currently, lengths of fence around the property are being installed and repaired. Multiple-feet-deep sinkholes and washouts are still visible all over the property two months out from the flooding. One of his storage sheds has an approximately 20-foot tree running right through an exposed side.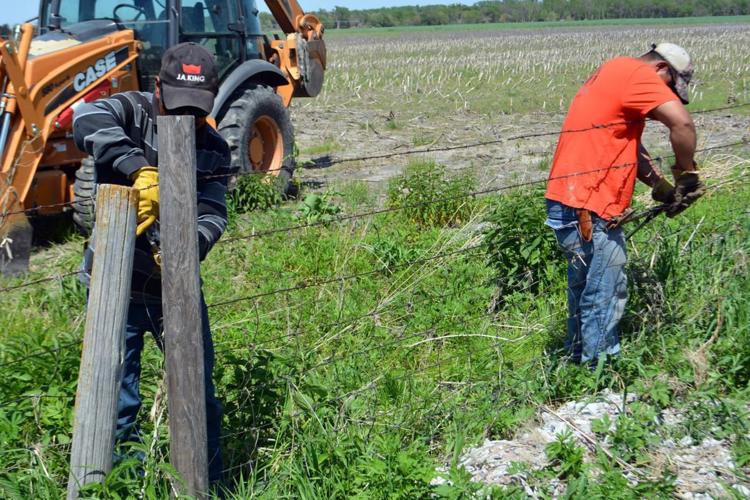 Lehr noted that he hasn't worked directly with the Federal Emergency Management Agency because the majority of the damage he sustained was to his farm ground, and FEMA individual assistance covers home and business damages. Jeff said he filed paperwork with the Farm Service Agency to hopefully secure some dollars to aid with the clean-up process.
"So far, I haven't seen nothing," Jeff said. "Basically you just had to sign up, and I don't know if they have actually come out with what they are going to do or not … you know how that paperwork is."
Not more than a few miles down the road from the Lehr farm sits the T-Bone Truck Stop, which is owned and operated by another Lehr, Bill's son, Lance. His business, he said, has been out of operation since March 13, when floodwaters really started picking up.
Lance is in the process of rewiring his facility -- it can't open until that is complete. He estimated that there is $500,000-$700,000 in damage to his property that will need addressing before his business can operate the way it did pre-flood.
"Truthfully, there is no real option," Lance said of a viable solution to receiving aid. "FEMA would offer you some sort of loan, but I have a local bank that I can already achieve that with. You are already established at your local bank, so why fill out two days worth of paperwork to get money from a different direction?"
Lance acquired the T-Bone Truck Stop after its previous owner was unable to — or chose not to — pump a sizable amount of money into restoring it following the 1993 flood. After sitting vacant for about five years, Lance secured the purchase in 1998.
While the damage is no doubt severe, Lance's proactive approach did save him some money in the days leading up the flooding. He salvaged all of the fuel from his pumps and transported it into several empty trailers on higher ground.
Although there are still leaps and bounds to be made with getting the truck stop functional, it will undoubtedly take even longer for Bill Lehr's land to recover. Many thoughts have crossed his mind during the seven weeks that have passed since the waters ran wild around his property.
He said he wishes the Loup River would have been dredged in the years leading up the disaster so that maybe not so much sand, silt and debris would have washed across producers' land. He has some frustrations and qualms with how the assistance process is going for his friends struggling around him. He wonders if anything could have been done to diminish the after-effects of the flood.
Living in the floodplain, and with his background dealing with Nebraska and its propensity for inclement weather, Lehr said he knew sooner or later that another flood would bring people in the state to their knees.
He just didn't know it would be like this.
"Think of the worst, and then just take it times 10," he said.