Ross Elwood spent a recent Sunday on a 1943 Farmall H tractor with a 7-foot sickle bar, cutting the weeds crowding the Cowboy Trail between Rushville and Gordon.
For 12 hours, the 70-year-old mowed both sides of the 15-mile stretch of rail bed he and others had already spent months clearing and cleaning. He crossed the three bridges they rebuilt. And he passed the nine benches dedicated to this group of volunteers who took the trail into their own hands when the state wouldn't.
And he'll likely do it two more times this year.
"We've gone above and beyond the call of duty to help," said Elwood, who owns Frontier Service and Supply Center in Rushville. "It's been quite an experience, and it's been fun, and it's been a lot of work."
And it wouldn't have been done without them, because the Nebraska Game and Parks Commission stopped working on the 321-mile Cowboy Trail when it still had 120 miles left to develop.
And it might not have been done at all if Kris Ferguson hadn't been hit by the only car on Nebraska 27 that morning six years ago.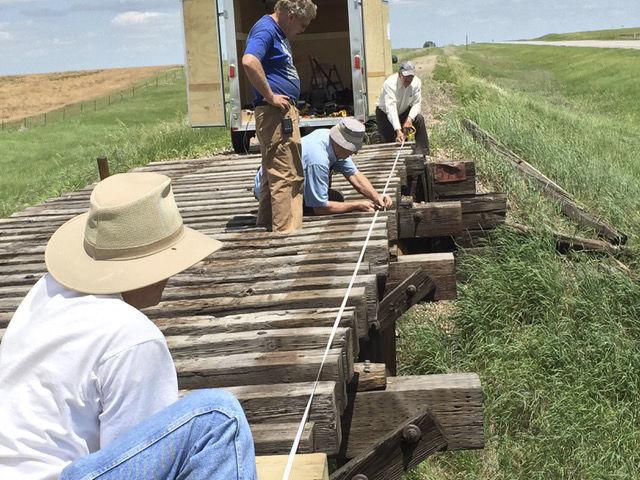 She was about five miles into a 25-mile morning bike ride south of Gordon in June 2011.
Ferguson had biked there before. The farmers and ranchers knew to watch for her.
"We're pretty rural," she said. "This highway has really no traffic, but that one morning there was one car and she (the driver) wasn't paying attention and she hit me."
The car swiped her from behind, breaking her arm and leg, bruising her lung, spraining her ankle. She broke off its mirror with her hip. "It looked like someone took a meat tenderizer to my backside."
She had time to think while recovering: She lived near the Cowboy Trail, so why couldn't that be a safe place to bike or walk?
"This is a missed opportunity," she said. "It's beautiful out here, and we don't have safe places to go."
The answer was, at the time, twofold: The trail was impassable. The state finished it from Norfolk to Valentine, but everything beyond was the wild west: The last stretch of the old Chicago and Northwestern Railroad to Chadron was still blanketed with broken ties and track trash.
And after the Game and Parks Commission spent about $10 million in federal funding to build the trail to Valentine, it wasn't going any farther.
"The first answer I got was, 'We are never building trail in Nebraska again,'" she said.
That was before Kirk Nelson became the Game and Parks administrator overseeing the trail, but it's about right.
"The decision was made before my time that that stretch would never get much use," he said. "I think Game and Parks decided we didn't want to take care of it."
Trying to maintain the first 200 miles is a challenge, he said. The commission routinely busts its $150,000 annual budget mowing, spraying for weeds and repairing bridges.
"The thing washes out, the bridges get flooded, we got cattle running down it," he said. "Anything and everything."
Game and Parks can provide guidance, grants and some materials, but not the time and attention the rest of the untamed trail needs. So completing the trail west of Valentine will require volunteers, he said.
Like Ross Elwood and Kris Ferguson and the rest of the group from Rushville and Gordon.
"It took local folks to stir the old government dog into motion," Nelson said. "And they did it."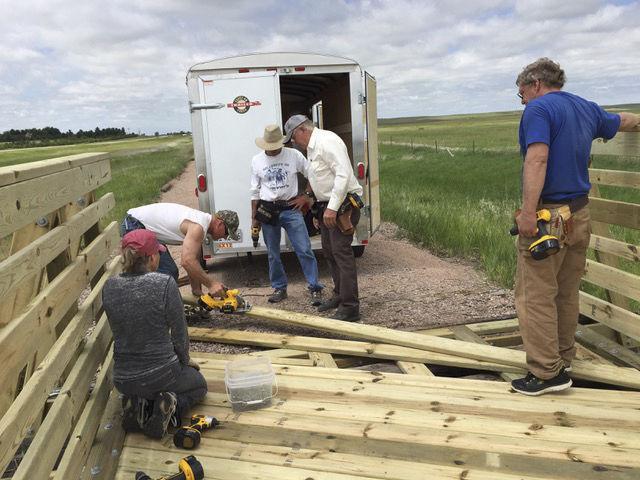 You have free articles remaining.
Keep reading for FREE!
Enjoy more articles by signing up or logging in. No credit card required.
On the Rushville side, Elwood would drive U.S. 20, paralleling the rail bed, and see potential beneath the weeds.
"I looked at all that junk laying out on the trail, right beside the highway. And I kind of like riding my bicycle, and I thought we ought to get that cleaned up."
On the Gordon side, Ferguson kept fact-finding through her summer of healing. "We put together this nonprofit to try to raise money and awareness and see what we could do to create some trail."
The two towns came together, launched Cowboy Trail West, and got to work.
"When we've asked for help, we get all kinds of people," said secretary Trisha Loosvelt. "We'd go down the trail, we'd pile those old, broken railroad ties into one big pile so the truck could stop and everybody would throw them in. Sometimes the weeds were so high, you could barely see the debris."
The volunteers spent months picking it up, collecting enough debris to fill 60 dump trucks.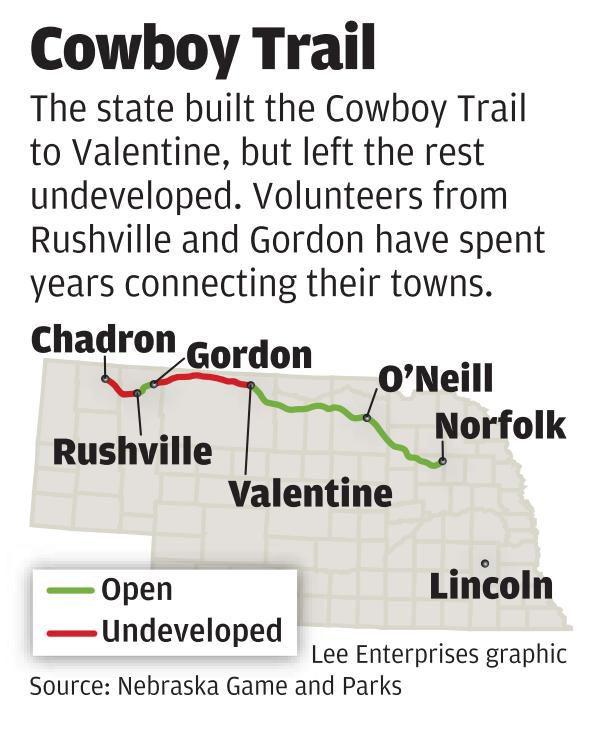 Game and Parks sold the rock beneath the rails and made enough money to buy three miles of limestone: two for the Rushville side, one at Gordon.
The rest of the trail is still dirt, which can turn to soup in hard rain or become too dry to navigate. "It's real sandy out here," Loosvelt said. "There are parts where you can't find a gear to get through."
Still, they're moving forward. They found an ally in former Game and Parks Commissioner Kent Forney, a Rushville native, who helped secure lumber for three bridge decks that Elwood and others designed and assembled — wide enough to accommodate a truck pulling a sprayer, or an ambulance.
They dedicated one of the bridges to Forney.
"If it wouldn't have been for Kent, we wouldn't have gotten very far," Elwood said.
The former commissioner wants to see the entire trail finished.
"I think it would be a big attraction for the state, and I think it would be an economic boon for that part of the state," he said. "They're giving me credit, but they're the ones that did the work."
They landed a $250,000 federal Recreational Trails Program grant administered through Game and Parks, and found $40,000 in matching cash, enough to rebuild two more bridges in Gordon and pay for nearly seven more miles of limestone.
The state will contract for the limestone — at about $35,000 a mile — but Elwood and others will turn a truckload of lumber and 200 pounds of screws into 170 feet of bridge decks and walls.
There's a good chance the group will get a grant again next year, Nelson said. "Once we go with an entity, unless it's a real headache or something else happens, we usually stay with them to the finish."
The two towns could finally be connected with 15 miles of smooth limestone by next year.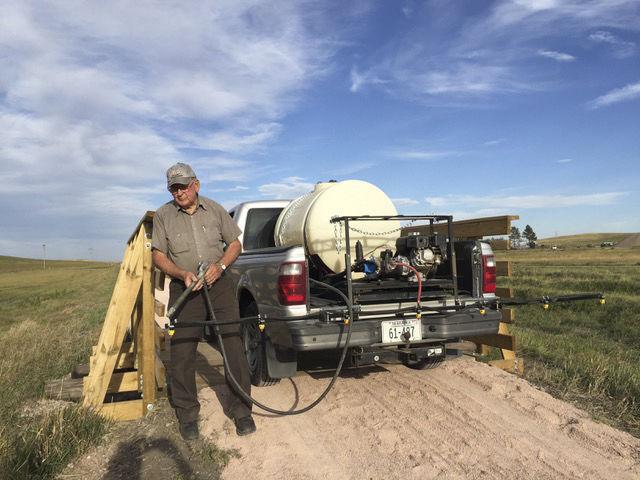 But the trail has already brought the two towns closer.
Groups of volunteers come from either direction during cleanup days. Or it might be Ferguson with her wheelbarrow, filling in holes dug by animals near Gordon, or Elwood firing up his tractor near Rushville.
"It's quite a thing. In a small community, you can get something done. In a city, I don't think you could get enough volunteers," he said.
And trail supporters gather in the middle when the Methodist church in Clinton — midway between the towns — hosts Meet Ya in Clinton. Cowboy Trail West buys the roast beef or the sloppy joes and the church women have it waiting for people who arrive by bike, on foot or in their cars. They raised $600 at the last event, and more than doubled Clinton's population that night.
Even before it's finished, the trail is getting use. Elwood knows a woman who lost 50 pounds from walking the former rail bed.
"Stuff like that, people stop you on the street and say thanks for doing that," he said. "It's been rewarding."