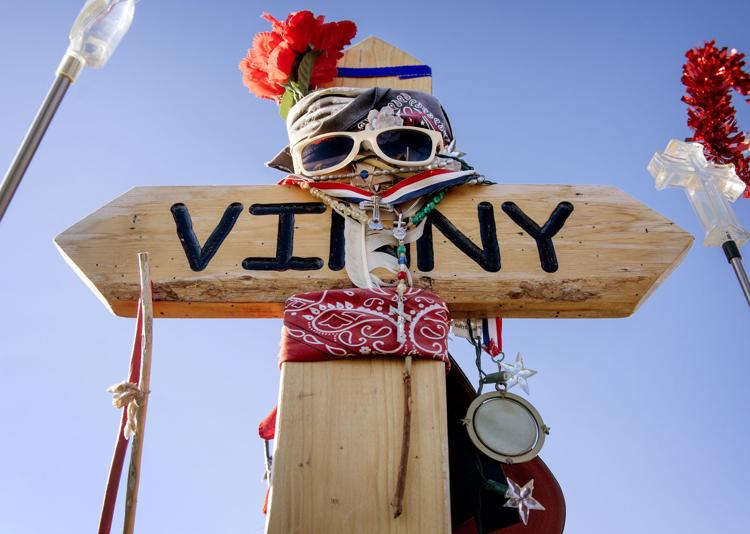 Beyond Whiteclay
The Death of Vinny Brewer
The death of Vinny Brewer: A meth-fueled murder on Pine Ridge Reservation
PINE RIDGE, S.D. — Vince Brewer hurled himself into the passenger seat of his brother's pickup, and they barreled down the highway.
This had been one of their good weeks. Vinny Brewer, 29, was back home, living with his dad in their double-wide on the family plot east of town. Vinny had stayed clean for two weeks, and planned to meet with his probation officer to discuss starting drug treatment.
Father and son watched preseason basketball together, just like they always did. Vince, who drives an Oglala Transit bus to Prairie Wind Casino from across the Pine Ridge Reservation, came home each night to find Vinny had prepared dinner. The latest was steak and potatoes.
"We had a great week," Vince recalls. "It was the best time we've had for a long time."
The morning of Oct. 16, Vinny tried to coax his dad into joining his team for the big memorial basketball tournament at SuAnne Big Crow Recreation Center, just down the road from their house. Vince was still recovering from knee surgery and couldn't play. 
The last time Vince Brewer saw his son smile, he gave him $20 to buy lunch.
A niece called an hour later. "It's not good, hurry over," she said.
Vince arrived at SuAnne Big Crow Center in the passenger seat of his brother's pickup, and found police and onlookers swarming the parking lot outside, and a body in the dirt. 
"It's something, to see your son lying on the ground. And you know it's not good," Vince says. "It's something you'll never forget."
As soon as he learned to walk, Vinny Brewer could dribble a basketball. His first words were "Dr. J!" — his father's favorite player — which tiny Vinny exclaimed after dunking into a hoop his dad fashioned out of a board and some wire shirt hangers. 
Basketball runs in this family's blood.
Vinny's grandfather, a retired tribal judge who died in 2015, had been a star player as a young man. In the late 1930s, Vincent Von Brewer Sr.'s all-Native high school team crushed the defending Nebraska state champions in their own gym, and competed in a national Catholic tournament in Chicago. After World War II, Vince Sr. briefly played semi-pro ball in California.
A knee injury from football nagged Vinny's dad most of his life, but he knows the game well, and coached elementary basketball and other sports for 18 years.
And Vinny's mom, Lisa High Wolf, took her high school team to state three years in a row — the first girls team from Pine Ridge to make the tournament. She played college ball for Dakota Wesleyan University in Mitchell, but was kicked off the team for missing practice.
"Vinny used to say, 'I ruined Mom's basketball career,' because I came home from college in the summer and got pregnant with him," Lisa recalls.
Her boy was a natural. Vincent III nailed his first-ever three-point attempt, from the top of the key during a tournament for 7- to 9-year-olds in Porcupine. His dad coached Vinny and his friends, driving them to games all over South Dakota.
Vinny made varsity his freshman year at Pine Ridge High, and the team reached the state tournament two years in a row. When Vinny transferred to rival Red Cloud High his junior year, former classmates from Pine Ridge spray-painted the Red Cloud gym in retaliation.
"He had a crossover that, you knew it was coming, but you couldn't stop it," says Christian McGhee, a point guard at Red Cloud who now coaches the team.
Vinny's smile and humor energized his teammates, friends and family.
His younger sisters, Tyler and Schaevon, laugh and cry as they scan their cellphones for old videos of Vinny dancing, rapping and playing pranks. Once, on a trip to watch their mother cage fight in Gillette, Wyoming, Vinny insisted on stopping the car to help a turtle cross the road. Another time, he climbed on their roof wearing a wolf mask, and surprised Schaevon and their father as they returned home after dark.
"If he was in Hollywood, I think he would have made it," his dad says.
Vinny's parents think he first used cocaine at 15, swiping a half-ounce from his mother's closet.
Unlike his dad, who raised Vinny mostly alone and says he's been clean for three decades, Vinny's mom regularly drank and used drugs while her son was growing up, exiting and re-entering her children's lives. 
Her son was confronted by many of the same temptations she struggled with.
"Vinny was a ladies' man. Charm, charisma, looks — fun, fun guy to be around," his father says. But that kind of popularity can be a curse: "You draw so many people to you, and sometimes it's not the people that you want 'em to be around."
By his junior year, the party life began to claim him. Vinny's grades fell. He dropped out of school, missing his senior year. He went to drug treatment in Kyle, but it didn't work.
He spent the next decade as a "typical addict," his dad says: working odd jobs, spending time in jail for a drunken fight, and using drugs intermittently. He had three sons with two mothers.
Vinny even did some small-time dealing, but he rarely had money, and when he did, he gave it away, Vince says.
"He always had good intentions, and the drugs always seemed to win."
Last year, Vinny spent late August and September living with his mother in Rapid City, roofing 14 hours a day for "shady people" who paid him $300 for two weeks' work, his mother says. He was trying to raise money to support his kids. It wasn't enough.
His mother believes one of her relatives had introduced Vinny to methamphetamine a few years earlier. During his last month alive, "these fools" — people Vinny met in Rapid — showed him the good life: clothes, cars, partying. Vinny started dealing meth for them.
"Even if you come from a good family, you had a good upbringing, there's no guarantees — no guarantees here. It's very easy for them to fall in with the wrong group," Vince says.
"Choices. You always hear that, all the time. It's about choices. And Vin made the wrong choice."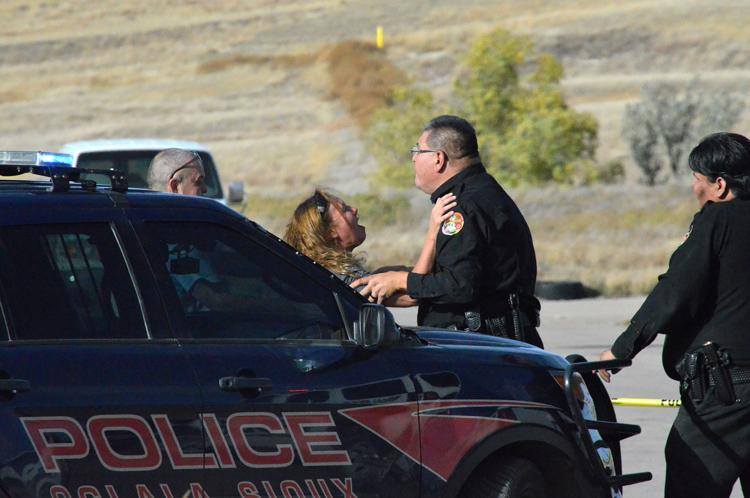 That Sunday afternoon, Vinny finished playing basketball and grabbed lunch with his cousin, a nephew and Little Vinny in the café at SuAnne Big Crow Center.
He took a phone call around 2 p.m. He needed to come outside.
Vinny didn't want anyone else involved. His cousin scooped up the boys and took off running. Men wearing black masks and all-black clothing beat Vinny, then shot him in the face.
Bryan Brewer, Vinny's uncle and a former tribal president, heard the gunfire from his house 200 yards away, on the near-end of the family land. A relative thought it was a semitrailer's engine brakes, but Bryan knew better: "I was in Vietnam. ... That was an AK."
He saw Vinny's cousin sprinting toward the house with a boy under each arm. Once inside, the cousin immediately searched for a gun.
"I said ... 'Don't take a gun. Don't take a gun over there. Cops pull in or something, see you there with a gun and Vinny shot, they might shoot you.'"
Back home, Vince didn't hear a thing.
Maybe 15 minutes later, Lisa emerged from a sweat lodge nearby to find 37 missed calls and a barrage of texts on her cellphone. One was from a friend, asking if Vinny was OK: "It says on Facebook, RIP."
At the scene, Lisa says, "I hit a cop because he wouldn't let me see my son."
Vinny's sister Schaevon, 18 and in her first semester at Fort Lewis College in Colorado, took a call from Amanda, the mother of Vinny's children. They cried together. Then Schaevon called her dad.
"My dad was crying," she remembers, "and I could hear everybody crying in the background."
Even in this community — one already so wearied by poverty, drugs and alcohol abuse — Vinny Brewer's broad-daylight death came as a shock. 
The family left home, fearing Vinny's killers had unfinished business, but his mom kept tearing up as she drove by, worried her son's spirit would be lonely. When they moved back a few days later, a friend with a gun stationed himself outside.
A curfew set by the tribe lasted nearly a month. 
"The whole town was just like, quiet," Lisa remembers.
People brought food, and set up a wooden cross in Vinny's memory outside the SuAnne Big Crow Center. It's still there, adorned with flowers, rosaries and bandannas — one has a photo of a sexy woman tucked inside — plus a basketball, a ball cap like the ones Vinny used to wear sideways, and a new pair of basketball shoes.
Nine months later, Vinny's killing is still the first thing many people mention when asked about meth on the reservation.
Methamphetamine has been here for decades, but police and prosecutors say most of it now comes from Mexico, distributed by gangs from the Denver area. And Pine Ridge's 17 killings last year nearly doubled the 2015 figure, a spike that federal authorities attribute in large part to a surge in meth abuse on reservations in the state.
"There's nothing unique about the drug problem in Indian Country. There's nothing unique about the violence problem in Indian Country that isn't happening elsewhere," says Gregg Peterman, a longtime prosecutor who now supervises the Rapid City office of the U.S. attorney for South Dakota.
But the close-knit nature of the Pine Ridge community and its geographic isolation amplify the impacts of drugs and violence, and hinder efforts by law enforcement.
Family and friends are reluctant to report what they see, Peterman said. And it's easy for people on and off the reservation to dwell on the negative, not Pine Ridge's vibrant culture.
Like Brooklyn, New York, when Peterman worked there 25 years ago, Pine Ridge is a "difficult nut to crack."
Tribal authorities did not respond to repeated requests for comment on this story, but U.S. Attorney Randy Seiler said the tribe and its new president, Scott Weston, have been willing partners in recent efforts to fight drug abuse and drug violence.
In April, Seiler's staff opened an office at the Criminal Justice Center in Pine Ridge, which is now taking walk-in reports every Wednesday. Seiler announced the move at the SuAnne Big Crow Center.
Weeks after that announcement, the tribal council declared a public safety emergency, ousting its police chief and assuming control of tribal law enforcement.
And federal, state and tribal authorities have held a series of public gatherings across Pine Ridge to discuss their response to last year's violence.
"Overall, we feel positive," Seiler said. "We feel the efforts are worthwhile."
Two people have been arrested in connection with Vinny Brewer's death, including a man accused of murder. Myles Tuttle is set for a federal jury trial Jan. 8 in Rapid City.
So far this year, there have been two confirmed murders on Pine Ridge. 
"I think 2016 was a blip on the radar," Peterman said.
Schaevon Brewer, now 19, embodies the hope her big brother left behind.
She's 5-foot-10, a bit taller than Vinny, and played basketball and volleyball all four years of high school. Her senior year, Red Cloud made the state tournament for the first time in decades — "and she got 'em there," her dad says. She got good grades, too.
With dark eyes and a warm smile, she once dreamed of becoming a model. Now, she wants to be a nurse.
She wants to leave Pine Ridge, play volleyball in college, and someday, maybe, move back home to serve her community. 
Vinny's death interrupted those plans, but didn't end them.
Schaevon left Fort Lewis College after the shooting to be home with her family, surrendering her volleyball scholarship two months into her first semester. Now her parents are working to secure financial aid so she can attend Oglala Lakota College on Pine Ridge this fall, then transfer somewhere with a volleyball program.
Despite their own struggles, Vinny and Tyler always supported their little sister, Vince says. Tyler still does.
"They knew that Schaevon had a chance. They knew she was going to make it."