RICHLAND — Before that morning, all of the farmer's cows were still alive, and not decaying downstream.
All of his land could still grow enough corn to keep them fed, and wasn't buried beneath tons of sand.
It came steadily, but not alarmingly, at first. Drew Wolfe did spend a few days moving hundreds of head — his own family farm's cows and calves and the animals they fed for others — to higher ground on their land along the Platte River near Schuyler as a precaution.
He'd always told his wife, Kristi, their property wouldn't flood. But then he called her from the field the morning of March 14.
"He said, 'I think everyone should pack an overnight bag. Just in case.'"
She looked out the window later that morning and saw water swallowing their farm from two directions, a line of cows trying to stay in front of it, headed toward their yard.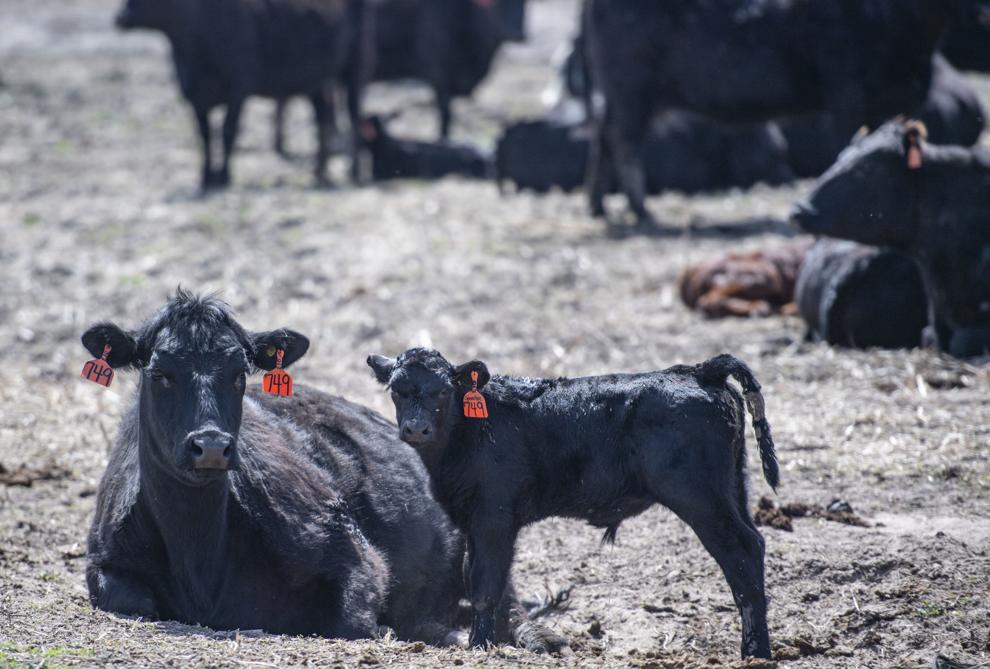 She and their two daughters drove out through the pooling water. Drew Wolfe and their son stayed with the animals.
He admitted later they almost didn't get out in time, that the floodwater washed over the hood of his truck in places.
"We should have left. We waited too long," he said. "But we had all the livestock to take care of."
The Platte kept climbing.
By late March 15, 100,000 cubic feet of water per second was roaring past the nearest gauge, 16 miles downstream near North Bend. That's the equivalent of 6 million basketballs, still in their boxes, flowing through the banks every minute.
The normal flow for that day is 6,000 cubic feet per second.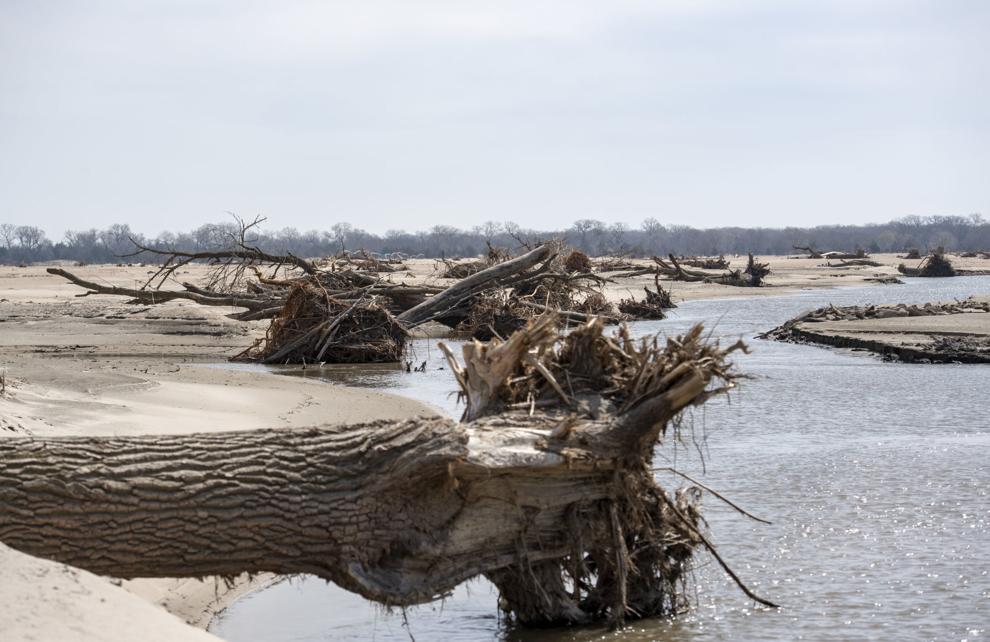 On the Wolfe farm, the cows may have been the first to go.
Drew Wolfe had left many on the higher sand ridges of one of his cornfields, but the force and volume of the water washed the ridges out from under them.
Their carcasses were found scattered downstream, dozens tangled in the fence at their property line, dozens more in the neighbor's field, some that will never be found.
"Maybe they're in Missouri by now. Who knows? Maybe they're in the Gulf," he said. "We've had cattle float in that we didn't know whose they were."
A month later, Wolfe still doesn't know the extent of his livestock losses. When the flooding wiped out his fences, some animals escaped the water by marching up the lane and making themselves at home in another neighbor's field, 3 miles away. He's also heard reports of rogue cows roaming the area.
He won't know the number of deaths until sometime next month, when they get all the remaining animals sorted and ready to be trucked to central Nebraska to spend the summer grazing on grass.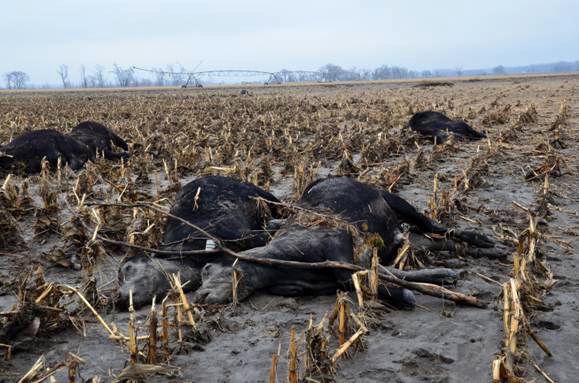 But if he had to guess, the river killed hundreds of animals, he said. Maybe a third of what he had before that morning.
And that can be a gut-blow to a fifth-generation farmer.
"It is my job to provide for the cattle; that's the way I look at it," he said. "I'm their caretaker."
Kristi Wolfe tells a story about her husband. About a week before the flood, they found a calf that had been stepped on. Drew did some Googling, cleaned off the table in the barn, lifted the calf up and made a cast for the animal.
He was devastated, she said, when they found the calf hadn't survived the water.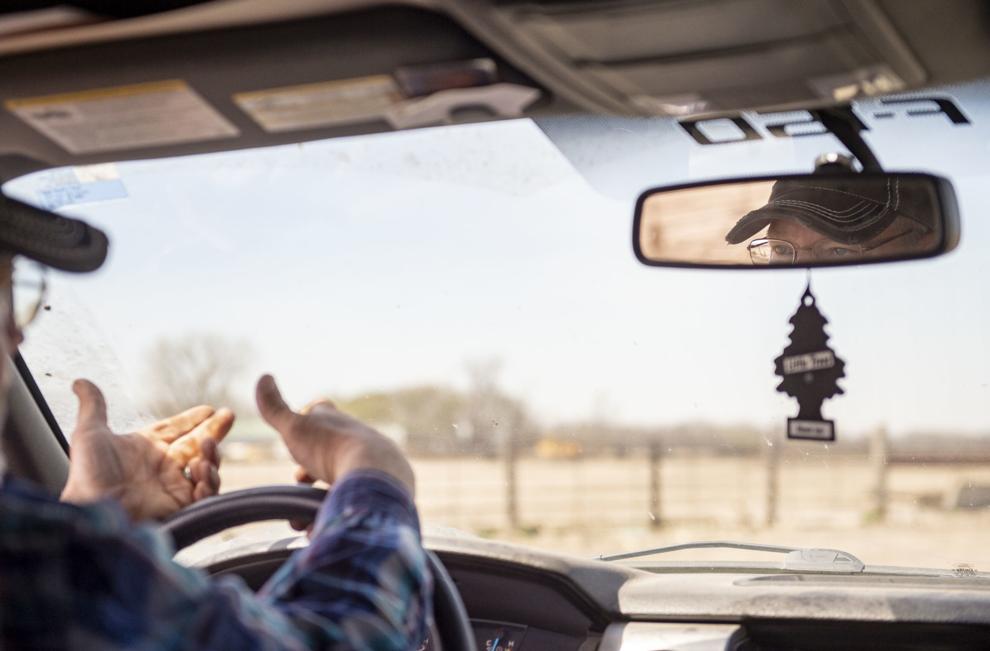 Their family was out of their house for 16 days, but they returned daily to try to take care of the animals. They found hundreds trapped on newly carved islands with nothing to eat.
Wolfe tried to reach them but fell into a watery hole and never touched the bottom.
"It was inaccessible and unsafe. There was so much water."
Those cows became momentarily famous on Twitter, when the Nebraska Army National Guard shared video of its soldiers climbing above Wolfe's property in a Chinook helicopter and dropping 18 round bales to keep the animals alive.Later, as the water began receding, they could check on the animals by horse, foot, four-wheeler and boat. And when the cows heard the tractor running, they knew what that meant, and most made it home.
"A dinner bell," he said. "They knew to come to get some grub."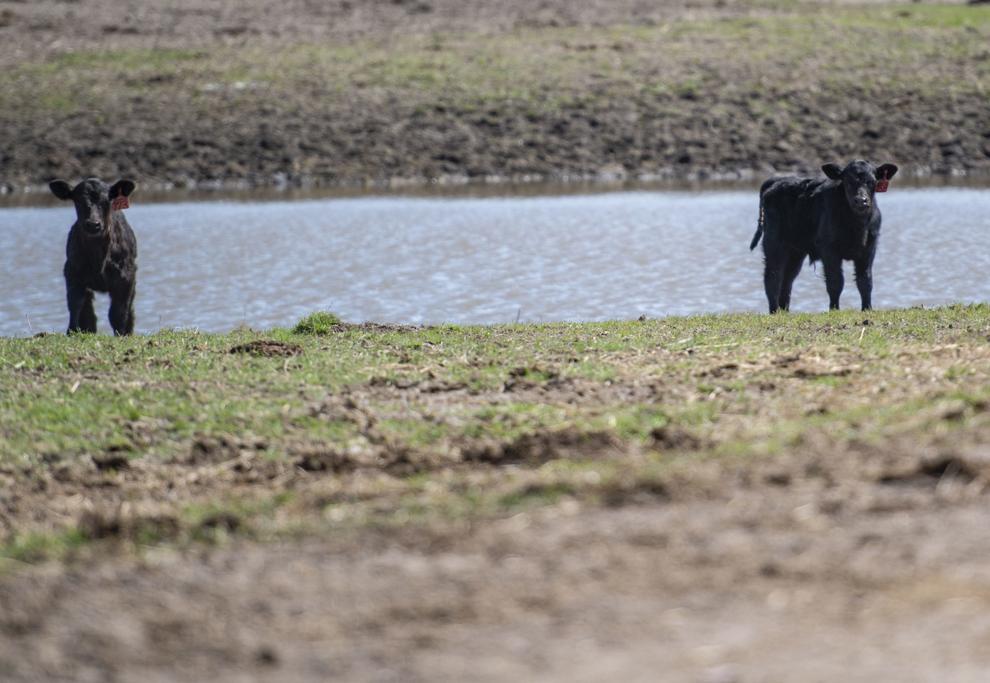 But even that became more complicated. The Wolfe farm is several miles of dirt and gravel from the end of the last paved street in Richland, and the semis that deliver protein-rich distillers grain couldn't navigate the torn-up roads for more than a month.
"These cows are lactating, trying to raise a baby calf, let alone prepare to rebreed themselves next year," Drew Wolfe said. "It's been extremely tough on the livestock."
They lost more than hundreds of cows. The water rushed through their trucks and trailers, it swept away fences, it toppled a power pole, it rearranged heavy concrete and steel feed bunkers, it flooded their calving barn, feed facility, shop and bunkhouse.
It washed out their farmyard roads, and they had to fill in gaps with broken bricks from the old Columbus high school. It swamped hay bales that had been on the ground, and when the bales started steaming — a sign they could combust — they had to drag them away and tear them up.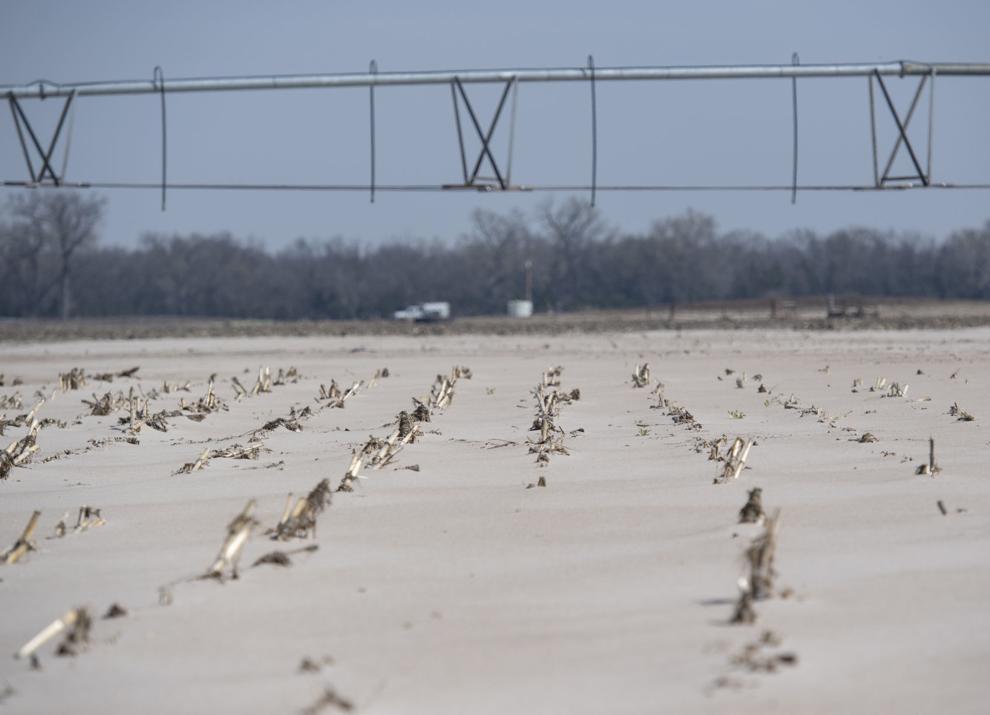 Drew and Kristi Wolfe operate the farm with his sister and her family. They have to repair all of this. At the same time, they have to keep performing all the daily chores that were required to keep the farm running before the flood.
"It's just one thing after another," Drew Wolfe said. "The first priority is the animals, and then you do a little day by day. The problem is it takes a lot more time to do the basic things right now. You're not set up for it."
But even all of that wasn't the flood's biggest hit to the farm.
The Wolfe farm unfolds for about a mile along the Platte, and most of the property next to the river is cropland irrigated by a pair of center pivots.
All of the corn they grew here kept their cows fed. It was almost enough to get through the year.
But the Platte was merciless in its taking, and its giving. First, the river carved a new channel, separating a swath of their land and turning it into an island, and then it buried the rest of their field in sand.
In some places, the sand is a foot deep, the remnants of last season's cornstalks just poking through. In other places, it's more than 5 feet deep, almost topping the tires on the pivot and covering the four-strand barbed wire fence at the property line.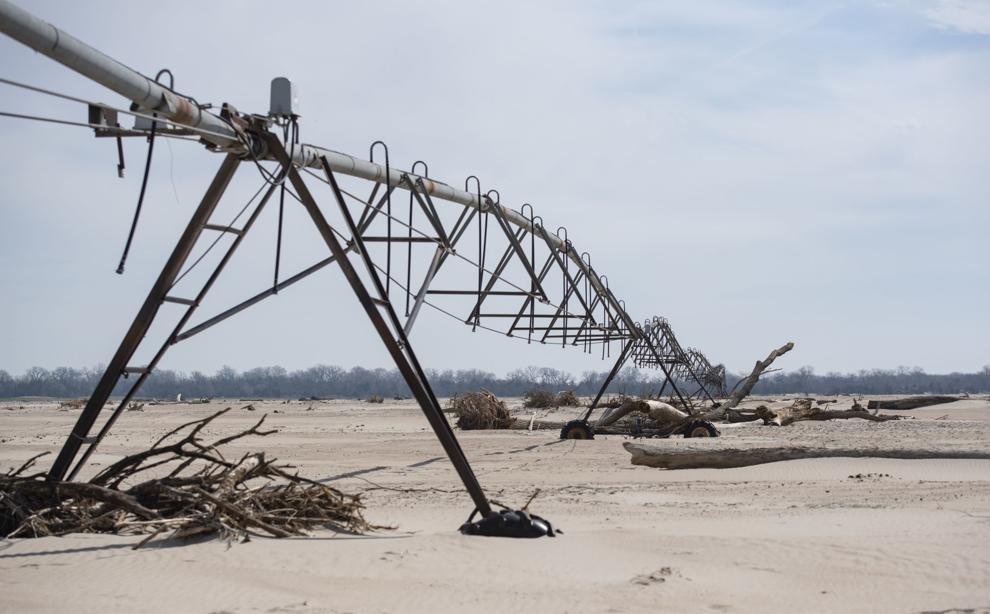 "I always wanted to go to the beach," Kristi Wolfe said. "And not have it come to me."
She's not joking. The sandy stretch of their Colfax County property is now about the same size as Venice Beach in Los Angeles — more than 200 acres.
UNL math professor Jim Lewis helped the Journal Star determine a rough estimate of the volume: If Wolfe's 200-acre field is buried beneath an average of 2.5 feet of sand, the river dumped about 800,000 cubic yards.
And L.P. Stewart and Sons, which sells sand and gravel in Lincoln, helped with a rough estimate of what it would take to haul it away: More than 67,000 dump trucks.
Drew Wolfe scratches at the sand with the toe of his boot. This time last year, he was down here in his tractor, getting ready to plant, but nothing will grow here now. He can't push it back into the river. He can't haul it to the tree line. He doesn't even know if there's still topsoil beneath.
He doesn't know what to do. Let the river win this round?
"I'm numb to it by now. My focus is on the cows and calves. We've got to take care of them."
A little later, he adds: "We're not the only ones. Not even close."
After the flood, Nebraska Agriculture Director Steve Wellman toured the Wolfe farm with his predecessor, Greg Ibach, now the U.S. Department of Agriculture's under secretary.
He had a hard time articulating what he saw in Colfax County.
"It's devastating. It's hard for words to describe," he said. "The same thing can be said for many others that were hit really hard by flooding in whatever part of the state they happened to be in."
Farmers struggling all along the Platte. Up on the Niobrara. Next to the Loup, Elkhorn and Missouri.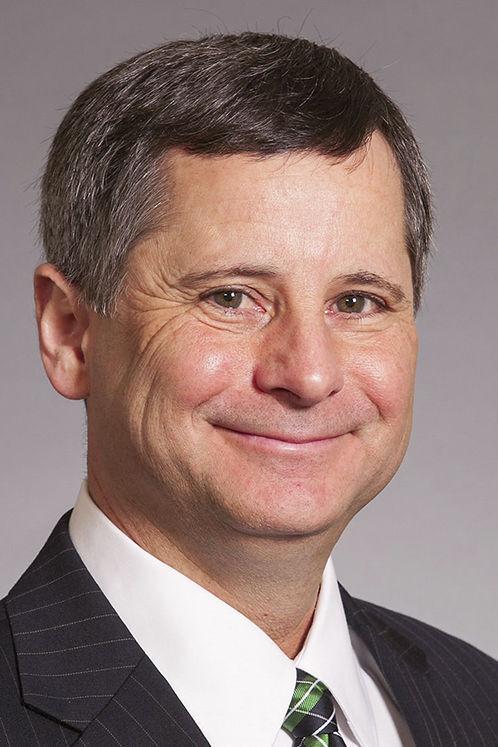 A few days after those rivers rose, on Sunday, March 17, Wellman and others met to put a price tag on Nebraska's agricultural damages.
They took a broad view for the governor's request for a federal disaster declaration, factoring livestock loss, the cost to care for sick survivors, replacing fences, replenishing feed, additional hauling expenses because of damaged roads, equipment repair and pasture loss. The total: $400 million.
They did the same for grain-growers: $440 million.
They've revisited those estimates in the month since, he said, and they still stand.
The devastation is widespread. FEMA hired a contractor to dispose of dead livestock found on property not owned by producers and, as of last week, recovery crews had identified nearly 1,000 carcasses in 26 counties, said David Haldeman of the state Department of Environmental Quality. That doesn't count the animals that died on their own farms.
And a Farm Service Agency program to help producers restore flooded fields has generated about 1,000 applications so far from 45 of the 47 eligible counties.
"There's probably going to be quite a number more than that," said Nebraska Farm Service Agency spokeswoman Bobbie Kriz-Wicham. "Our offices have been taking hundreds of calls related to this program."
The Emergency Conservation Program helps farmers with the costs of debris removal, grading and reshaping land, fence repair and conservation structure repair — such as rebuilding terraces.
The agency is fast-tracking debris removal and fence repair after this flood, she said, streamlining the required environmental and cultural consultations.
But there are limits. The program will reimburse farmers up to 75 percent of cleanup costs, but not more than half the market value of the land. And the most a farmer can receive is $500,000.
That math likely won't work for producers with big fields buried beneath deep river sand, said Richard Hoppe, Wolfe's downstream neighbor whose own land is blanketed by up to 5 feet of sand.
Even with federal reimbursement, the cost of cleanup would outstrip the land value.
"A foot of sand will screw you; there's no ground around worth that much," he said. "Your options are basically nothing. Leave it set."
Some farmers might not make it, Wellman, the state's ag director, acknowledged.
"It's possible, some of the ones that were hit really hard. That's up to their individual situations."
But he'd rather talk about the support that poured into the state. The donations of hay, fencing, money.
"I think the response from people wanting to help has been very strong and very supportive of Nebraska," he said. "We appreciate the people who offered help."
And so did the Wolfe farm.
The National Guard helped them help their cows. A group of FFA members from northeast Iowa spent a weekend fixing fence. FFA and 4-H members arrived from York County. Donated feed arrived from all over the area.
"The support we have had is amazing. Every state around us and then some," Drew Wolfe said. "The Midwest is a great place to live, just not by the Platte River on the 14th of March."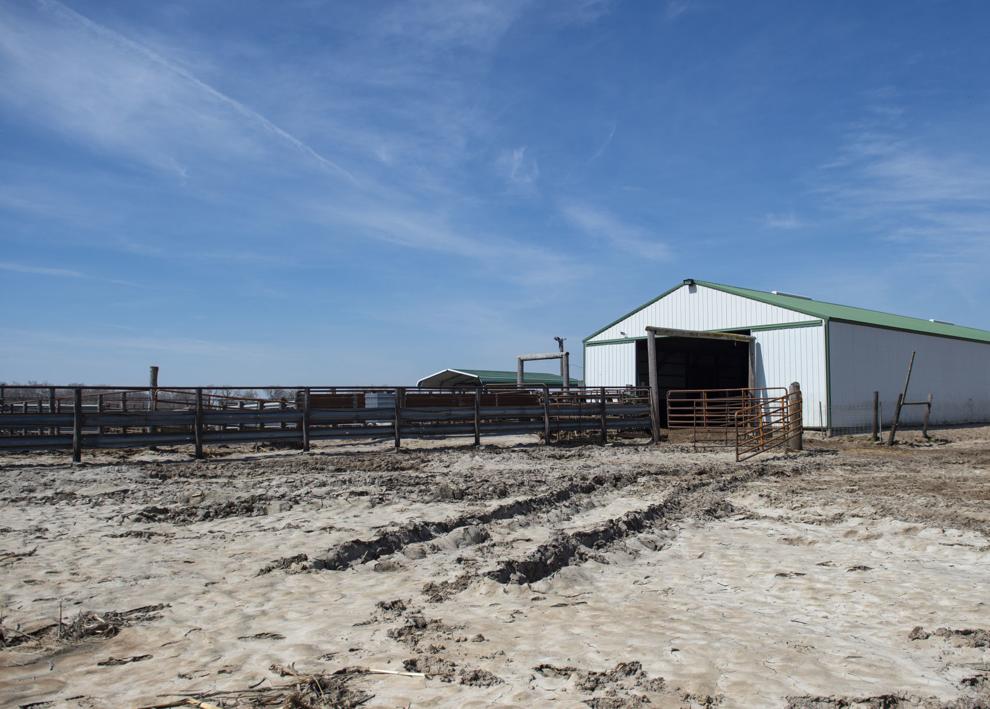 What the Platte did that day is keeping them busy. But they can only take it one day at a time, he said.
So they're replacing the power pole. Repairing the trucks and trailers. Cleaning out the shop and shed and calving barn. Caring for their remaining animals.
They don't know when their farm, and their lives, will seem anything like they were before the water rose.
"But we are on the right path in trying to figure this out and make this work," Kristi Wolfe said. "Because he couldn't imagine never seeing cows come over the hill again."